Your Favourite Crete Beach
This page may contain affiliate links, see our disclaimer here.

---
Tell Us Your Story
Which Crete Beach do you choose?
Anastasi says - 'We want to hear from you!'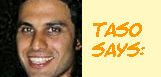 Tell us why you love your chosen beach, or tell us your favourite story from that beach.
Please send us YOUR photo of your favourite beach in Kriti - photo is optional.
We would love to hear from you and pop your picture up on this site - photo is optional.

Do YOU Have A Favourite Crete Beach?
Do you have a favourite beach on the island of Crete in Greece?

A beautiful photo of your favourite beach?


Read About Beautiful Beaches in Crete and Others' Stories
Click below to see beautiful photos and beach stories from others who love Crete...

---
Western Beaches
The We Love Crete team has chosen their favourites, from West to East of Crete, here are some of the most beautiful beaches found anywhere in the Mediterranean.
Elafonisi Beach - 74 km from Chania
Falasarna - 54 km from Chania
Gramvousa Islet & Balos Lagoon - 52 km from Chania
Paleochora - 72 km from Chania
Sougia - 60 km from Chania
Loutro - 90 km as the crow flies from Chania - requires a walk or a ferry journey
Stavros - 19 km from Chania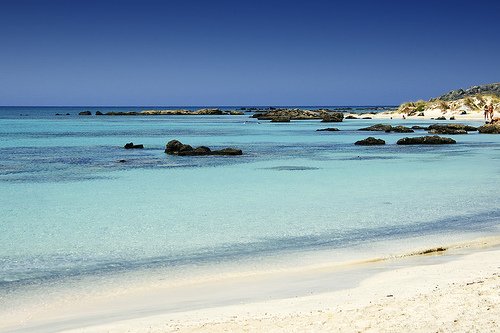 Elafonisi Beach at the western tip of Crete
Falasarna Beach, western Crete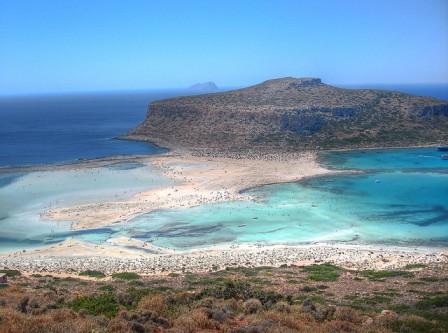 Gramvousa Islet and Balos Lagoon, North West Crete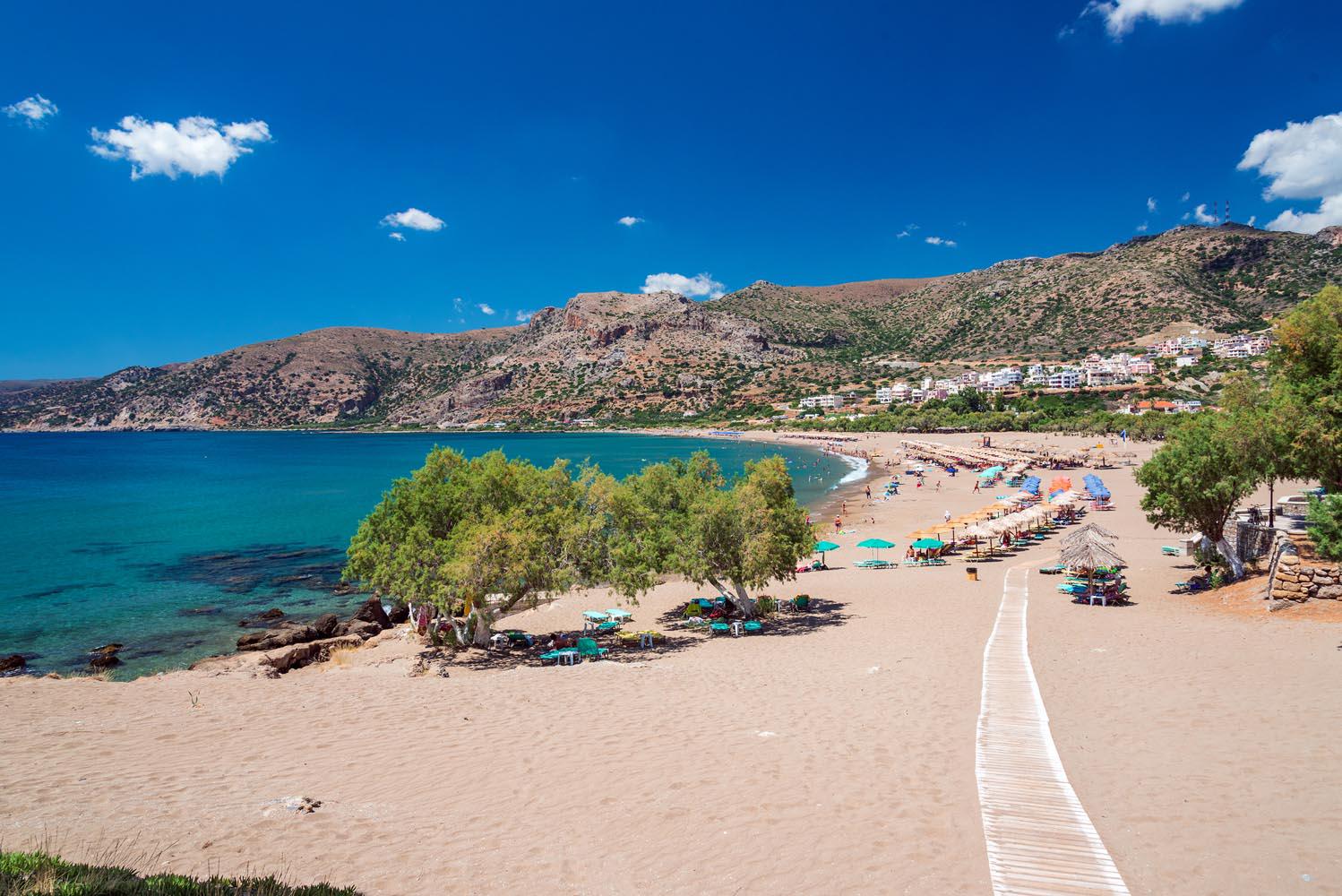 Palaiochora Beaches
Sougia in South Crete
Loutro in South Crete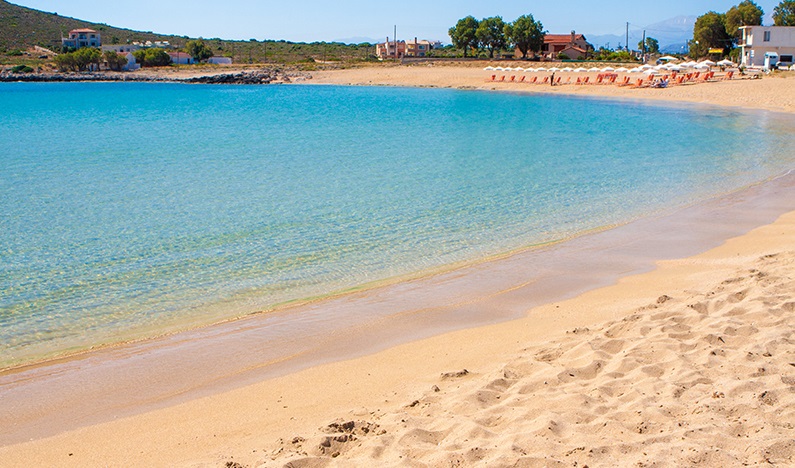 Stavros Beach near Chania, on the Akrotiri peninsula, is a small cove with shallow waters
---
---
Central & Eastern Beaches
Frangokastello - 56 km from Rethymnon

Georgioupolis - 24 km from Rethymnon
Plakias Beach - 35 from Rethymnon
Preveli Beach - 32 km south of Rethymnon

Rethymnon town beach - 1 km from town
Kokkinos Pirgos beach - 70 km south of Heraklion

Agia Pelagia - 24 km from Heraklion
Matala - 67 km from Heraklion
Elounda - 11 km from Agios Nikolaos
Chrissi - a cruise from Ierapetra
Vai - 70 km from Agios Nikolaos
Vai Beach by Alejandro - a story about this unusual beach in the east of Crete, with a palm forest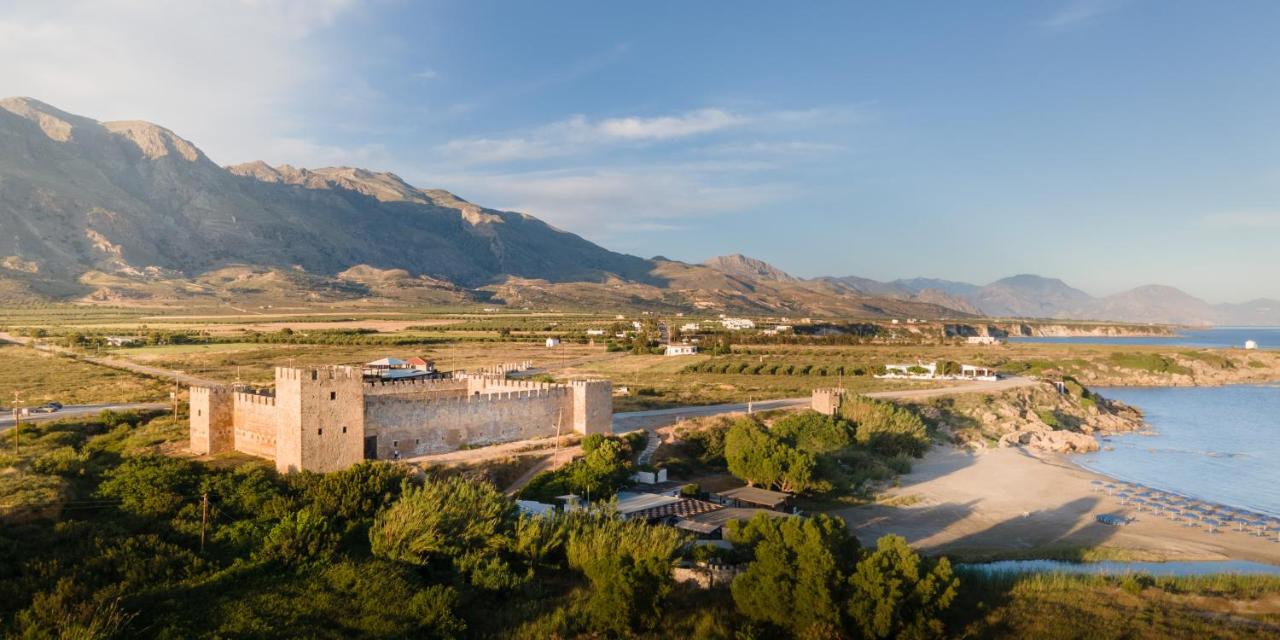 Frangokastello Beach and Castle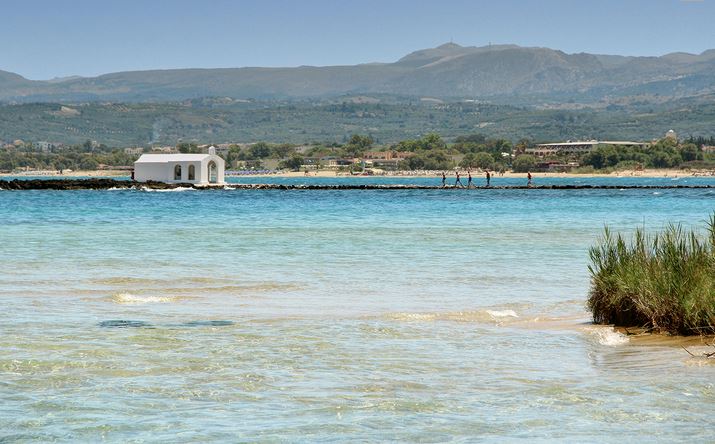 Georgioupolis Beach and Chapel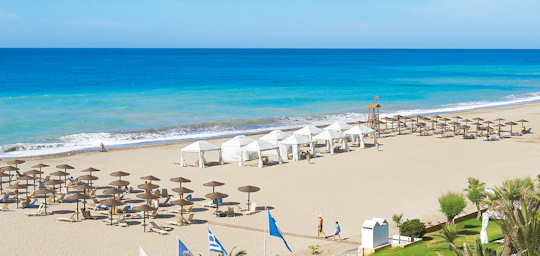 Rethymnon Beach has many beautiful resorts and a wide, sandy, long beach


Plakias Beach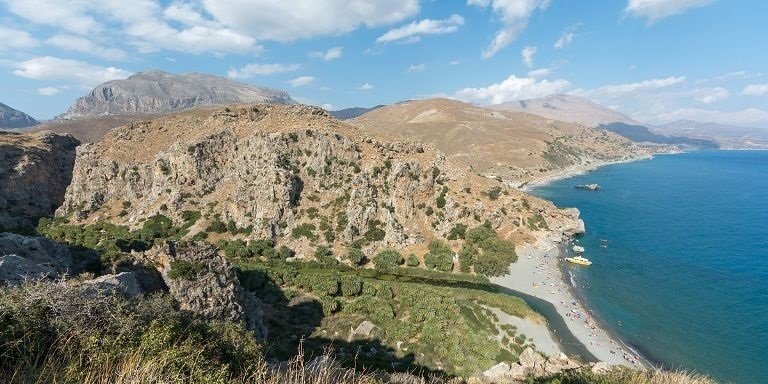 Preveli Beach and lagoon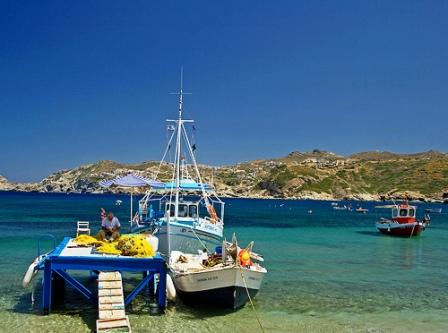 Agia Pelagia - fishing boats and the clear azure waters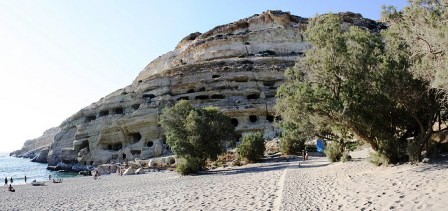 Matala Beach and caves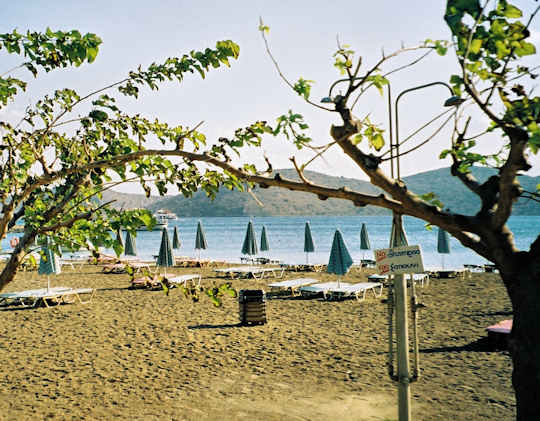 Elounda Beach is well protected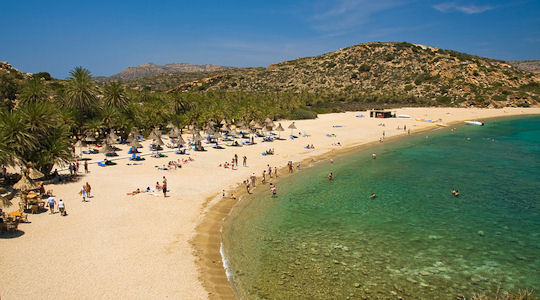 Crete Beach - Vai Beaches and Palm Forest are unique in the Med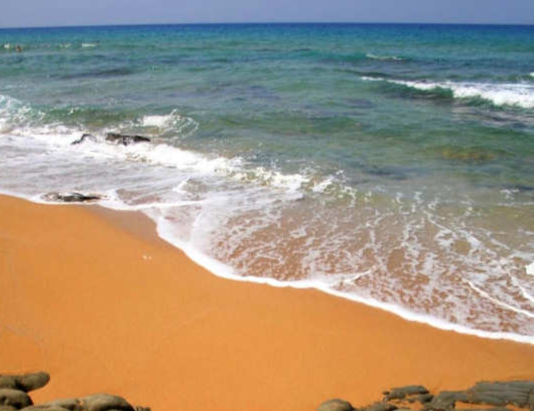 Kokkinos Ammos Beach (Red Sand Beach) near Matala in the south of Crete has course orange-ochre sand that looks red from a distance
There are so many beautiful beaches in Kriti that we have only mentioned a few...there are town beaches with cafes and tavernas...there are beaches for scuba and snorkelling...at some beaches you can get a massage...or a good meal...or a drink.

The water temperature is beautiful until November, of course many of the domatia, rooms for rent, hotels and tavernas are closed at the end of October, but in a few places you can still find a few doors open, whilst enjoying the peace and quiet, practically having the beach to yourself. Of course the weather is variable and not as warm as summer.
---
Tavernas by the Beach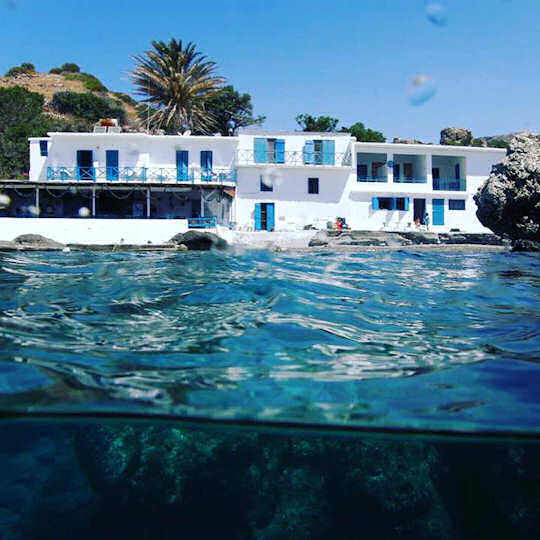 Agia Fotini Taverna on Agia Fotia Beach in south Rethymnon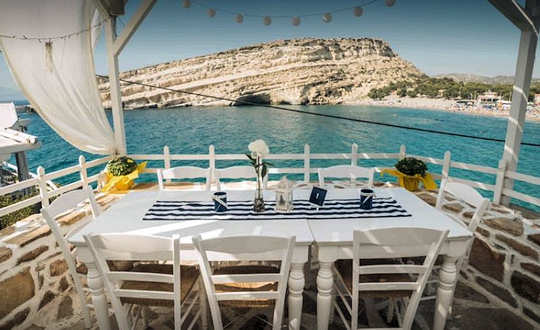 Do you like eating right next to the sea? We love it and here we share our favourite beach side tavernas all over Crete. Enjoy relaxed traditional style beach side tavernas with your feet in the sand...

7 Favourite Tavernas Next to the Sea in Crete
Where is your favourite Crete beach taverna?

---
Crete Beach Experiences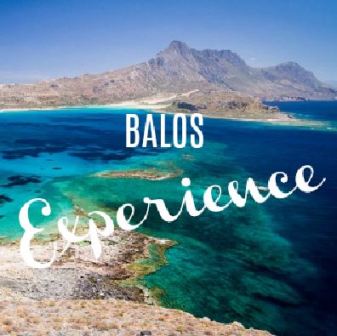 A Day Tour to Balos Lagoon - this helps with logistics of coach ride - boat ride and return coach ride. Make a full day of visiting paradise, this is a 10-12 hour tour, depending on your pickup and drop off point. This tour includes a visit to the castle at Gramvousa islet and swimming at Balos Lagoon. From Chania.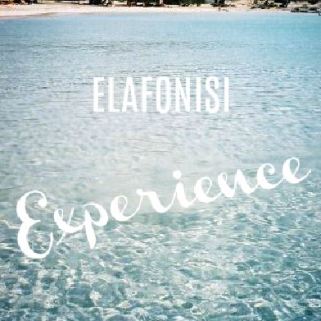 Elafonisi from Chania - take a load off and sit on the air-conditioned bus, visit Topolia Gorge for breakfast then a local nunnery and finally, witness the utterly gorgeous, gobsmacking beauty of Elafonisi - this is a 12 hour day tour with pickups and drop-offs at your hotel - from Chania.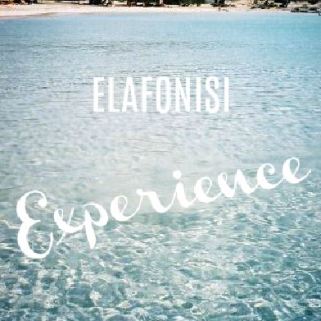 Elafonisi from Rethymnon - see this pure paradise beach - stop for breakfast in the village of Elos, known for its chestnut trees, stay at the beach for swimming - this is a 10 hour day tour with pickups and drop-offs at your hotel - from Rethymnon.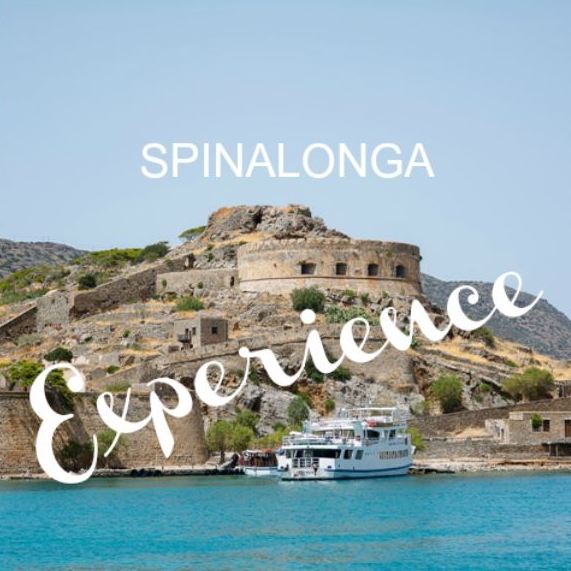 Visit the Island of Spinalonga by boat from Agios Nikolaos, with departures also from Elounda. Enjoy a swim and a BBQ as well as an interpretative visit to this island full of stories. This is a 12 hour full day experience.
---
My Favourite Crete Beach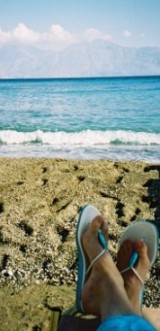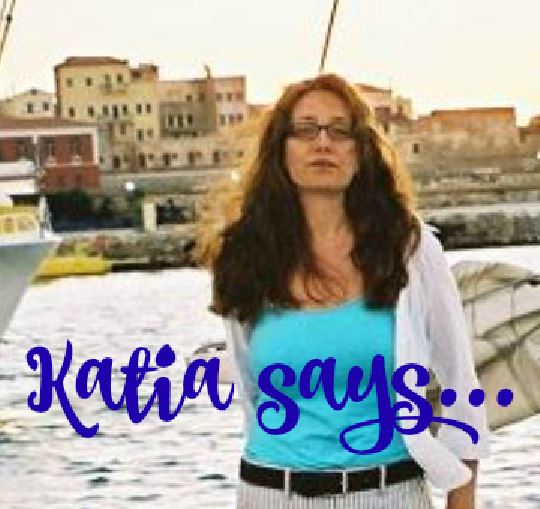 Well, I don't really have a favourite, I love them all!! I do have a favourite beach photo, which is shown on the left...and a story to go with it.
The story is that one day... I took myself off to Crete...all by myself, and I looked at the map and read a little bit about it and decided to travel from Elafonisi Beach in the very western tip of the island - all the way to Vai Beach on the very eastern tip...and I took 10 days and I did it! Solo!
I left behind the drudgery of the daily commute, the smelly passengers on the cramped train, the glare of my work computer screen, the flouro lights and the banal chat at the water cooler. 
I discovered the fresh air and crisp atmosphere of Greece and Crete, the mountains, the rugged, stony, dry island, and warm-hearted people, and I discovered wonderful beaches, all over the island.
This photo shows my relaxed feet up on the lounge chair on Kitroplateia Beach in Agios Nikolaos, with my cute little summer sandals (which I found in the lane ways of Chania town - great shopping)...my summer sarong...and the myriad blues of Mirabello Bay and the mountains in the distance.
Mmmm...there is nothing like looking over the sea after a hard day's travelling and relaxing at the beach!
I ended up staying five months in Crete, living and working there and learning Greek, learning so much about this beautiful island and its special people...this really was the beginning of loving Crete!
Now...we invite you to...tell us your story! What is your favourite Crete Beach?
---
Map of the Beaches of Crete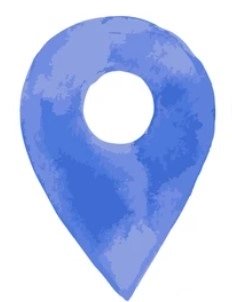 Find your Crete beach below on the map.

Getting Here
Take a 1 hour flight from Athens to Heraklion with Aegean Airlines or Olympic Air, with many flights available per day.
Or take a 9.5 hour overnight ferry from Pireaus port of Athens to Heraklion port.
More on flights and ferries below.
Car hire in Crete is a really good idea as it is a large island 60 km by 260 km. There is so much to explore.
When you book with our car rental partners - Rental Centre Crete - you are supporting a local company with excellent service and an easy online booking procedure. We are sure you will be well looked after by the team. Choose from hybrid or non-hybrid vehicles.
---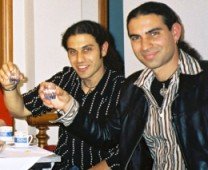 "We trust you have enjoyed these tips from the team at We Love Crete. Evíva!"
Contact us with further questions or feedback. We love to hear about your travels in Kríti and Greece. Let us know of any updates or additions, errors or omissions. Help us make this website the best it can be. Kaló Taxidí!

---
Your Favourite Crete Beach