Driving in Crete
This page may contain affiliate links, see our disclaimer here.

---
Driving in Crete - is a really good idea as it is a large island 60 km by 260 km. There is so much to explore.


When you book with our car rental partners - Rental Centre Crete - you are supporting a local company with excellent service and an easy online booking procedure. We are sure you will be well looked after by Harry and his team. Choose from hybrid or non-hybrid vehicles.

---
---
Explore the Regions of Crete


Driving in Crete
Chania Car Trip - see the atmospheric old town of Chania and the beaches, villages and high mountains of western Crete. Drive to gorges that are not accessible by local bus. Drive through Topolia Gorge to Elafonisi Beach or drive to the remote Keramotis Beach.
Rethymnon Car Rental - see the Venetian port town of Rethymnon and plenty of history, beaches and country lanes as you explore in your car...
Heraklion Self-Drive Route - see Knossos and the other ancient sites of central Crete in this historic itinerary for self-drive exploration of central Crete. Find your way on back roads to Phaistos archaeological site, Gortyna ancient site and through the country to the village of Avdou.

Eastern Crete Self-Drive Tips - see both western and eastern Crete as you see travel itineraries here for families who love to drive around Kriti. In these two itineraries, two families visit Knossos, Chania, Rethymnon, Elounda and Chiona.

Villa Kerasia makes a great central location from which to explore Crete with a car - a lovely B&B in a rural setting
---
Tips for Driving in Crete
A few tips to help you on your way and ensure a smooth journey.
Credit Card. One must have a valid credit card with credit available to cover the deposit to pick up any rental vehicle for getting around in Crete.
Driver Licence. One must have a valid driver licence for the country you are visiting. For Crete they will recognise an International Drivers Permit issued by the motoring association in your country. Make sure this is up to date and that you take your passport for identification to the agency when picking up your vehicle.
Ensure you book in advance. During busy season, especially the months of July and August, things get really full in Crete, so a booking is essential. You cannot expect to walk out of the airport and find a car available. There are many online services available for getting around by car hire Crete.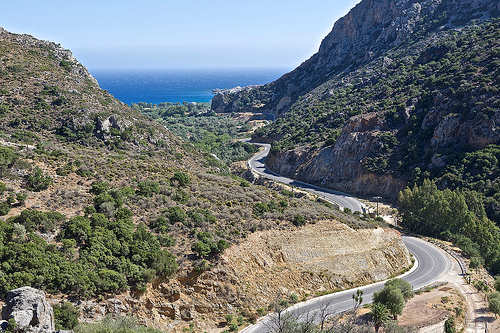 Remember you will have luggage. Do not opt for the smallest and cheapest car unless you have packed only one suitcase. Especially for families or groups, remember you will have a number of bags, and then there is always the other 'stuff' that seems to appear out of nowhere. Go one size up and you will have a smoother trip.
Hire a Car in Crete

Need some engine power? Again, don't just choose the smallest and cheapest vehicle if you will be exploring the island, you may want to climb mountains or small country roads and need some grunt, also if you have a few passengers you will notice the engine capacity when touring, it will make getting around in Crete that much easier.
Relaxed pick up and drop off. Sometimes it is a good idea to take a taxi to a hotel on your first night, and pick up the car in a relatively relaxed state the next morning. Most car rental companies will accommodate you at your hotel. Coming on a long plane flight or journey and then driving a car on a different side of the road isn't always a great start to your visit.
Opening Hours. Always check the opening hours of the car rental agency. These may not be the same as in your home country, and make sure you agree on the valid return time for the vehicle.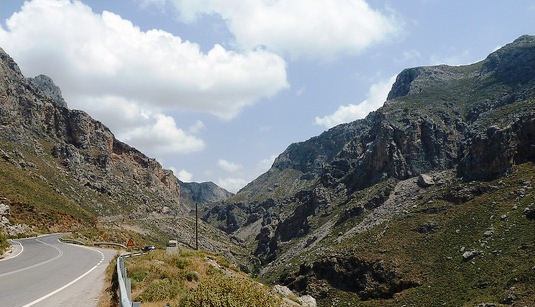 Kourtaliotis Gorge, Rethymnon, Crete
Extras. Again, book ahead for baby seats or roof racks, these can also be booked online.
Weather. Check our weather page for the 10 day forecast in Crete.
Kiddies in the car. Make sure the kids have some toys and distractions for the back seat. This will make getting around Crete much more pleasant for the family.
Unsure of your route? See our section about maps, but when in doubt...get out of the car and ask a local. Even if you don't speak much Greek, its amazing what you can achieve with sign language, and you may save yourself a lot of time and energy, even make a new friend! Getting around in Crete is an adventure!
Bring your own car. Cars can be brought into Crete for up to six months. You can journey to Crete on the car ferries departing from Pireaus in Athens. So you could just drive off the ferry onto the dockside and enjoy getting around in Crete!
Car Hire Crete will be easy and enjoyable if you take note of these tips when booking your hire car and making your travel plans.


---
A 2 Day Self-Drive Itinerary

Car Hire Crete - A 2 Day Itinerary by Car
This question and answer for one of our website visitors for their holiday in Crete covers arrival in Heraklion, a backroads drive through Rethymnon and departure via Chania...
This route includes Agia Pelagia, Bali Beaches, Rethymnon, Arkadi Monastery, Lake Kournas and Georgioupolis Beach (pictured below) as well as Chania, with accommodation suggestions included.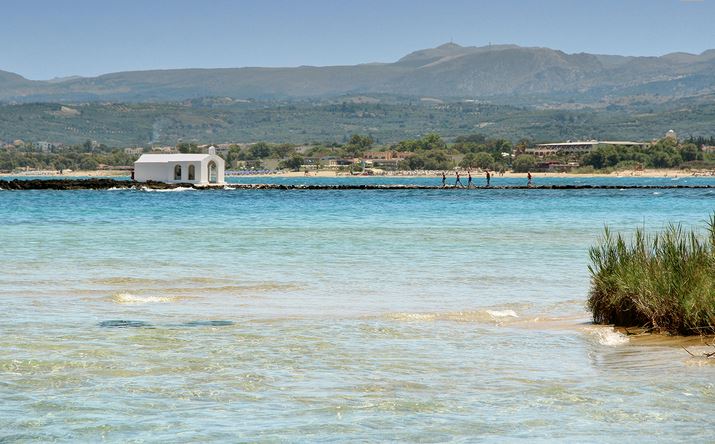 Georgioupolis Beach and chapel can be included as a lunch or picnic stop when driving between the towns of Rethymnon and Chania
---
Driving in Crete
10 Day Self-Drive Itinerary
Cheap Car Hire in Crete will enable you to extend your trip like these travellers who took our trip ideas booklet 5 Days in the West of Crete and expanded them into a wonderful 10 day exploration of the island.
This trip includes Heraklion, Knossos, Phaistos, Matala, Kamilari, the Amari Valley, Rethymnon, Argyroupolis, Lake Kournas, Georgioupolis Beach, Chania, Samaria Gorge and lots more...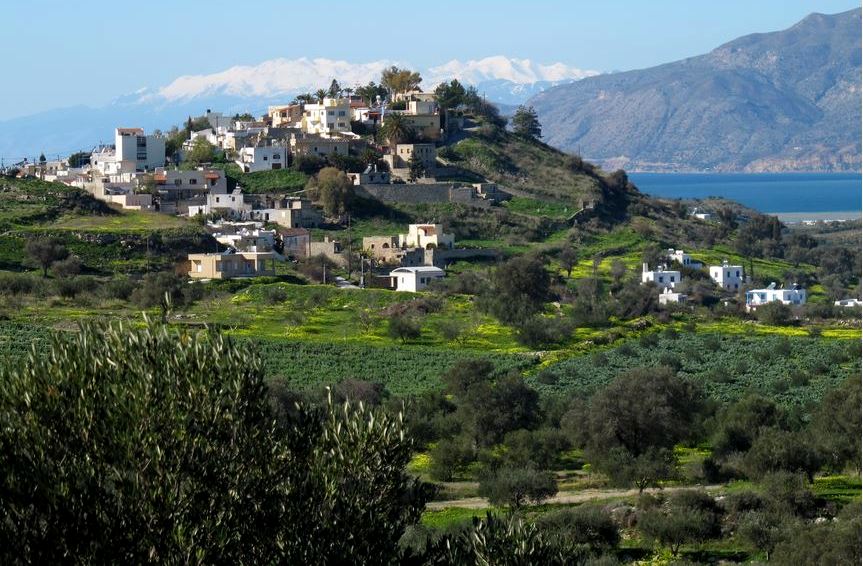 Kamilari Village is set on small hills near the sea, surrounded by farming land
---
Get Off the Beaten Track
Driving in Crete - with a car you can visit the south coast of Crete, it can be a bit of a drive but it is worth it. The roads have improved yet are still quite hairy - see below.
Once you are on the south coast, you will be rewarded with sunsets slipping into the Libyan Sea and smaller, isolated beaches where you can get the wind in your hair.
In Chania - visit Palaiochora in the west or Chora Sfakion
In Rethymnon - visit Frangokastello, Plakias or Preveli Beach
In Heraklion - drive south to find yourself on Matala Beach, or Kokkinos Pirgos or Keratokambos Beach.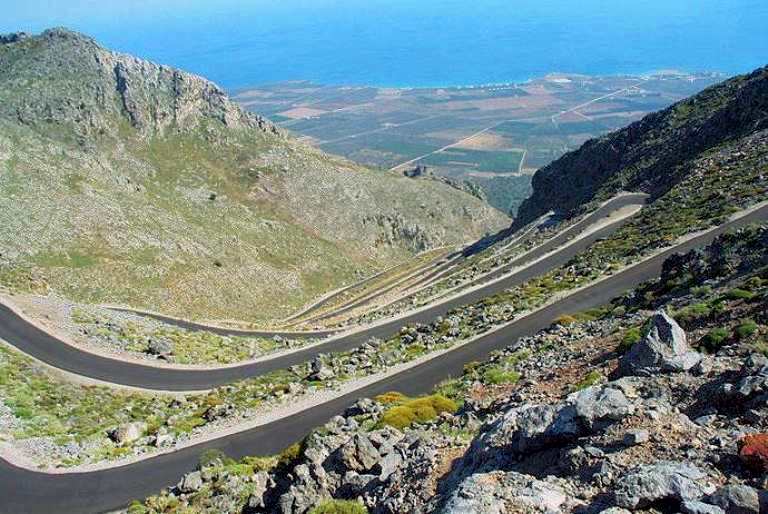 Road to Frangokastello, on the south coast of Rethymnon, Crete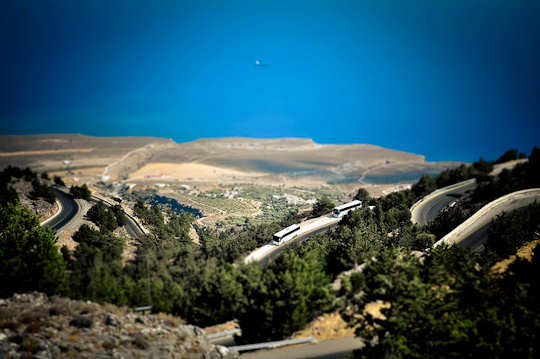 Road to Chora Sfakion, on the south coast of Crete in Chania
---
On the Map

---
Route Guides by We Love Crete
Route Guide - see our e-books which give alternative routes in the west and east of the island. Designed for self-driving by car or motorbike, independent travellers can, of course, amend these routes to suit their own timetable.
---
Getting Here
Take a 1 hour flight from Athens to Heraklion with Aegean Airlines or Olympic Air, with many flights available per day.
Or take a 9.5 hour overnight ferry from Pireaus port of Athens to Heraklion port.
More on flights and ferries below.
---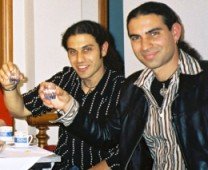 "We trust you have enjoyed these tips from the team at We Love Crete. Evíva!"
Contact us with further questions or feedback. We love to hear about your travels in Kríti and Greece. Let us know of any updates or additions, errors or omissions. Help us make this website the best it can be. Kaló Taxidí!

---