Crete Weather & Climate
This page may contain affiliate links, see our disclaimer here.

---

Crete Weather - above you can see the weather for Crete for today, this is a completely up-to-date temperature.
You can also see the forecast for the next seven days, just select the "get 7 day forecast" link in the bottom of the box. This will give you a full forecast and also an hourly forecast.
---
Sunshine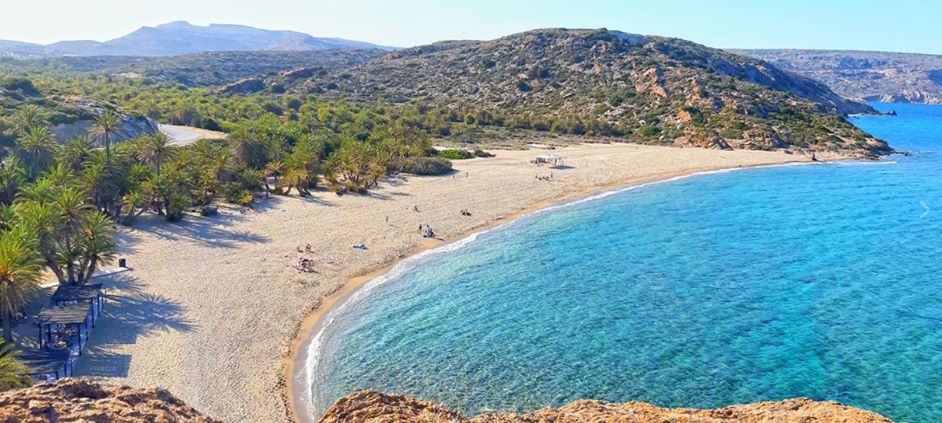 Vai Beach in Lasithi in the east of the island
Looking for some sun?
Our beautiful island of Crete has contrasting seasons, an average of 300 days of sunshine a year, snow on the mountains in winter and a glorious explosion of wildflowers in spring.
Are you planning a trip? When is the best time to visit Crete?
Summer months are July and August
Summer is extremely hot, with temperatures in the high 30 to 40 degrees Celcius (100 degrees F).
The best times to visit are early spring and late summer/autumn
Spring is from April to June, these are good months to visit 
Late summer and autumn are in September to November, these are good times to see Crete
Swimming temperatures are good from Easter until November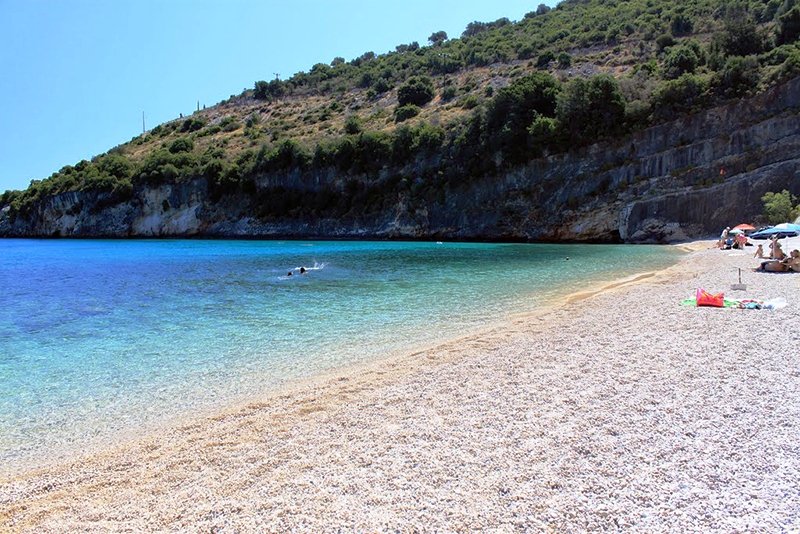 Makrigialos Beach in summer
---
Regional Forecasts

Crete Weather - see the regional forecasts below.

---
Seasons in Crete
The seasons bring their different activities such as grape harvesting, wine-making, drying out the sultanas, making the raki, picking mandarins and harvesting the olives.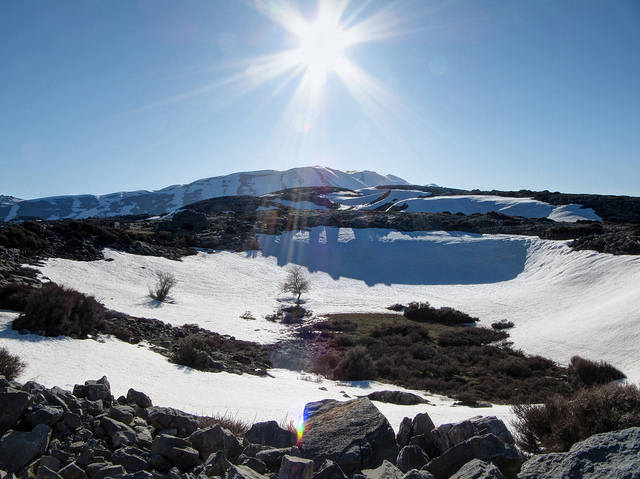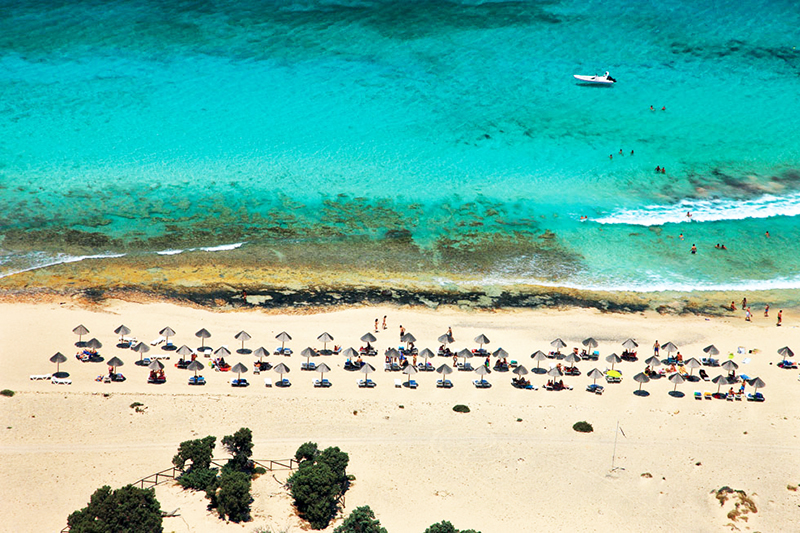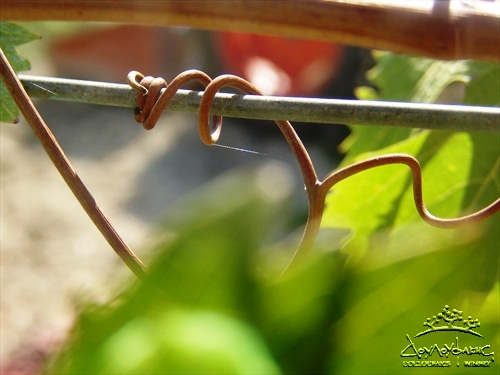 We watch the white, dry soil baked by the summer heat turn moist and grow grasses and wild greens in autumn and winter. We watch the olives turn from hard, light green to lush, dark purple under the winter sun.
We watch the grapevines turn from lush green, bearing fruits to empty and dry, orange and yellow in the autumn sun.
---
Climate Across the Year
Crete Weather - Below is the climate chart for the island showing the average temperatures across the year in Celsius.
Crete Weather - below  you can see more detail on the climate in Crete with monthly averages etc. If you click on 'Get 7 day forecast' this will lead to a wealth of climate information such as highest temperature and lowest temperature, Fahrenheit forecasts, hourly forecasts, wind details and much more.

---
Crete Weather - plan your trip
For more details about travelling in Kriti and to plan your trip, check out:
See our page about the seasons to consider the best time to visit Crete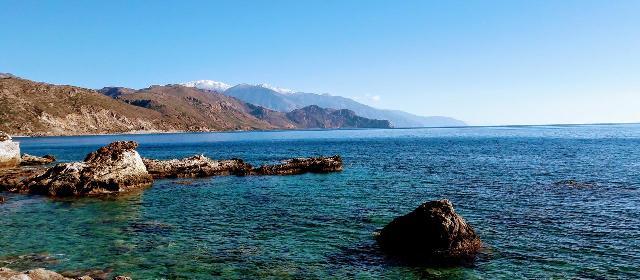 ---
Moving to Crete?
For those considering moving to Kriti we have pages about:
and many more.
---
Crete Weather
A Winter Visit

Crete Weather - an 'out-of-season' trip to Crete is a marvellous way to see the island with different activities as your focus. 
Winter months of December and January are the coldest, with some warmer days and early spring flowers coming in February and March.

Yes, accommodation rates are less in many places
Yes, it is cold
Yes, it does snow in parts of the island
Yes, we are busy harvesting the olives
Yes, you can still have a great time
Yes, you will meet more locals with more time to chat :)
Great for hiking without the heat of summer
Easy parking and no queues for ancient sites or museums

Snow skiing, alpine walking and snow kite surfing are popular but there are no major ski fields in Crete

Below we suggest some unique, out of the way places where you might consider a winter getaway in Crete, after a cosy stop in Chania or Heraklion town, where you will find the local cafe scene warm and inviting, remember to try hot chocolate and bougatsa, after your coffee of course!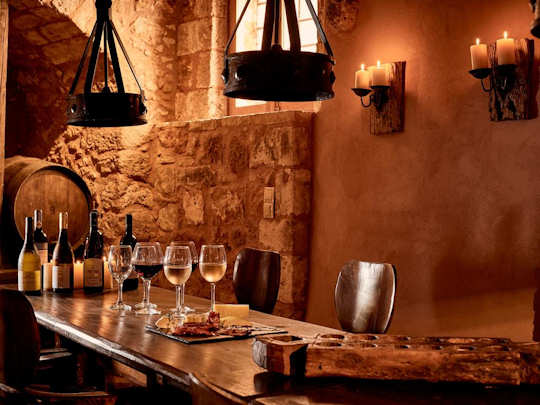 The bar at the Domus Renier Boutique Hotel - one of the joys of indoor pursuits of winter in Chania
The Askifou Plateau οροπέδιο Ασκύφου is 50 km from the town of Chania in The White Mountains. Often covered in snow in winter, the plateau makes a terrific winter base for a cosy, white holiday in Crete.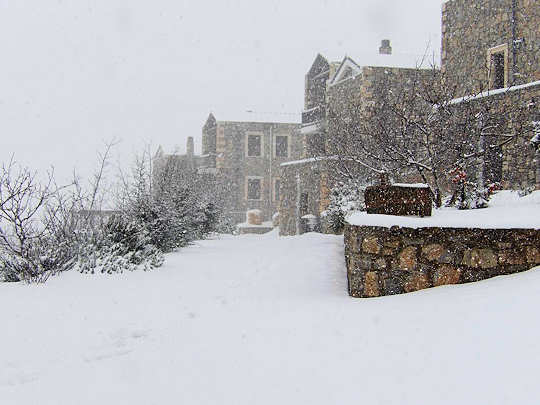 Arodamos Guesthouse in winter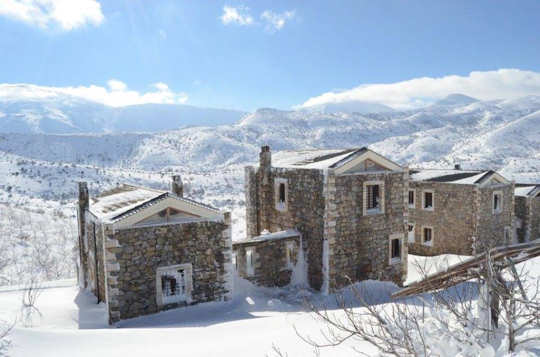 At Arodamos Guesthouses you will receive a warm welcome in winter

High on the Livadi Plateau in the Psiloritis Mountain range is the Arodamos Guesthouse, warmly welcoming you to its traditional homes in stone and wood.
Set in a Natura 2000 reserve, nature lovers will be in paradise exploring the mountains at 1,100 feet altitude on foot or mountain bike, or getting involved in farming activities or learning cooking in traditional Cretan cuisine.
These guesthouses each have a lovely big fireplace. This setting is only 32 km from the busy town of Heraklion, yet a world away, allowing real time out from the stresses and noise of the modern world. Find fresh air and peace and quiet in the crisp mountain atmosphere.

Thalori Resort is open all winter in the mountains of southern Crete. Try a raki to warm up from the inside out.
Near the picturesque Asterousia Mountains and overlooking the deep blue of the Mediterranean is Thalori Resort in southern Crete.
This village has been beautifully restored into a 22 home open village for visitors to experience the real Crete. Open all year round, this is a gem of a secret to discover in any season in south Heraklion.
Warmly embraced by the village of Kapetaniana, just 65 km south of Heraklion, you can visit the ancient sites of Knossos, Phaistos, Gortyna and the Gorge of Agiofarago, as well as enjoying traditional food in the village taverna (and a few rakis to warm your soul).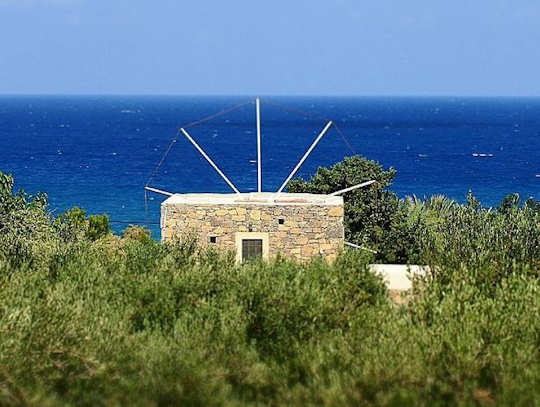 This converted windmill near Sitia makes a cosy getaway in winter.

Write your next novel here? Enjoy the fireplace and proximity to the numerous warm and welcoming bars and tavernas in Sitia.
The Sitia Windmill is a romantic place for a couple or an excellent retreat for a writer. The region will be busy with olive farms picking and processing the olives, and the town is actually very busy during winter, as its main activity is agriculture.
The seaside promenade and the ring of restaurants and cafes as well as visits to local historic sites such as the Kazarma and Zakros Palace will give you plenty to explore around here, on the eastern side of the island. The windmill is located at Agia Fotia, 72 km east of Agios Nikolaos in Lasithi.

---
Getting Here
Take a 1 hour flight from Athens to Heraklion with Aegean Airlines or Olympic Air, with many flights available per day.
Or take a 9.5 hour overnight ferry from Pireaus port of Athens to Heraklion port.
More on flights and ferries below.
Car hire in Crete is a really good idea as it is a large island 60 km by 260 km. There is so much to explore.
When you book with our car rental partners - Rental Centre Crete - you are supporting a local company with excellent service and an easy online booking procedure. We are sure you will be well looked after by the team. Choose from hybrid or non-hybrid vehicles.
---