Aug 24, 2018
Mochlos Our Local Beach in Crete
Our friend Pete has written to us to tell us about his local beach and seaside tavernas in Crete...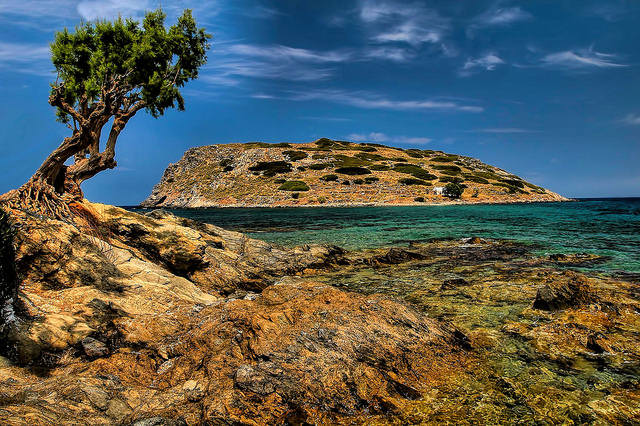 Hi to all fellow lovers of Crete, I recently wrote two children's books which have been published ....all about the adventures of three dogs and a cat. All the action takes place in eastern Crete and that's what I want to tell you about.
It is a very beautiful part of the island, full of interest and brimming with history. Together with my wife Annie and our adventurous pets, we live on the outskirts of a small village called Sfaka which is surrounded by such beauty.
A ten minute drive brings one to the picturesque fishing village of Mochlos. It boasts a variety of little tavernas on the seafront with varied menus. Ask Dimitri to prepare you a seafood platter, try Georges for a selection of Greek dishes known as meze, and you haven't lived until you have had Gaby's fresh calamari. Then there are two little bars on the rocks....just perfect for sun downers.
Between and below George's taverna and Gaby's is a small beach but the clear blue sea is easily accessible from the rocks off Gaby's place and beneath the surface of the sea is a treat for snorkellers. An underwater gorge, sunken ruins and clear blue waters.
There is a small island approximately 150 meters from Mochlos called Mochlos Island by the locals which was at one time part of the town. At the time of the Santorini earthquake, it was separated from the mainland and sunk.....hence the ruins. There is a small church on the island, church of Agios Nikolaos, patron saint of seafarers and fishermen plus an archaeological site of Minoan origin. A dig is still in operation there.
Incidentally, we always enjoy New Years Eve at George's Taverna with live music lovely and reasonably-priced food and a roaring fire. Brilliant!
Enjoy Mochlos....who couldn't!
See Pete Smith's books here...
Mochlos Beach and Island are located around 40 km east of Agios Nikolaos on the north coast of eastern Crete...