Town Accommodation in Crete
This page may contain affiliate links, see our disclaimer here.

---
Town Accommodation in Crete - we have chosen guest houses for you that are traditionally Cretan, or small and authentic, charming and to us, truly reflect the character of Crete. Many are family-run by locals, however some are luxury offerings.
Find accommodation in our towns:
Chania
Rethymnon
Heraklion
Agios Nikolaos
Kastelli-Kissamos

Ierapetra
Sitia

Accommodation in Chania Town
Town Accommodation in Crete - the most atmospheric place to stay in Chania is within the walls of the old town, close to the Venetian harbour. Ideally, choose a small guesthouse a few streets back from the water's edge, as the tavernas around the bay can get a little noisy in peak season.
Our suggestions for Chania hotels
The stunning small laneways of the old town are mesmerising and very tempting to explore, the atmosphere of Chania is difficult to compare, it has its own character, linked to the past yet vibrant with modern galleries, jewellery studios, fashion boutiques and of course, lots of cafes and restaurants to choose from.
Contrasting architectural forms are dotted about the harbour; such as Fort Finca, hundreds of Venetian structures and the white Mosque of the Janissaries, build during Turkish occupation of the island.  We really do recommend exploring Chania before you leave Kriti.
---
Accommodation in Rethymnon Town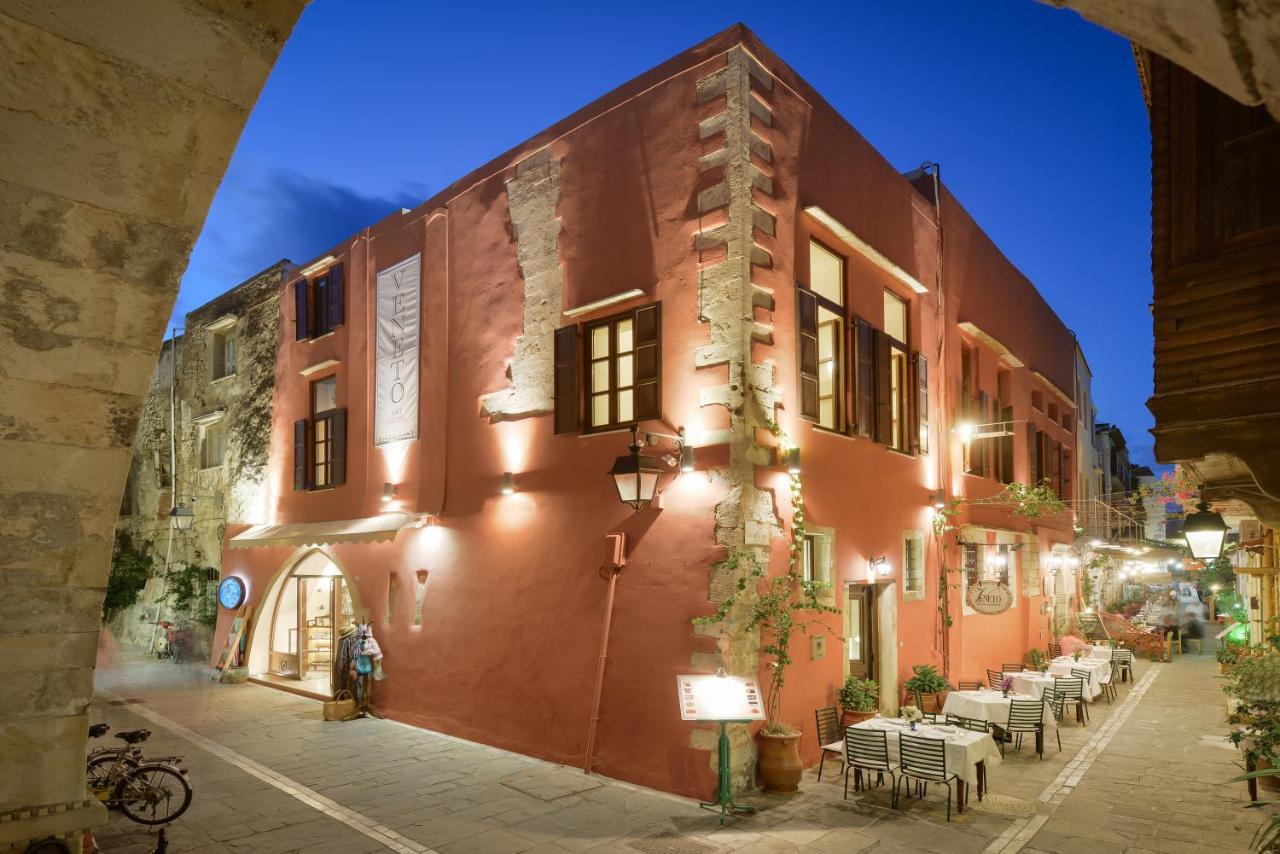 The old town of Rethymno is charming, with its narrow laneways and fortezza, there are historic sights at every turn. To really experience the tone of this beautiful harbour town, stay in the Venetian old town in a restored mansion or guesthouse.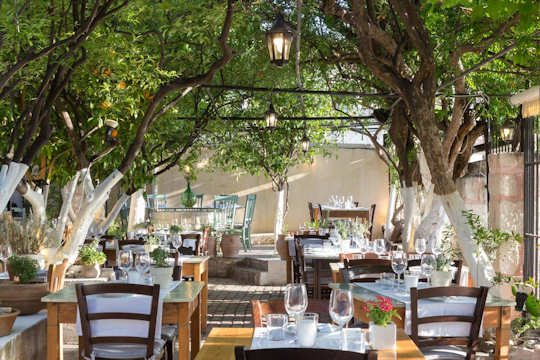 Enjoy the lane ways and courtyard tavernas and restaurants, like the charming Lemonokipos Restaurant (pictured above) which means 'Lemon Tree Garden', within the walls of the Old Town Rethymnon.

---
Accommodation in Crete
Heraklion Town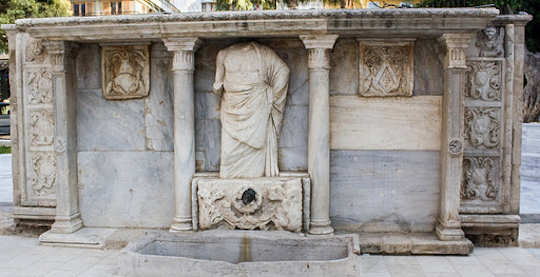 Town Accommodation in Crete - Heraklion is in the centre of Crete, and location of the port receiving ferries from all over Greece, and an international airport. It is a modern town with a vibrant pulse. We have chosen some excellent central hotels, close to everything.
Our suggestions for Heraklion hotels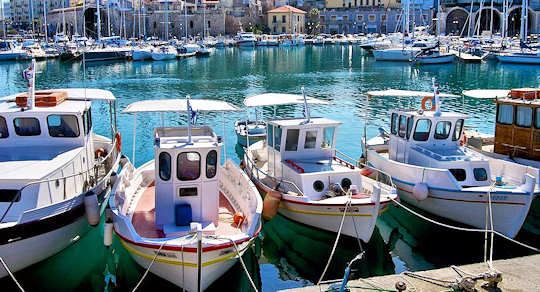 Take a stroll along the pedestrianised central streets of Heraklion, find your way to the Venetian Fountain, known as the liondaria for its lion designs. Ringed by cafes and tavernas, this is a popular meeting spot.

---
Budget Hotels in Heraklion

Town Accommodation in Crete - many of our visitors write to us to ask about budget accommodation, as they are island-hopping around Greece. Below are our budget suggestions for Heraklion, from where you can take the ferry to Santorini...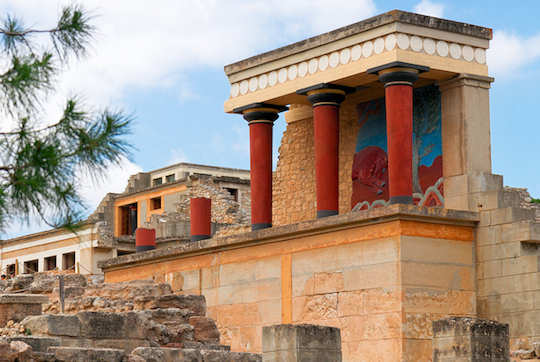 Many of our visitors are after cheap ways to see Knossos and tips for visiting this ancient site, which is just 5 km south of Heraklion. Save money on your accommodation, visit the site early in the morning, get a skip-the-line ticket and take the local bus...more details here


---
Accommodation in Agios Nikolaos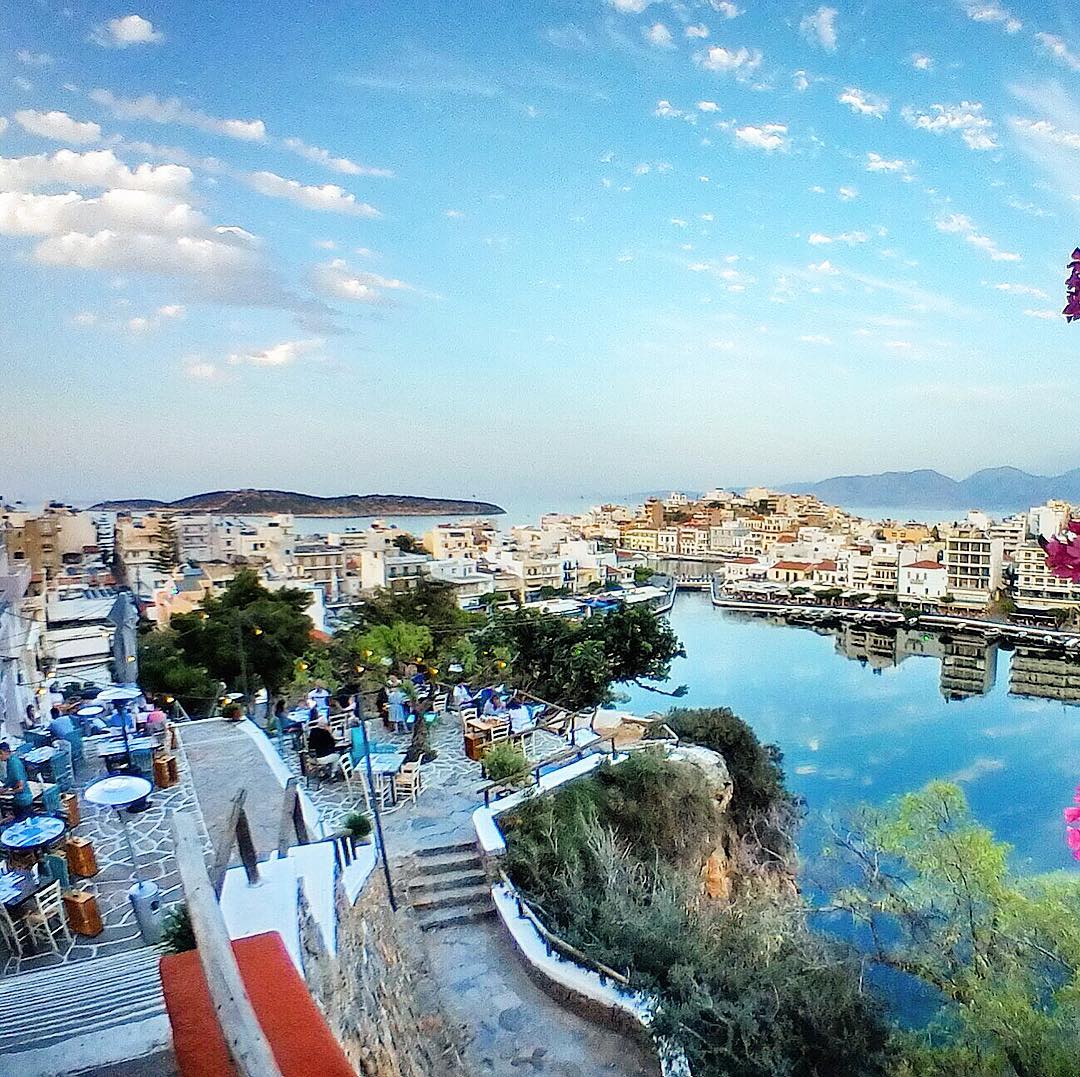 Agios Nikolaos, in the east of Crete, is one of the prettiest towns on the island.
With a cozy harbour, a stunning lake and beaches stretching for miles, this is a thriving Greek seaside town with loads of life and style.
We have suggested four hotels close to the harbour, which make it easy to stroll out to dinner and also convenient for catching a ferry from the large ferry port. Ferries leave here for Sitia and Karpathos and on to Rhodes.

Our suggestions for Agios Nikolaos hotels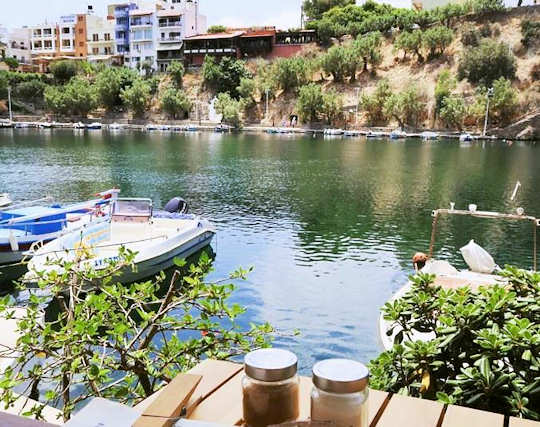 Enjoy the modern cafe culture all around Lake Voulismeni in Agios Nikolaos, such as Zygos Urban Garden (pictured above), then take a boat on the beautiful Bay of Mirabello, visit the intriguing historic island of Spinalonga (featured in the novel 'The Island') or sail on a yacht on the bay, gazing over to the Sitia Mountains in the distance.


---
Kastelli-Kissamos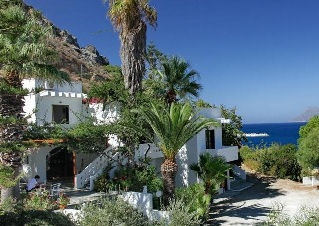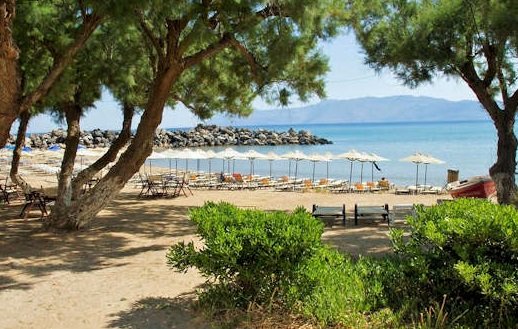 In Kissamos, relax by your own beach, such as Mavros Molos Beach (pictured above) or take a boat ride to Balos Lagoon, or a bus to Falasarna. Visit the small village of Kaliviani or make a day of it and go to Elafonisi Beach. Rent small motor scooters or cars in town, or rent a bike.
Those who prefer walking can start their E4 European Walking Path journey right here. Starting in Kissamos, from Eleftherios Venizelos Square, the first day can be a 7 km walk to ancient Polyrrinia, or a 22 km hike to Sfinari Beach.

---
Accommodation in Ierapetra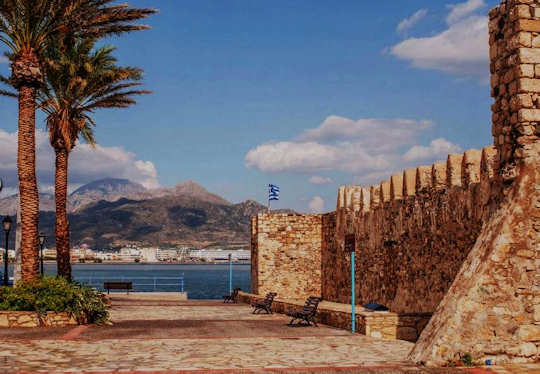 Ierapetra is one of the sunniest locations in Crete, sitting on the south-eastern coast, and is a lesser developed part of the island, with wonderful beaches and mountains to explore.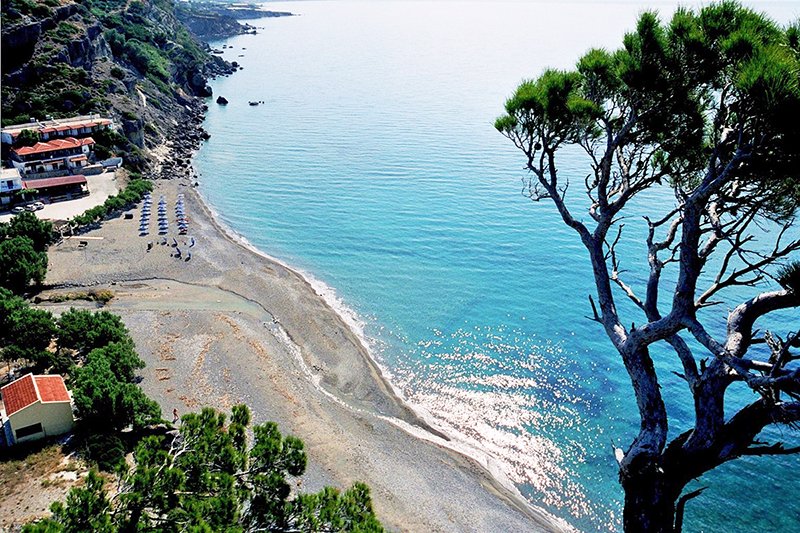 From Ierapetra explore the many beaches along the coastline east and west, reaching small coves like Agia Fotia (pictured above) or take a boat ride south to discover the paradisical Chrissi Island.
Come back to Ierapetra to enjoy strolling along the esplanade and dining next to the sea, trying local Cretan traditional food or seafood, which is very fresh here. Watch the sunset as it rolls down over the Libyan Sea.

---
Accommodation in Crete
Sitia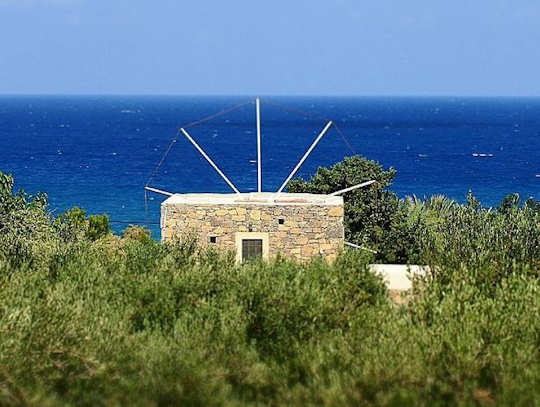 This very Greek town sits on a wide bay in the far east of Crete, with a large port for ferries heading to Kassos, Karpathos and Rhodes. Surrounded by olive groves, vineyards and beaches, there is also a lot of history to discover here.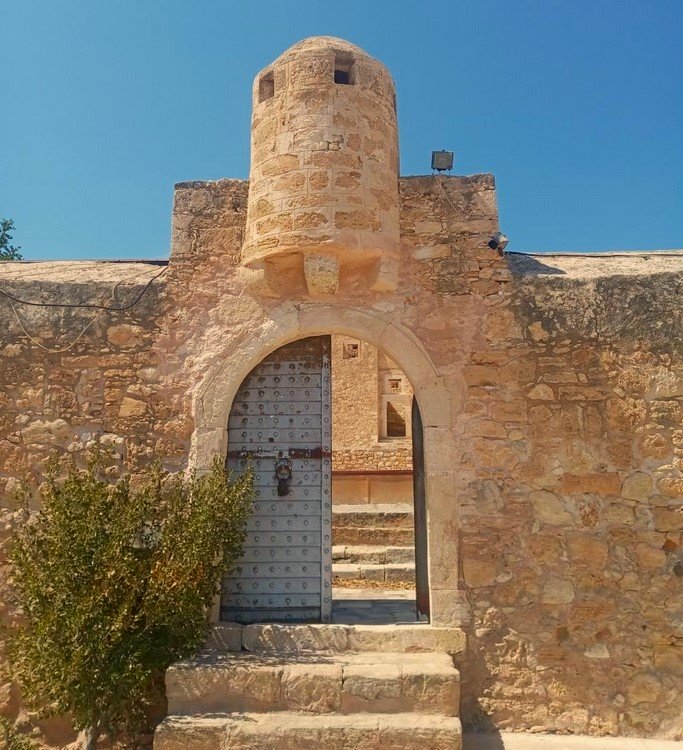 Sitia is a hilly small town nestled around the northern end of a wide bay. On top of the hill sits the Kazarma (pictured above) which was built by Venetians as a 'Casa di Arma' in the 13th Century. Try olive oil tasting, because this is olive country, and don't forget to drive out and find some of the wineries.
Another historic sight nearby, the Toplou Monastery, offers tasting of their wines, the vineyards are extensive over eastern Crete and the resulting wines are well worth a try, accompanied by mezedes.
---
Top Picks in Each Town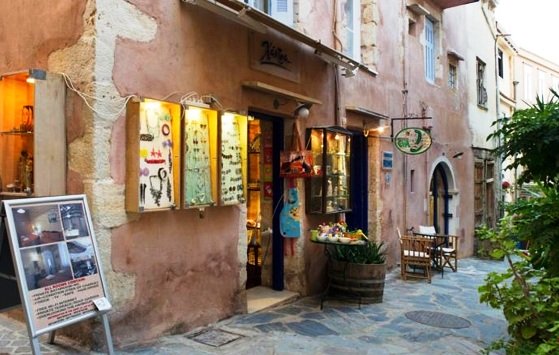 Pension Eva in the Old Town of Chania, Crete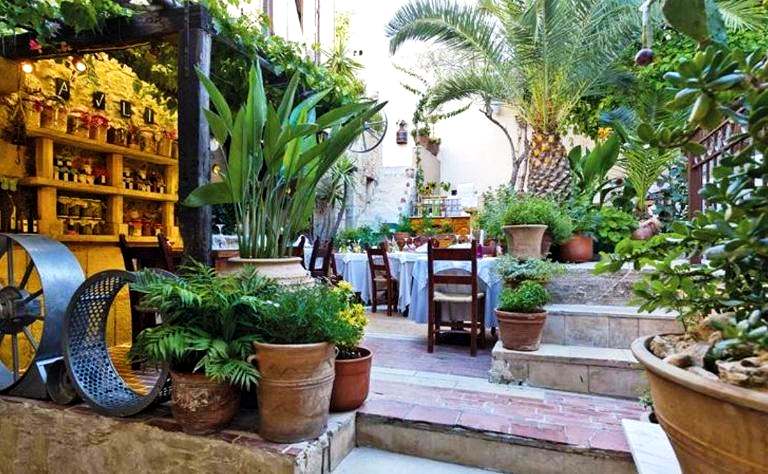 Accommodation in Crete - Avli courtyard in Rethymnon Old Town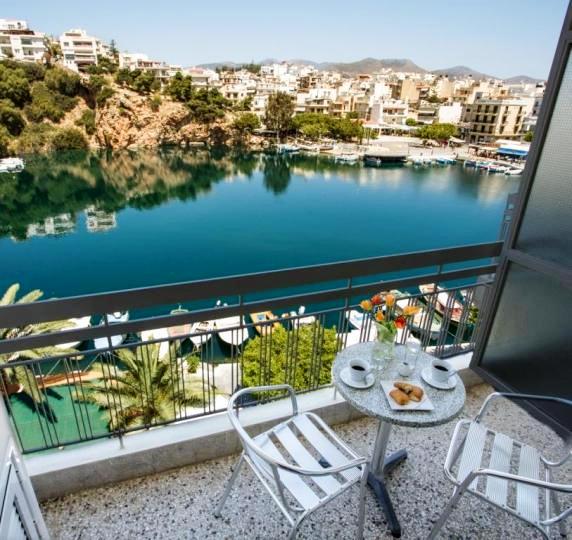 Cafe du Lac and Hotel du Lac sit on the Lake in Agios Nikolaos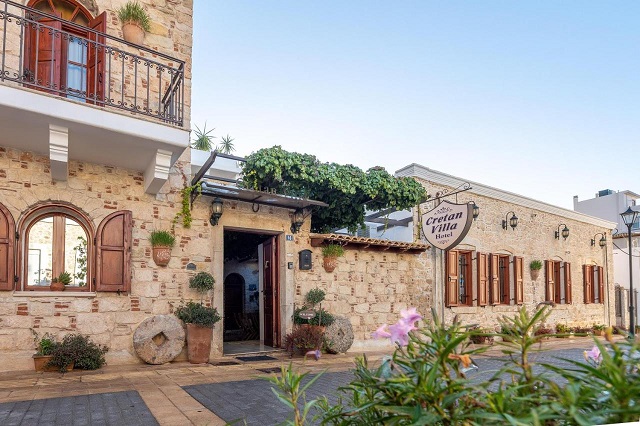 The Cretan Villa Hotel is a restored home in Ierapetra