Cosmopolitan Cretan Towns
This page may contain affiliate links, see our disclaimer here.

---
Our exciting Cretan towns! 


Whilst visiting her beaches, olive groves and mountains, don't forget Kriti's thriving towns.
With a total population over 620,000 Crete welcomes over 5 million tourist visitors every year.
Many Cretans live in the four capitals; or share their time between the capital and the village.
Each has a different character and pulse for the traveller to discover.


Agios Nikolaos
---
Cretan Towns - Town by Town
Chania
Chania

Chania Χανιά, with its picturesque Venetian harbour is a fascinating blend of the modern and historic patchwork of Cretan life. Built on an ancient site, the old town with its narrow twisting streets, art galleries and cafés is characteristic of Kriti's wealth of culture.
Ferries arrive into Souda port near Chania and flights arrive into Chania Airport, both just 15 km from town, capital of the western Region of Chania.

Here are our selections for accommodation in the old town of Chania



Tip - use Chania Airport Code CHQ

Chania Harbour, Crete
---
Rethymnon

Rethymnon

Rethymnon Ρέθυμνο surrounded by beaches and crowned by the ruins of a Venetian fortezza, Rethymnon also has a contrast of historic and modern architecture, with excellent restaurants and cafés. The University of Crete is based just outside of town.
When staying here, we suggest small guesthouses within the walls of the Old Town.

Capital of the Rethymnon Region, this busy town is well located in the central north of the island, making it a good choice for exploring all regions, and north and south coasts.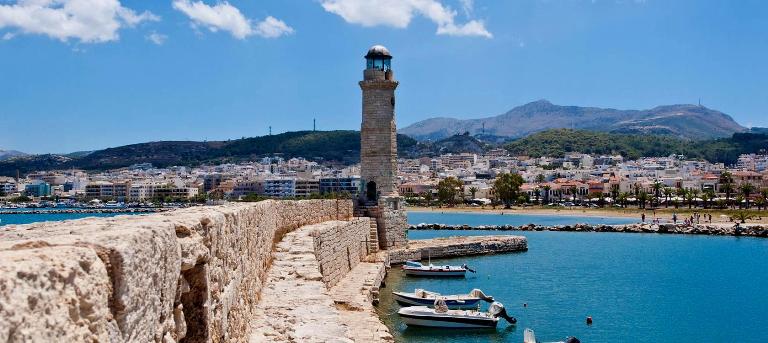 Rethymnon Old Harbour and Venetian Lighthouse with the new town across the bay
---
Heraklion

Heraklion

Heraklion Ηράκλειο is the capital of the island and one of the most wealthy cities in Greece. It is modern, upbeat and diverse. We are happy to share our knowledge of the town to those who might think to overlook it, there is plenty to see and do in Heraklion.
Ferries arrive into Heraklion Port just 1 km from town and flights arrive into Heraklion Airport just 4.5 km from the centre of town.
Our suggestions for Heraklion accommodation are here.

Many visitors come into Heraklion to see the ancient site of Knossos and the other sites of Phaistos and Malia, historic locations of importance in the Minoan era of the island's past.
The Heraklion Region boasts mountains and beaches, wineries and olive farms.


Tip - Use Heraklion Airport Code HER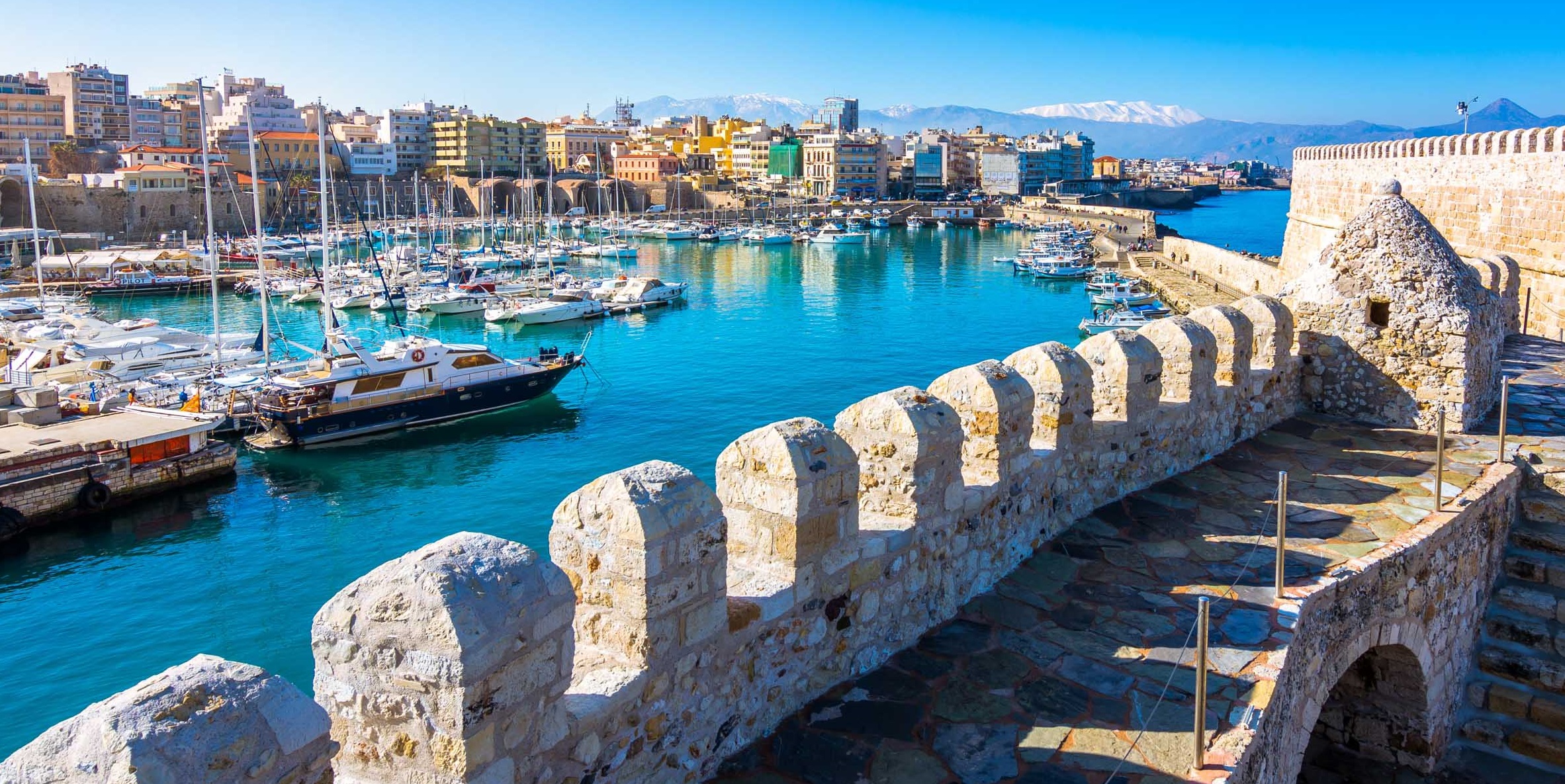 Heraklion Harbour, Crete
---
Agios Nikolaos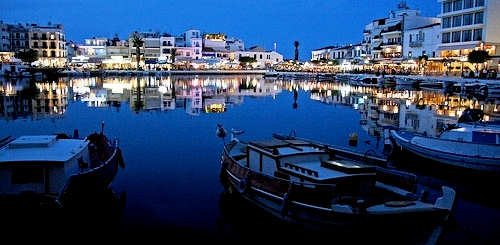 Lake Voulismeni in Agios Nikolaos is surrounded by cafes and tavernas, the lake leads to the seafront harbour

Agios Nikolaos Άγιος Νικόλαος is a hilly town surrounding the beautiful Lake Voulismeni. Agios Nikolaos has its own charm and pulse. Come and have a peek at one of the Mediterranean's prettiest harbours. Info on tavernas, cafes and ancient sites.
The Beach of Kitroplateia looking over Mirabello Bay is a lovely town beach, meanwhile many visitors take the ferry from this port on to further ports in Karpathos and Rhodes.

From here, visit the Region of Lasithi with mountains and plateaux, gorges and beaches, loads of wide open spaces and a rich food culture.


Tip - Use Heraklion Airport HER or Sitia Airport JSH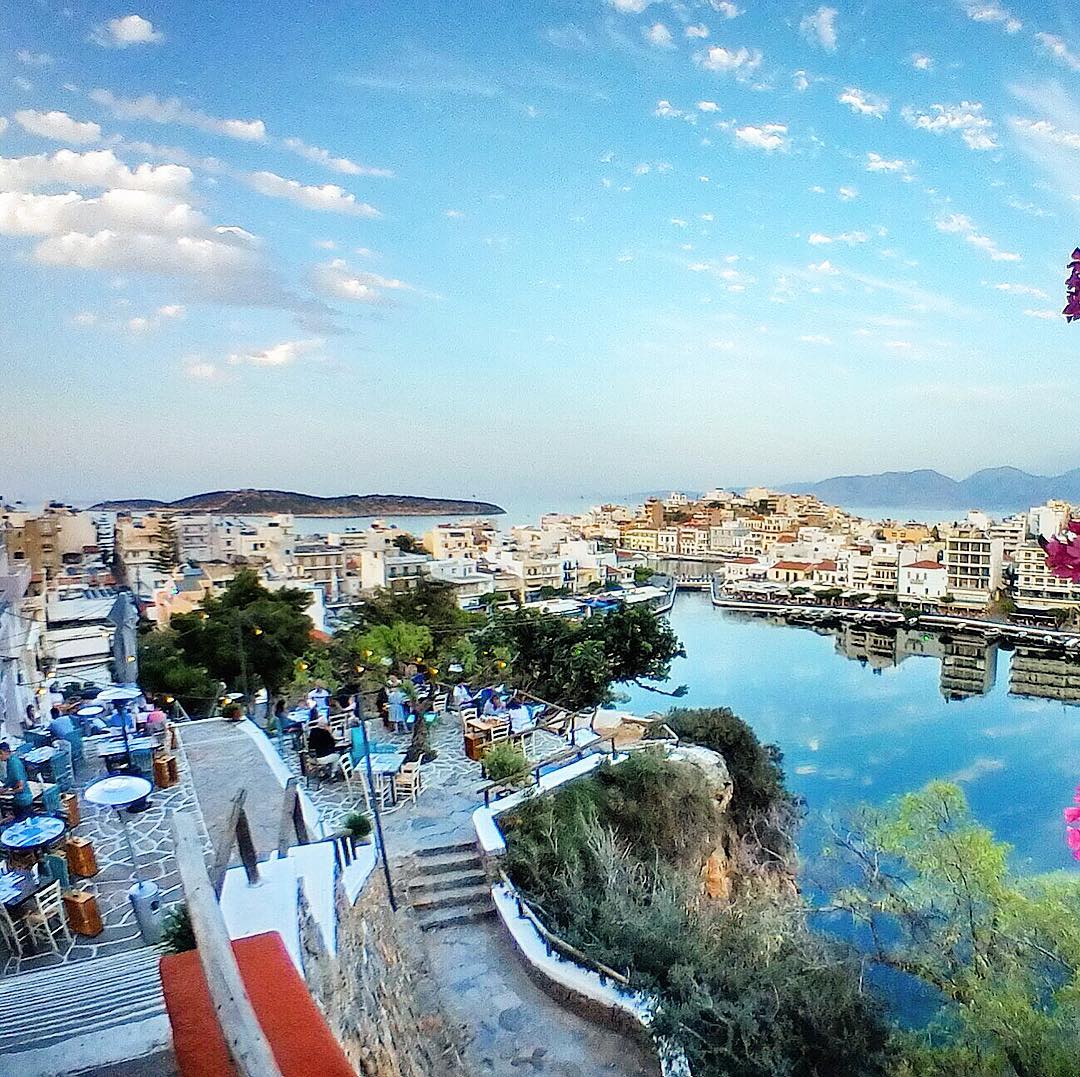 View of Lake Voulismeni from Gioma Meze Bar in Agios Nikolaos
---
Some of our smaller, regional Cretan towns follow below.


Kastelli Kissamos
Kastelli-Kissamos

Kastelli-Kissamos Κίσσαμος on the north-west coast of Crete, is a small coastal town with an interesting history. Pirate Barbarossa was active here. Some of the most beautiful wild beaches of the island are nearby, such as Balos Lagoon, Gramvousa Islet and Falassarna Beach.
More information about Kissamos here - accommodation, nearby beaches and gorges, cooking classes.



Tip - Use Chania Airport CHQ

---
Cretan Towns
Palaiochora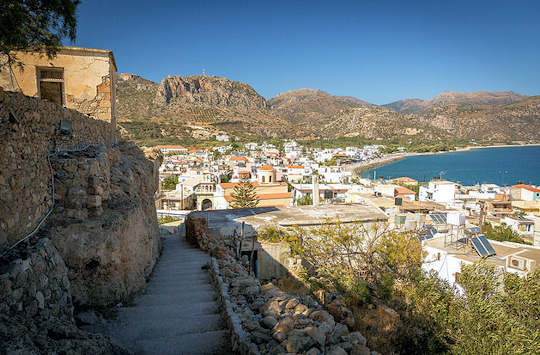 Palaiochora

Palaiochora Παλαιόχωρα on the south-west coast of Crete, is where the mountains meet the sea. This charming small town or large village juts out on a peninsula into the sea. From here you can beach hop, hike in the Lefka Ori, or sail to Gavdos Island. Whales and dolphins can be seen in these clean turquoise waters.
Walk the E4 European hiking trail, relax at numerous beaches or explore the mountains.

Visit the pristine undeveloped beach of Elafonisi from here by boat, or take the south coast ferry along to tiny inaccessible villages such as Sougia, Agia Roumeli and Loutro.

Tip - Use Chania Airport CHQ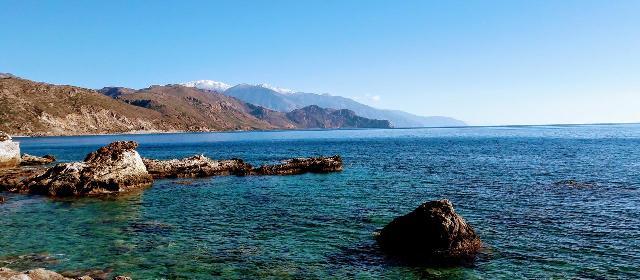 ---
Moires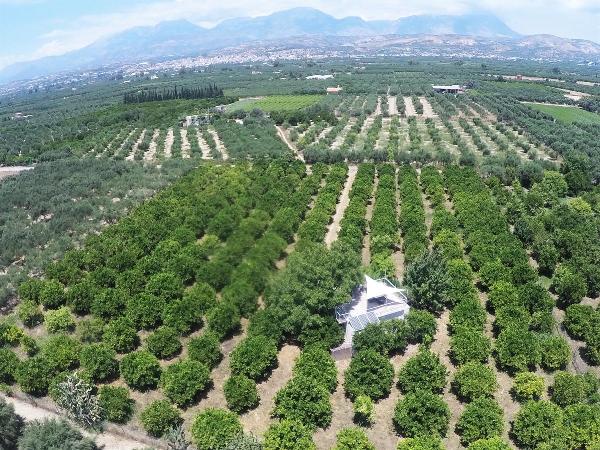 Moíres Μοίρες in the Messara of Iraklion, in the centre of the island, is a busy market town. The Messara is a huge central valley rolling north to south in the middle of the island. It has been written about, fought over and appeared in mythology.
Today Mires is a vibrant agricultural community, with a huge market every Saturday. It is close to the ancient sites of Phaistos and Gortys, and the villages of Zaros, Vori and Kamilari.
Tip - Use Heraklion Airport HER

---
Sitia in Eastern Crete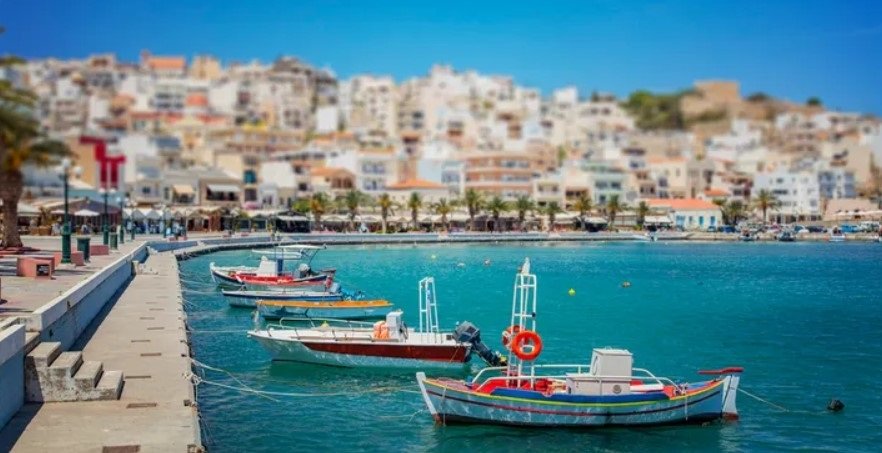 Sitia Town with the Kazarma atop the hill

Sitia Σητεία in the east of Crete is not often visited by tourists, however travellers will find plenty of interest here in this solidly Greek town. As Lasithi has a vibrant agricultural activity, especially with the olive harvest, Sitia is a wealthy town, over-looking beautiful Sitia Bay and surrounded by the wide open landscapes of Kriti.
More about Sitia and your options for accommodation here.


Tip - Use Sitia Airport JSH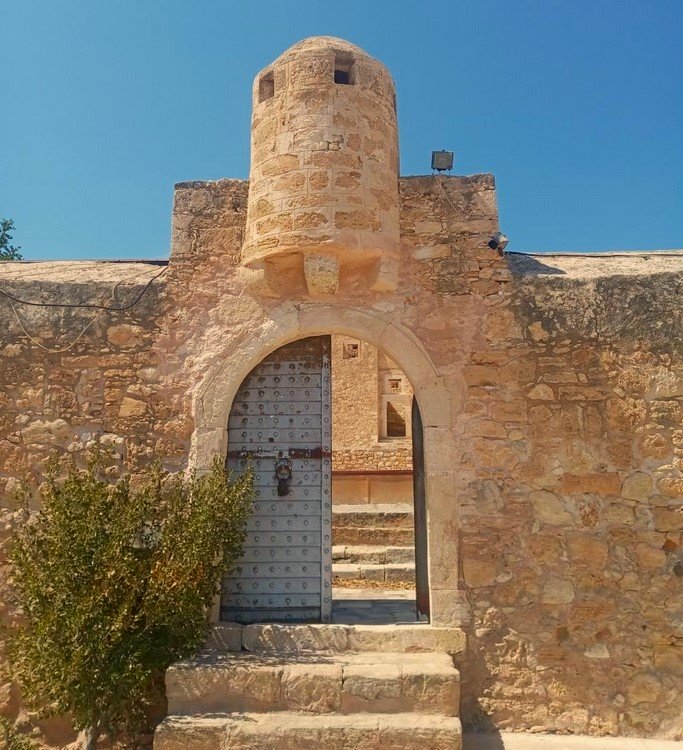 The name Kazarma derives from 'Casa di Arma' from the Venetian occupation. Now it is a ruin after an earthquake in 1508 and an attack from pirate Barbarossa in 1538.
---
Ierapetra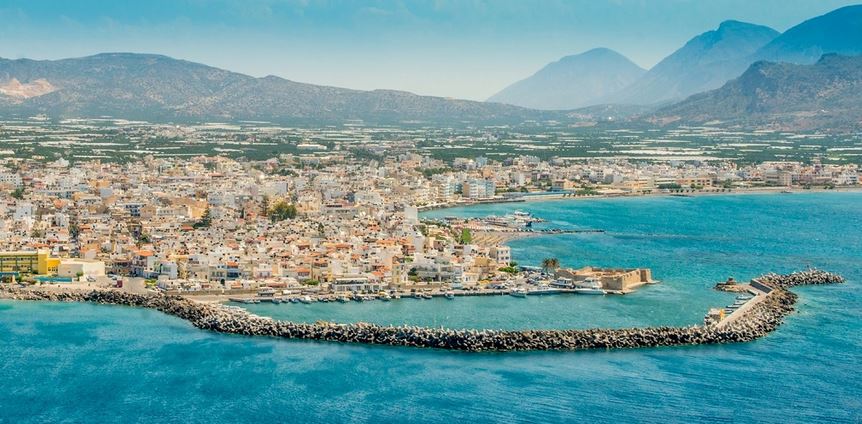 Ierapetra Crete

Ierapetra Ιεράπετρα is a large town in the south east of Crete, surrounded by beautiful beaches and rugged mountains. Access the remote and uninhabited Chrissi Island from here by boat.
More about Ierapetra and your choice of where to stay.

Tip - Use Heraklion Airport HER or Sitia Airport JSH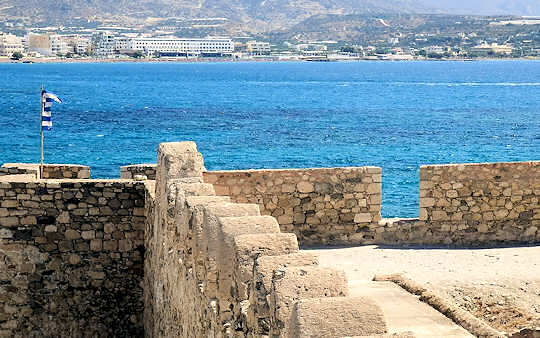 Looking over Kales Fortress over the bay to Ierapetra Crete
---
Map with Towns of Crete Marked
---
Getting Here
Take a 1 hour flight from Athens to Heraklion with Aegean Airlines or Olympic Air, with many flights available per day.
Or take a 9.5 hour overnight ferry from Pireaus port of Athens to Heraklion port.
More on flights and ferries below.
Car hire in Crete is a really good idea as it is a large island 60 km by 260 km. There is so much to explore.
When you book with our car rental partners - Rental Centre Crete - you are supporting a local company with excellent service and an easy online booking procedure. We are sure you will be well looked after by the team. Choose from hybrid or non-hybrid vehicles.
---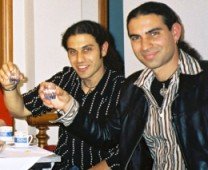 "We trust you have enjoyed these tips from the team at We Love Crete. Evíva!"
Contact us with further questions or feedback. We love to hear about your travels in Kríti and Greece. Let us know of any updates or additions, errors or omissions. Help us make this website the best it can be. Kaló Taxidí!

---