Contact Us
This page may contain affiliate links, see our disclaimer here.

---
Contact us with the easy form below.
---
---
What do you need to know?
What would you like to learn about Crete?
Are you planning a holiday?
Planning to stay?
Renting a villa?
Booking a guesthouse?
Do you want to choose between Samaria Gorge and Knossos Palace?
Need to choose which side of the island to visit? 
Looking for the perfect combination of relaxation and fun?
Struggling with logistics? Ferries? Flights? Local buses?
Would you like to give us feedback on our website? Have you noticed any errors or omissions? Something need updating? Please let us know.

We answer questions here...see some of the answers here:
We are always happy to answer your queries...
---
Do you love Crete?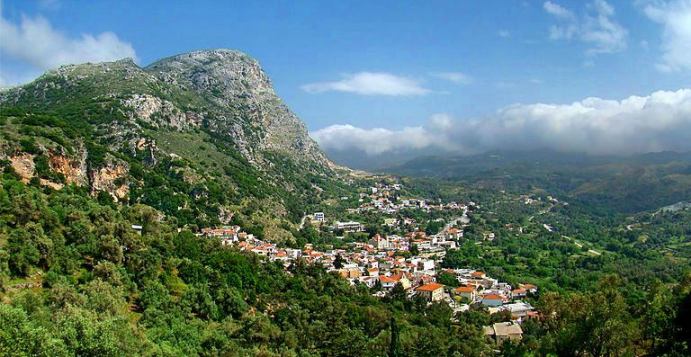 Whether you live in Crete, you are local, expat, visitor or just holidaying, this is the place to share your love for Crete and tell the world your story...
---
Contact Us - Share your Snaps
---
Did you walk the Gorge?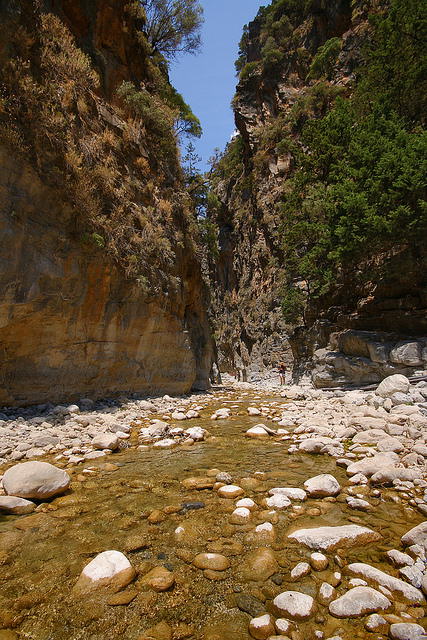 Contact us if you are proud to tell us about your Samaria Gorge walk - tell us and the world here...
When did you go? How long did it take you? How did you arrange it? Do you have any tips? How about snap shots? Where to stay? Was it wet like this picture or dry> Contact us here...
Of course we want stories from other gorges and canyoning and mountain climbing and everything else in the wilds of Crete...!
---
Seasons in Crete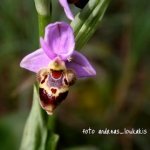 If you are trying to decide which month to visit Greece, perhaps Athens and Crete, we have some pointers for you here:
Which is the best time to visit Crete?
Weather in Athens with seasonal tips
More tips and stories for seasons in Crete

If you have any further questions about seasons, temperatures or which time to visit Crete, please contact us.



---
Are you Living in Crete?
Contact us to share - do you have a favourite Cretan town or village? Let us know all about it. Post a comment here.
This site is for you...let us know what you would like to see on this site...pop your message here.
Would you like to share your love for Kriti? 
Do you run a business in Kriti?
You are welcome to tell us about it here. Often we will tell our readers about it, include it in our blog or write a page about it. We love to support local business.
Do you write stories? Could you write one about your favourite place in Kriti?
Are you a journalist based in Crete? Or a travel blogger visiting Crete? Please submit your story for our blog, write for us guidelines here...

Do you know about the nature of Kriti? Her gorges and mountains? Please tell us about your experiences...
We would love to hear from you...we promise to return an answer within 72 hours - usually much quicker than that.
Náste kalá!
Anastasi, Apostoli and Katia
We-Love-Crete.com
Αγαπάμε την Κρήτη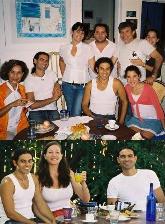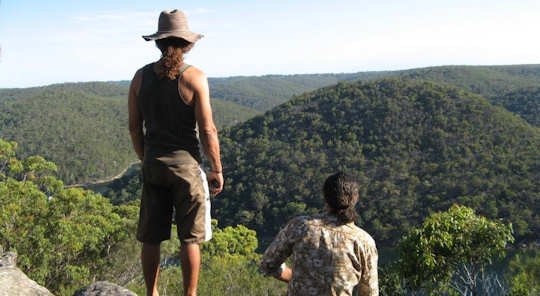 We love exploring - do you?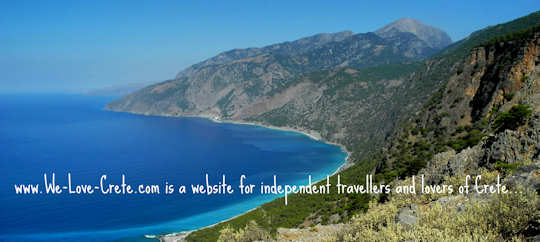 We-Love-Crete.com is a website for independent travellers and lovers of Crete (image by Mark Latter)
---
A Conversation with the
Authors of We Love Crete
Are you:
travelling independently to Crete?
thinking of retiring to Crete?
living in Crete?
a Cretan or a Greek in the diaspora?
This website is for you and we would love to hear from you.

Apostoli and Katia were interviewed about our website and about our love of Crete and travel by Daniel of Traveloris, see the video here:


---
Our e-Book Trip Ideas
Many of our web visitors asked for tips on how to see Crete in 5 days.
We remind you that you cannot actually really explore and feel and appreciate this large island in 5 days. This island is the biggest Greek island roughly 260 km by 60 km, which hundred of beaches, 3 mountain ranges, plenty of gorges, 4 capital towns and hundreds of villages to discover.

So, we divided our booklets into west and east, and encourage you to take 10 days (or longer) to explore the beaches, mountains and so much more...
These mini trip ideas can be expanded to take as many side trips as you like, and give you some off the beaten track routes to see this wonderful island...


Take a back roads journey through the island of Crete in Greece. The 5 Days in the West of Crete by car or motorcycle helps you discover the real Crete - archaeological sites, wine tastings, organic tavernas, hidden valleys and other gems in the west of Crete. Get behind the scenes.

Anastasi, Apostoli and Katia of We Love Crete have put together their favourite places in the west of the island to give you a varied and interesting itinerary to follow.

Or adapt for yourself.
5 Days in the East of Crete by car or motorcycle...


The stunning mountains and coastlines of Crete will be at your fingertips –

Experience mountain hospitality and local food in Tzermiado
Enjoy the views, nature and green heart of the Lasithi Plateau
Use our accommodation tips in Elounda
Relish in the stylish lakeside boulevard and atmosphere of Agios Nikolaos
See the inland route to Kato Zakros and the historic Gorge of the Dead
Rugged Gorges! Unexplored mountains and gorges of the east of Crete
Best of all, enjoy the luxurious and unusual palm beach and forest of Vai
Many of our visitors are independent travellers who want to use the local buses. This is a wonderful easy way to see Crete. We put together our guide to the west of the island as a little e-book. Contact us to give your feedback on any of these booklets.


10 Days in the West of Crete by Bus
Learn the secrets of the Minoans at the Knossos Palace

Get around easily, see Rethymnon and experience history at Arkadi

See Balos Lagoon, Elafonisi protected natural beach and Paleochora Beaches

Discover Samaria Gorge and the south coast of Chania

Have easy access to the route with our live-link map and clickable website links

Local bus tips and bus timetable information, bus station tips and trip plans

Choose from 5, 7 or 10 day trip options

Packed with tips for accommodation that will save you Euros and provide budget, authentic local experiences
Contact Us for Feedback - when you purchase your e-book you will be sent a feedback email with a confidential link, however if you would like to give us feedback here, please use our contact form - we would love to hear how you enjoyed our guides or how to make any improvements.
To learn more about us please see our story here: about us.



---
---
Agapáme thn Kríti