Rural Accommodation Crete
In the mountains and rolling hills...
Rural accommodation Crete...cottages where the real character of the island is hidden.
In the mountain villages, rolling vineyards, olive groves and tiny seaside hamlets, you will find simple stone houses or recently built villas, constructed in the traditional style with all the comforts of the modern world.
Select your pension by location on the map below...
Below are our suggestions - options to suit the budget or luxury traveller, our selection includes small, atmospheric traditional cottages, villas, guesthouses and pensions.
---
Chania in the West



Cottage Accommodation Chania... including:


Eco Village in Milia
Elia Guesthouse in Ano Vouves
Samonas Villas in Samonas

Kamares Houses in Maheri
Kastellos Traditional Houses in Kastellos
---
Rethymnon in the Central West



Traditional Homes in Rethymnon... including:


Meronas Eco House in Amari Valley
Dalabelos Farm in Angeliana
Erondas Cretan Country Houses

Enagron Ecotourism Village in Axos
Kouriton House in Tzanakiana Margarites



---
---
Heraklion in the Central East



Guesthouses in Heraklion... including:


Arhontiko Studio in Arhanes
Eleonas Eco Resort in Zaros
Mourtzanakis Residence in Achlada
Aretoussa Pension in Pitsidia
Traditional Home, Agios Miron
---
Lasithi in the East



Rural Pensions in Lasithi... including:

Pezoulia Mountain Retreat in Selkano Forest
Cressa Ghitonia in Sfaka
Villa Mala in Malles
House Margot in Palekastro



---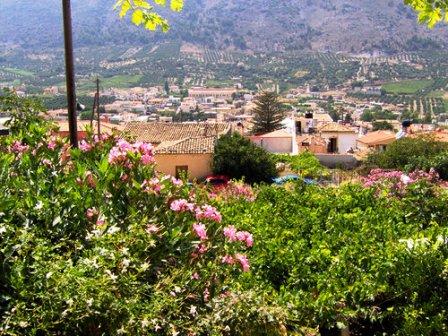 Rural Accommodation Crete - where the real island character can be found
Rural Accommodation Crete...
You will find friendly local hospitality in the small communities of Crete, where there is a proud tradition of welcoming guests. Philotimi is the Greek word roughly translated as hospitality, but meaning so much more. Truly the Cretans are known for their generosity and warm-hearted inclusion of travellers.
Village life - experience the natural Crete, see the herbs growing, wander in the olive groves and taste the local produce, from olive oil to wine and fresh fruits.
This is also the opportunity for the village to share its history, its speciality and its wares. Be it pottery, woven cloths, honey or raki, each village has something to offer.
Take some time and you will be made to feel welcome and start to unravel the mysteries of this wonderful island. This is the true meaning of the modern word 'agrotourism'.

Some of our cottage selections are close to the beach, some are well and truly inland; high in the mountains. Some traditional houses have evolved into and ecotourism resort, which means that there are a lot of activities for you to experience the local nature and customs of Crete.
Take your pick, perhaps combine a country experience with visits to the beach, or choose the mountains for some great trekking experiences...see the locations on the map below... 

This is the budget symbol.

Dikti Mountains - Pezoulia
---
Getting to Crete
---