Flights to Chania Crete Greece

This page may contain affiliate links, see our disclaimer here.

---
Flights to Chania Crete Greece

Your flight to Crete may be the largest expense of your whole trip.
Because it is a big expense, save by finding cheapest flights here
Are you keen to start your Crete travel adventure? Book flights here
Our info pages below will help you find your best flight.
---
There is no single best way to find cheap flights to Chania in Crete. It all depends on:
where you come from
where else in Greece you want to go
how flexible you are with your trip planning
how long you plan to stay in Greece
and what you plan to do when you are here
We hope this section helps you to find the cheapest flights to Crete to suit your Greek travel plans.
Use Chania Airport code CHQ

---
Athens as a Hub
Flights to Chania Crete Greece
Most cheap return flights to Crete go to either Chania or Heraklion, so they are the cheapest flights to Crete.

The travel distances in Crete are small, and you won't require internal flights. You may want to connect up to other Greek islands. For most people coming from afar it is actually the best option to book a return flight to and from Athens.

Don't just assume that a cheap flight to Chania or Heraklion is your best option. You may want to see other parts of Greece, so you can use Athens as a hub. Fly into Athens and take flights between the islands. From Crete you can fly to Santorini or Rhodes, for example.

Want to find some great value flights? Check out the best cheap flights search engines on the internet. This engine searches travel websites for flights and brings back the lowest prices:
---
Flights to Chania Crete Greece
Seasons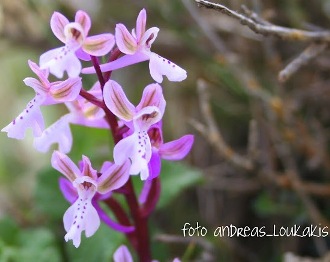 To find a cheap flights to Crete you will need to start comparing fares early. Don't place your only hope for last minute flight deals to Crete.
Here we mention some of the seasons of the year, see our page about when to visit Crete

Flights to Chania Crete Greece
July and August is the main tourist season in the whole of Greece, and is the time with the most flights, including charter and discounted flights. We recommending steering clear of this season and travelling in Crete in a shoulder season, that is; spring or autumn.

April to June is spring season and technically for flights it is a shoulder season, however it can start to get really busy in June, so book ahead.

September to November is autumn season and also shoulder season. Some good fares are available, although schedules are sparser.

December to March is winter season and flight schedules are much reduced. A lot of the direct flights from Europe to Chania and Heraklion do not operate, and the flight route you will need is via Athens.
Need more detail? See our pages to help you choose when to visit Crete.
---
Airlines

Coming from Athens
The two regular carriers from Athens to Crete are Olympic Air and Aegean Airlines.

---
Within Greece
Sky Express travels between many destinations and both Heraklion and Sitia in Crete. Including Athens, Kythira, Kos and Rhodes.
---
Coming From Australia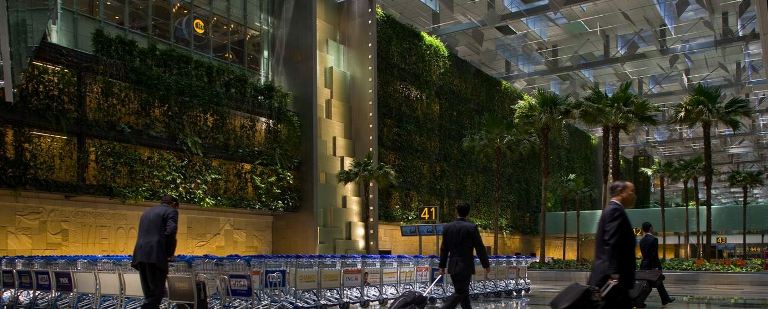 Singapore Airport Transfer

Flights to Chania Crete Greece - all sorts of airlines and options are available to get to Crete from Australia. You can use any European city as a hub, and fly that national airline.
KLM Dutch Airlines - has some very good fares; this would mean a stopover in Amsterdam. 
Singapore Airlines - we prefer to use Singapore as a stopping point on a continuous journey. Singapore Airlines flies direct from Singapore to Athens generally three times a week. This gets us to Athens with just under 24 hours flying time.
Swiss Airlines have some very good fares with a choice of stopover in Zurich ZUR, which makes for a relaxed arrival into Europe (below).
---
Coming from North America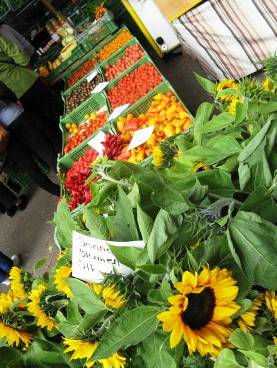 Zurich Markets
Olympic Air fly from Toronto, Montreal and New York to Athens. Air Canada pairs with Lufthansa to fly to Athens from Toronto via Montreal and a German city such as Munich or Frankfurt.

Fly from Toronto or Montreal to Zurich then on to Athens. Flights from Toronto and Montreal can connect up in New York with the Olympic Airlines service to Athens.
From New York there are many cheap fares to Athens.
Swiss Airlines have some very good fares with a choice of lay over in Zurich ZUR, which makes for a smooth and relaxed arrival into Europe.
---
Coming from the British Isles
Flights to Chania Crete Greece
Olympic Air fly into Athens from London, Aegean and Ryan Air fly from Manchester to Athens. Many of the discount European carriers now fly from various points in the British Iles direct to Chania and Heraklion, especially in summer. 
---
Coming from Other Parts of Europe
Flights to Chania Crete Greece
Olympic Air fly into Athens, Greece from Amsterdam, Belgrade, Berlin, Brussels, Bucharest, Dusseldorf, Frankfurt, Geneva, Larnaca, London, Lisbon, Madrid, Malta, Manchester, Milan, Munich, Paris, Prague, Rome, Sofia, Strassbourg, Stuttgart, Tirana, Torino and Vienna. 
Aegean Airlines flies into Athens, Greece from Amsterdam, Barcelona, Basel-Mulhouse, Bari, Belgrade, Berlin, Bologna, Copenhagen, Dusseldorf, Geneva, Helsinki, Lisbon, Lyon, Madrid, Milan, Munich, Pisa, Paris, Zurich and many more cities across Europe.

For cheap Crete flights we help you use the net to compare prices for many airlines, and different routes easily.


---
Chania Crete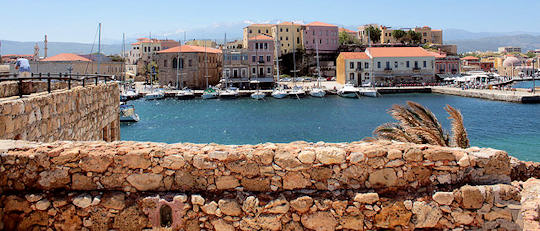 Enjoy the Old Town of Chania - we recommend staying within the walls of the historic town to soak up the atmosphere.
While you are in Chania explore:
narrow lane ways
boutiques and studios
Old Venetian Harbour
Venetian Lighthouse

artisanal workshops
art galleries
Venetian Town Walls

museums
ancient sites such as Ancient Kydonia

Fort Firca and the Maritime Museum
Trimartiri Orthodox Cathedral

Chania Municipal Market
Museum of Archaeology
Restaurants, cafes and tavernas galore
---
Crete Flights - How to Book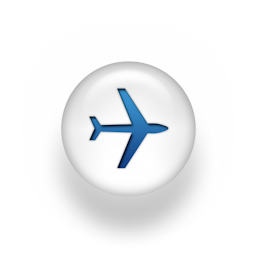 ---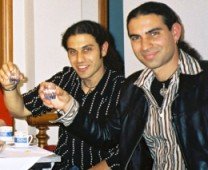 "We trust you have enjoyed these tips from the team at We Love Crete. Evíva!"
Contact us with further questions or feedback. We love to hear about your travels in Kríti and Greece. Let us know of any updates or additions, errors or omissions. Help us make this website the best it can be. Kaló Taxidí!

---
Flights to Chania Crete Greece