Travel Crete - Sightseeing
Top Tips – What to See & Do in Crete
Travel Crete – Sightseeing – Crete Tours here are some of the top spots in Crete. For each one there are day tours available from most capital cities.
| | |
| --- | --- |
| | Knossos Palace only 5 km from Heraklion is the site of the birth of civilisation in Europe, the beautiful Minoan palace of Knossos. As the most popular destination in Crete, the palace gets very crowded in summer (Central Crete). |
| | |
| --- | --- |
| | West of Crete in the prefecture of Chania are some of the most beautiful natural sights of the island, here we highlight five of the best. Lake Kournas is pictured at left. (Western Crete). |
| | |
| --- | --- |
| | Samaria Gorge is the most popular gorge walk on the island, 16 km from north to south ending by the south seas. As this is a one-way walk it is best to take an organised tour if you have limited time  (Western Crete). |
| | |
| --- | --- |
| | Gramvousa & Balos Lagoon a breath-taking boat tour in the north-western tip of Crete, this tour is available from Chania town as a day tour or one can take the boat for a half-day trip from Kastelli-Kissamos (Western Crete). |
| | |
| --- | --- |
| | Visit Spinalonga as a day trip from Elounda or Agios Nikolaos, this island, with its intriguing history, is a favourite. (Eastern Crete). |
| | |
| --- | --- |
| | Lasithi Plateau with its stunning scenery and windmills, Dikti mountains, caves and high villages, the plateau is a real experience of Cretan mountain life. Visit the Psychro Cave and enjoy fresh local produce in the many tavernas (Eastern Crete). |
Boat Trip to Chrissi Island - this is just a piece of paradise. One of the remotest beaches in Crete, beautiful white sand and crystal clear waters, silence, sun and sand...These tours leave from east Crete only and include a one hour boat trip. Revel in the sparkling white sand, gloriously isolated coves and beaches, perfect paradise (South-Eastern Crete).

Crete attractions and alternatives - you could visit the popular attractions in Crete or seek out the alternatives...we help you get 'far from the madding crowd'...

"Farre from the madding worldlings hoarse discords"
---
Travel Crete with a Guide...
Travel Crete - southern seaside village of Loutro
This site is for independent travellers, with lots of great info to arrange all your travel yourself...
Sometimes...you just don't want to do all the driving yourself...
Sometimes...as in most of these tours, it is impossible to drive as there are boat and ferry trips involved...
Sometimes...you just want to relax on holiday and have an expert local tell you the history and stories...
Specialist tour info here...like photography and trekking tours...
Of course there are many more historical and natural sights to see on the island, see history pages for information about each Minoan palace and other sites of interest including Gortys, Arkadi and Olous...
---
Travel Crete - Knossos Palace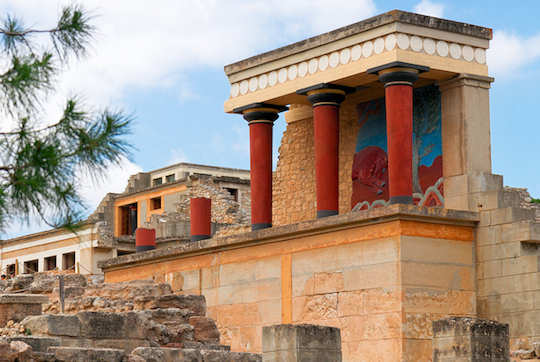 Knossos Palace - The Propylaeon or Entrance Gate has been partially restored - some of the controversial architecture from British restorer Arthur Evans
Visit Knossos Palace in the centre of Crete, which is located 5 km outside of Heraklion town.
The site is extensive and the visit will take at least 2 hours. This site gets very busy in summer and it is best to arrive early to avoid the heat and the crowds.
Make the most of this incredible historic journey with a guided tour:

Full Day Tour Knossos Palace and Heraklion Archaeological Museum
Some more information on our pages below:

---