Knossos Crete
Tips for Visitors
Knossos Crete – Tips for Visitors
The archaeological site of Knossos is located 5 km south-east of the capital Heraklion in the central north of the island of Crete in Greece.
See location map below.
The Palace of Knossos is large and it is very popular. In summer it gets very busy. See the summer queue to the throne room in this picture below: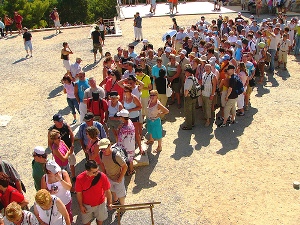 The best seasons to see the site are spring and autumn, when the crowds are not so big and the weather is not so hot.
Always try to arrive early at the site, to avoid crowds and queues. This is a beautiful natural valley which is best enjoyed without a thousand screaming kids.
Leave plenty of time to see the site, and the Archaeological Museum of Heraklion, if you are a serious history buff.
If you are only mildly interested in history, allow a good two hours to visit the Knossos Palace and at least three hours for the museum in town.
Much of the site is not covered. Take a hat and sunscreen, and plenty of water.
It is possible to purchase a combined ticket to Knossos palace and the Heraklion Archaeological Museum for 15 Euro. This will allow entry to both places.
Check the opening hours before departing. Check at your hotel desk or on the net. Generally the site is open from 8.00am to 8.00pm in summer and 8.00am to 3.00pm in winter. But check it again, because it could be a holiday and it could be closed.
---
Organised Tours
Day tours to the site can be taken from most capitals on the island, with a pick up from your hotel. Some tours combine the visit to Knossos with lunch and a visit to another part of the island, or to the museum. One advantage of these tours is the local guide with endless historic knowledge.

Knossos Full Day Tour from your hotel - including the Heraklion Archaeological Museum - full tour time is 8 hours - will vary in price from different locations on the island; 40-60 Euro per adult.
Knossos Half Day Tour from your hotel - including the town of Heraklion - tour time is 5.5-6 hours - varies in price depending on your hotel location; 40-55 Euro per adult.
---
Independent Travel

There is a local bus that will drop off and pick up at Knossos, it is easy to catch from El Greco park stop on 25th August Street in downtown Heraklion. This is not far from the Liondaria. Take Bus No. 2. marked 'Knossos'.
You may want to hire a car and simply drive to Knossos from Heraklion (5 km). You can then continue to Phaistos 60 km, and perhaps stay overnight in Matala.
See our history pages about Knossos:
---
Accommodation Nearby to
Knossos Crete
The Hotel Lato is a good central hotel in Heraklion, from here you can be picked up or take bus or taxi to Knossos Crete.
Here is a good tip for those with a tight itinerary in Crete. If you are landing at Heraklion airport, take a taxi to the lovely rural village of Archanes (12 km).
Stay overnight in the delightful studios Arhontiko Studios Archanes then take a taxi early in the morning to Knossos Crete, which is 10 km down country roads.
This will ensure you miss the crazy, busy Heraklion, and see one of the wonders of this island without any stress or hassle. Now that is the way to start your holiday in Crete!
---
Location of Knossos Crete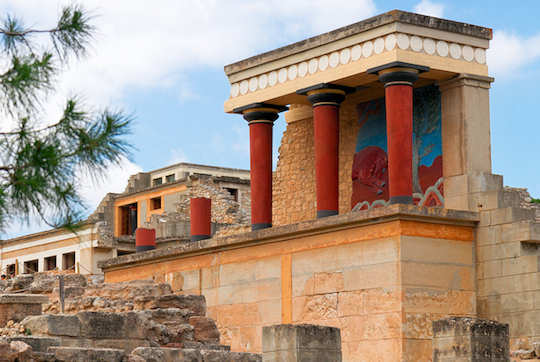 Knossos propylaeon or entrance gate with fresco