Crete to Mykonos

This page may contain affiliate links, see our disclaimer here.

---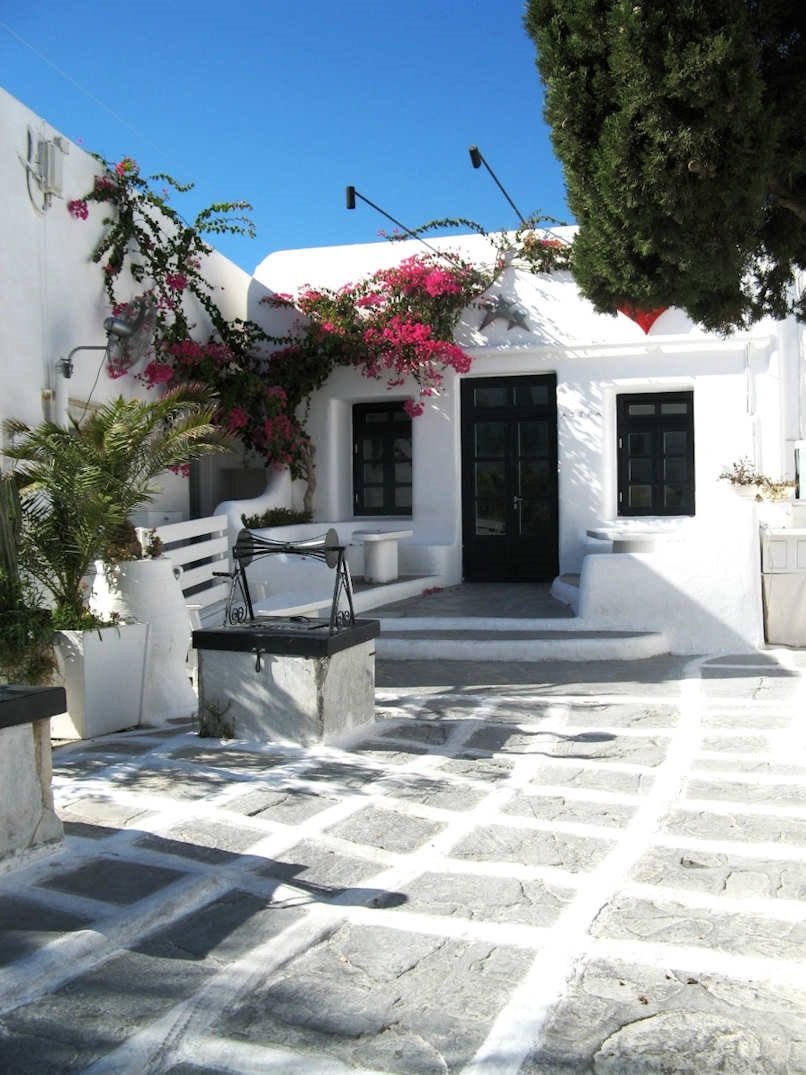 Crete to Mykonos - Μύκονος is a small island with a big reputation.
Mykonos, in the Cycladic islands, famous for her white cubed villages and relaxed island lifestyle, Mykonos has come to epitomise the Greek summer holiday.
Get from Crete to Mykonos in half a day. Leave before  breakfast; get there for lunch.

Close to the islands of Santorini, Syros, Tinos and Delos, Mykonos is 176 km from Athens and 135 km from Santorini, and a total of 336 km from Crete.
An island of only 14 km by 10 km; she has put her name on the international map.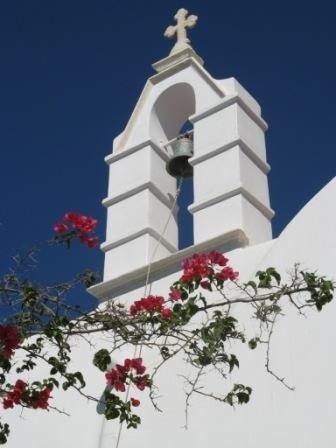 About Mykonos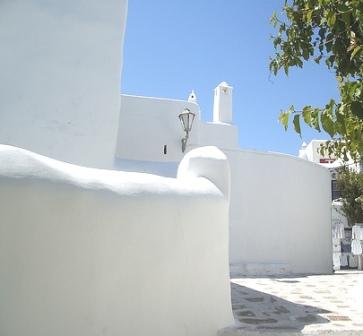 Home of bright light, clear waters, sandy beaches, the deep blue Aegean sea and fresh air, Mykonos is also known for her luxury, style and jet set lifestyle.
With thousands of little lane ways to explore, the main town of Mykonos can only be seen on foot. Due to the high numbers of tourists during summer, we suggest that you do not visit in high season. It is best to visit in shoulder season of spring or autumn, when you will still be able to experience beautiful weather on the island.
The months of May and June for spring and September and October for autumn.

Mykonos town is also known as Chora.
---
My Walking Notes of Mykonos Chora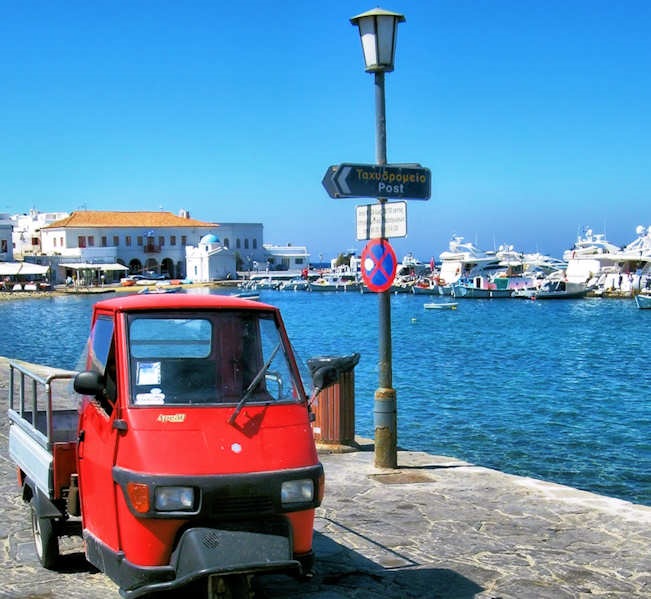 Crete to Mykonos - start your walk around the harbour, which is known as the old port, you will see a traditional seaside fishing village with wharves, coloured fishing boats, fishing nets, the work benches for cleaning the fish.
These are all mixed in with sparkling luxury yachts from all around the world, speed boats and a string of tavernas, jewellers and boutiques around the port.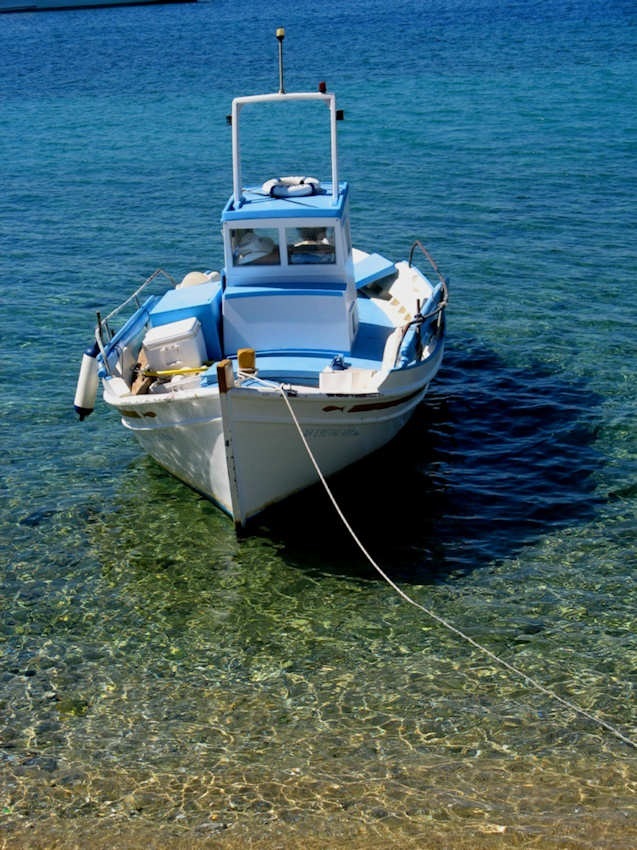 From here ferries depart daily for Delos, and further around the port larger ferries depart for many other islands. The huge cruise ships and some other ferries depart from the large 'new port' which is about 1.5 km out of town.

---
Kastro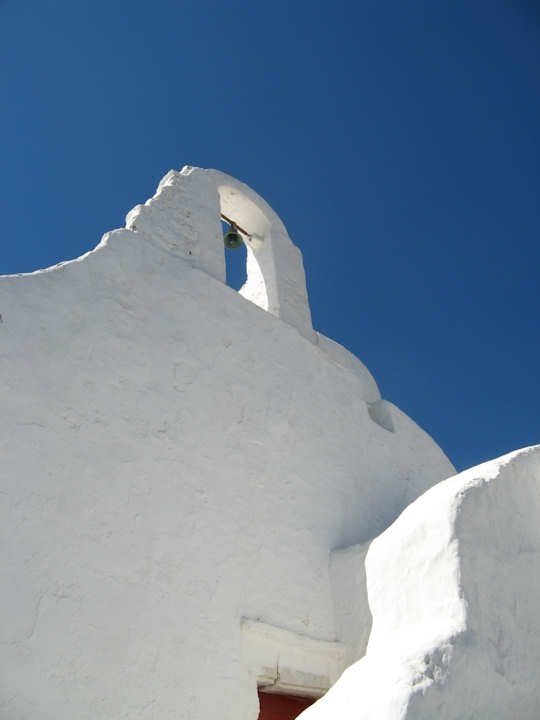 Paraportiani
After enjoying the old port, walk around the point to the area known as Kastro to marvel at the old white churches known as paraportiani. The name means inner door, which it was in medieval times.
This totally white structure is really a group of five small churches, whose first beginnings date back to 1475.
The curves amidst the white light, next to the blue of the Aegean are something to behold, pure simplicity and the essence of nature. One can see here architecture responding to the environment.

---
Mykonos Greece - Little Venice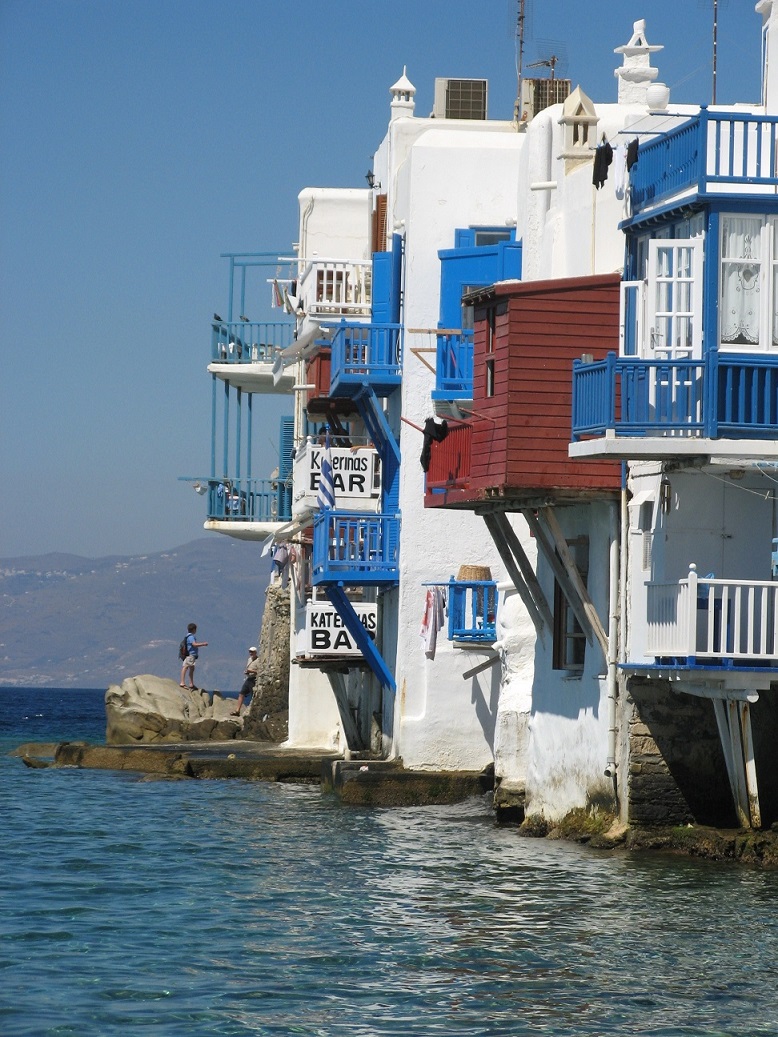 Crete to Mykonos - walking on a little further you will discover more sweet white lane ways, some leading to the sea, and see buildings built right to the ocean side. This is the area known as Little Venice because of the houses built right by the water.
Many café bars line the seaside, forming a most romantic relaxing zone of Mykonos, of course overlooking the bright blue-green bay to the silhouettes of the large windmills on the next hill.
In the lane ways of Little Venice can be found boutiques and jewellery stores, amongst the atmospheric bars, galleries and cafes.
Here is the beautiful Kastro's Bar, a sweet and romantic setting; perfect for a cocktail and one of the late night spots of this party town.
Katerina's Bar and restaurant is also here, with two seaside balconies also a great spot to watch the sunset.
The walk way comes right down to the edge of the water and here are some of the most romantic bars of Mykonos Greece. Here is one of our favourites, Scarpa Bar, just too cool and in the perfect location next to the water, with a complete view to the windmills.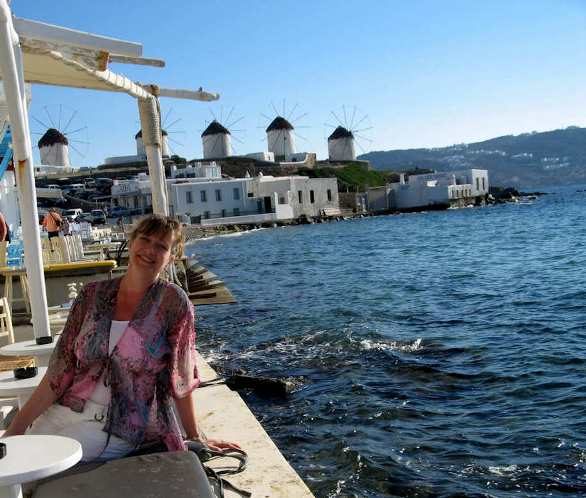 ---
Mykonos Windmills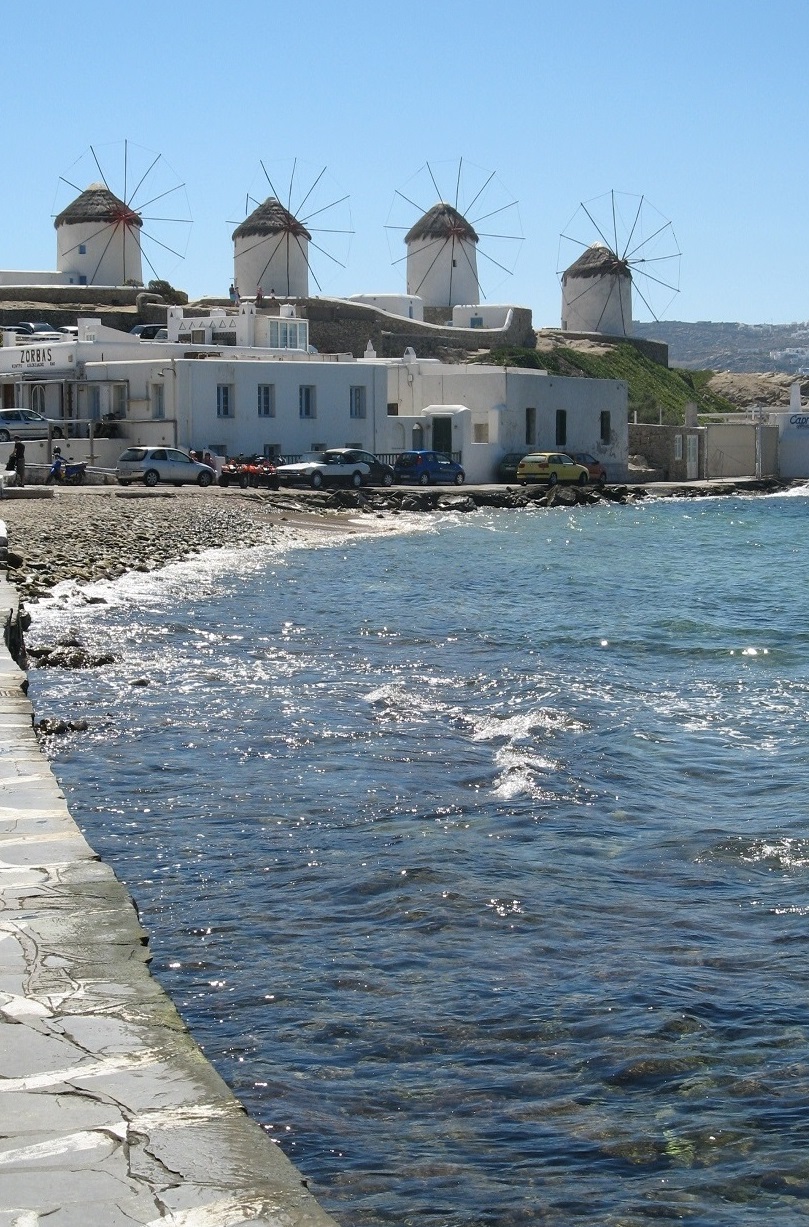 Mykonos - those famous windmills!
Crete to Mykonos - the windmills date from Venetian times and were used to grind wheat. They no longer have sails and are not functional, just a reminder of times past. The thatch is restored often, and sitting up on the hill overlooking Little Venice, they are a reminder that Mykonos is one of the windiest islands, and these mills are perfectly placed to grab the wind.
To our surprise the area around the windmills is completely undeveloped, there are no tourist stores and virtually no infrastructure. This reminded us that until recently, this was just a simple farming and fishing community. This could also be because the windmills are actually private property. There is one beautifully decorated with its own little gate – named Meltemi, after the wind.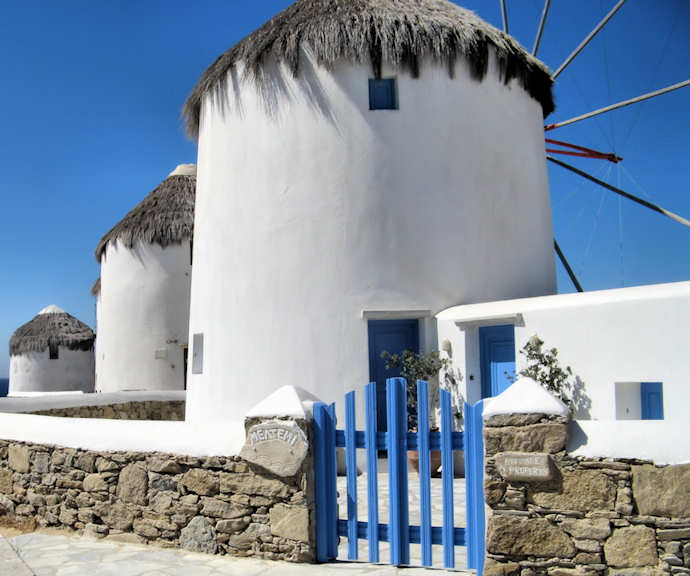 ---
Mykonos Chora
Matogianni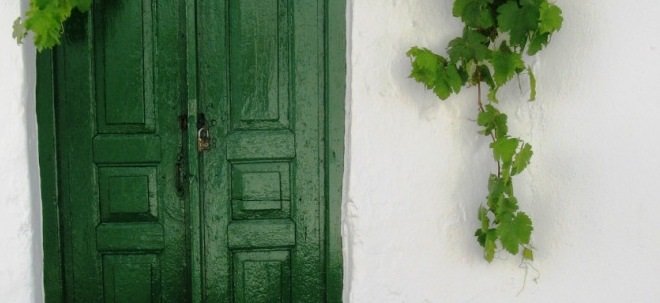 The little lanes or stena in this area of Mykonos town are full of surprises, with not only boutiques and jewellery studios, but restaurants, bars, the outdoor cinema, gardens, cafés and tiny hotels squeezed in amongst the white walls, white-washed houses and cascading flowers.
Endless curves and arches lead you on a dance of discovery, that is if you don't stop too long to take photographs. This is why it is important to visit in a quiet season, as the narrow paths are just your own to explore.
Another trick to capture great photos is to wander after 2pm which is siesta time, most smart people are sleeping!
---
Crete to Mykonos
Accommodation
Crete to Mykonos - our accommodation suggestions  include small stylish places to make your journey a comfortable and memorable one.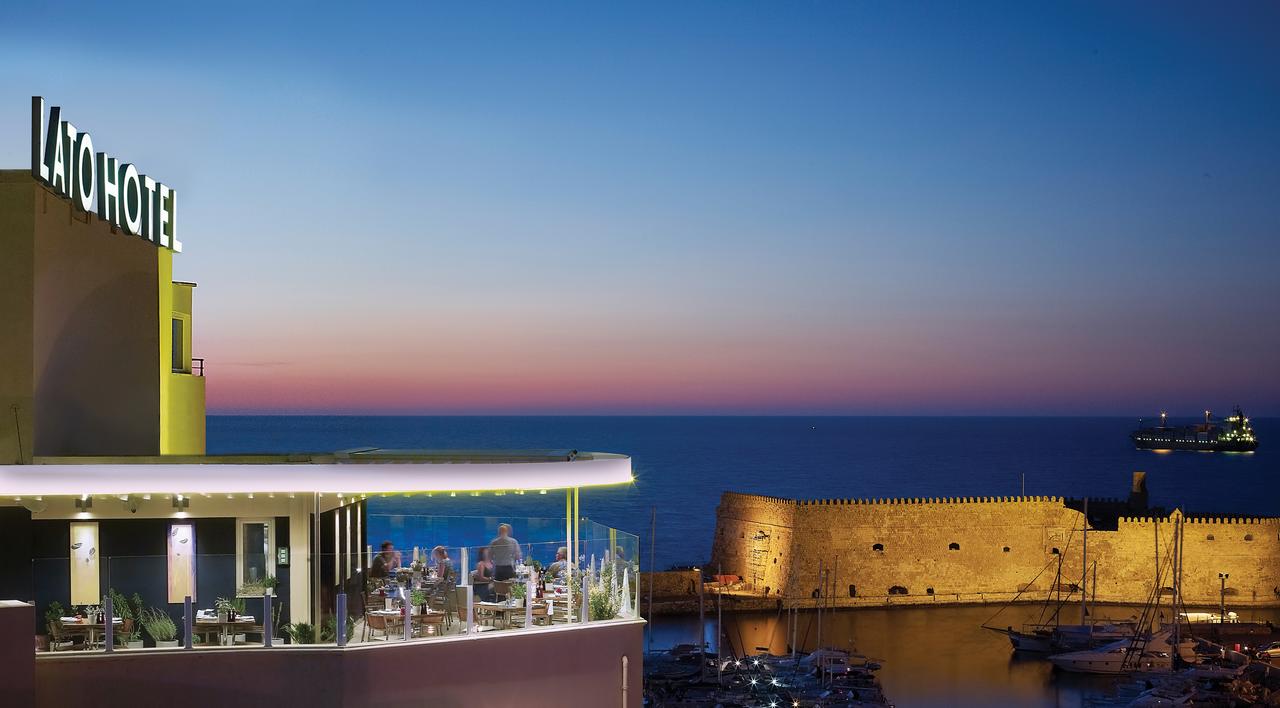 The Lato Hotel in Heraklion is just minutes from the ferry harbour and close to the Old Port, the cafe quarter of Koraii and very handy for a night's stay before taking the ferry to Santorini and Mykonos.
In Mykonos town we suggest small places within walking distance to Little Venice, for that all important morning coffee.

My Cocoon Hostel - not like any other hostel you have ever stayed in. Great location close to the ferry, close to Chora. Stunning stylish design. Feel the Mykonos vibe without breaking your budget.
Kaminaki, Mykonos Chora

"Located nearby to the city centre, comfy beds, commum area to socialize with pool with a amazing view of Mykonos, reception 24hrs, lockers to keep your belongings, towels included."
Christina Studios are right in amongst the lane ways of Matoyianni, a stone's throw from everything in town. Wake up in a daze and wander for less than a minute to Little Venice for your first coffee of the day. Nice clean rooms, a mix of modern and village style.

Meletopoulou 7, Matoyianni
"I loved how it was off the path with its own courtyard for all the rooms. Once I closed the windows I couldn't hear any of the noise from the outside streets! It was quiet and clean and comfortable."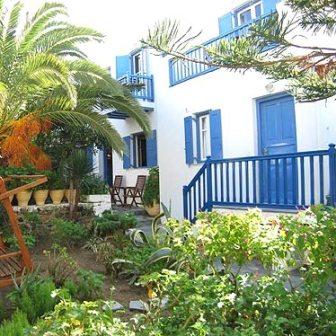 Matina Hotel is another small hotel in the village style, with a quiet cool courtyard beneath the palm trees to relax during the heat of the day.
Fournakion 3, in town.
"Our host Maria was warm and welcoming. The garden was beautiful and felt like a little oasis. The room was lovely with a spa bath. So close to all of Old Port. We loved everything about our stay."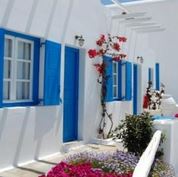 Hotel Tagoo is a wonderful family-run hotel, just ten minutes walk from town. Anna, Gianni and their sons provide a special place to stay and make you feel like part of the family. Anna runs a comprehensive nightly meeting for those who have just arrived on the island, with a complimentary ouzo.

The hotel has a lovely pool with stunning views over the ocean. Rooms are stylish and well-priced.
Tagoo Area, Mykonos Chora

"Couldn't recommend this place more. Perfect stay for Mykonos. Small walk into the centre with the hustle and bustle or stay by the amazing pool and staff for a relaxing day. Service is impeccable with a boutique style touch. Staff are amazing and the view was lovely. Definitely recommend."
At the Beach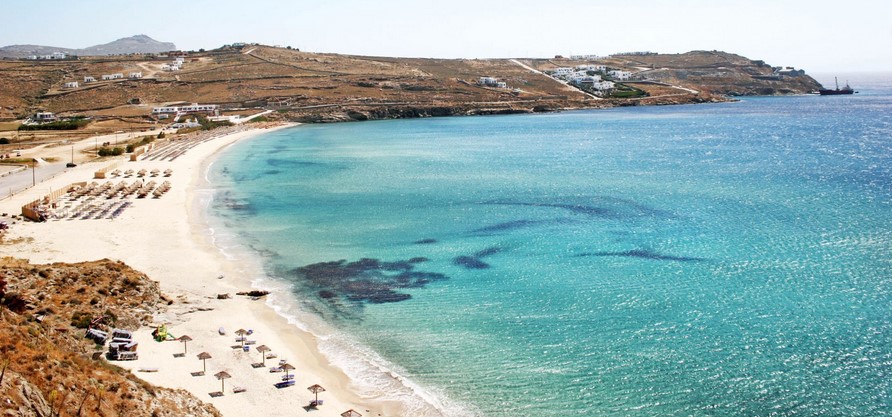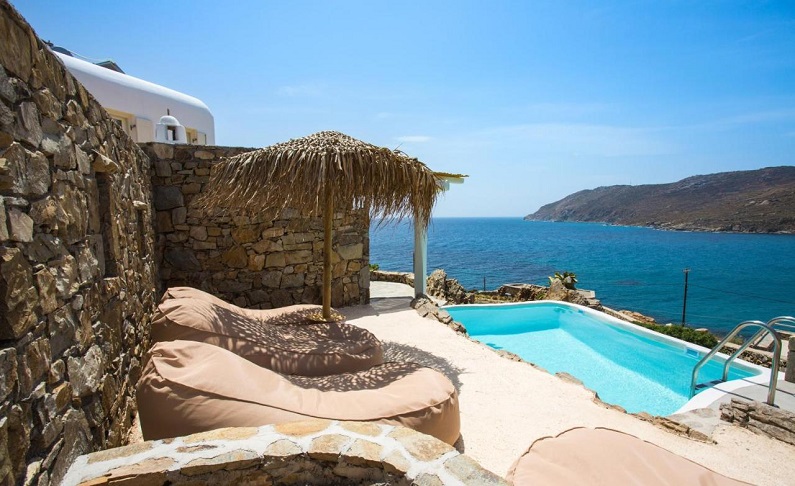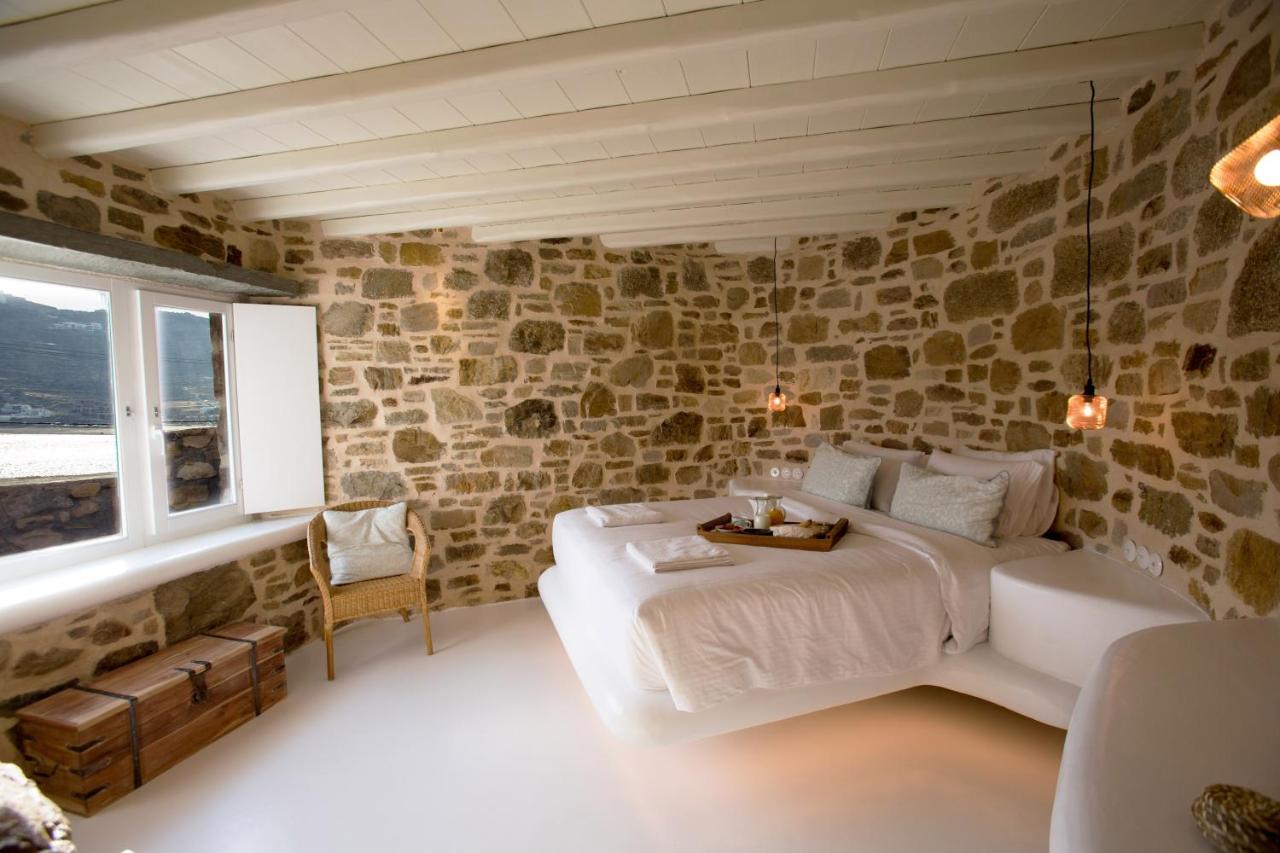 Salty Houses - 2 minutes from the beach at Kalo Livadi Καλό Λιβάδι, these characteristic studios are stylish yet traditional. Enjoy a warm welcome, the pool and patios areas, free parking, restaurant and open fresh sea air. Just 10 km from Chora.

Kalo Livadi, Mykonos

"Wonderful location amazing view, all the blue sky and sea! Comfort, clean, quiet and relaxing. Excellent breakfast at the restaurant area, also delicious lunch & dinner."


---
Accommodation Mykonos Map
Here is a map of town with accommodation Mykonos marked:
---
Crete to Mykonos
Café Bars
Kastro's Bar
Kastro's Bar, Little Venice, Mykonos Town

Katerina's Bar, Little Venice, Mykonos Town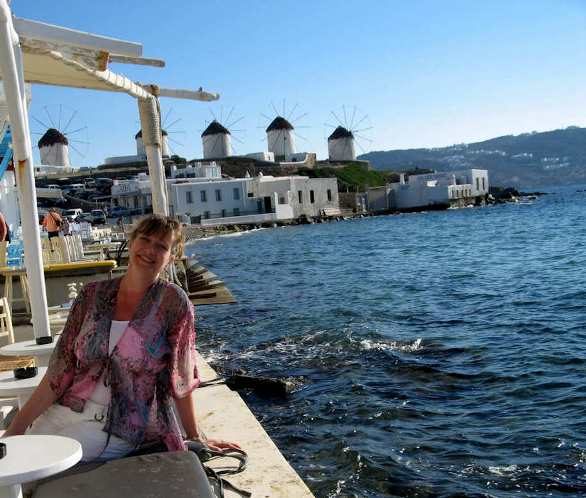 Scarpa Bar, Little Venice, Mykonos Town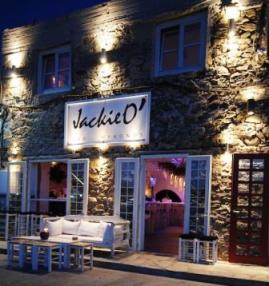 Jackie O Bar, Old Port, Mykonos Town

Bubbles Gallery, Agios Vlassis, Mykonos Town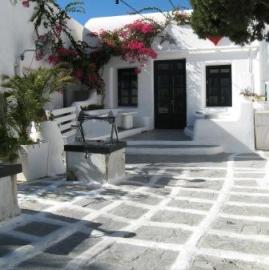 Astra Bar, Three Wells, Mykonos Town

---
Mykonos Greece - Cinema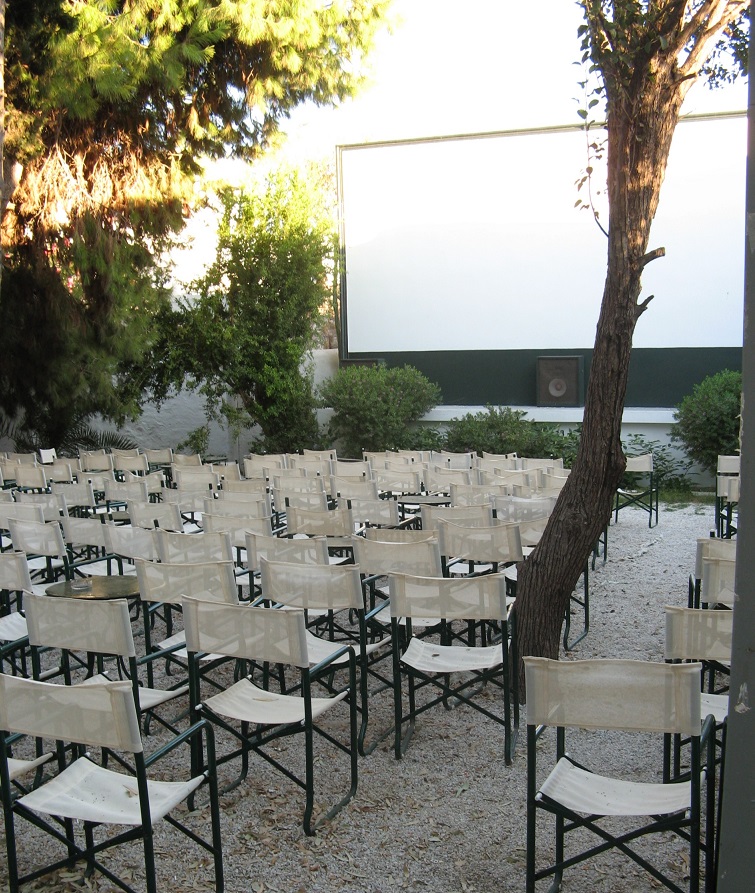 Cine Manto is an outdoor cinema in the heart of Chora, hard to find amongst all the lane ways. Σινέ Μαντώ is open from May to September with a beautiful garden setting, a great way to see a movie in Mykonos. Meletopoulou Gardens in Matogianni.
---
Crete to Mykonos

How to get from Crete to Mykonos
Ferries depart from Heraklion port regularly for Santorini (Thira), the journey duration is about 2 hours.
You can then stop in Santorini for a few days or continue right on to Mykonos.
The journey duration from Santorini (Thira) to Mykonos is about 2 to 2.5 hours.
Other ways to get to Mykonos

Flights to Mykonos
From Athens take Aegean Airlines, Olympic Airways to Mykonos, with a flying time of 40 minutes. Flights are also available in peak season from Santorini, Rhodes and Crete. Flights arrive from several European countries in summer.
Ferries to Mykonos Greece
Mykonos is one of the most popular islands in Greece and so has direct ferry connections from Athens. Ferries depart from the ports of Pireaus and Rafina to Mykonos. Rafina is the closest port to the international airport.
There are always more ferry services in summer than in winter and it is best to check the schedules in shoulder season such as spring and autumn.
Below is an approximation of the ferries to Mykonos, during summer there are fast and super-fast services that run more quickly and more frequently.
Always check the up-to-date schedules and if possible book through an agent at the port as they have the most current information. Timetables and departures can change at short notice, especially due to the tides and the weather.
Companies servicing these routes include Blue Star Ferries, Cyclades Fast Ferries, Sea Jets and Hellenic Seaways.
Pireaus to Mykonos 5.5 hours
Rafina to Mykonos 4.5 hours
Syros to Mykonos 1.5 hours
Andros to Mykonos 2.5 hours
Tinos to Mykonos 40 mins
Ferries from Mykonos Greece
From Mykonos it is easy to explore the other Cycladic islands such as Paros, Sifnos, Ios, Milos, Amorgos and Thira (Santorini). To get to Crete from Mykonos take a ferry to Thira then to Crete.
Mykonos to Naxos 45 mins
Mykonos to Paros 1 hour
Mykonos to Amorgos 3 hours (via Naxos)
Mykonos to Sifnos 4.5 hours
Mykonos to Ios 6 hours
Mykonos to Milos 9.5 hours (via Naxos)
Mykonos to Thira 2.5 hours (with flying cat)
Mykonos to Thira to Crete 5 hours (with flying cat)
---
Mykonos Greece Vacation
in Images
Below are some more beautiful images of Mykonos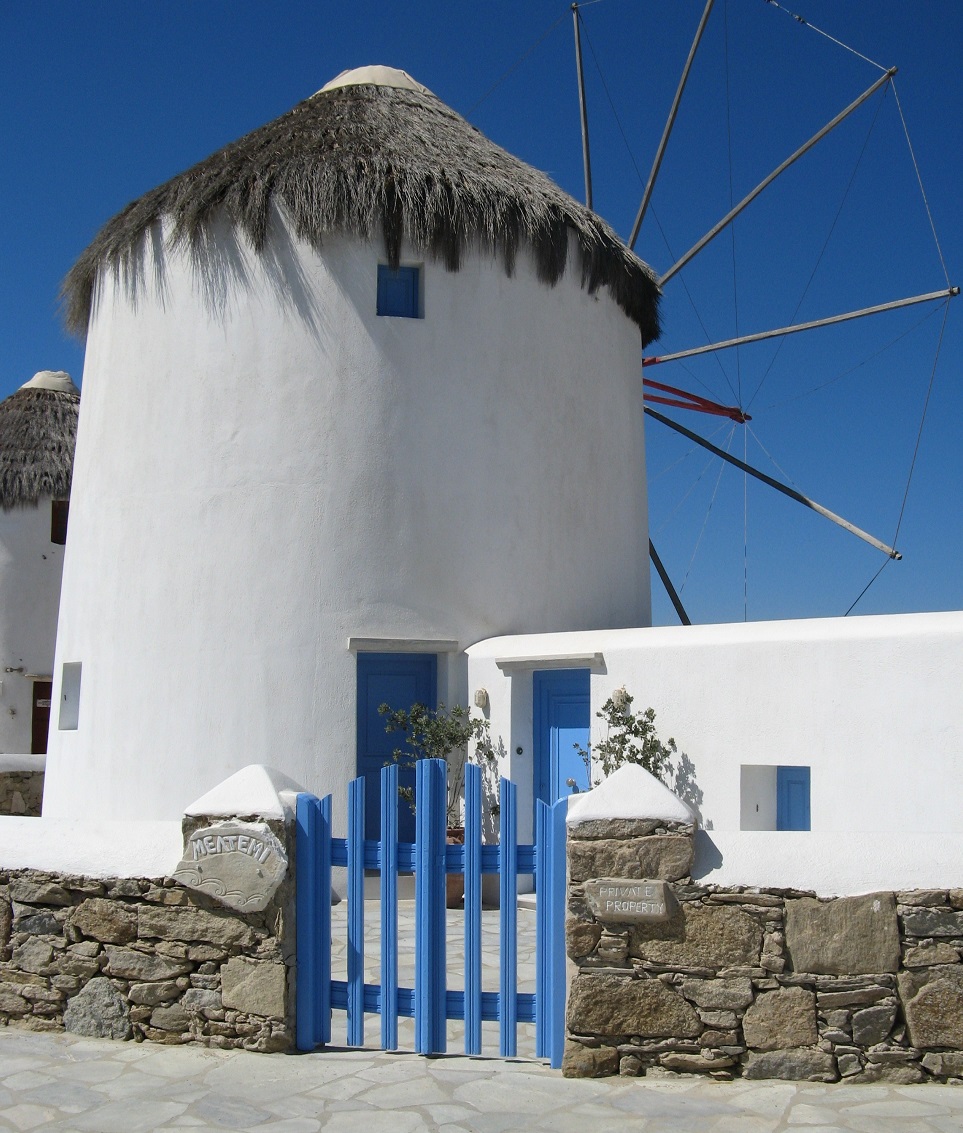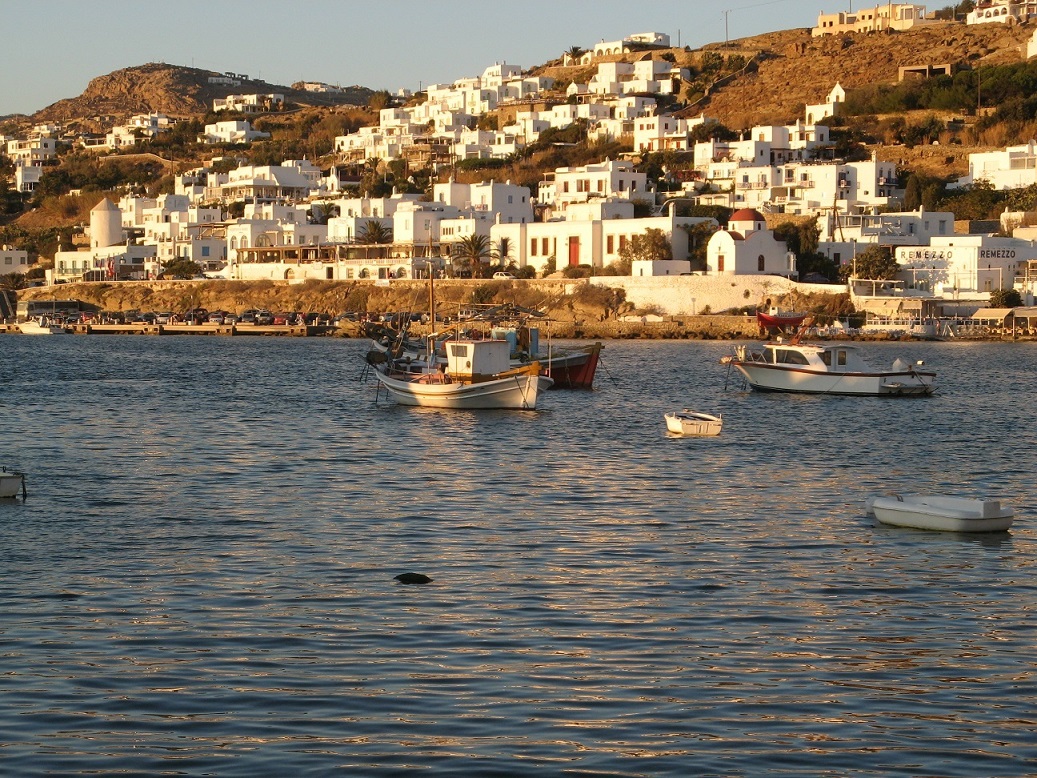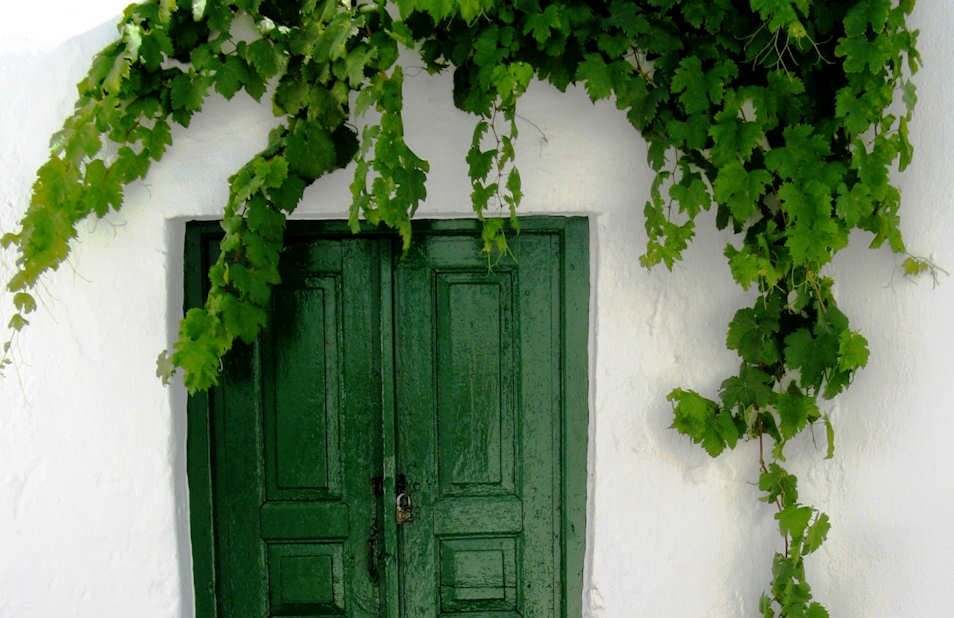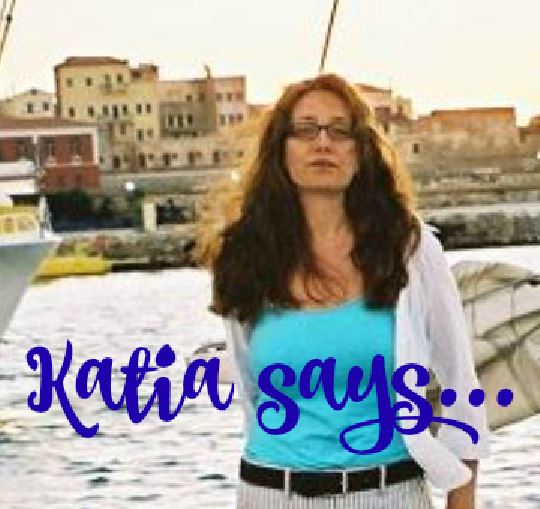 "I call it 'light madness', seeing things so clearly, even the inside of your own mind; dangerous! The Mykonos light just makes the whole experience metaphysical".
---
Getting to Crete

Take a 1 hour flight from Athens to Heraklion with Aegean Airlines or Olympic Air, with many flights available per day.
Or take a 9.5 hour overnight ferry from Pireaus port of Athens to Heraklion port.
More on flights and ferries below.
Car hire in Crete is a really good idea as it is a large island 60 km by 260 km. There is so much to explore.
When you book with our car rental partners - Rental Centre Crete - you are supporting a local company with excellent service and an easy online booking procedure. We are sure you will be well looked after by the team. Choose from hybrid or non-hybrid vehicles.
---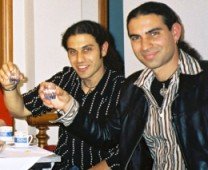 "We trust you have enjoyed these tips from the team at We Love Crete. Evíva!"
Contact us with further questions or feedback. We love to hear about your travels in Kríti and Greece. Let us know of any updates or additions, errors or omissions. Help us make this website the best it can be. Kaló Taxidí!

---