Walking in Crete

This page may contain affiliate links, see our disclaimer here.

---

Walking in Crete - the country for hiking, trekking, mountain climbing and tramping is beautiful all over this large island.
Being 260 km long by 60 km wide, at its widest point, the island has three mountain ranges, and is full of diverse ecosystems, with high peaks, rugged gorges, plateaux, bare rocky hillsides and thickly wooded coastal forests as well as fertile agricultural lands, rolling hills and olive groves. Crete is a wonder world for walkers.
Tour and independent walking options below for keen walkers.

---
8 Day Hiking Tour in Crete
Walking in Crete Tour - Samaria Gorge
RATING: 4.7 / 5 17 reviews  | TOUR LENGTH: 8 days | BOOK NOW
Route for this tour:
Day 1 Join the group in Chania
Day 2 Walking tour of Chania; drive to Omalos Plateau in the White Mountains

Day 3 Hike Samaria Gorge to Agia Roumeli
Day 4 Coastal walk to Loutro seaside village

Day 5 Exploring Loutro - relax by the beach

Day 6 Morning relaxing; ferry to Chora Sfakion; drive to Zaros
Day 7 Hiking Zaros Gorge
Day 8 Drive to Heraklion airport where the trip ends
This 8 day tour of Crete offers glorious hiking and trekking for a maximum of 16 walkers in a fully guided tour. Begin in Chania and end in Heraklion, explore the mountains and enjoy blissful coastal walking.
Take the hike in the famous Samaria Gorge, relax in the coastal hamlet of Agia Roumeli. Walk to the blue and white seaside village of Loutro, and discover Zaros in the Idi Mountains.


---
Walks in the West - Chania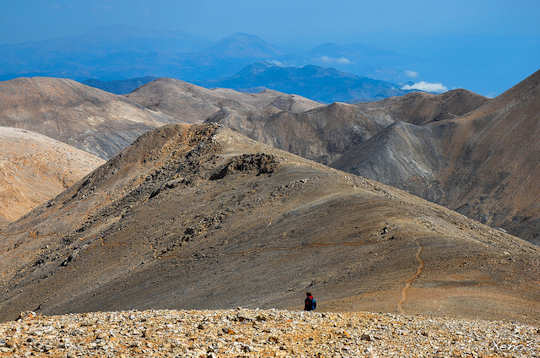 Walking in Crete - the Lefka Ori - White Mountains of Chania

Walking in Crete - in the west of the island, as well as numerous beaches and lowlands, rolling hills and gorges, are The White Mountains known as the Lefka Ori.
These mountains are bare above the snow line (pictured above and below) and from a distance glow white, even in summer, due to the colour of the limestone, which is naked and reflects in the summer sun. These mountains are very high, with the highest peak being Pachnes at 2453 m. It is best to take a guided walk in this difficult terrain.
Portions of these mountains are included in the E4 European Walking path.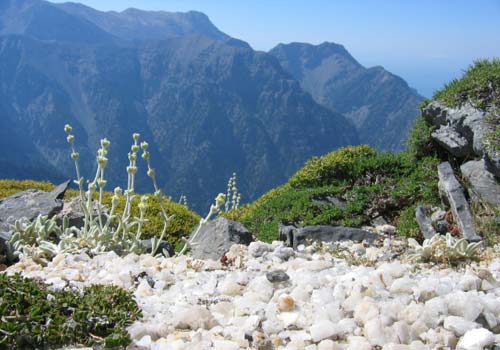 The White Mountains in Crete are considered 'high desert'

Popular walks in this region include: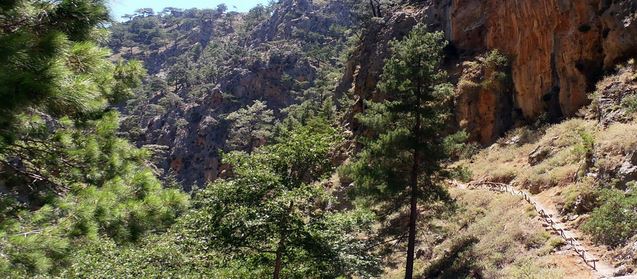 The Agia Irini Gorge Walk is 7 km one way
---
Walks in the Central West - Rethymnon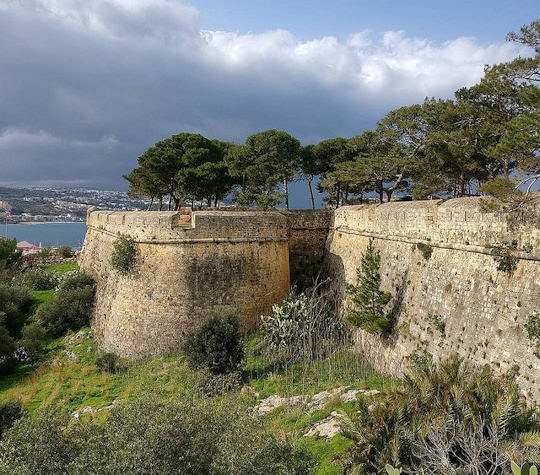 Rethymnon Fortezza - take a half day walking tour of the old town
Walking in Crete - take a walking tour of the old town of Rethymnon, Discover authentic corners of the Old Town. Enjoy a Cretan breakfast in a quaint café, watch a handmade filo pastry workshop, and eat a traditional meal in a garden . This tour is only 4 hours.

Or join the Happy Walkers for a daily walk any day of the week or head off to any of the gorges, mountains and valleys in this lush as well as rugged region of Crete.
Interesting walks in this region include:
The Amari Valley including Patsos Gorge
Kourtaliotiko Gorge Walk

Kotsifou Gorge
Prassano Gorge Walk
Climbing Mt Ida known as Psiloritis - the easy way from Nida Plateau or the hard way from Fourfouras, this is the highest mountain in Crete at 2456 m.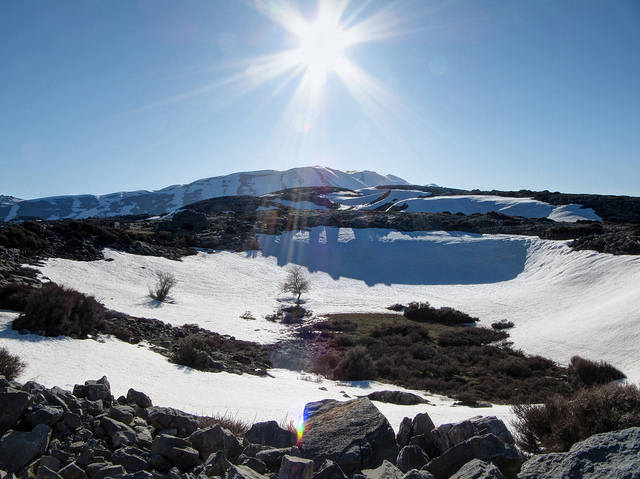 The Psiloritis range is covered in snow in winter
Below you will see a video compiled by some Dutch hikers who love Crete climbing Mt Ida with magnificent views.

Below you will see the annual walk to the peak of Psiloritis (the tall one) which takes place on the first Sunday after August 15 every year from the village of Livadia to the chapel of Timios Stavros on the peak .

---
Walks in the Centre - Heraklion

Towards Rouvas Gorge - Walking in Crete
Walking in Crete - in the centre of Crete your attention will turn to Knossos Archaeological site as well as the sites of Phaistos, Gortyna and Agia Triada.
When you have seen the ancient wonders, turning your head towards some of the dramatic mountain and gorge scenery you will not be lost for places to explore:

Small Group Walking Tour of Heraklion - visit the town and out of the way corners, try the local food

Aposelemis Gorge Walk - an 8 km walk with lunch at a traditional taverna
Rouvas Gorge Walk
Agiofarago Gorge Walk

The caves in this gorge were used by monks in solitude
---
Walks in the East - Lasithi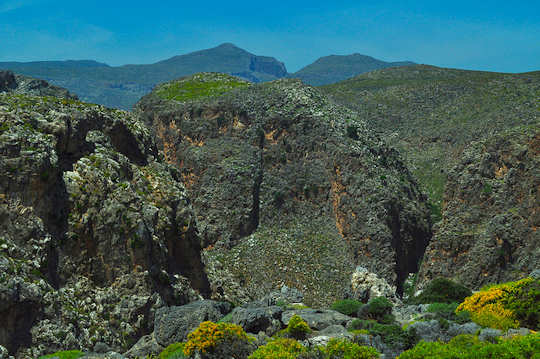 Zakros Gorge is full of flowers in springtime
Walking in Crete - walks around the eastern part of Crete include: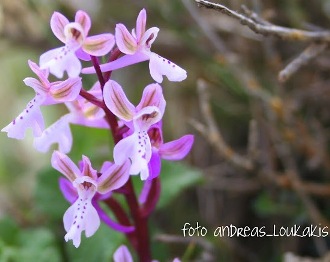 The Sitia Orchid is native to this area
---
The E4 European Walking Path in Crete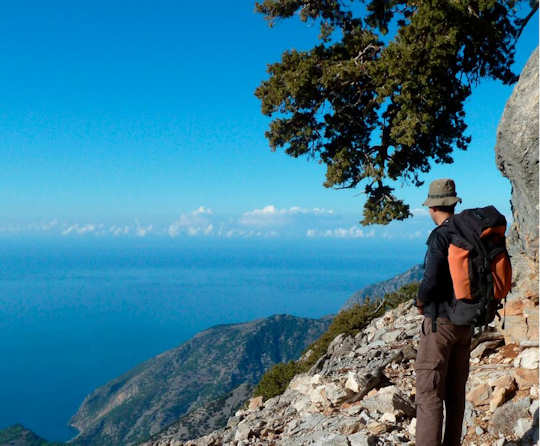 The view from the southern section of the E4 European walking path in Crete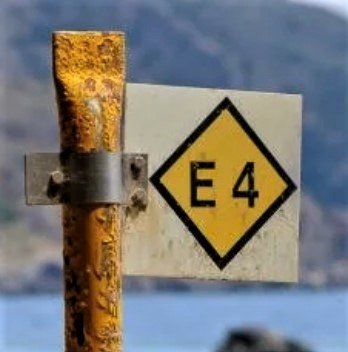 Walking in Crete - the E4 European walking path in Crete starts in Kissamos in the west and ends in Kato Zakros at the eastern tip of the island, covering rugged and scenic country all over the island for 320 km.

If you decide to do all or some of the E4 path, this is the guidebook for up to date descriptions, maps, GPS data and information on all sections of the path. Written by a walker with climbing and hiking experience all over the world, Luca Gionotti, whose passion for paths shows through in his tireless work and interpretation of the E4 route.

The Cretan Way is the only guidebook you will need for this trail in Crete, with perhaps some maps, available below.

E4 European Walking Path - map overview from The Cretan Way Guidebook
---
Walking in Crete
Hiking Maps

Sunflower guides are really great general guides to Crete with good maps and the Anavasi hiking maps can be used for different walks around the island.


---
Three Ways to Walk to Loutro
Seaside Village in South Crete

Loutro is a small fishing village on the south coast of Chania in the west of Crete, which today is still a tiny hamlet around a tight picturesque cove, with azure and turquoise waters, surrounded by natural beaches. The only way to access the village is by walking in or taking a boat. We share three walks into the beach below.
---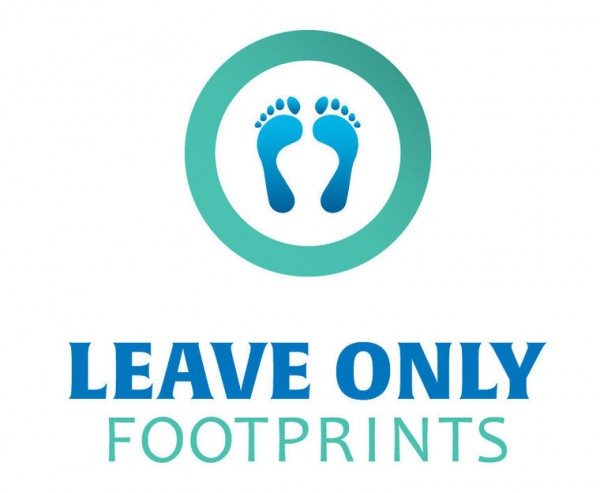 Please take all your rubbish with you and don't build any of those silly piles of rocks. Just leave it all as you found it and leave only footprints because We Love Crete!

---
Getting Here
Take a 1 hour flight from Athens to Heraklion with Aegean Airlines or Olympic Air, with many flights available per day.
Or take a 9.5 hour overnight ferry from Pireaus port of Athens to Heraklion port.
More on flights and ferries below.
Car hire in Crete is a really good idea as it is a large island 60 km by 260 km. There is so much to explore.
When you book with our car rental partners - Rental Centre Crete - you are supporting a local company with excellent service and an easy online booking procedure. We are sure you will be well looked after by the team. Choose from hybrid or non-hybrid vehicles.
---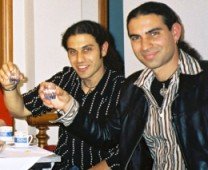 "We trust you have enjoyed these tips from the team at We Love Crete. Evíva!"
Contact us with further questions or feedback. We love to hear about your travels in Kríti and Greece. Let us know of any updates or additions, errors or omissions. Help us make this website the best it can be. Kaló Taxidí!

---