Agiofarago Beach & Gorge

This page may contain affiliate links, see our disclaimer here.

---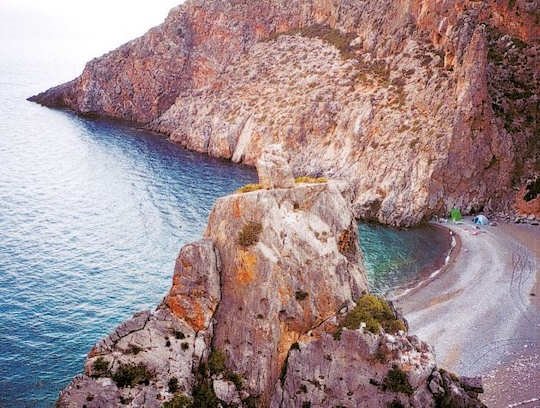 Agiofarago Beach Παραλία Αγιοφάραγγο is remote. It is natural, it is out of the way. Walk in via Agiofarago Gorge, or take a boat.
A picturesque, unique and pristine beach in southern Heraklion, Crete.
On the Beach
The small cove is magnificent for its beauty; the steep rock walls, a picturesque rock arch to swim under, and crystal clear waters for swimming and snorkelling.
The beach is natural, with sand and pebbles, only rock shade and no shops or any sign of the modern world. Bring your own everything, especially water. Take all rubbish out with you.
Arrive by boat from Matala, Kali Limenes or Agia Galini.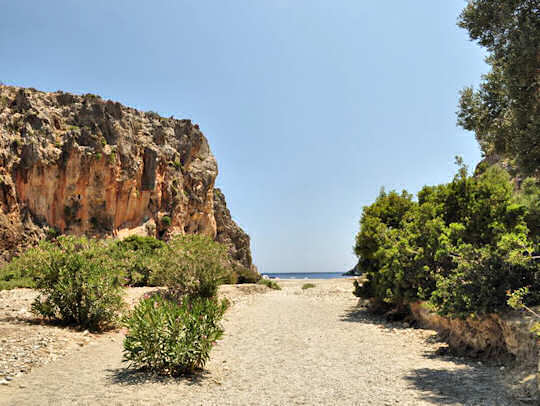 ---
The Agiofarago Gorge Walk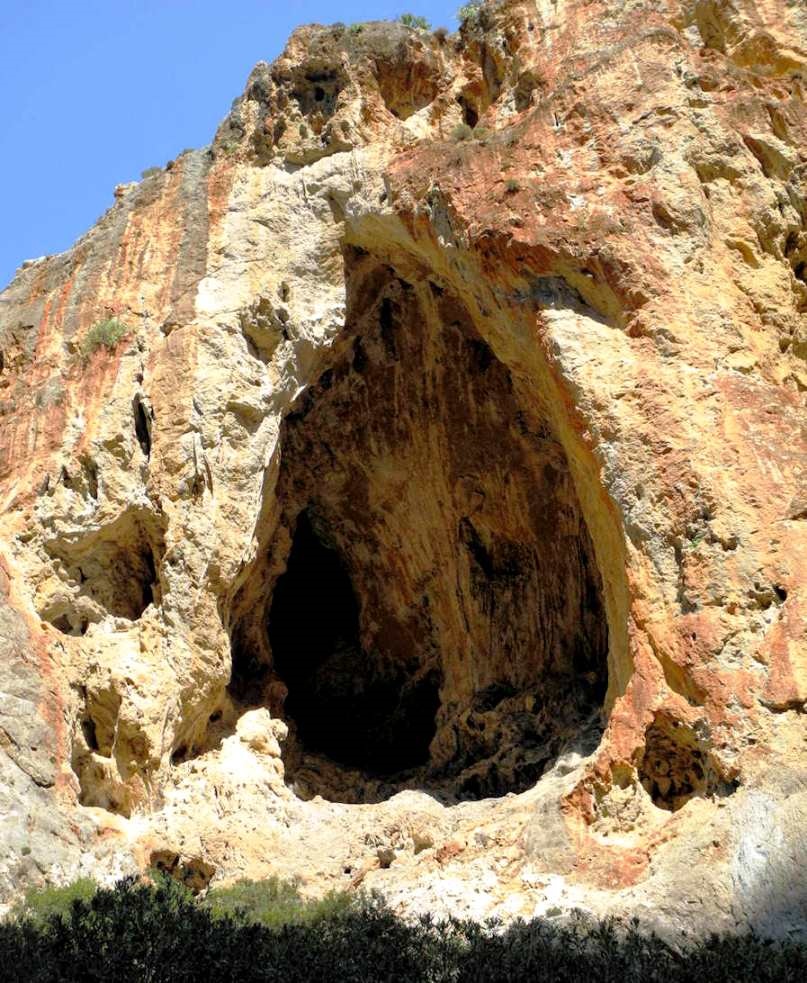 Cave in the Agiofarago Gorge, southern Crete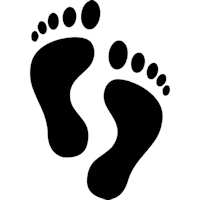 The name Agiofarago literally means 'Gorge of the Saints'. This is because in times past, hermits or ascetics would live in the caves in spiritual isolation. They would meet one day a year, each quietly sitting on a different rock in the large cave. If one did not arrive, it was assumed he had passed away.

The gorge walk is only 1.5 km through a natural pathway in a fairly deep rocky gorge with steep rocky cliffs which provide some shade. Only small oleander bushes and scrub grow here. The path is uneven and rocky, but not too steep.Take good footwear and plenty of water, especially in summer. The sides of the gorge only provide shade.

You will see caves where monks used to live, and the one large cave called Goumenospilo Σπήλαιο Γουμενόσπηλιο.

Towards the end you will reach the flat mouth of the river, and Agios Andonis Church, near the stunning cave, it is a magnificent scene.
This area is also popular with rock climbers, abseilers and cavers. Do not attempt to explore the caves if you are inexperienced.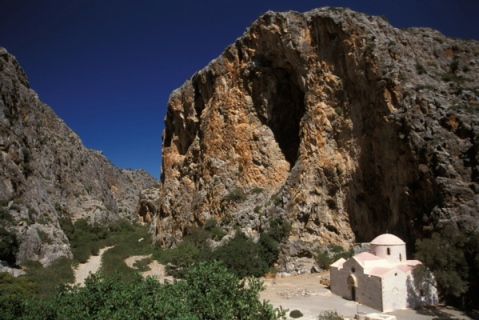 Agiofarago cave and Agios Andonis church
---
Odigitria Monastery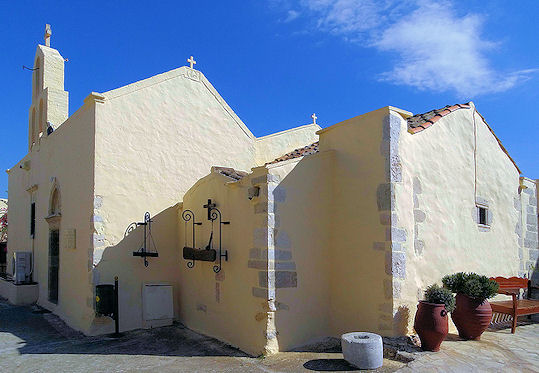 On the way to the Agiofarago Beach and Gorge, you will find the  Odigítrias Monastery Μοναστήρι Οδηγήτριας in the hills. This is considered one of the oldest monateries in Crete, dating from 1393.
It is very interesting to visit, with immaculate white-washed walls, historic displays and the important Tower of Xopateras. This is the scene of one of the heroes during the Turkish occupation, an ex-priest Ioannis Markakis, who defended the tower with a small number of Cretans against thousands of Turks, before finally being killed.
Step into another way of life and a beautifully preserved folkloric history of Crete. A place of quiet contemplation. Don't be surprised to meet one of the resident cats.

Also nearby this monastery are Minoan ruins, tholos tombs discovered in the late seventies, dating from 2000 BC.
---
Accommodation
There is no accommodation directly on this beach. It is isolated and remote and protected due to the historical and religious values of the area. There are active monasteries in the vicinity. The peninsula is protected as Agiofaraggo Martsalo Kefali park.

We have some suggestions below of nearby villages and beaches, where you can find lovely accommodation.

---
Heraklion Town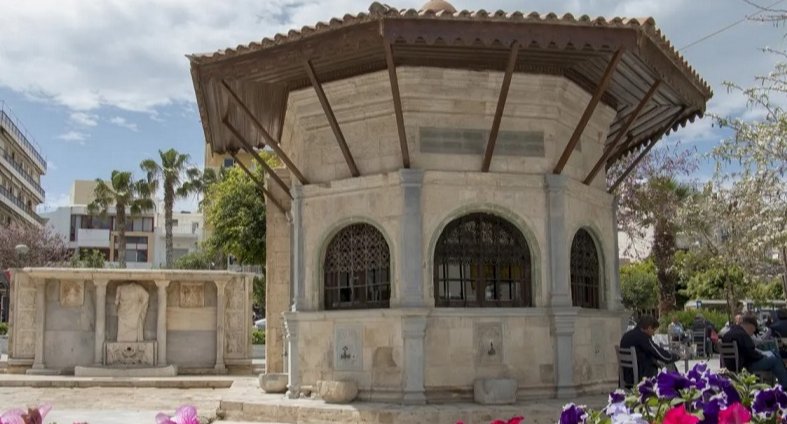 The Venetian ruin and old Turkish coffee house in Kournaros Square, Heraklion
If you do fly into Crete via Heraklion Airport, you may want to stay a while to enjoy the highlights of Heraklion town, which include:
Knossos Palace
Liondaria Fountain
Heraklion Archaeological Museum
Old Venetian Harbour and Koules Fortress

Agios Titos Church and Square

Pedestrian Shopping Streets
1866 Local Market
Koraii Cafes and Bars
Memorial to Eleftherios Venizelos
Kournarou Square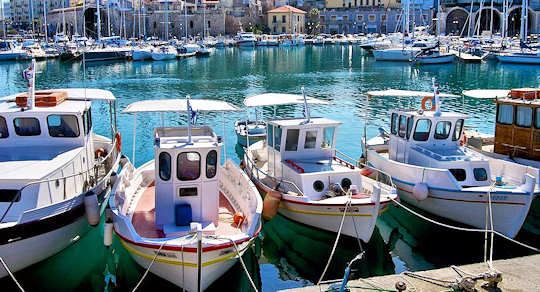 Visit the Old Port of Heraklion, see the Venetian Fortress, the fishing fleet and the Venetian Arsenal, have coffee down by the bay
---
Exploring Heraklion Region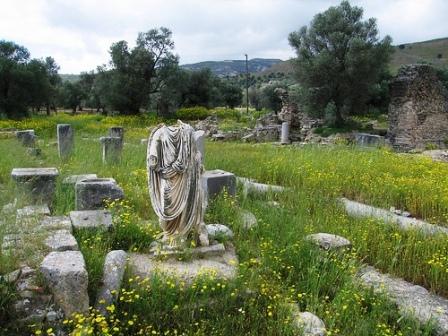 Gortyna Roman ruins have a story to tell, 33 km from Agiofarago
In the region of Heraklion, there is just so much to explore:
Beaches nearby include:
Kalamaki Beach
Red Beach and Kommos Beach
Kali Limenes Beach
---
Video
This beautiful footage showing the location and the walk through the gorge is from Giannis Psaridakis.
---
Agiofarago Map
Here you will see Agiofarago Beach in southern Heraklion on the map of Crete: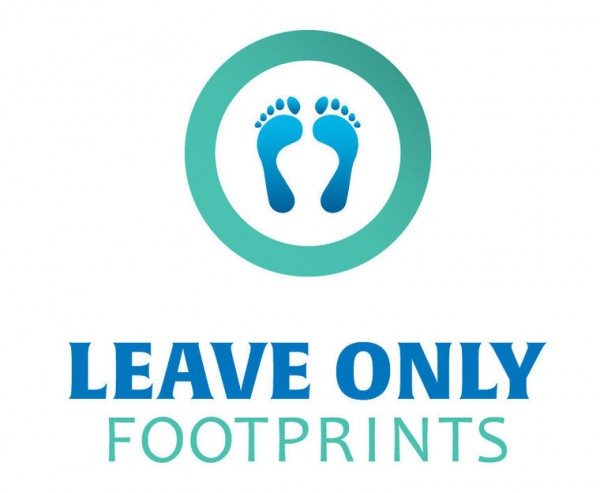 Take all rubbish with you and leave only footprints because We Love Crete!

---
Getting Here
Agiofarago Beach is located 75 km from Heraklion Town and 76 km from Heraklion International Airport, on the southern coast of Crete.
To get here, drive on the national road to Moires, then to Sivas, Listaros and Monastiri Odigitrias. From here take the gravel road to the south, then after 4 km turn right to Agiofarago, do not follow signs to Kali Limenes.
The road is fairly rough from the monastery onwards. Park at the entrance to the gorge and walk 1.5 km down the gorge to the beach. Along the way enjoy the high cliffs, caves and the stillness, finding Agios Andonis church at the end of the track, close to the beach.
When you book with our car rental partners - Rental Centre Crete - you are supporting a local company with excellent service and an easy online booking procedure. We are sure you will be well looked after by Harry and his team. Choose from hybrid or non-hybrid vehicles.
---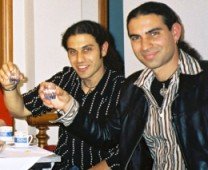 "We trust you have enjoyed these tips from the team at We Love Crete. Evíva!"
Contact us with further questions or feedback. We love to hear about your travels in Kríti and Greece. Let us know of any updates or additions, errors or omissions. Help us make this website the best it can be. Kaló Taxidí!