The roads are a little smaller in the rural areas, and signage is almost non-existent, so you know you are having a real adventure.
That's fine, those experienced travellers amongst us wouldn't have it any other way and actually look to get off the beaten track.
Taxi drivers in Crete are marginally better than some parts of the world, however it is suggested that you protect yourself from overcharging by knowing the decent rate for the journey you need, and agreeing on this before the journey. Most Cretan taxi drivers are savvy enough to know that by using this method, you are an aware customer, and not ready to be ripped off today.
Generally, if in doubt about taxi fares, ask at the airport information desk for the reasonable rate to your destination, or better still, find out before-hand by obtaining a reliable up-to-date guidebook.
Below you will find some of the most common trips and their approximate value. If you have a lot of luggage, expect to pay a little more. Tipping is also common. For journeys within towns, expect to pay no more than €2-€5.


| | |
| --- | --- |
| Heraklion Airport to Heraklion town | €22 |
| Heraklion town to Agia Pelagia | €40 |
| Heraklion town to Agios Nikolaos | €70 |
| Heraklion town to Chania town | €150 |
| Heraklion town to Rethymnon town | €85 |
| Chania Airport to Chania town | €30 |
---
---
Getting Around in Crete
Transfers

Check prices and pre-book a transfer in Crete
For that all-important first day, a taxi ride from the hotel to your village, hotel or domatia is a very good way to begin your Cretan stay. You can book online for a taxi to meet your flight, put your luggage into the vehicle and get you safely to your destination. Generally this pre-booked service is more expensive than the local taxi you would hail on the kerbside, but we find it is worth it for the peace of mind.
If you are travelling as a family or large group you may need a pre-booked transfer. You may also like to pre-book your taxi or shuttle from home to your departure airport. This can all be arranged online for that extra peace of mind.
---
---
Driver-Guides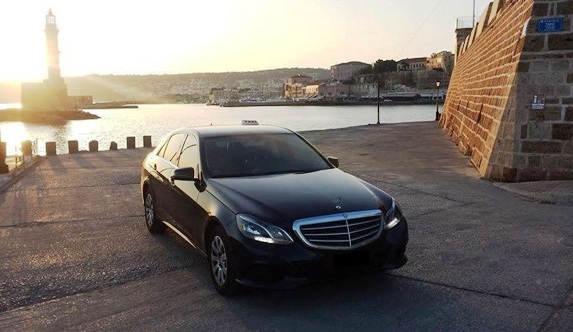 Giannis and Dimitris Bertakis are Cretan taxi drivers, they offer transfers and local knowledge, VIP services, customised excursions and driver-guide services.
See more about these talented local brothers who speak English and Spanish, and love their island of Crete, they are passionate to show you around and provide a wonderful personalised service.


---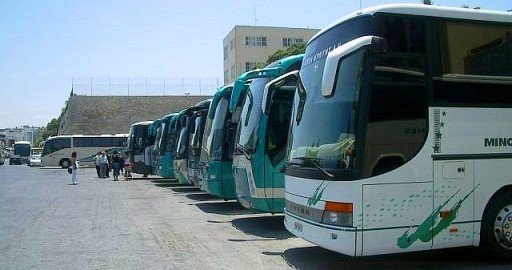 Regional Bus Services in Crete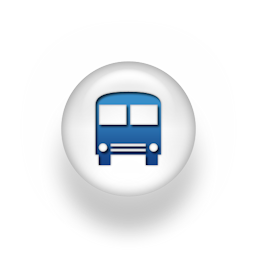 Getting around in Crete with the coach services:
The exceptional, clean, reliable and affordable regional bus services in Crete are run by regional collectives known as Kino Tamio Eispraxeon Leoforon or KTEL.

More about KTEL Bus Service Crete here.
More about KTEL Bus Services for Chania and Rethymnon here.
Bus Stations - Most bus stations are fairly basic and central in each town, except for Heraklion, which has two regional bus stations for KTEL buses. There are luggage storage facilities, comfortable seating, cafes and English-speaking customer service.
Heraklion Bus Stations A and B
Heraklion Bus Stations: The station down by the port, near the old harbour, the new port and the town, is named Bus Station A and buses depart from here for destinations along the north coast of Crete including west to Rethymnon and Chania, and east to Agios Nikolaos in Lassithi.
The station located on the outskirts of town at Chanioporta (next to the buttress walls) is called Bus Station B and buses depart from here for destinations to the south in Heraklion prefecture such as Moires and Matala and towns in between. From here you will also catch buses to Anogia, Gortys and Festos.

Our best advice is to get a taxi if you need to get to Bus Station B, especially if it is your first trip, from Heraklion, it will only cost €2-3 and save you a long walk or roundabout town bus trip. 

See location map of the two bus stations below:
---
City Bus Services

Town buses in Heraklion
See website: astiko-irakleiou.gr
To catch these buses, you need to buy a ticket at a kiosk or periptero before getting on board. Prices are €1.10 or €1.50 and €5.00 for a day.
There are many convenient stops from which to catch these buses
Take a city bus from Heraklion Aiport to Bus Station A  "No. 15 Airport – Foinikia"
Just down from the Liondaria on 25th August St, near El Greco park. From here you can catch bus "No.2 Knossos"
Outside the Capsis Astoria Hotel on the large central plateia Eleftherios Venizelos, you can catch bus "No.2 Knossos"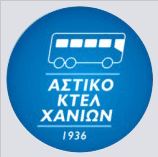 Town buses in Chania
See website: www.chaniabus.gr
Prices are between €1.10 to €2.00 and may be purchased at a kiosk or on the bus. Take these buses along the coast to beaches to the west of Chania such as Kalamaki and Agia Marina.
---
Hire Cars in Crete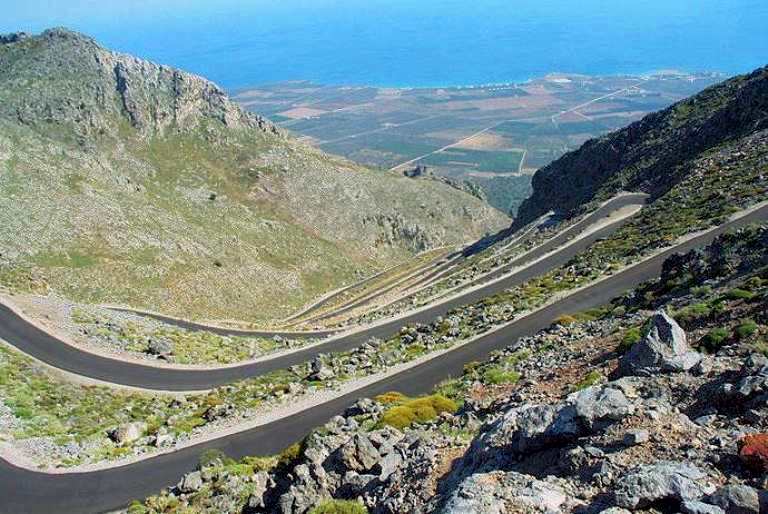 It is really worth having a vehicle for getting around in Crete to enjoy touring and exploring. The island is 260 by 60 km, so it is a large island.
Hiring a car in Crete can be more expensive than in other European countries. The local companies offer better rates than the multi-nationals. Here are a few tips to assist in your smooth journey.

Hire Cars are available for pickup from the airports at Heraklion and Chania, and from town centres in each capital town of Chania, Rethymnon, Heraklion and Agios Nikolaos

See our page on hiring a vehicle in Crete with plenty of tips
---
Ferries within Crete

Getting around in Crete by ferry:
Minoan Lines, Anek Lines, Lane Lines and other large Greek ferry companies have itineraries that include multiple stops within Crete. See our page about getting to and from Crete.
There are also many smaller ferry services, especially on the south coast, that are convenient for getting around in Crete for day trips or to explore the beautiful inaccessible little coastal villages of Kriti.
When getting around in Crete by ferry, remember that the sea has the final word on all ferry and boat departures and scheduled departures may be cancelled due to weather conditions.
From the small town of Sfakia, also known as Chora Sfakion, in the south of Chania prefecture, ferries link to the beautiful coastal villages of Loutro, Agia Roumeli, Sougia, and Palaiohora and the beach at Elafonisi. Sfakia can be reached by bus from Chania. See the KTEL Bus timetables for times and routes.
Anendyk Maritime S.A. runs three ferries on the south coast of Chania and bookings are generally not required, but for groups or in the very busy season it would be safe to purchase your ticket ahead of time, which you can do from ticket offices in Agia Roumeli, Loutro and Sfakia.
Bookings can also be made on the phone or by email. Tickets are between €6-€24 with discounts for children and pensioners. Getting around in Crete by ferry is quite easy on the south coast.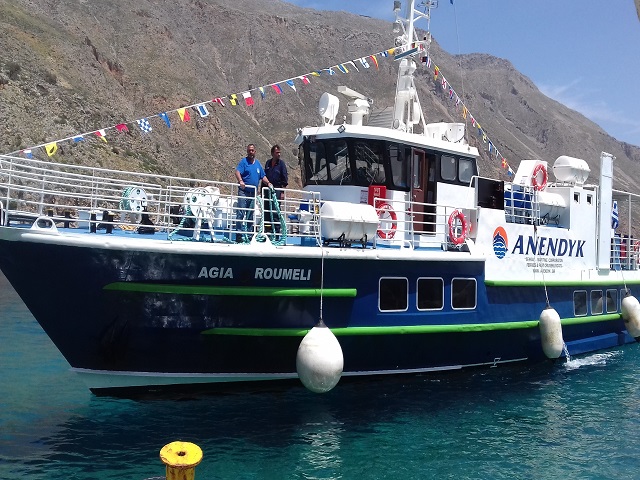 Getting to and from Gavdos Island by ferry. This fascinating island is the most southerly point of Europe, and is accessible in busy season by ferries. Remember in winter services will be greatly reduced, and by law fishermen are not allowed to take you. Getting around in Crete is not as easy in the winter season. Ferries travel between the island and Palaiohora, Chora Sfakion, Plakias and Agia Galini. See more about Gavdos Island.

Getting to and from Agia Roumeli by ferry. This tiny village lies on the south coast of Crete very close to Samaria Gorge. Many visitors walk from the top of the gorge at Omalos and finish their walk at Agia Roumeli, at the beach. Many wish to return to Chania or Rethymnon in one day. To return, take the ferry east to Loutro & Sfakia or west to Sougia & Palaiohora and take a local bus back to Chania or Rethymnon, or relax and stay a while in the relaxed south coast of Crete.
Getting to and from Loutro by ferry. This whitewashed village is a 15 minute ferry ride from Sfakia, on the south coast of Crete. Its charm is that it may only be accessed by foot or by boat. Ferries cross between the Sfakia and Palaiohora regularly in busy season. Taxi ferries can also take you from Sfakia to Loutro.
Getting to and from Sougia by ferry. It is possible to get the bus between Chania and Sougia, and to walk the beautiful Agia Irini Gorge from the north, and ferries pass here to both Palaiohora in the west and to Agia Roumeli, Loutro and Sfakia to the east. Ferries also leave Sougia less frequently for Gavdos Island.
Getting to and from Palaiohora by ferry. It is possible to reach Palaiohora by bus, however if you want to include it in your ferry-hopping on the south coast, it is a great idea. Ferry connections are available from Sfakia, Loutro, Agia Roumeli, Sougia and Gavdos Island.
Getting to and from Elafonisi by boat. In busy season boats run daily between Palaiohora and Elafonisi.
Getting to and from Chrissi Island by boat. From the southern coastal town of Ierapetra in eastern Crete, boats leave for the island of Chrissi Island also called Donkey Island 12 km to the south. Known for its white sand and patches of pine and cyprus, this uninhabited island is a protected area and you can only visit the waters close by. Boats do travel there for a day visit. Private boat charters are also available.
Getting to and from Spinalonga Island by boat. From both Agios Nikolaos and Elounda, boats take day trips to Spinalonga to explore the ruins and the ex-leper colony. These cruises take in the views of the beautiful Mirabello Bay.
These are just some of the ferries for getting around in Crete.
---
Maps of Crete
Check out our map page here, which has a great interactive online maps of Crete.

A map of Crete with information markers.

Getting around in Crete is a lot easier if you have a good map.
If you wish to purchase a detailed map before you get to Crete, check out the Road Editions Map of Western Crete or Map of Eastern Crete.
If you would like to purchase a map or guide whilst in Athens en route to Crete, visit Road Bookstore at 71 Solonos Street in Athens for a wide range of maps, guides and publications about Greece.
If you would like to purchase a map or guide upon arrival in Heraklion, visit Travel Bookstore in Heraklion. You can find road maps, walking maps and hiking maps with good detail. Here is also a good map of Iraklion town. Also visit Planet International Bookshop which has a wide range in many languages. These maps and guides will give good help for getting around in Crete.


---
---
Getting to Crete
Take a 1 hour flight from Athens to Heraklion with Aegean Airlines or Olympic Air, with many flights available per day.
Or take a 9.5 hour overnight ferry from Pireaus port of Athens to Heraklion port.
More on flights and ferries below.
Car hire in Crete is a really good idea as it is a large island 60 km by 260 km. There is so much to explore.
When you book with our car rental partners - Rental Centre Crete - you are supporting a local company with excellent service and an easy online booking procedure. We are sure you will be well looked after by the team. Choose from hybrid or non-hybrid vehicles.
---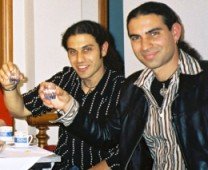 "We trust you have enjoyed these tips from the team at We Love Crete. Evíva!"
Contact us with further questions or feedback. We love to hear about your travels in Kríti and Greece. Let us know of any updates or additions, errors or omissions. Help us make this website the best it can be. Kaló Taxidí!

---