Chrissi Island Crete

This page may contain affiliate links, see our disclaimer here.

---
Chrissi Island Crete

We can show you the way, how to get visit the clear waters by boat, and what to enjoy along the way, and beaches close by and where to stay, and towns and villages to explore, accommodation nearby, tavernas and restaurants.
Chrissi Island is a natural protected island and landing on it is prohibited.

About the Island


Chrissi or Χρυσή means 'golden' and refers to the stunning sand on the beaches of this islet. This small, uninhabited, low-lying island is 7 km by 2 km and only 30 metres, at its highest point. The rocky island has many beaches visited from spring to autumn by water craft and tour boats.
The island is south of Ierapetra in south-eastern Crete - see the section on how to get here

The interior of the island is covered by a beautiful forest of juniper trees Juniperus macrocarpa. Such is the environmental value of the island's ecosystem that it is protected as an area under the EU Natura 2000 program.

There is a forest, Minoan ruins, and a little chapel
On your cruise visit to the waters you can laze, snorkel, doze, swim, float and dream your way through the day in the sun.
Remember these tips for cruising near the island:
The boat trip could be rough if the wind is up
The boat trip duration is between 25-50 minutes, depending on the vessel

There are no stops on the island, take and plenty of water
The day tour will mean that you have 4-5 hours to relax and swim in the clear waters

Lunch and snacks on the boat cost extra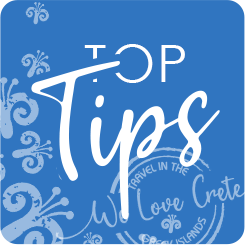 Buy a ticket in Ierapetra for the boat trip at:



the port ticket office of Cretan Daily Cruises, at the portside opposite Plateia Kanoupaki, at the junction of Stratigou Samouil  and Ethnikis Antistaseos

25 Kyrva Street next to La Strada pizza restaurant
14 Kyrva Street across from the taxi stand at Plateia Kanoupaki

the port in Makrigialos
---
Ierapetra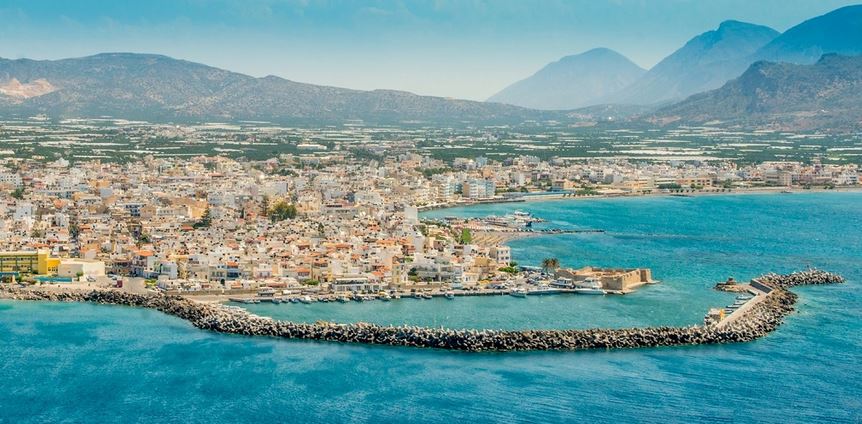 The town of Ierapetra is your embarkation point for Chrissi Island, and a well-loved holiday destination itself, with many fine beaches, a ruined Venetian fort, a lovely esplanade, historic museums and lots to explore.
Located just 36 km from Agios Nikoloas in Lasithi, this town is easy to access via the national roads and on the very handy KTEL local buses.
This town is 61 km from Sitia, which has its own airport, and again can be reached easily with a hire car via the national roads, or on KTEL buses.
If you are driving from Heraklion to Ierapetra over 93 km, leave about 3 hours to enjoy the journey.
Once in Ierapetra, this small town provides everything you need for a break. Do visit the seaside tavernas for a fresh seafood dinner whilst watching the sun set down over the Libyan Sea, gazing metaphorically to Africa.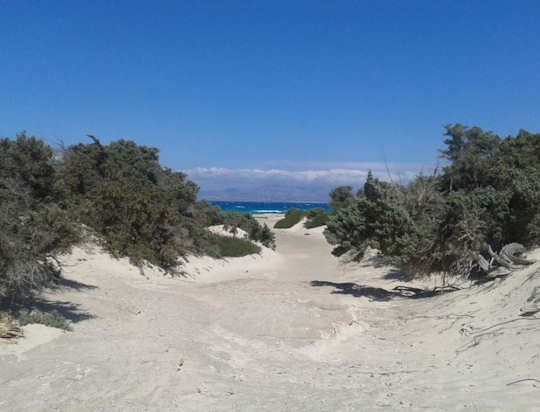 Chrissi island is a protected ecosystem
---
Accommodation Nearby

There is no accommodation on Chrissi Island itself, as it is a completely natural uninhabited islet. The closest accommodation is in Ierapetra, and on the beaches to the west and east of town.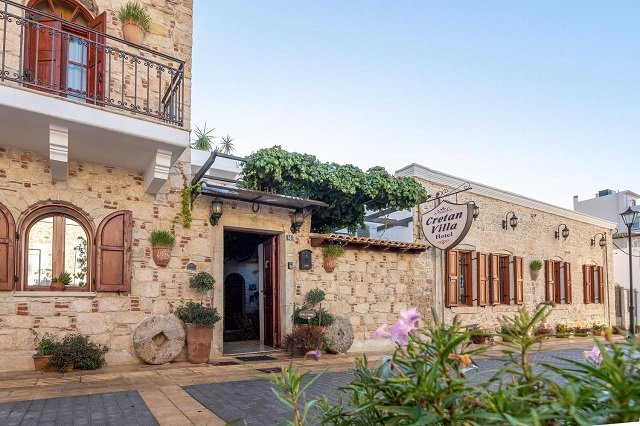 The Cretan Villa Hotel is in the centre of Ierapetra town with easy access to the port for a day trip to Chrissi Island.  A restored 18th century building with loads of character makes the perfect base for exploring eastern Crete.  This hotel is 550 m from the Chrissi Cruises ticket office and departure port for the daily cruises.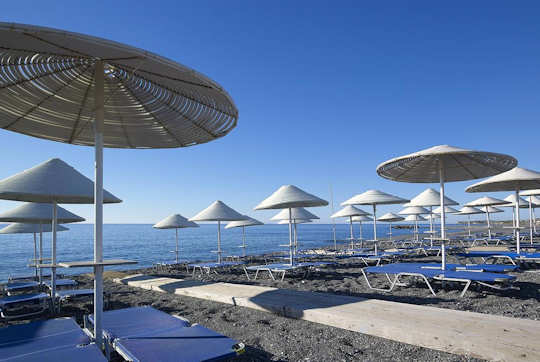 Coriva Beach Hotel and Bungalows in Koutsounari with direct access to a lovely long sand and pebble beach is a peaceful haven with its own large pool, and Pegasus Seaside Restaurant and bar by the beach. 9 km east of Ierapetra, this is a quality hotel ideal for a couple's holiday. With a day spa, free parking and easy access, this makes a wonderful choice of accommodation close to Chrissi Island.



---
Tavernas & Restaurants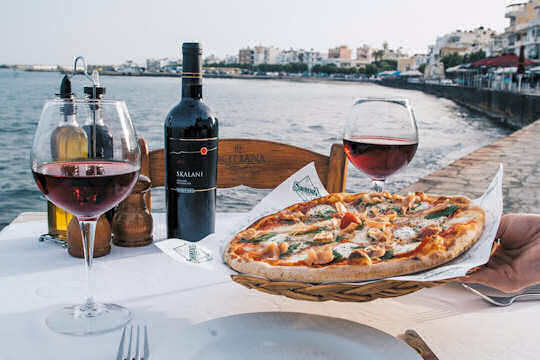 Sicilian Restaurant - Italian and Greek food down by the bay

The seafood is so fresh here, you must make a beeline for the fish tavernas strung along the harbour side in Ierapetra and the seaside villages of the south coast.
Restaurants along the water side:
Zorbas - traditional Greek right at the harbourside
L'Angelo Pizzeria Restaurante - Italian right at the harbourside
Napoleon Seafood Taverna - traditional Greek food on the esplanade (get a seaside seat early)
Levante Seafood Taverna - on the esplanade with a view to the fort (get a seaside seat early)
Sicilian Restaurant - Greek & Italian good for vegetarians, around the bay
Schedia - traditional Greek food and great service, around the bay
Out of town you can't go past:
Taverna Psaropoula - seafood taverna on the beach at Koutsounari
Pelagos Seaside Restaurant  - traditional Cretan cuisine on the beach at Koutsounari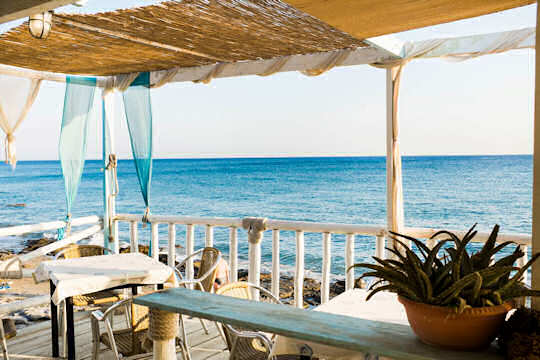 Schedia Taverna, Ierapetra, the closest dining to Chrissi Island
---
Exploring Eastern Crete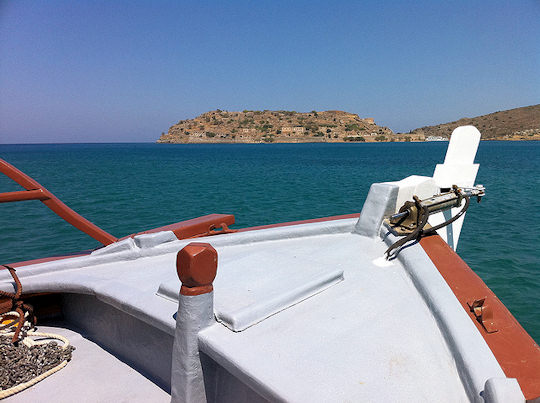 Spinalonga Island north of Elounda

The region in the east of Crete is named Lasithi and holds some of the best-kept secrets of Crete, as there are generally fewer visitors to this side of the island. There are rocky mountains and gorges, forests and beautiful beaches to explore, as well as the towns of Agios Nikolaos, Elounda, Sitia and Ierapetra.
Some highlights of the region include:
---
Getting to Chrissi Island

The easiest way to get here is to take a day tour from your hotel in Heraklion or any where east of Heraklion on the island of Crete.

To get here more independently, fly from Athens to Heraklion, hire a car and drive for about 3 hours to Ierapetra, then take a boat cruise to the island for the day.
See the location of this beach on this map, the island is south of Crete in the south-west:


---
Getting to Crete

Take a 1 hour flight from Athens to Heraklion with Aegean Airlines or Olympic Air, with many flights available per day.
Or take a 9.5 hour overnight ferry from Pireaus port of Athens to Heraklion port.
More on flights and ferries below.
Car hire in Crete is a really good idea as it is a large island 60 km by 260 km. There is so much to explore.
When you book with our car rental partners - Rental Centre Crete - you are supporting a local company with excellent service and an easy online booking procedure. We are sure you will be well looked after by the team. Choose from hybrid or non-hybrid vehicles.
---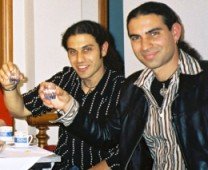 "We trust you have enjoyed these tips from the team at We Love Crete. Evíva!"
Contact us with further questions or feedback. We love to hear about your travels in Kríti and Greece. Let us know of any updates or additions, errors or omissions. Help us make this website the best it can be. Kaló Taxidí!

Contact us with further questions or feedback. We love to hear about your travels in Kríti and Greece. Let us know of any updates or additions, errors or omissions. Help us make this website the best it can be. Kaló Taxidí!

---