Elounda Beach
This page may contain affiliate links, see our disclaimer here.

---
Crete, Greece

Elounda Beach is one of the prettiest, cleanest beaches in Crete.
Elounda is a well protected bay, sitting behind the Kolokytha Peninsula and Spinalonga Island, 10 km from Agios Nikolaos on the north coast of eastern Crete. Protected by Cape Agios Ioannis, the waters are tranquil and calm.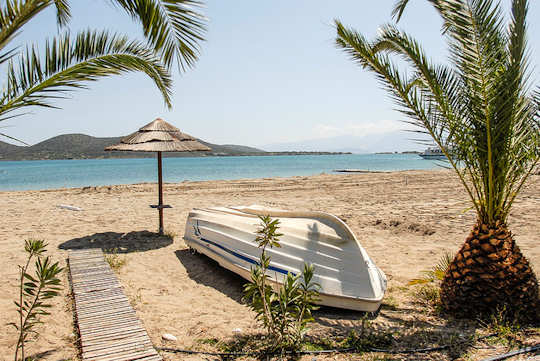 This bay has become famous for the many luxury resorts dotted along the water's edge, and some high value properties. As a result, the beach facilities, although public, are very well maintained and the shopping, tavernas and boutiques are very stylish. There are buses every hour from Agios Nikolaos to this beach.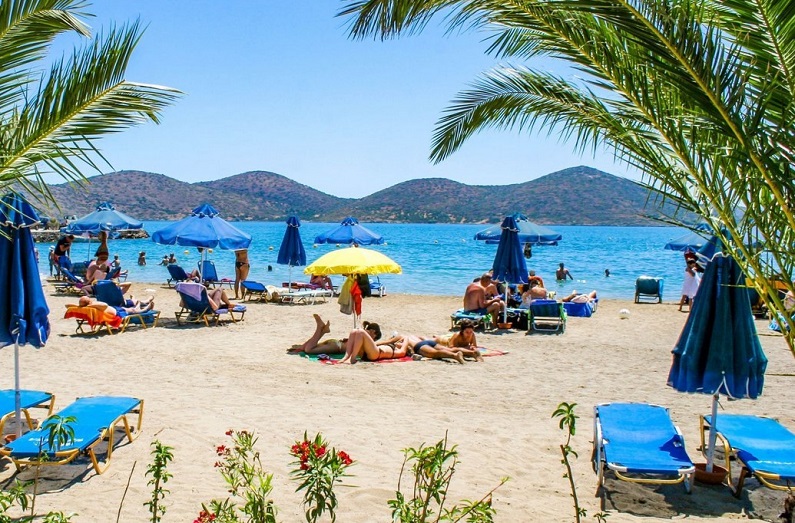 This is one of our favourite beaches in Crete, it is relaxed and idyllic, yet located in one of the most cosmopolitan and interesting villages of Crete - see more about Elounda Village here...

The beach is kept clean and environmentally sound, so that it has been awarded a Blue Flag. Floating like a mermaid is easy in these crisp waters!
It is not hard to imagine the Goddesses and sea nymphs swimming playfully here.
Wildlife abounds in the islets off the coast, and nearby cliff edges, where birds including Eleanora's Falcon, an endangered raptor, hunts and nests. Other birds found nearby are martins, swifts and eagles. The mountains hide ancient sites and turbulent histories of Kriti.
This bay reminds us that life is full of unexpected treasures…
---
Elounda Beach - Looking Around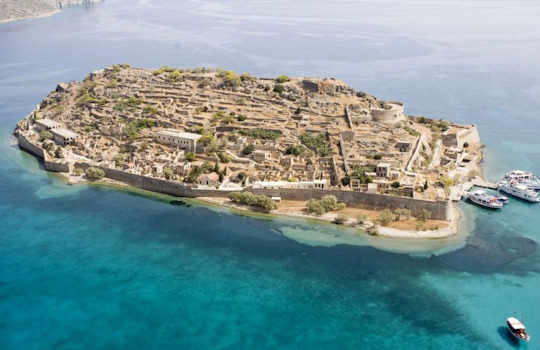 Spinalonga Island, opposite Elounda
Spinalonga Island intrigues visitors with its mixture of macabre, history and natural beauty. The island shares the turbulent history of Crete, and ruins are the only ones left to whisper the stories...a former leper colony now unused, this was previously a fort and was contested by many sea-faring powers incuding pirates, across the years.
Experience the region visit the island or inland gorges, take a long local lunch in the mountains, visit natural forests or sail on Mirabello Bay, tours may be taken from Elounda, Plaka or Agios Nikolaos...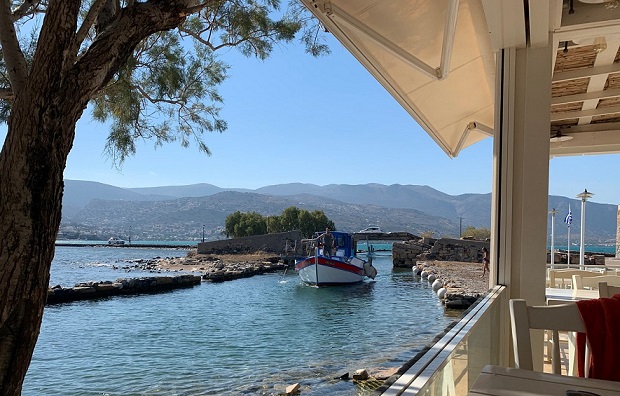 Ancient Olous (above) lies under the sea in ruins. The city dates from Minoan times and thrived throughout the Dorian period with as many as 30,000 people living here on the low isthmus between Elounda Beach and the island of Hersonissus.
Exposed above the water are beautiful mosaic floors showing details of godesses and dolphins. The treasures from this site can be seen at the Archaeological Museum of Agios Nikolaos and in the Louvre in Paris.
Today above the ground can also be seen the remains of windmills. To get to the ruins, walk to the east from the village centre for about 2 km.
Blue Door Restaurant at Blue Palace Resort overlooking Spinalonga Island
---
Where to Stay...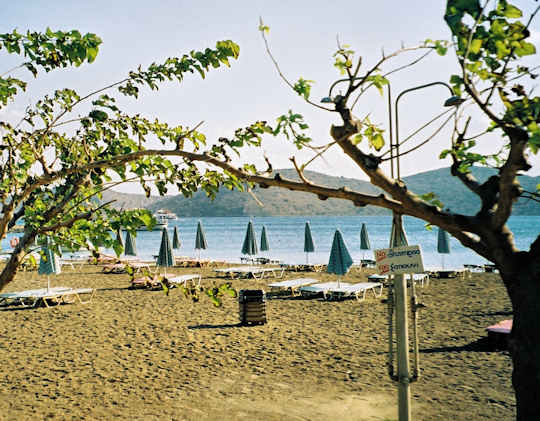 Of the various accommodation options, we have a chosen smaller, boutique guest house in this up-market, cosmopolitan spot, the Elounda Palm Boutique Hotel is a charming small hotel.
We include luxury, boutique, traditional and affordable accommodation options in Elounda for your choice...
We also suggest some very beautiful luxury villas nearby... including the Almond Tree Villa, which sleeps four comfortably, with two bathrooms, luxury styling, private pool and spa, this is a perfect lure to escape and relaxation.
---
On the Map...
Here you will see the location of this beach on the map of Crete...
---
Getting Here

---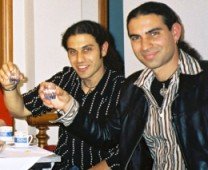 "We trust you have enjoyed these tips from the team at
We Love Crete. Evíva!"
Contact us with further questions or feedback. We love to hear about your travels in Kríti and Greece. Let us know of any updates or additions, errors or omissions. Help us make this website the best it can be. Kaló Taxidí!