Olous
Discover Ancient Crete
Olous Ὄλους is an ancient ruin of a town located under the water in the bay of Elounda in north-eastern Crete in Greece. This intriguing site can be reached by snorkelling or diving from the narrow strip of land that joins the mainland and Kolokytha peninsula, with access just south of Elounda.
It is thought to have existed before 780 AD. Some mosaics and ruined wall structures can be seen on land - as you can see in the picture below.

The mosaic floors are on the thin isthmus between Elounda and Kolokytha. Depicting birds and fish, these mosaics are all that remain of two chapels associated with the town.
Coins excavated from the site show Zeus, an eagle, a dolphin or a star. Artefacts from the site can be seen in the archaeological museum of Agios Nikolaos and in the Louvre.
---
The Goddess Vritomartis at Olous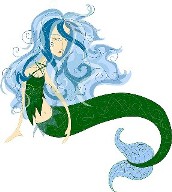 Vritomartis or Britomartis has many names. She is the beautiful mermaid spirit or Goddess, or the real mermaid, depending where your beliefs take you...
In Minoan seals, coins and rings she is shown with a demonic nature, carrying the Cretan double-headed axe and followed by wild animals.
What we do know is that she was found on coins discovered in the drowned city, and can be visited by snorkelling, much like a mermaid, in this beautiful bay.
From Elounda harbour a boat cruise leaves every day in summer, to see the nearby island Spinalonga, the beautiful beaches of Kolokytha and these ruins. These trips are run by a cooperative of local boat captains.
Nearby is the beautiful Elounda Beach.
Snorkelling tours can be arranged via Pelagos Dive Centre which is located in the grounds of the nearby Minos Beach Hotel.
Combine your walk to the ruins with a walk around the bay, along the isthmus and over to the headaland which is named 'Kolokitha' Κολοκύθα. The local hiking and walking club shows us how beautiful it is in their video below.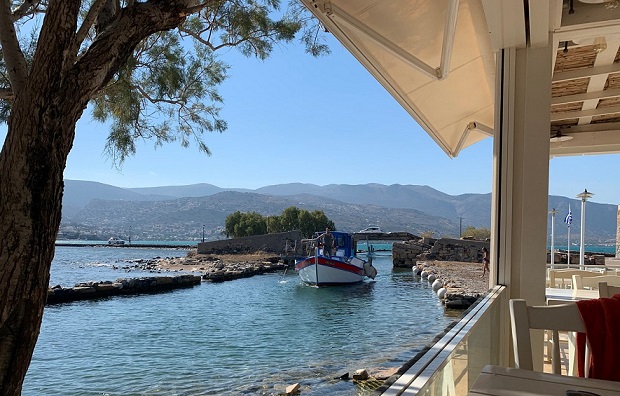 ---
Getting here...
This site can be reached by local bus from Agios Nikolaos. From that town, take the bus to Elounda, several leave each day and the journey is around 11 km.
To get to Agios Nikolaos from Heraklion, use the local bus service KTEL...
To hire a car to drive in Crete visit car rentals here...
More information about getting around in Crete here...
---
Accommodation
Looking out over the bay of Elounda with the isthmus of Olous showing between the main island of Crete on the left and the smaller island of Kolokytha on the right
Ikaros Villa (pictured above) has a beautiful view over Elounda Bay and ancient Olous. This is a large villa that accommodates 16 guests easily.
See our page about hotels in Elounda, which includes information about the hotels just a stone's throw from the sunken city.