Olous
Discover Ancient Crete
This page may contain affiliate links, see our disclaimer here.

---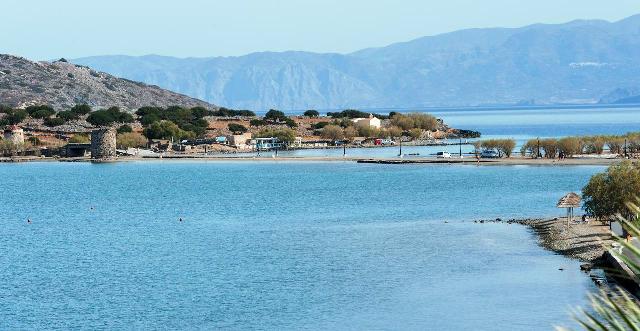 Olous Ὄλους is an ancient ruin of a town located under the water in the bay of Elounda in north-eastern Crete in Greece. This intriguing site can be reached by snorkelling or diving from the narrow strip of land that joins the mainland and Kolokytha peninsula, with access just south of Elounda.
It is thought to have existed before 780 AD.

Some mosaics and ruined wall structures can be seen on land of the Basilica of Olous - as you can see in the picture above.
The mosaic floors are on the thin isthmus between Elounda and Kolokytha. Depicting birds and fish, these mosaics are all that remain of two chapels associated with the town.
Coins excavated from the site show Zeus, an eagle, a dolphin or a star. Artefacts from the site can be seen in the archaeological museum of Agios Nikolaos and in the Louvre.
In this place you can see:
ruins of Olous (under the water)
mosaic of the Basilica of Olous
a ruined windmill
remains of Venetian salt pans
the Church of Analipsis

views across Elounda Bay
the thin isthmus that joins Elounda to the Kolokitha Peninsula
a narrow canal for small fishing boats

---
The Goddess Vritomartis at Olous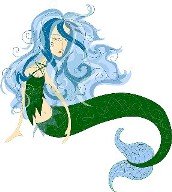 Vritomartis or Britomartis has many names. She is the beautiful mermaid spirit or Goddess, or the real mermaid, depending where your beliefs take you...
In Minoan seals, coins and rings she is shown with a demonic nature, carrying the Cretan double-headed axe and followed by wild animals.
What we do know is that she was found on coins discovered in the drowned city, and can be visited by snorkelling, much like a mermaid, in this beautiful bay.
---
By Boat
From Elounda harbour a boat cruise leaves every day in summer, to see the nearby island Spinalonga, the beautiful beaches of Kolokytha and these ruins. These trips are run by a cooperative of local boat captains. Make sure you check whether the boat goes to Olous before paying your fare.

Snorkelling or diving trips can be arranged via Pelagos Dive Centre which is located in the grounds of the nearby Minos Beach Hotel.
---
A Walk to Kolokytha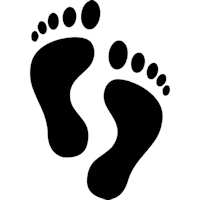 Combine your walk to the ruins with a walk around the bay, along the isthmus and over to the headland which is named 'Kolokytha' Κολοκύθα. The peninsula is also known as Kalydon and Spinalonga Peninsula.
This is a 1-2 hour walk on dirt tracks with not much shade, and parts are steep. The azure waters of Kolokytha beach are worth it. The beach does get a little busy with boats and crafts, perhaps hike onwards to see the many other beaches on the peninsula. Take your own food and water.

The local hiking and walking club shows us how beautiful it is in their video below. First they walk across the isthmus and enjoy the views across the bay and the canal, then they walk up to St Luke's Chapel Άγιο Λουκά, along the stone paths then up the hill, all the time admiring the views across the bay to the mountains opposite.
Enjoying a perfect autumn day, the hikers walk along the rocky coastline and discover the "σχίστρα" or rock schism, and see the Byzantine Chapel of St Fokas,  βυζαντινή εκκλησία του Αγίου Φωκά, on the eastern side of the island.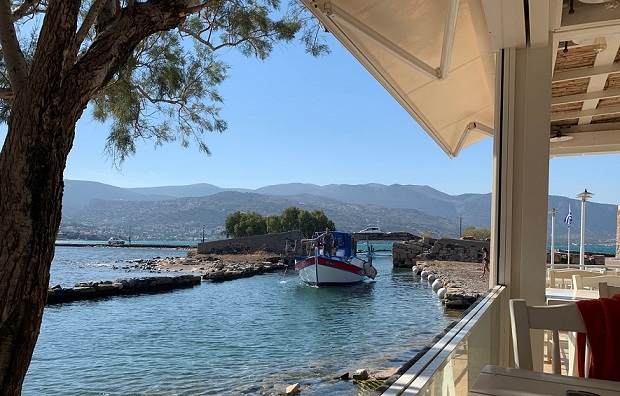 ---
A Taverna by the Sea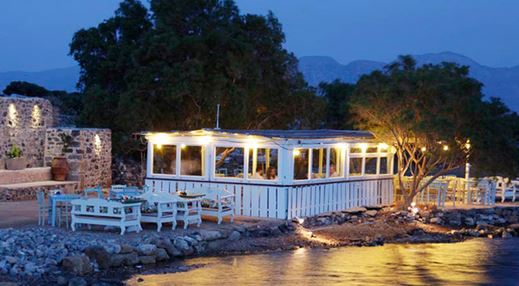 Kanali Taverna takes its name from the narrow canal joining the two bays of Elounda, built in 1897. Giving visitors those classic views across the water with lapping waves and wooden fishing boats, this is a very relaxing spot to eat local seafood and enjoy a Greek seaside meal.
---
Exploring Around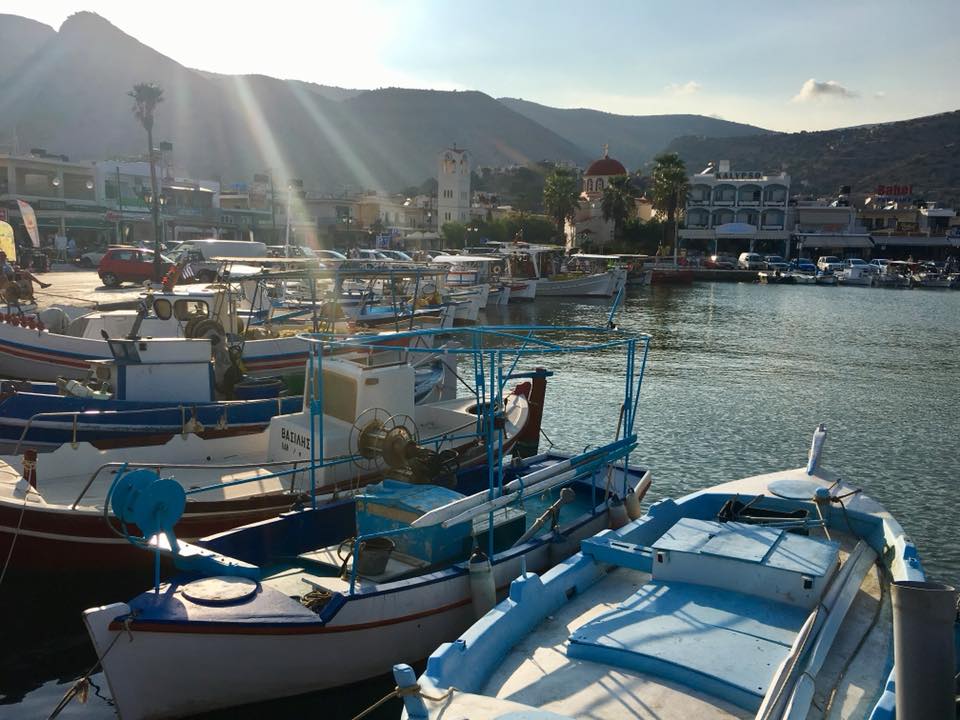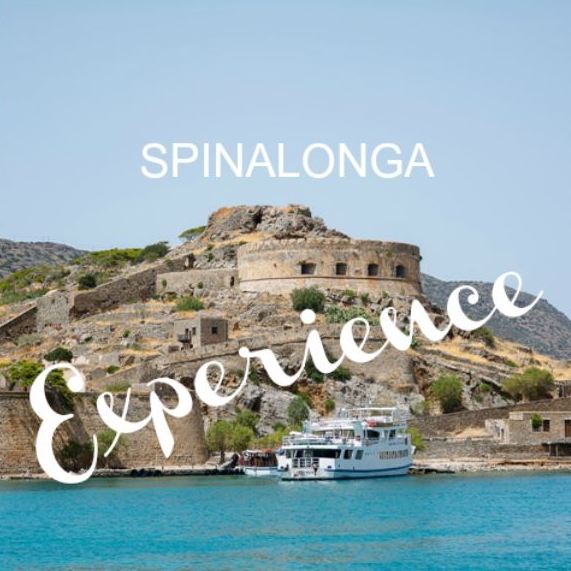 Visit the Island of Spinalonga by boat from Agios Nikolaos, with departures also from Elounda. Enjoy a swim and a BBQ as well as an interpretative visit to this island full of stories. This is a 12 hour full day experience.
---
Accommodation
See our page about hotels in Elounda, which includes information about the hotels just a stone's throw from the sunken city.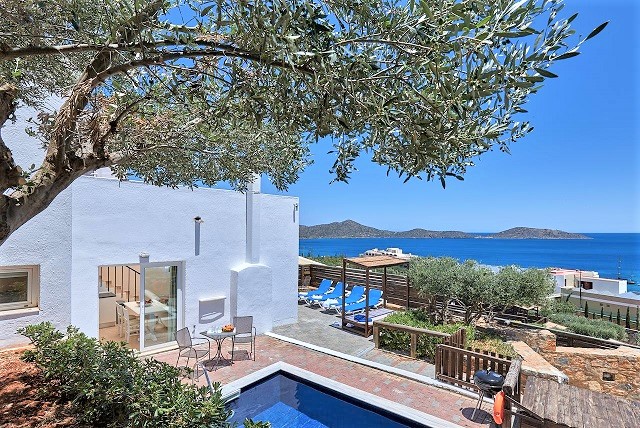 Eleon Villa has a beautiful view over Elounda Bay and modern character. This is a collection of suites that accommodates 16 guests easily. Visit this location with a vehicle.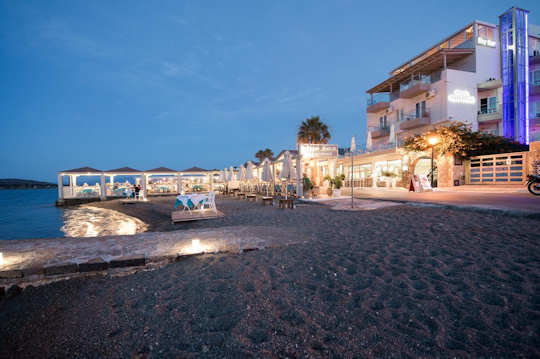 Akti Olous Hotel is just 600 metres from the Olous ruins on the bay of Elounda. With beachfront dining, stunning views across the bay and mid-range prices, this is a good pick for an adults only hotel in Elounda.
---
Getting Here
Visitors fly 1 hour from Athens to Heraklion International Airport.
Flights with Olympic Air and Aegean Airlines are frequent.
With rental car, the journey from Heraklion to Olous ruins at Elounda is 72 km east via the national road to Agios Nikolaos, then north to Elounda Village.

This site can be reached by local bus from Agios Nikolaos. From that town, take the bus to Elounda, several leave each day and the journey is around 11 km.
To get to Agios Nikolaos from Heraklion, use the local bus service KTEL
More information about getting around in Crete here
See more details of flights and ferries to Crete below.

Car hire in Crete is a really good idea as it is a large island 60 km by 260 km. There is so much to explore.
When you book with our car rental partners - Rental Centre Crete - you are supporting a local company with excellent service and an easy online booking procedure. We are sure you will be well looked after by the team. Choose from hybrid or non-hybrid vehicles.
---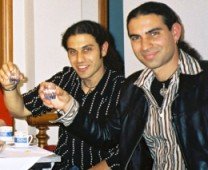 "We trust you have enjoyed these tips from the team at We Love Crete. Evíva!"
Contact us with further questions or feedback. We love to hear about your travels in Kríti and Greece. Let us know of any updates or additions, errors or omissions. Help us make this website the best it can be. Kaló Taxidí!

---