Crete to Santorini
This page may contain affiliate links, see our disclaimer here.

---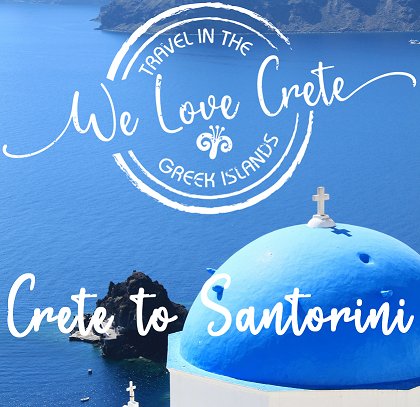 Getting from Crete to Santorini - in summer, there are magical ferries that can whiz you there in under two hours, and local airlines can fly you there in just half an hour.
Regular ferries take between 4 and 5 hours to do the crossing, which is approximately 110 km or 70 nautical miles.
Santorini is known as Thira, so look for this name when checking timetables and booking your trip.


---
Getting from Crete to Santorini
The catamaran service makes it possible to visit Santorini for the day from Heraklion in Crete.
From Heraklion to Santorini - see below - ferries leave in the morning from Heraklion port:
| | | |
| --- | --- | --- |
| Service | Vessel | Duration |
| Sea Jets | Fast ferries | 2 hours |
| Hellenic Seaways | Fast ferries | 2 hours |
| GA Ferries | Traditional ferries | 4.5 hours |
| Minoan Air | Small aircraft | Half an hour |
From Chania to Santorini  - no ferries or flights leave from Chania. Instead, depart via Heraklion, Agios Nikolaos or Sitia.
From Rethymnon to Santorini - from April to Oct, Seajets runs a fast service departing at 7.45 am arriving at 10.10 am. www.seajets.gr
From Agios Nikolaos to Santorini - Lane Lines. Traditional Ferries. Duration 5 hours. www.ferries.gr/lane
From Sitia to Santorini - Lane Lines. Traditional Ferries. Duration 8 hours. www.ferries.gr/lane
Note that the fast and super fast services are for passengers only, check with the provider about ferries, usually the regular ferries, that take motor vehicles. Also note that the flights depart approx. 5 days per week in summer season.

---
Ferry Tickets for Crete to Santorini
Some ferry companies in Greece tend not to publish information on the web far ahead of time. For this reason, it is sometimes best to book via a travel agent from your home town, or if you are already in Crete, via Vai Travel, or the shipping agents, Paleologos SA in Heraklion. Details for ticket purchase are below:
| | | |
| --- | --- | --- |
| Buy Tickets | Address | Phone |
| Vai Travel | 10, Chandakos St, Heraklion, Crete | 2810 222044 |
| Paleologos Shipping | 5, 25th August St, Heraklion, Crete | 2810 346185 |
| Dolphin Express | 90 El. Venizelou St, Rethymnon, Crete | 28310 57666 |
---
About Santorini (Thira)
Santorini or Thira is essentially the remains or the rim of a volcano that last erupted 3,500 years ago, at the time of Minoan Crete. The dramatic steep cliffs that remain, look out from a semi-circle around the stunning blue bay or caldera, and white villages perch on top, now creating one of the most unique and famous travel destinations of our time.
The capital of the island is Fira, and one of the most sought-after locations for the dramatic sunsets, is Oia, in the north of the island.
Santorini is one of the busiest islands in Greece, receiving millions of travellers per year. This is a good reason to visit during shoulder season, not in peak summer season of July August. May and June are delightful spring months and the autumn weather in September and October is lovely, and visitor numbers reach acceptable levels.
Highlights of the island:
Whitewashed villages and iconic churches

The caldera views on the Fira to Oia walk
Viewing the sunset from Oia
Akrotiri Archaeological Site
Red Beach
Perissa Beach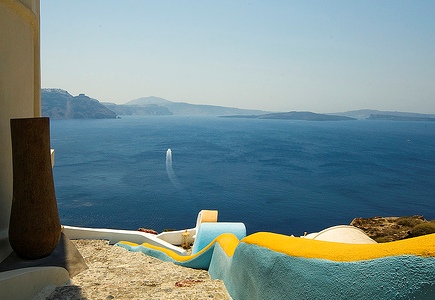 ---
Day Trips from Crete to Santorini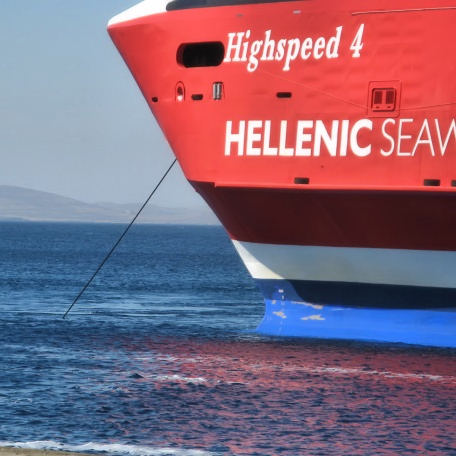 Crete to Santorini Day Tour - take advantage of the super-fast ferries to take the one day tour from Crete to Santorini. Considering the travel time to and from the island (two hours each way), this makes for a long day with a short time to explore Santorini. If you only have a limited time in the Greek islands, however, this is a really great way to see one of the most stunning panoramas in Greece, in comfort.

With bus pick-ups and drop-offs from hotels on the north coast of Crete and assistance with the ferry terminals, this is a no-fuss way to visit Thira, including the cable car ride up from the port to the top of the caldera, with magic views.


---
Explore the Cycladic Islands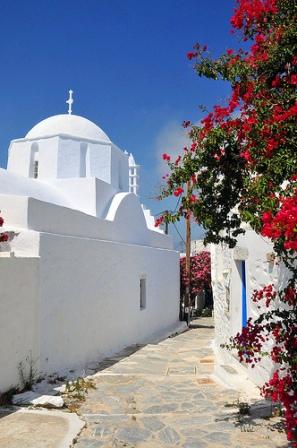 Amorgos Island
The Cycladic Islands, of which Thira is the jewel in the crown, are 56 stunning and complex islands, equally diverse and fascinating.
They are deservedly famous for their crystal clear waters, exasperatingly white villages, and centuries of history. Nightclubs aside, the Cyclades are a beautiful location for any sort of holiday in Greece.

Travel to Amorgos, Mykonos and Syros within hours by ferry from Thira.
Independent travellers will find plenty of information here on our island pages, to put together a wonderful personal itinerary to enable you to explore these islands at your leisure.

---
Wines of Santorini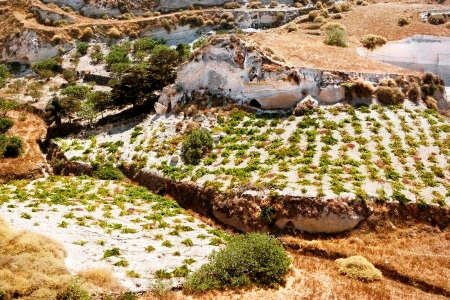 The wines of Thira are unique, growing in the volcanic pumice soil from mandilaria, assyrtico and aidani varieties and others. Whilst many do not think of agriculture when they imagine Santorini, it remains an important part of everyday life.
On the hills rolling away from the cliff edge, with unusual formations left by the volcanic lava. Vinsanto and regional wines are harvested and cultured locally. Vineyard and cellar door visits are available on the island, a peek into the other side of Santorini.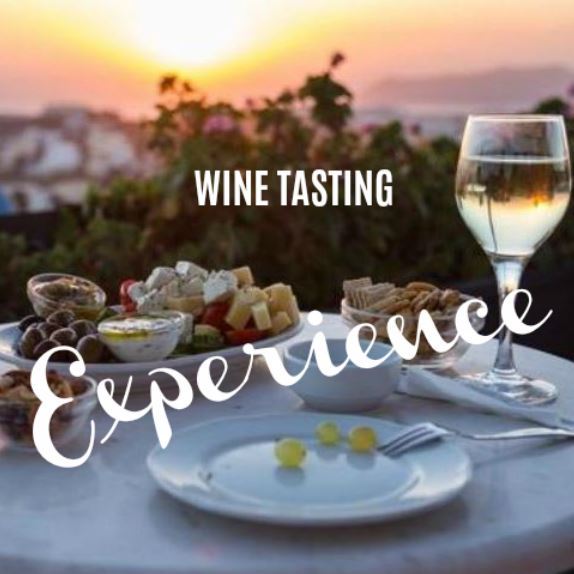 Wine Tour with Sunset in Oia - taste the island's viniculture , visit different local wineries, learn and taste, before relaxing to watch the sunset in Oia over drinks.
4.4 / 5 | 94 Reviews

---
Cinema in Santorini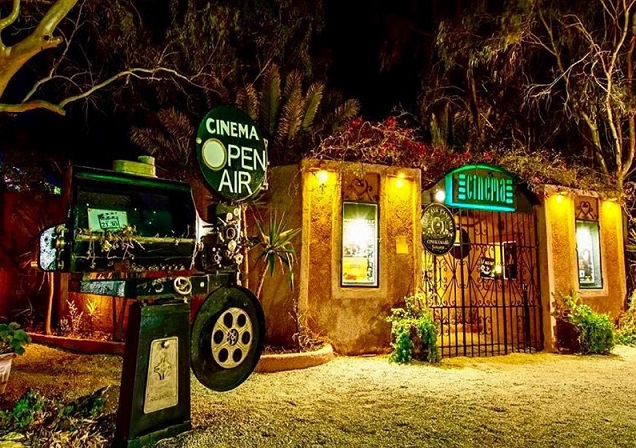 Another interesting discovery on Thira is the outdoor cinema "Kamari" in Kamari village. A beautiful atmospheric location to while away the warm nights. Movies are in English with Greek subtitles, open from May to October.
santorinicinema.com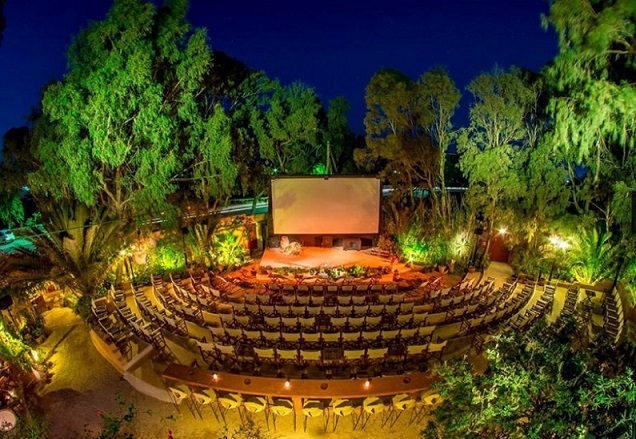 ---
Accommodation on Santorini Island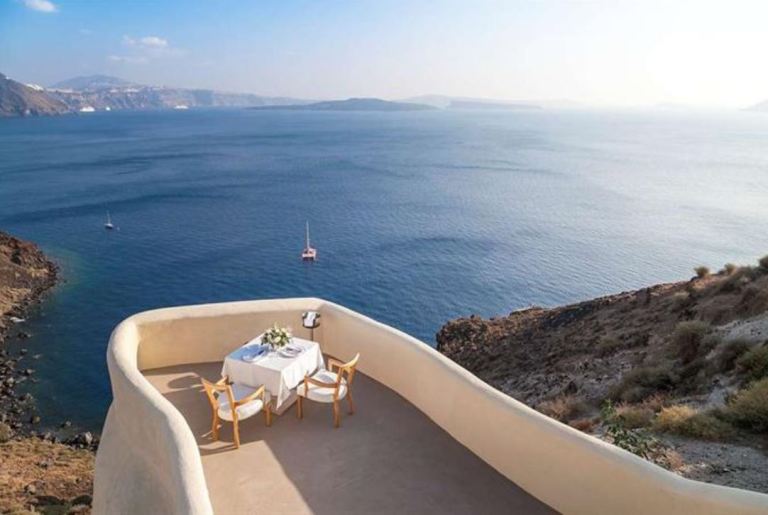 ---
Do you have a Secret About Santorini?
Do you have a special tip for travel to Santorini? A twist for travellers from Crete to Santorini? Or a question not covered below?
What Other Visitors Have Said
Click below to see travel tips and questions and answers from other visitors to this page...

Flight From Santorini to Crete
Hi, I loved your site. It's terrific, you have great information. I'll be visiting Crete this summer with my family and we can't seem to find …
Questions About Visiting Santorini
Hello there, I am really thankful for this website, really thankful! I am thinking of visiting Crete in April.
Holidays in Crete and Santorini
We suggest that visitors to fly from Athens to Crete, via either Chania or Heraklion airport, then after visiting Crete, take the ferry onwards to Santorini from Heraklion. The ferry takes only 2 hours in the high season, you can be in Santorini by lunchtime. Crete to Santorini is easy.


---
Stunning Santorini Video
Two excerpts from 'The Secret of Mediterranean' with Trevor McDonald, showing the beautiful cave houses of Santorini - and many other gorgeous views around the caldera and the bay, with the deep blue of the Med on full show - including some spear fishing in Ammoudi Bay with incredible underwater visibility, with free diver Stavros Kastrinakis. Ending the day watching the sunset at Oia, this is a small taste of the beautiful Thira.
Explore the views from the caldera, as well as Red Beach and Black Beach on this beautifully crafted video.
---
Day Tours

Make the most of your time in Santorini and discover her food, wine and history on an organised tour.
Getting to Crete
Take a 1 hour flight from Athens to Heraklion with Aegean Airlines or Olympic Air, with many flights available per day.
Or take a 9.5 hour overnight ferry from Pireaus port of Athens to Heraklion port.
More on flights and ferries below.
Car hire in Crete is a really good idea as it is a large island 60 km by 260 km. There is so much to explore.
When you book with our car rental partners - Rental Centre Crete - you are supporting a local company with excellent service and an easy online booking procedure. We are sure you will be well looked after by the team. Choose from hybrid or non-hybrid vehicles.
---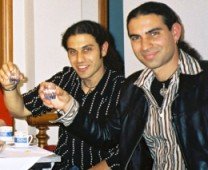 "We trust you have enjoyed these tips from the team at We Love Crete. Evíva!"
Contact us with further questions or feedback. We love to hear about your travels in Kríti and Greece. Let us know of any updates or additions, errors or omissions. Help us make this website the best it can be. Kaló Taxidí!

---