From Crete to Santorini

This page may contain affiliate links, see our disclaimer here.

---
How to Get From Crete to Santorini - tips and travel ideas for island hopping between these two magnificent Greek islands.

Getting to Santorini from Crete is easy in summer as it is a fast ferry ride of less than 2 hours.


---
Book Your Ferry

Ferries depart from Heraklion Port to Santorini - known as Thira - throughout the year:
In the spring months from April to June there are fewer services

July and August there are frequent fast summer services

During the autumn months of September and November, services drop off again

During the winter months of December to March there is one sailing weekly

In summer the super fast ferries cross in less than 2 hours.
Ferries depart from Pireaus Port of Athens frequently and the crossing takes around 9 hours.
There are also frequent departures from Rafina Port north of Athens and close to Athens Airport, to Santorini via the Cycladic islands. The duration can be between 5 hours and 15 minutes to 6 hours and 40 minutes, depending on your ferry company and the route.

---
From Crete to Santorini
September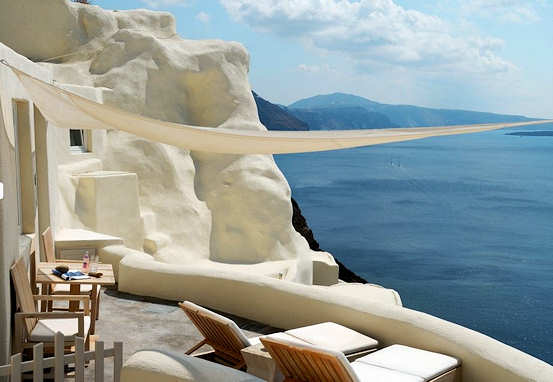 by Cindy
Ontario, Canada
We are visiting Crete in September and wonder if the fast ferries to Santorini run until the end of Sept or into October?

Also do you need a reservation for the ferry?

Generally, the fast services run only in high summer season which is July and August, with reduced services in September.

See all options for travelling to Santorini from Crete here

Crete to Santorini and Santorini to Crete Info

When searching online remember that the Santorini is known as Thira. A quick search reveals the following services in late September:

Seajet - a Megajet departing Heraklion on 24 Sep at 8.40am arriving into Thira at 10.20am - trip duration 1 hour and 40 minutes.

Hellenic Seaways - there is a High Speed 4 departing Heraklion on 24 Sep at 9.30am arriving into Thira at 11.25am - trip duration 1 hr 35 minutes.

Hellenic Seaways - from Thira departing at 5.30pm arriving into Heraklion at 7.15 - trip duration 1 hour and 45 minutes. Cost approx €60.

In September it is also a good option to take an organised day tour from Crete to Santorini with hotel pickups and drop offs in various locations in Crete.
Yes, it is best to have a reservation for the ferry and remember to get your ticket from the booth at the dock before approaching the ferry.

Kalo Taxidi!


---

by Nancy
Lutz, Florida USA

We are trying to get from Crete to Santorini in September. It seems that the ferries do not run at this time? Any suggestions on ferry or air?



Hi Nancy,
Ferries do run from Crete to Santorini in September, just slightly less frequently than in July and August, which are peak seasons.

September is a shoulder season, so there are still plenty of people travelling about the Greek Islands and the weather conditions are great for swimming and enjoying the islands.

See our page about Crete to Santorini and check out the ferry schedules online.

September really is a great month to visit Santorini as the weather is still warm, the August winds have dropped off, the sea is still warm and perfect for swimming, and best of all, the August tourist rush has lessened. Average temperatures are 21 to 26 °C with an average of 11 hours of sunshine a day.

It can still be pretty busy in Santorini in September, so book ahead on your accommodation.

Our suggestions for Accommodation in Santorini

For flights, this also varies from season to season; flights Crete to Santorini

Kalo Taxidi! Bon Voyage!
---
From Crete to Santorini
April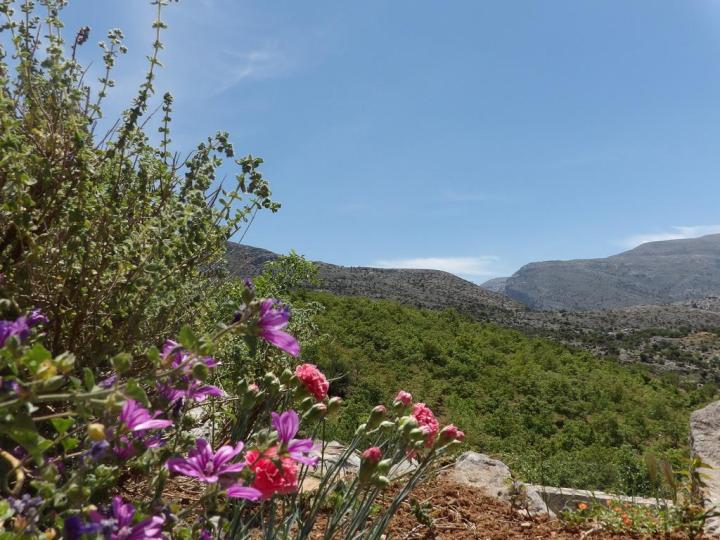 by Maggie
UK
Hello there, I am really thankful for this website, really thankful!

I am thinking of visiting Crete in April from 17th to 21st of April because I bought the travel tour from Groupon. I am quite disappointed to see some of the activity tours / day tours don't quite operate in April, most of them start in May.

I am worried that I might not have much to do in Crete and Santorini by the time I'm there. So are there any tips? Will I be able to go to Santorini from Crete at that time? Will there be a lot to do in Crete at that time? e.g. boat tours, jeep tours etc.?

Thank you very much for your great efforts.

Yes, you are correct there may be fewer organised tours in April and they start in May. Also the Samaria Gorge opens in May.

On the plus side, April is a beautiful month with spring weather and wild flowers. Take the local bus, ask at your hotel, visit the relaxed cafes and tavernas with the locals, don't rush around and just be happy to avoid the tourists!

In Santorini

Info for getting from Crete to Santorini any time of the year...and book your ferry online here.
The weather in Santorini in April is mild with average temps 13-18

°

C and 11 hours of sunshine per day, on average.
You could take the scenic hike along the edge of the caldera from Fira to Oia with breath-taking views all the way.
Visit the vineyards, which not many people know are there, growing unique grapes in the volcanic soils. Visit Argryros Estate, Santo and Sigalas Wineries.
Check out this organised vineyard and wine tasting tour.

You will have much better options for accommodation in Santorini, better rates and it won't be so crowded.
Why not try a Cave hotel? These are the famous caves of Santorini where historically dwellings were built into the side of the cliff edge. Wonderful hotels exist today to create the same experience, with a few more modern comforts. The Perivolas Cave Suite in Oia is beautiful.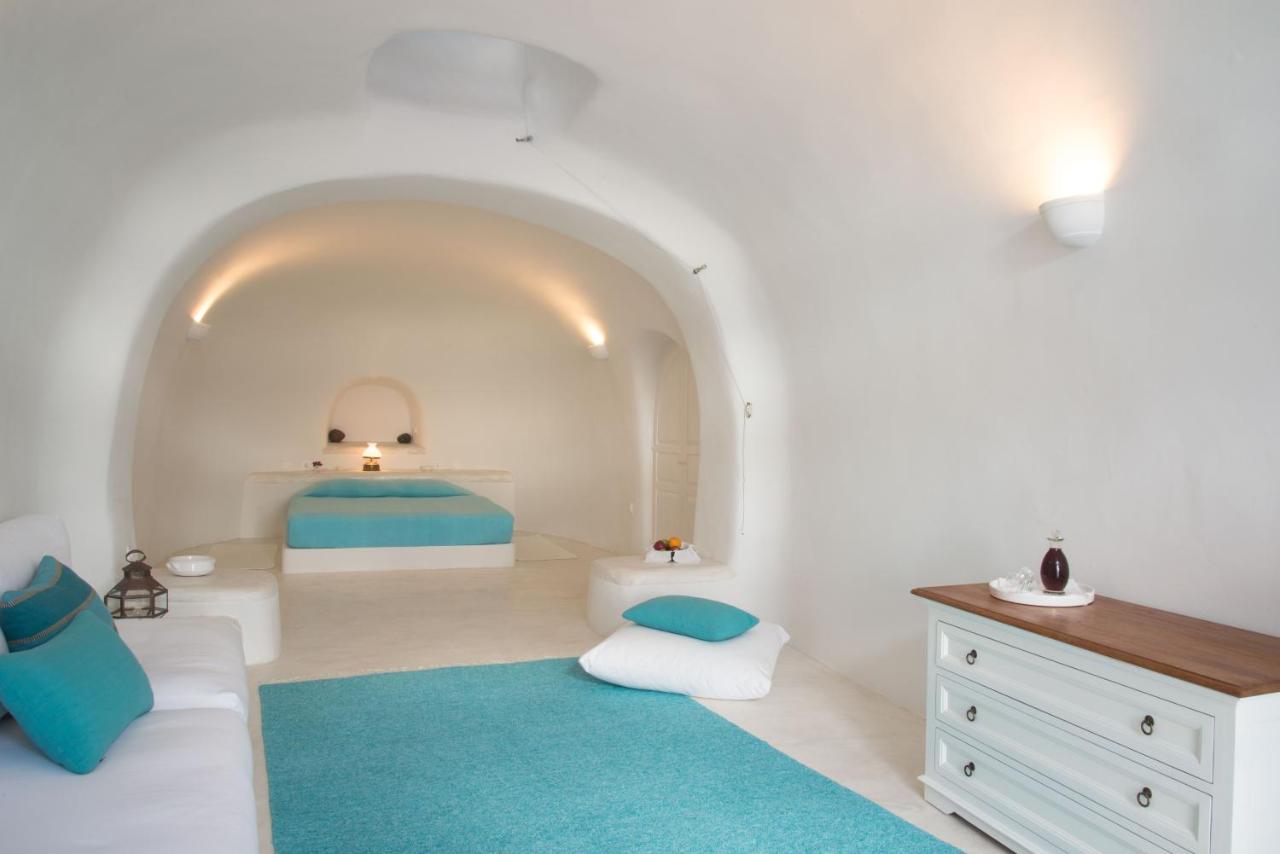 Perivolas Cave Suite in Santorini
In Crete


Contact the Happy Walker for ideas, they often take group walks in the off season outside of Rethymnon...
Take the bus over the mountains to Chora Sfakion on the south coast and ask for a room and a local boat trip...
Or perhaps take the bus to the little village of Plaka north of Elounda and ask for a personal boat ride out to the island of Spinalonga, and arrange a time to be picked up.
If you would like to arrange a private guide, who could drive and show you around, try the 'tours by locals' website here
Or try George, a professional licensed tour guide with a good knowledge of Crete...
The Heraklion Archaeological Museum and Knossos Palace Archaeological Site are open from 1st April on summer opening times - 8am to 8pm.
There is plenty to see and do in both Santorini and Crete in April, without the crowds of summer.

Kalo Taxidi! Bon Voyage!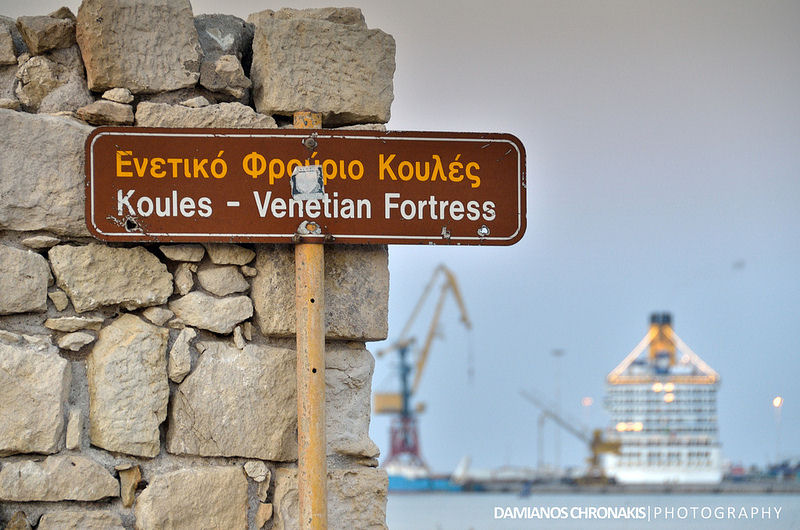 Leave plenty of time to get to your ferry at Heraklion Port
---
---