Crete Travel
This page may contain affiliate links, see our disclaimer here.

---
Crete Travel - answers all the questions you have for travel to and in Kriti.
If you are on a quick trip or an extended stay, here you will find all the information you need - so your travelling days flow smoothly - enjoy the real taste of Crete - with our own personal tips on each page, from our own experience of travel in Crete.

---
Crete Travel - Where to Stay
We Love Crete presents our personal tips and suggestions for your own independent travel. Below you will find plenty of accommodation options to choose from all over the island.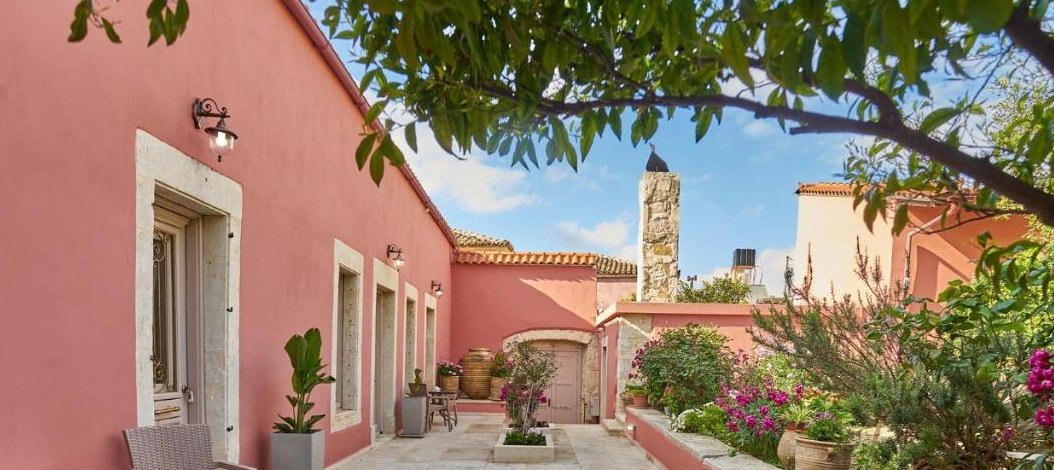 Traditional accommodation in Crete - step back in time
---
Exploring the Island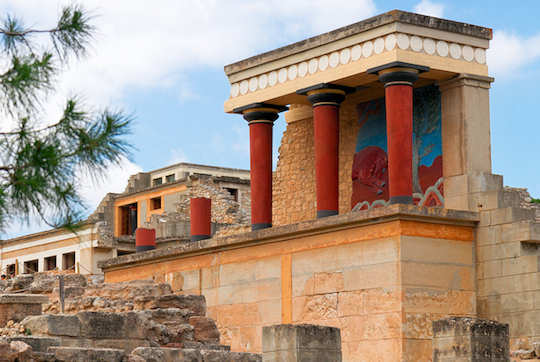 Knossos Minoan Palace is near Heraklion in central Crete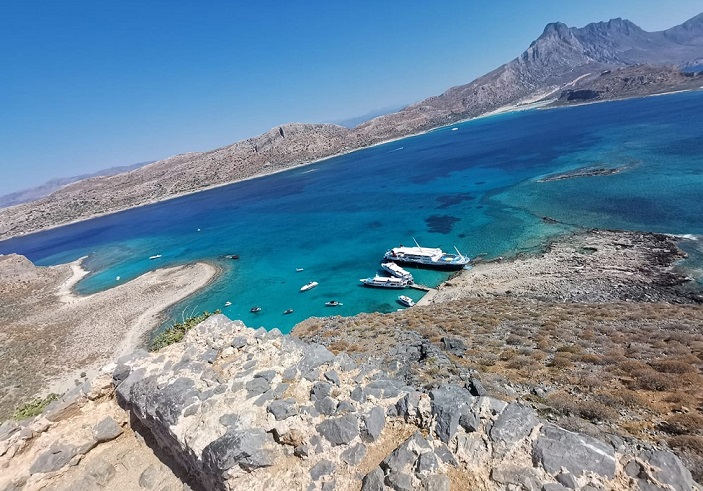 Day Tours in Crete - organised day tours to some of the most fascinating corners of the island, including Samaria Gorge and the Palace of Knossos. This is a great way to see Crete on a short break.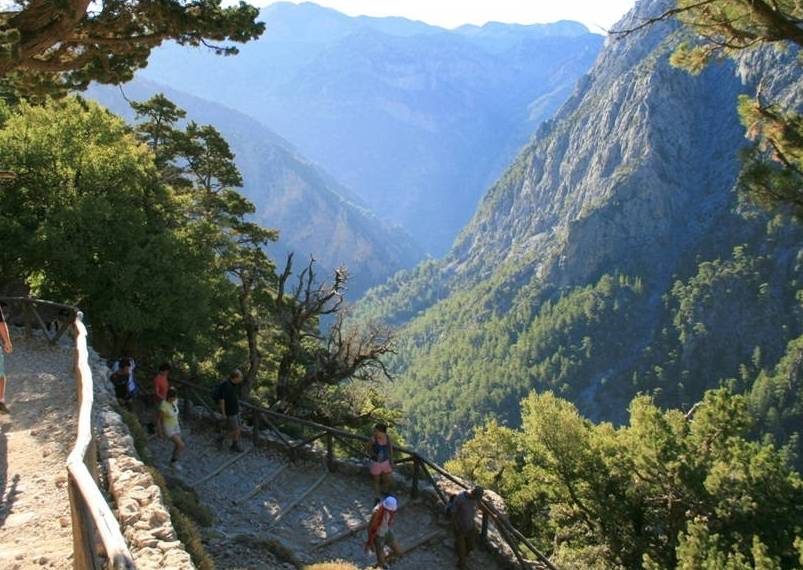 Crete Travel Questions & Answers - here we answer all your questions about travelling in Crete. It is a Q&A and an FAQ. Loads of specific information answering real travellers' questions. With a 'Contact Form' so you can write to us too.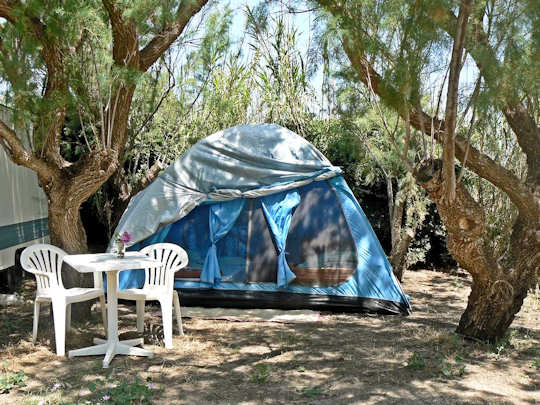 Budget Travel Tips - camping and budget accommodation as well as bus travel will keep your costs down in Crete.
---
For the Romantics

Crete Travel - perhaps you are planning to 'pop the question' or planning a wedding, commitment ceremony, an anniversary or engagement gathering. Whatever the occasion, we have the tips for you below, to make your special visit to Crete memorable.

How to celebrate your Wedding in Crete - tips for ceremony planners, heart-stopping venues, resort weddings, accommodation, adults only resorts and romantic beachside private retreats.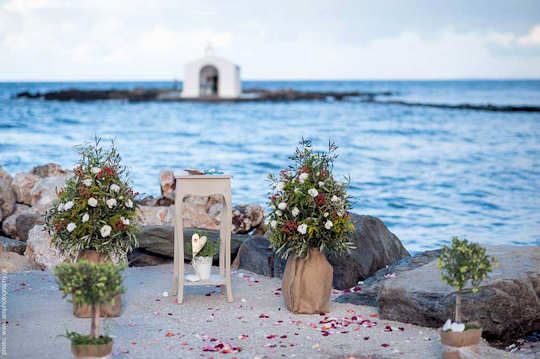 A Honeymoon in Crete - romantic resorts, private accommodation, spas and fun activities for active romantics, and retreats and pampering for luxurious private sojourns.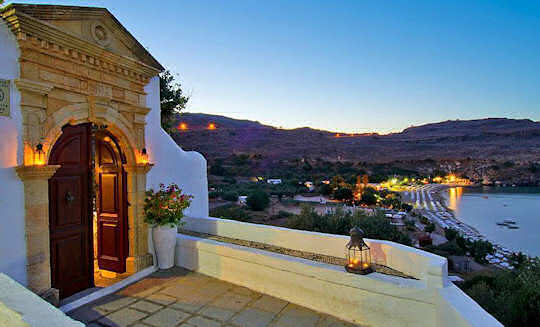 More Romantic Ideas - in Crete, Rhodes, Santorini and Athens. Take that special person away for an intimate and unforgettable holiday to Greece, perhaps for a special proposal, an anniversary or a sudden romantic week away.
---
Local Knowledge
Crete Travel - our website is dedicated to giving you the tools and knowledge to travel as an aware, curious and interested visitor to our island. Get to know a little bit about the island before you come, or before you decide where to visit.
Explore the following about this unique land:

---
Crete Travel
A Visual Journey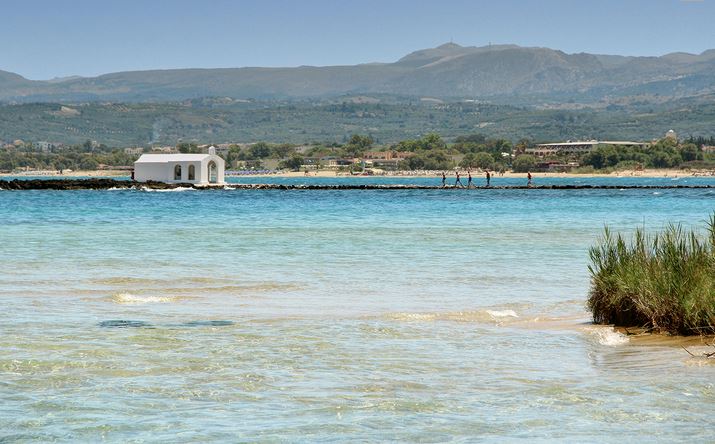 This beautiful seaside chapel is off Georgioupolis Beach in Chania on the north coast of Crete.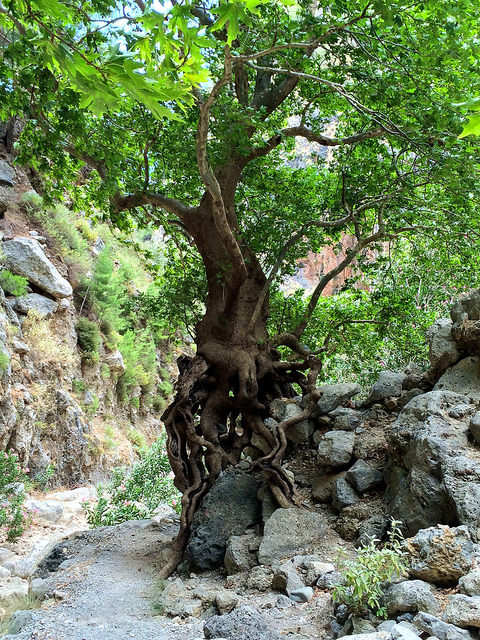 Crete Travel - the hiking in Agia Irini Gorge is just as interesting as that in Samaria Gorge and it is not as busy with bus tours.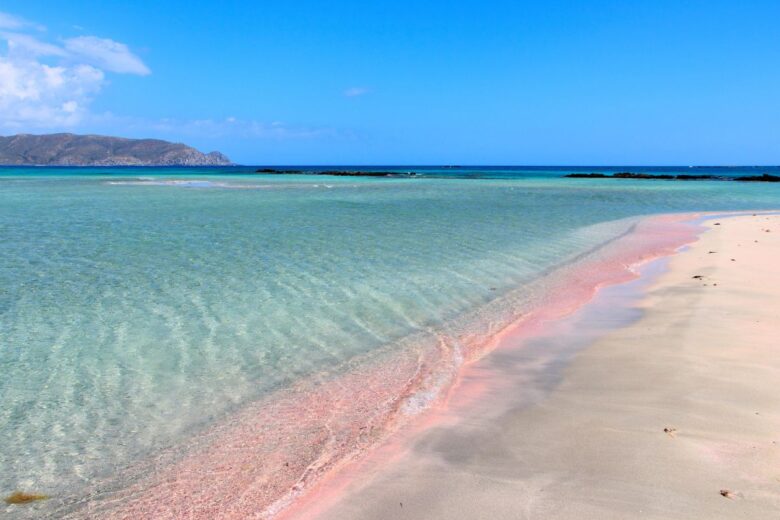 Elafonisi Beach, sometimes awash with pink sand, is a nature reserve at the very western tip of the island.


Balos Lagoon and Gramvousa Islet as seen from the main island of Crete, where the sea is a myriad of colours blue, azure, turquoise and green.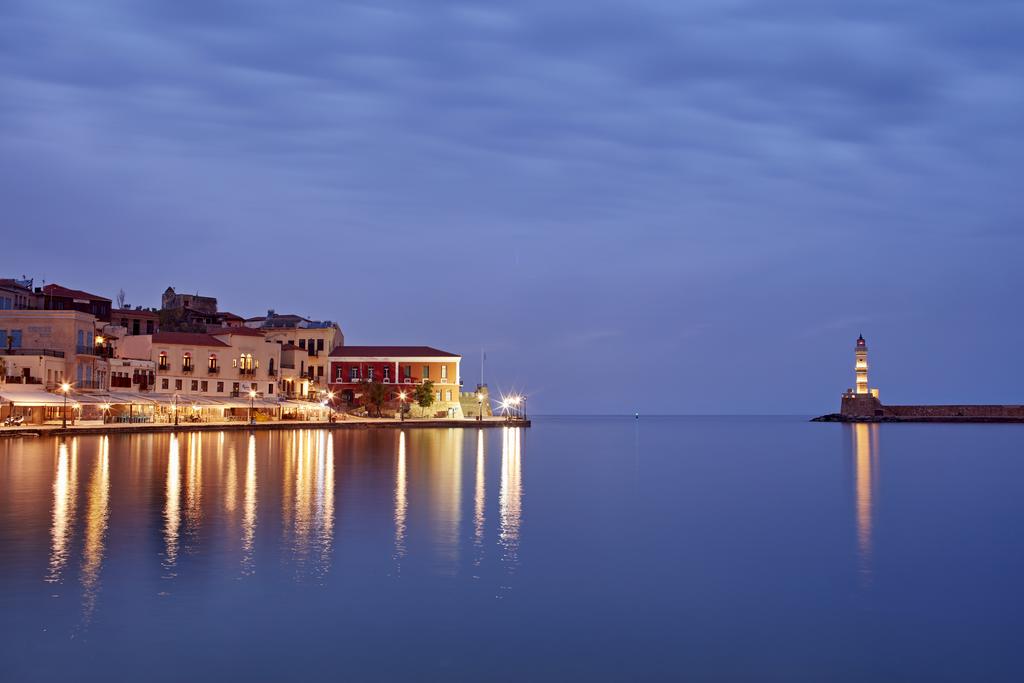 The historic Venetian harbour of Chania is small and circluar and very romantic at dusk.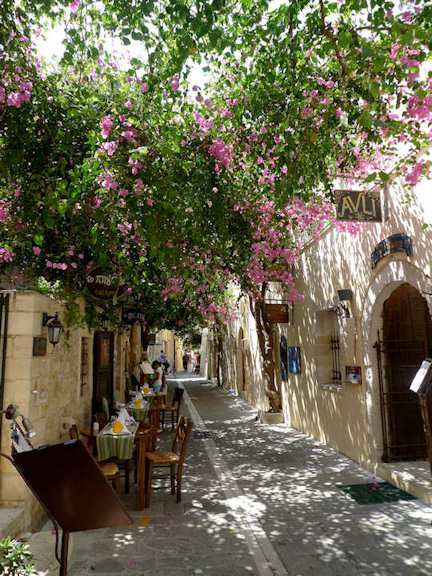 The small laneways of the Old Town of Rethymnon are full of charm. Our suggestion is to stay within the walls of the old town to absorb the atmosphere, especially at night.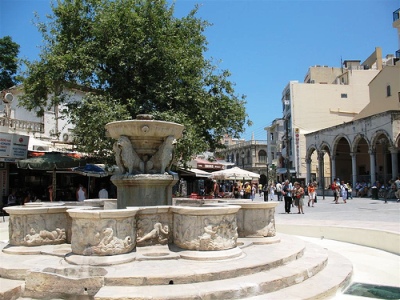 This Venetian fountain in Heraklion, nicknamed the 'liondaria', is a perfect central meeting point on a pretty plateia surrounded be cafes and restaurants.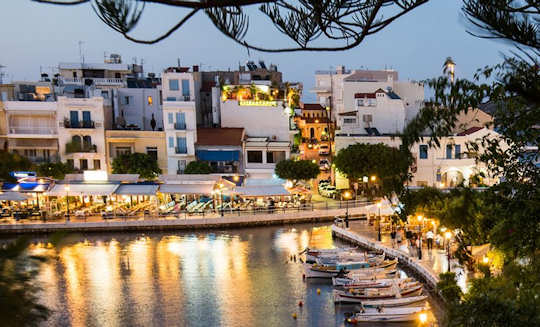 The capital of the eastern region is Agios Nikolaos, a vibrant town with a cafe culture surrounding its lake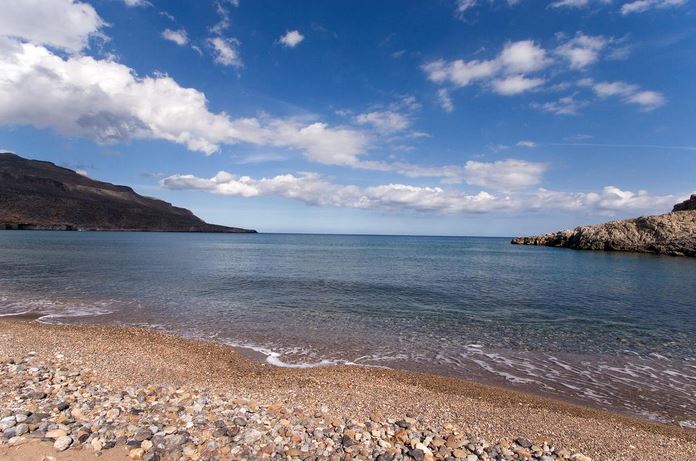 Kato Zakros Beach in the remote east of Crete, where you can explore Zakros Minoan Palace and Zakros Gorge, known as the 'Gorge of the Dead', due to the ancient burial caves found in the rocky walls of the ravine.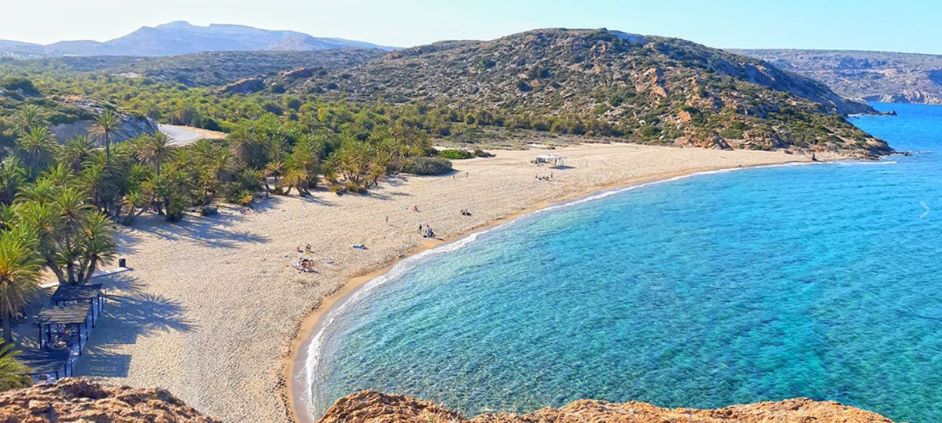 Vai Palm Forest and Beach is an extraordinary sight on the far eastern tip of the island. To visit this beach stay at Palekastro or Sitia in the Lasithi region of Crete, and take a local bus or car to the beach. Visit in the spring or summer months to avoid the crowds, or just walk to the south end of the beach.


---
Getting Here
Take a 1 hour flight from Athens to Heraklion with Aegean Airlines or Olympic Air, with many flights available per day.
Or take a 9.5 hour overnight ferry from Pireaus port of Athens to Heraklion port.
More on flights and ferries below.
Car hire in Crete is a really good idea as it is a large island 60 km by 260 km. There is so much to explore.
When you book with our car rental partners - Rental Centre Crete - you are supporting a local company with excellent service and an easy online booking procedure. We are sure you will be well looked after by the team. Choose from hybrid or non-hybrid vehicles.
---