Crete Mountains

This page may contain affiliate links, see our disclaimer here.

---
Exploring the High Life

Crete Mountains - on this large island 260 x 60 km in the south of Greece, there are major mountain ranges and plenty of high country, rocky rough terrain and gorges to explore. Many of the mountain areas are inaccessible and difficult. Snow falls in winter and the mountains are cold and dangerous to pass.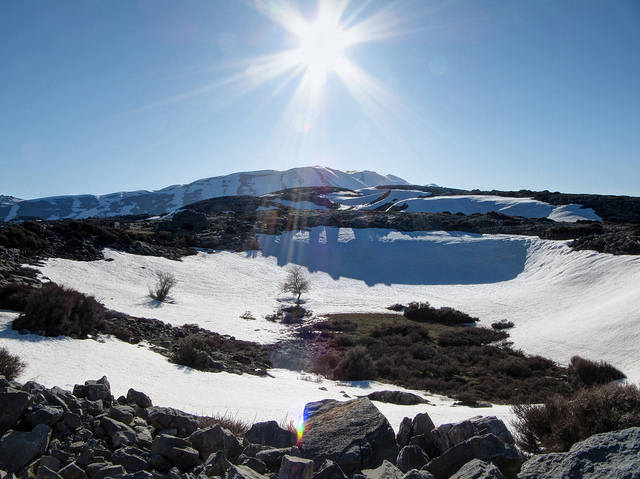 Psiloritis or Mt Ida - the highest mountain in Crete
The mountainous regions from west to east are:
• The White Mountains
• The Idi Range
• Mount Kedros
• The Dikti Range
• Mount Thripti
The White Mountains or Lefka Ori are formidable mountains in the west of Crete. Due to lack of vegetation, they are a 'high desert' and gleam white because of the reflection of sun on the white rocky mountainsides. In winter they are covered in snow and present a stunning scenic backdrop to life in the western side of Crete.
Samaria Gorge National Park is located here, with the large north-south running gorge drawing walkers from all over the world.
Videos of the White Mountains

Dimos Chania video of Lefka Ori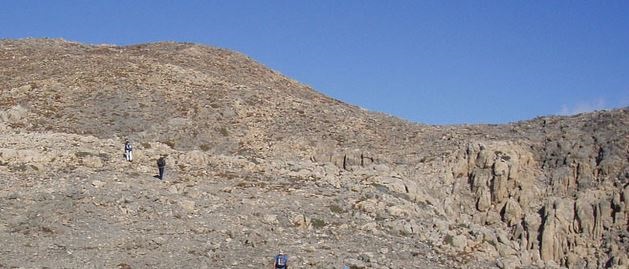 The 'High Desert'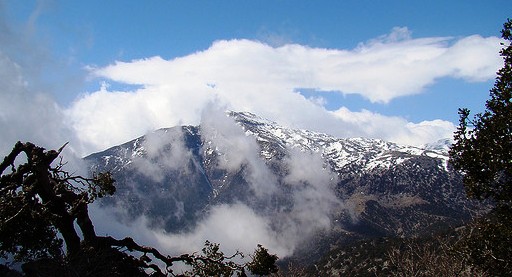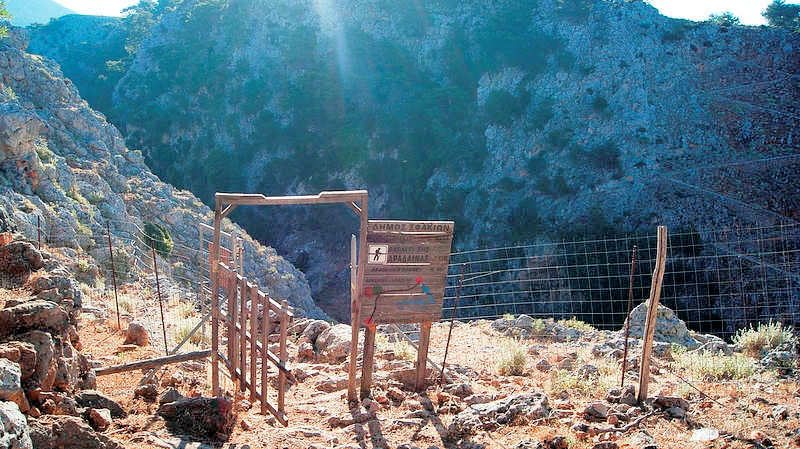 Above is the entrance to a steep rocky gorge in Sfakia, in the west of Crete. Many gorges make excellent walking, and can be walked from north to south, concluding on the inaccessible south coast of Crete.
See more about the Gorges of Crete here.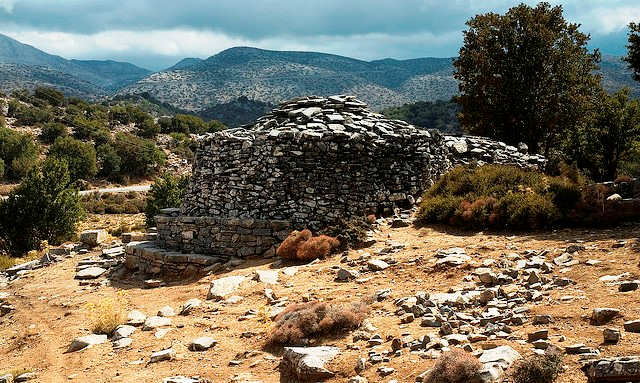 Shepherds make these huts - mitata - from local stones using dry stone methods
---
Crete Mountains
In the central Crete mountains is the Nida Plateau in the Ida Range, in central Crete, which sits just below Mount Ida or Psiloritis (the tall one), the highest mountain in Crete. In these forbidding lands the shepherds construct small huts for shelter, made from the local rock, the huts are named mitata (see above).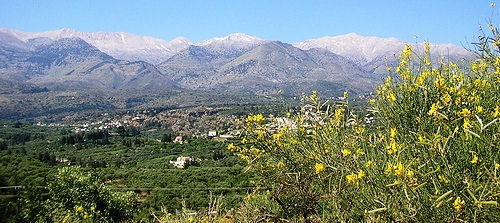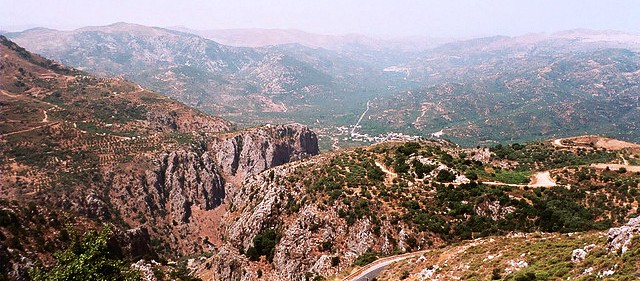 Above is the Lasithi Plateau as seen from the Dikti Mountains in the east of Crete. This lush plateau is perfect for sight-seeing, with caves, historical sites and good tavernas.


The sparkling Bay of Plakias in the south of Crete is ringed by mountains, the drive takes the visitor through wonderful scenery in the narrow gorge country, the rewards are crystal clear waters and this beautiful wide bay on the Libyan Sea.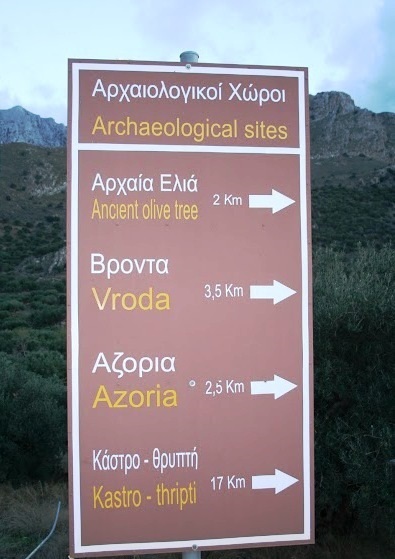 Near Thripti in Lasithi you can find walking trails with gorges, narrow mountain paths, rivers, an 3500-year-old olive tree now a living monument, a castle, many miles of tracks to follow and explore, with beautiful mountain flora to discover. Only 50 km from Agios Nikolaos in the east of Crete, Thripti Gorge and its mountains are virtually unknown and locals enjoy its diversity.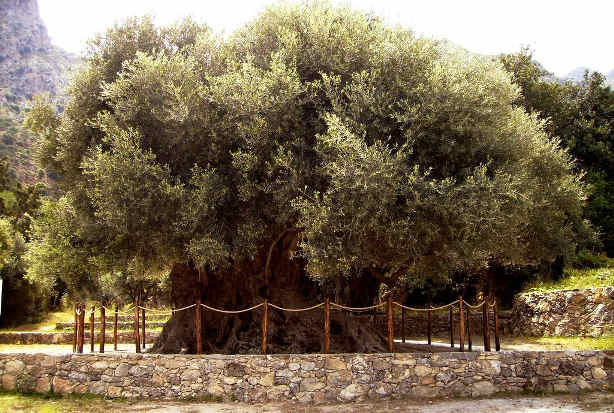 The Olive Tree of Azorias - this very old olive tree is located near the village of Kavoussi and the ancient site of Azorias in eastern Crete mountains, in Lasithi. This 3500-year-old tree is preserved as a national monument and leaves from it were used in ceremonies of the Greek Olympic Games in 2004. The diameter is said to be nearly 5 m.
---
Canyoning in Crete
In the mountains of Dikti in Lasithi and there are many places to go canyoning, and in loads of gorges all over Crete.

There are a couple of people you can contact, it would be best to contact them directly to ensure they are running a trip.

Giannis at Evergreen Tours

Lior at Cretan Outdoor Adventures


See video on canyoning in Crete here:

Cretan Outdoor Adventures video here:

---
Mountain Villages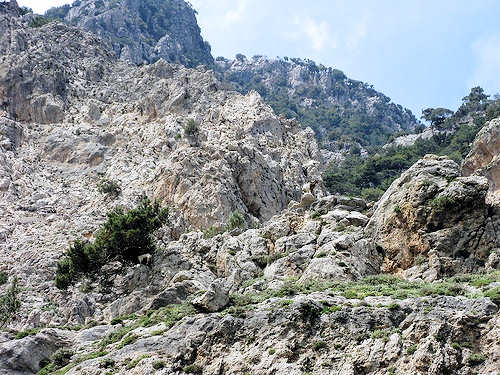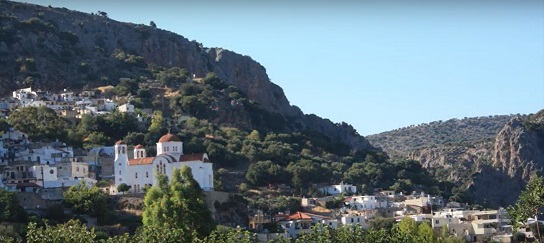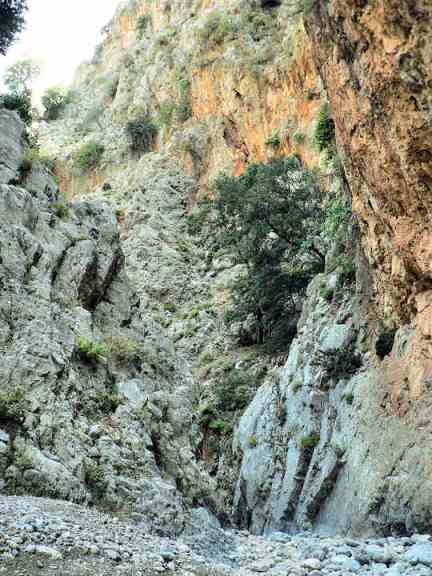 Many of the most fascinating villages in Crete are located high up in the tough country, where villagers have stories to tell, fresh goat's cheese to serve and a tradition of welcoming strangers.
In the foothills of the Psiloritis range you will find Zaros Village, with organic food at the taverna and mountain fish farms ready to serve fish caught just 2 metres away. Walk the Rouvas Gorge from here.

In Lasithi Plateau in the east of Crete is Tzermiado, where local fresh food is top of the menu, because many vegetables are grown locally. Walk the Dikti Mountains from here.

Also in the east is Kritsa village, known for its picture postcard architecture and great scenery, walk the Kritsa Gorge from here.

---
Mountain Flora of Crete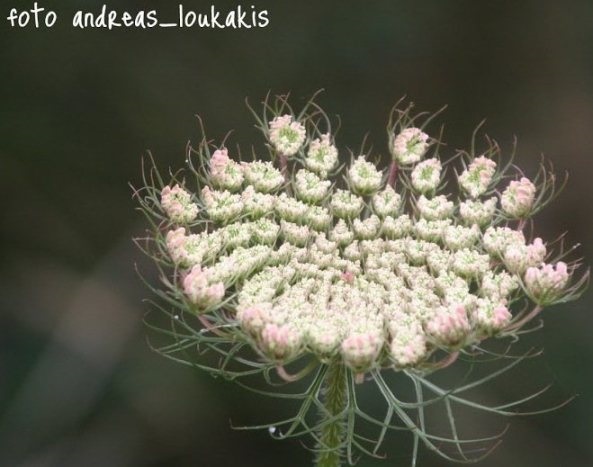 The endless variety of flora in Crete will stop you in your tracks as you hike in the Crete mountains and gorges. This is Daucus carota or Wild Carrot which is endemic to Crete.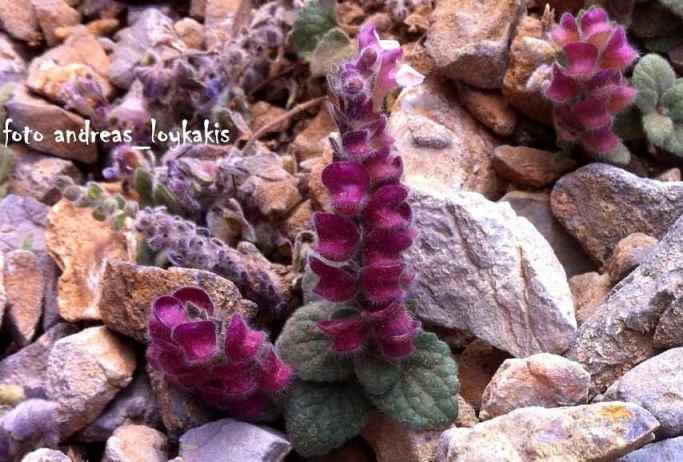 This is Scutellaria hirta, a small plant covered with velvety down which is also endemic to Crete and found in rock crevices, rubble and screes. Thanks to Andreas Loukakis of the walking club 'Pezoporia' for sharing his wonderful flora photos.


---
Mountain Accommodation
Crete Mountains - find your retreat in the high country here.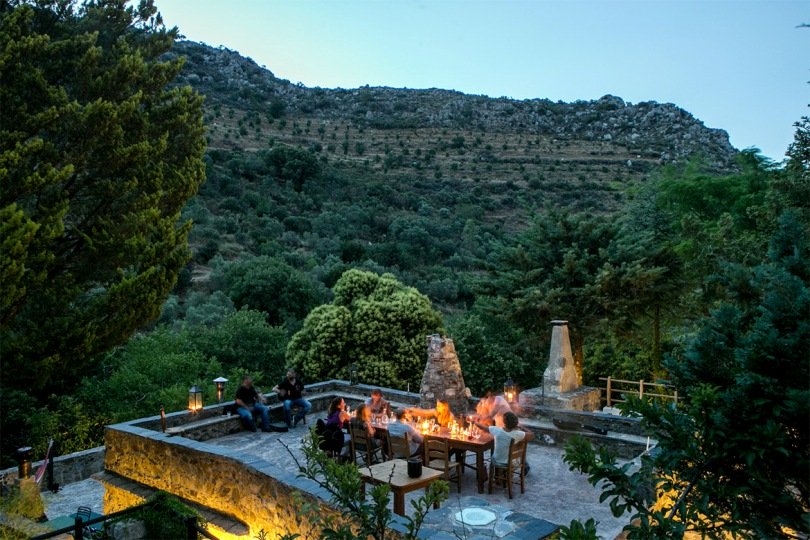 Milia Mountain Retreat in the mountains of Chania is an eco village nestled deep in the forests of western Crete.
This beautiful accommodation in Crete is chosen for its authentic architecture and small size, it is a peaceful rustic getaway for a real experience of Kríti. This community is also dedicated to sharing a real grass-roots environmental retreat, using organic farming and solar energy.
Located 60 km from Chania town in the west of the island, Miliá Μηλιά is a fully restored village built into the rocks of the beautiful Cretan mountains. The closest village is Vlatos 4km away.
On the Omalos Plateau, Gianni's House is a cozy stone-built holiday home situated on the plateau, virtually in the middle of nowhere, surrounded by mountains. Just enjoy peace and quiet and hiking from here. 1 bedroom and 1 bathroom, traditional style with modern comforts. Ideal for nature lovers. It would be best to visit with a car as this house is 40 km from Chania town and 7 km from the entrance to Samaria.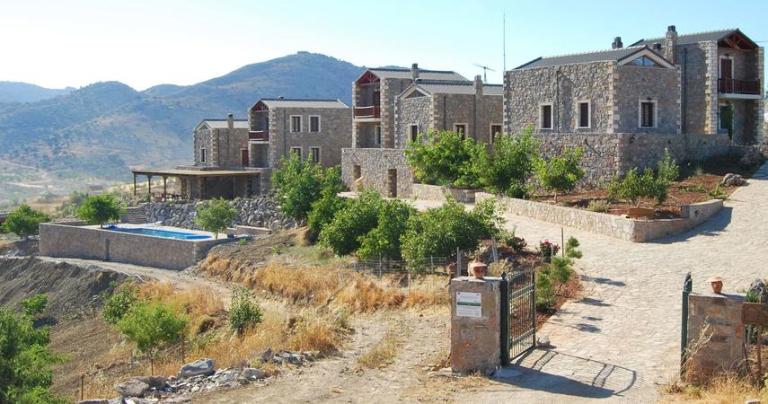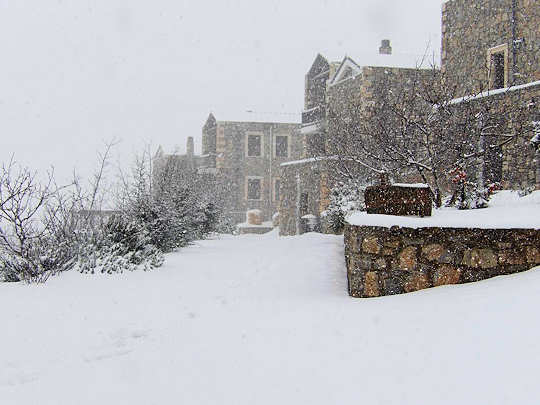 Arodamos Guesthouse is located on the plateau of Livadi close to Nida Plateau in the foothills of Psiloritis.
Visit in summer or winter for a completely rural escape. 20 km from Nida Plateau. Close to Anogeia Village. You will need a car to enjoy this accommodation.
The Thalori Retreat is set is the village of Kapetaniana in the Asterousia Mountains of southern Heraklion. The village is 64 km from Heraklion town and from the international airport.
This stunning high mountain location is a unique and traditional choice for your holiday. Of course, relaxing away from everywhere in Crete, still means exquisite hospitality and friendliness, and wonderful food!
The beauty of choosing this retreat is that the taverna operates all year round, providing the quintessential local cuisine in time-honoured tasty volumes, and plenty of atmosphere and conviviality to compliment the meal and complete the mood.



In Selakano in the Dikti Mountains in eastern Crete, you will find the quiet peaceful Pezoulia Mountain Retreat to relax and shake off the stress of the modern world.Nestled into the Selakano Forest of Pinus brutia and cypress pines, you will be nurtured here any month of the year in your private traditional home, swimming in the pool or surrounded by snow, enjoying the local paradosiaki food in the taverna. This mountain retreat is located just 40 km from Agios Nikolaos but a 'world away'.
---
Getting Here
Take a 1 hour flight from Athens to Heraklion with Aegean Airlines or Olympic Air, with many flights available per day.
Or take a 9.5 hour overnight ferry from Pireaus port of Athens to Heraklion port.
More on flights and ferries below.
When you book with our car rental partners - Rental Centre Crete - you are supporting a local company with excellent service, competitive prices, transparent up-front prices and an easy online booking procedure. We are sure you will be well looked after by Harry and his team.