Lasithi Plateau
This page may contain affiliate links, see our disclaimer here.

---
In the Mountains of Crete


Lasithi Plateau Οροπέδιο Λασιθιού in the east of Crete, ringed by the Dikti Mountains and the prefecture of Lasithi, is a fertile agricultural area known throughout the ages for its cornucopia of fresh produce.
All over the plains you will see white-sailed windmills dotted for miles, as far as the eye can see.
Sitting at 850 m above sea level 44 km from Agios Nikolaos , the plateau is large enough to stay a while and explore. The villages of Tzermiádo, Agios Giórgos, Psyró, Marmakéto, Agios Konstatínos, and Avrakódes are small, thriving agricultural villages.
Apples and pears, potatoes and tomatoes, lettuce, artichokes, almonds and much more are grown on the Lasithi Plateau.
The ruins of Karfi are high in the mountains 1100m behind Tzermiado. The Minoans lived here around 1000 BC, there are tholos tombs and remains of a small township. The Minoans are said to have retreated into the mountains away from the invading Dorians.
Mythology tells us that Zeus was raised in the cave near here, called Diktaion Andron or Dikti Cave, close to Psyró. This large cave has different chambers, stalactites and stalagmites and plenty of history. Another cave to explore is Trapesa Cave near Tzermiádo.
In Venetian times, thousands of windmills were built of wire and cloth to irrigate the plateau. These unusual structures give a timeless presence in the plateau, although not many are in full use now. Some were built with stone towers. The local government is restoring some of these to reflect the cultural and historical significance of the area.
The Greek word for windmill is anemómilos ανεμόμυλος. This comes from the word anemos for wind and milos for mill.
The Abbey of the Life-Giving Spring, Μονή ζωοδόχου Πηγής built in 1845, is here and now incorporates a natural history museum, it sits in the beautiful mountains called "Mountains of Little Flowers" Vouno Louloudaki, near Káto Metóchi, it is within the Vidiani Monastery.
Surrounded by mountains and the smaller plateaux of Limnakaro Plateau, Katharo Plateau, and Nissimou Plateau, this is a community full of surprises, fresh mountain air, history, folklore and wonderful fresh fruit and vegetables.
The Gorge of Chavga near Agios Konstantínos offers pristine nature walks.
The E4 European walking path passes through the plateau at Vidiani Monastery, Agios Harálambos, Pláti and Psyró.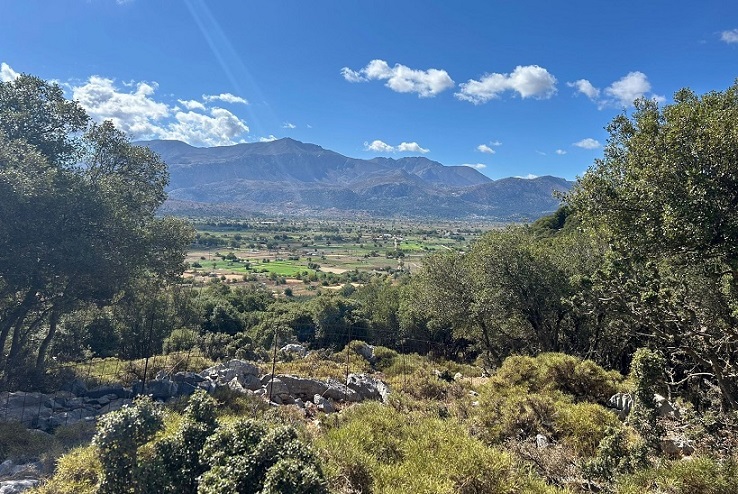 ---
Lasithi Plateau
Beautiful images of the plateau below: