Lasithi Plateau
This page may contain affiliate links, see our disclaimer here.

---
In the Mountains of Crete


Lasithi Plateau Οροπέδιο Λασιθιού in the east of Crete, ringed by the Dikti Mountains and the prefecture of Lasithi, is a fertile agricultural area known throughout the ages for its cornucopia of fresh produce.
Over the plains you will see white-sailed windmills dotted for miles, as far as the eye can see.
Sitting at 850 m above sea level 44 km from Agios Nikolaos , the plateau is large enough to stay a while and explore. Explore small, thriving agricultural villages:
Agios Giórgos

Psyró

Marmakéto

Agios Konstatínos

Avrakódes
Vegetables, apples and pears, potatoes and tomatoes, lettuce, artichokes, almonds and much more are grown on the Lasithi Plateau.
The ruins of Karfi are high in the mountains 1100m behind Tzermiado. The Minoans lived here around 1000 BC, there are tholos tombs and remains of a small township. The Minoans are said to have retreated into the mountains away from the invading Dorians.
Mythology tells us that Zeus was raised in the cave near here, called Diktaion Andron or Dikti Cave, close to Psyró. This large cave has different chambers, stalactites and stalagmites and plenty of history. Another cave to explore is Trapesa Cave near Tzermiádo.
In Venetian times, thousands of windmills were built of wire and cloth to irrigate the plateau. These unusual structures give a timeless presence in the plateau, although not many are in full use now. Some were built with stone towers. The local government is restoring some of these to reflect the cultural and historical significance of the area.
The Greek word for windmill is anemómilos ανεμόμυλος. This comes from the word anemos for wind and milos for mill.
The Abbey of the Life-Giving Spring, Μονή ζωοδόχου Πηγής built in 1845, is here and now incorporates a natural history museum, it sits in the beautiful mountains called "Mountains of Little Flowers" Vouno Louloudaki, near Káto Metóchi, it is within the Vidiani Monastery.
Surrounded by mountains and the smaller plateaux of Limnakaro Plateau, Katharo Plateau, and Nissimou Plateau, this is a community full of surprises, fresh mountain air, history, folklore and wonderful fresh fruit and vegetables.
The Gorge of Chavga near Agios Konstantínos offers pristine nature walks.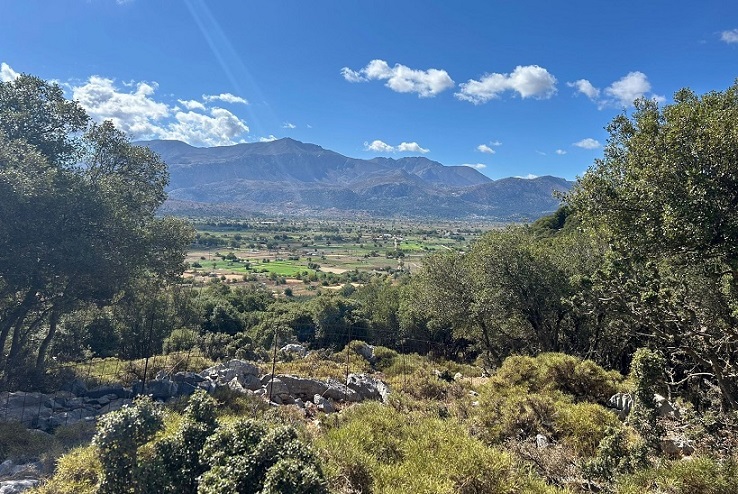 ---
E4 Walking Path in Crete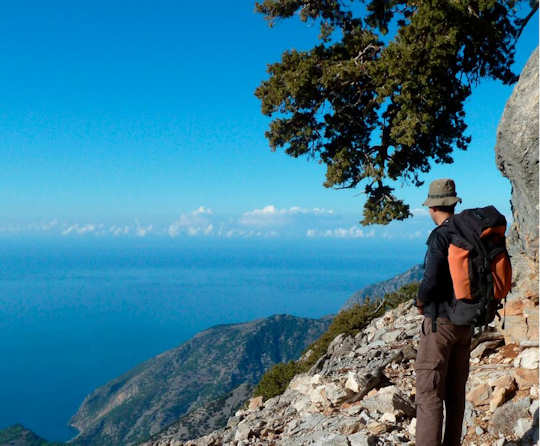 The E4 European walking path passes through the plateau at Vidiani Monastery, Agios Harálambos, Pláti and Psyró.
As the path passes through these mountains. This hiking trail starts at Kastelli-Kissamos in the west of Chania and makes its way to the south-west of the island, passing along the southern coast at the foothills of the White Mountains, until it splits at Sougia and hikers can choose between an alpine route through the White Mountains and a coastal route via Agia Roumeli, Loutro and Chora Sfakion . The trail then goes through the Idi Mountains and across the centre of Crete in the Heraklion region, through vineyards and olive groves to enter this plateau.

This walking path is known as The Cretan Way or Η στράτα της Κρήτης
and Luca Gianotti has created a wonderful guide with excellent maps here.

---
A Backroads Journey

Visit Tzermiado and Lasithi Plateau on your own exploration of Crete using our mini-guide.
Crete Island Greece - Trip Guide - this travel guide with contributions from Anastasi, Apostoli and Katia includes visits to archaeological sites, traditional Cretan cuisine at local tavernas, visits to historic sites, tiny mountain villages, country roads, isolated beaches, the only palm forest in Europe and again, provides route choices away from the madding crowd, to explore authentic Cretan life.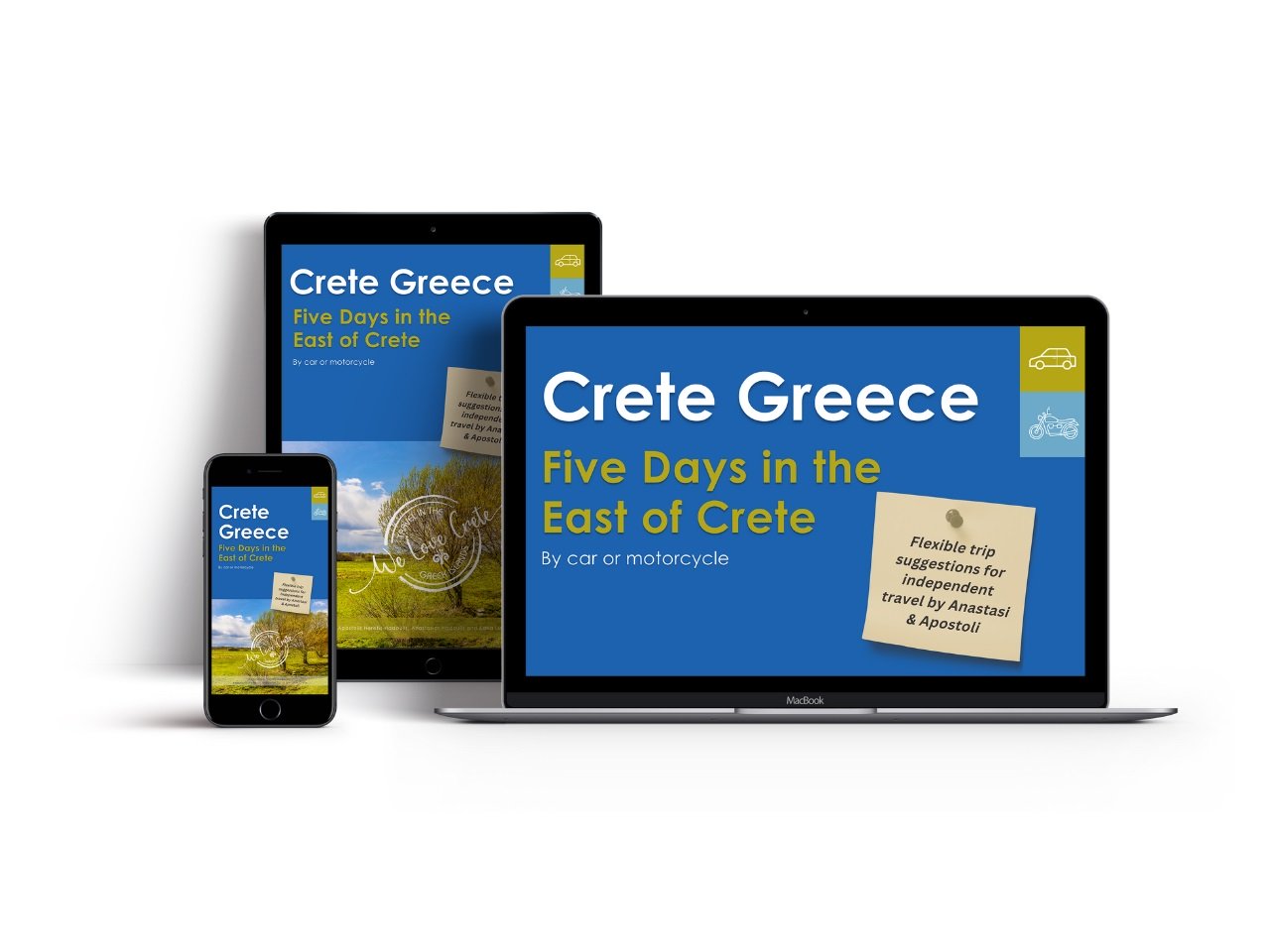 East Crete by Car

This wonderful guide to the east of the island visits the following destinations:

•    Knossos
•    Lasithi Plateau
•    Tzermiado
•    Dikti Cave
•    Elounda
•    Spinalonga
•    Agios Nikolaos
•    Sitia
•    Kato Zakros
•    Zakros Palace
•    Vai Beach
•    Kritsa
---
Accommodation
Lasithi Plateau
Find quiet rural places where the slow pace of life rolls by, surrounded by farms, ringed by the Dikti Mountains, exploring local tavernas and hiking trails.
The restored traditional home of Metochi House gives the experience of a boutique hotel with the price of a B&B. Experience true Cretan hospitality, wide mountain views and fresh air. 30 km from Tzermiado
Country Hotel Velani sits just below the plateau and makes a perfect rural holiday base in central Crete. With its own restaurant, bar and equestrian centre, this a perfect home away from home for all the family. Visit Lasithi Plateau easily by car from this relaxing and well appointed hotel. 20 km to Tzermiado Village.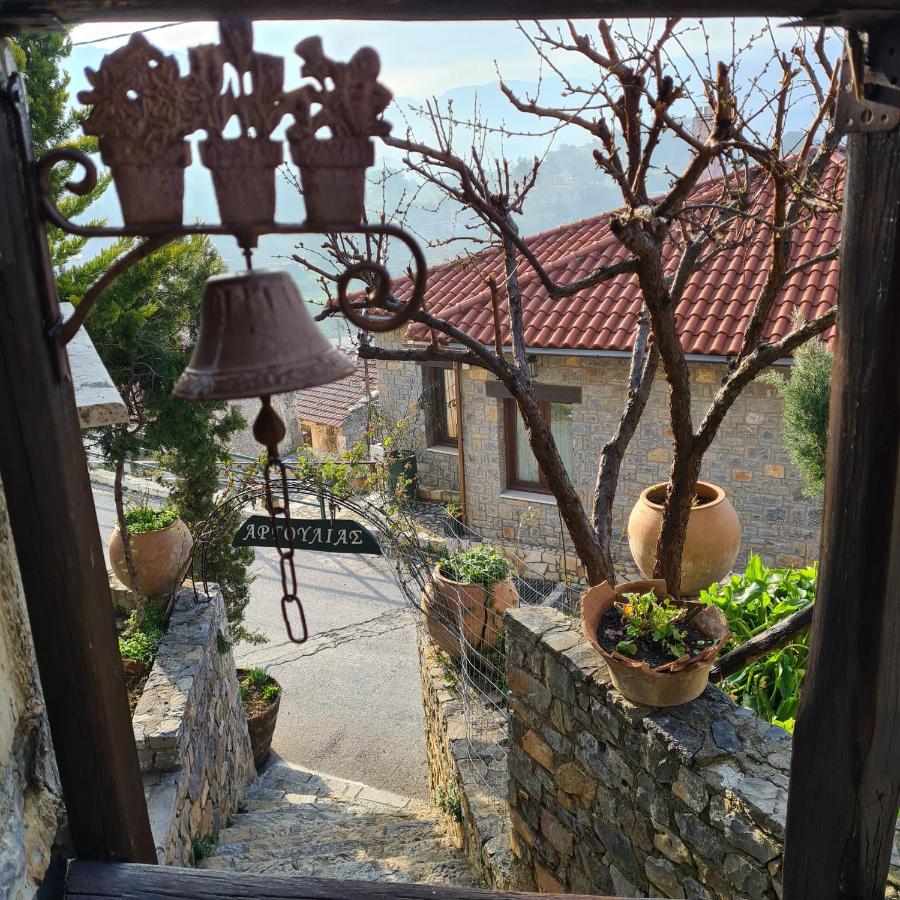 Argoulias Hostel is a beautiful village home of stone and wood in Tzermiado on Lasithi Plateau.
You will be well looked after by Giannis & Eleni Siganou with their true Cretan hospitality and delicious cooking.
As the Lasithi plateau grows much of the fresh local produce, indulge in the fresh vegetables and Cretan cuisine.
Visit Psychro Cave, only 8 km from here, which is well worth the walk of only 1 km from the car park, with beautiful views as your reward.

Guesthouse Dionyssos sits above a local Cretan taverna in the small village of Magoulás on Lasithi Plateau. A typical Cretan experience with delicious fresh food and local cuisine. 9 km from Tzermiado Village.
---
Getting to Crete
Take a 1 hour flight from Athens to Heraklion with Aegean Airlines or Olympic Air, with many flights available per day.
Or take a 9.5 hour overnight ferry from Pireaus port of Athens to Heraklion port.
More on flights and ferries below.
Car hire in Crete is a really good idea as it is a large island 60 km by 260 km. There is so much to explore.
When you book with our car rental partners - Rental Centre Crete - you are supporting a local company with excellent service and an easy online booking procedure. We are sure you will be well looked after by the team. Choose from hybrid or non-hybrid vehicles.
---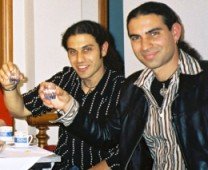 "We trust you have enjoyed these tips from the team at We Love Crete. Evíva!"
Contact us with further questions or feedback. We love to hear about your travels in Kríti and Greece. Let us know of any updates or additions, errors or omissions. Help us make this website the best it can be. Kaló Taxidí!

---