Tzermiado Village
Lasithi Plateau, Crete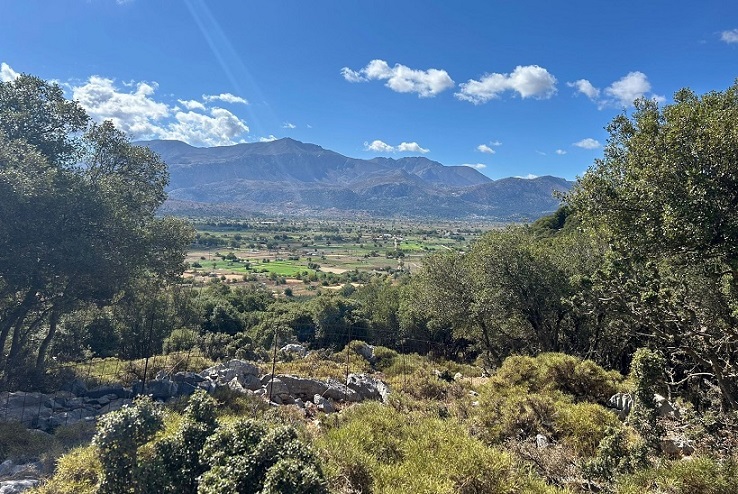 Tzermiado Village lies in the farming community of the Lasithi Plateau Οροπέδιο Λασιθίου  (Oropedio Lasithiou), 50 km from Agios Nikolaos in the east of Crete. 
The plateau is a fertile plain 11 km by 6 km surrounded by Crete mountains, with a mild climate lending to cultivation, which has seen it inhabited by human kind for centuries. The plateau supports agriculture, animal farming and some adventure tourism.
This plateau and its villages and caves can easily be reached from Heraklion with a drive of 55 km, perfect for a round trip for lunch from either Heraklion or Agios Nikolaos.
Τζερμιάδο lies on the slopes of Mt Selena, 12 km from the Dikti Cave, and close to the other villages of the plateau such as Agios Giorgios, Avrakontes and Kaminaki.
Touring in the area, visitors will find fresh vegetables of all kinds, and good tavernas with fresh produce, such as Kronio Cafe and Taverna Kourites.
The Kroustalenia Monastery is located near Agios Konstantinos, and close by is the Trapeza Cave, in which archaeologists have found artefacts from the pre-Minoan times. 
In these mountainous areas bird watchers will be looking out for Lammergeiers Gypaetus barbatus, Peregrine Falcons Falco peregrines, Griffon Vultures Gyps fulvus and Bonelli's Eagle Hieraaetus fasciatus. See more about the birds of Crete on our nature pages.
Plathiani Lagkada Wildlife Refuge is 9 km from the village, near the smaller village of Agios Charalambos.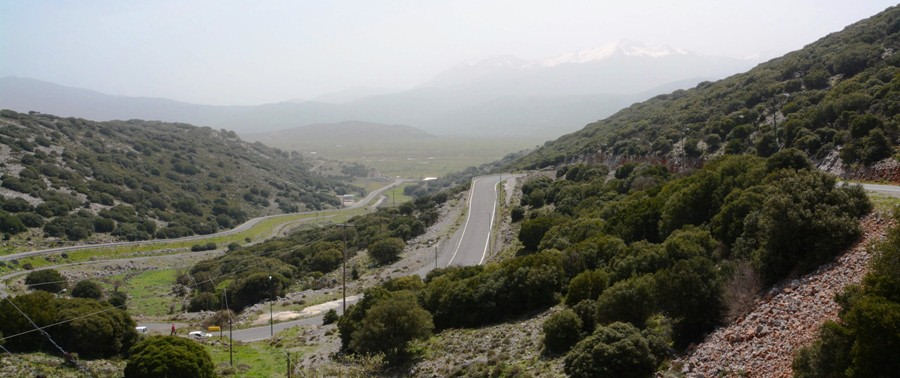 At the entrance to Lasithi Plateau - arriving via northern road from the village of Krasi and Kera Kardiotissa Monastery. The 24 windmills stand in ruins on this saddle, sadly fallen into disuse.
Visitors also enjoy these mountains for rigorous nature walks, botanic and nature photography, hiking, rock climbing, mountain biking and touring, also for caving and for the exploring the numerous historical sites.
The Dikti or Psychro Cave is said to have been the birthplace of Zeus, however there is a cave on Psiloritis mountain in Crete which is also given that myth. 
---
Videos...
Videos of Lasithi Plateau and the mountainous region of Dikti.
A video of climbing in the high Dikti mountains – showing the Ascent to the Church of Afentis Christos on the feast day of August from the Lasithi Plateau below, and the magnificent views of the mountains.

Below you will see plenty of the Lasithi Plateau and walking trails all around the village of Tzermiado, including the ancient site of Karfi.
---
On the Map...
See the location of the village on the map of Crete below.
---
Images of Tzermiado...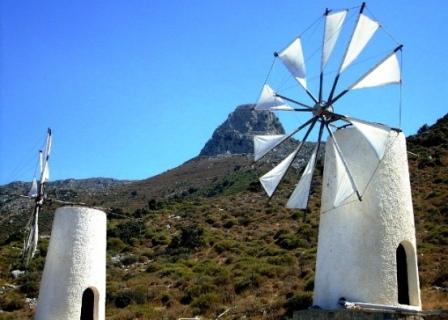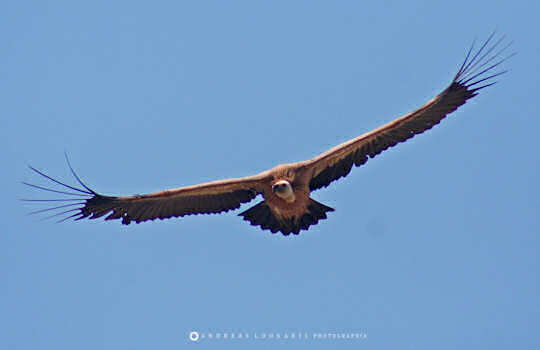 Griffon Vultures can be seen in these mountains - thanks to Andreas Loukakis for this magnificent photograph
---
Hiking Trails

Hiking from Tzermiado - Exo Potami to Selena's Peak to Onisimos Plateau by the Agios Nikolaos Mountaineering Club, thanks to Andreas Loukakis