Tzermiado Village
Lasithi Plateau, Crete
This page may contain affiliate links, see our disclaimer here.

---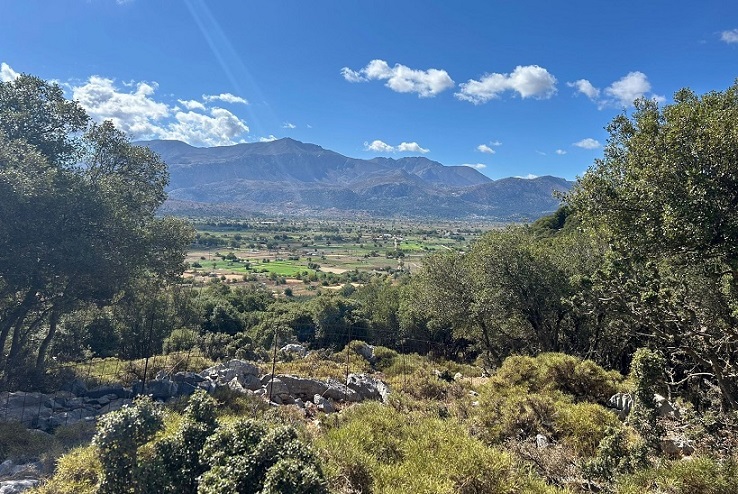 Tzermiado Village lies in the farming community of the Lasithi Plateau Οροπέδιο Λασιθίου  (Oropedio Lasithiou), 50 km from Agios Nikolaos in the east of Crete.
---
About Tzermiado
Tzermiado - the plateau is a fertile plain 11 km by 6 km surrounded by mountains, with a mild climate ideal for cultivation, which has seen it inhabited by civilizations for centuries. The plateau supports agriculture, animal farming and some adventure tourism.
This plateau and its villages and caves can easily be reached from Heraklion with a drive of 55 km, perfect for a round trip for lunch from either Heraklion or Agios Nikolaos.
Τζερμιάδο lies on the slopes of Mt Selena, 12 km from the Dikti Cave, and close to the other villages of the plateau such as Agios Giorgios, Avrakontes and Kaminaki.
Touring in the area, visitors will find fresh vegetables of all kinds, and good tavernas with fresh produce, such as Kronio Cafe and Taverna Kourites.
The Kroustalenia Monastery is located near Agios Konstantinos, and close by is the Trapeza Cave, in which archaeologists have found artefacts from the pre-Minoan times. 
In these mountainous areas bird watchers will be looking out for Lammergeiers Gypaetus barbatus, Peregrine Falcons Falco peregrines, Griffon Vultures Gyps fulvus and Bonelli's Eagle Hieraaetus fasciatus. See more about the birds of Crete on our nature pages.
Plathiani Lagkada Wildlife Refuge is 9 km from the village, near the smaller village of Agios Charalambos.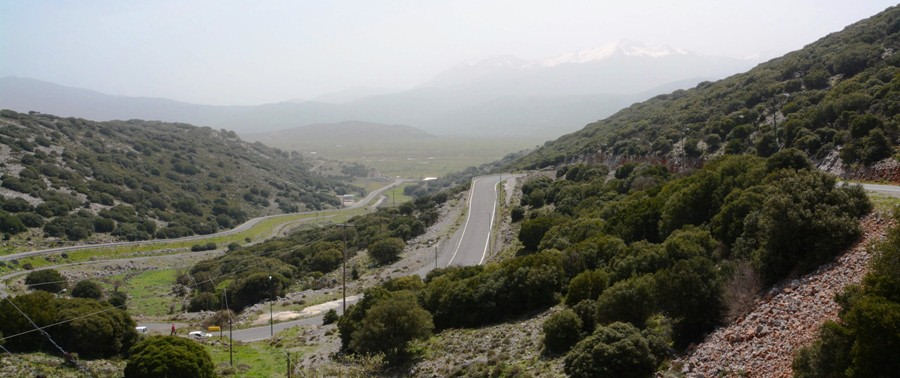 At the entrance to Lasithi Plateau - arriving via northern road from the village of Krasi and Kera Kardiotissa Monastery. The 24 windmills stand in ruins on this saddle, sadly fallen into disuse.
Visitors also enjoy these mountains for rigorous nature walks, botanic and nature photography, hiking, rock climbing, mountain biking and touring, also for caving and for exploring the numerous historical sites.
The Dikti or Psychro Cave is said to have been the birthplace of God Zeus, however there is a cave on Psiloritis mountain in Crete which is also given that myth. 
---
Videos
Videos of Lasithi Plateau and the mountainous region of Dikti.
Below you will see plenty of the Lasithi Plateau and walking trails all around the village of Tzermiado, including the ancient site of Karfi.
---
On the Map
See the location of the village on the map of Crete below.
---
A Backroads Journey
Visit Tzermiado on your own exploration of Crete using our mini-guide.
Crete Island Greece - Trip Ideas - this travel guide with contributions from Anastasi, Apostoli and Katia includes visits to archaeological sites, traditional Cretan cuisine at local tavernas, visits to historic sites, tiny mountain villages, country roads, isolated beaches, the only palm forest in Europe and again, provides route choices away from the madding crowd, to explore authentic Cretan life.
East Crete by Car

This wonderful guide to the east of the island visits the following destinations:

•    Knossos
•    Lasithi Plateau
•    Tzermiado
•    Dikti Cave
•    Elounda
•    Spinalonga
•    Agios Nikolaos
•    Sitia
•    Kato Zakros
•    Zakros Palace
•    Vai Beach
•    Kritsa
---
Accommodation
Peaceful rural places where the slow pace of life rolls by, surrounded by farms, ringed by the Dikti Mountains, exploring local tavernas and hiking trails.
The restored traditional home of Metochi House gives the experience of a boutique hotel with the price of a B&B. Experience true Cretan hospitality, wide mountain views and fresh air. 30 km from Tzermiado.

Country Hotel Velani sits just below the plateau and makes a perfect rural holiday base in central Crete. Visit Tzermiado easily by car from this relaxing and well appointed hotel. 20 km to Tzermiado Village.


Guesthouse Dionyssos sits above a local Cretan taverna in the small village of Magoulás on Lasithi Plateau. A typical Cretan experience with delicious fresh food and local cuisine. 9 km from Tzermiado Village.

---
Tavernas and Restaurants

In Tzermiado itself you are able to explore the best of paradosiaki traditional Cretan food:
On Lasithi Plateau you can also find good fresh food.
In the nearby village of Krasi, sit in the courtyard under one of the biggest plane trees in Crete, to enjoy a Greek coffee in tranquility. This tree is so old that it has been preserved as a natural monument.
Images of Tzermiado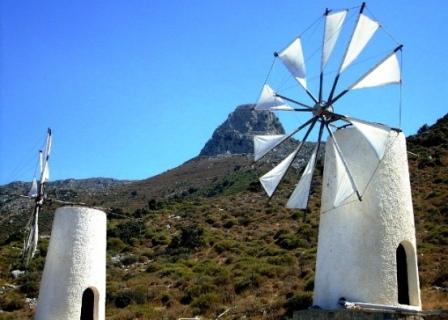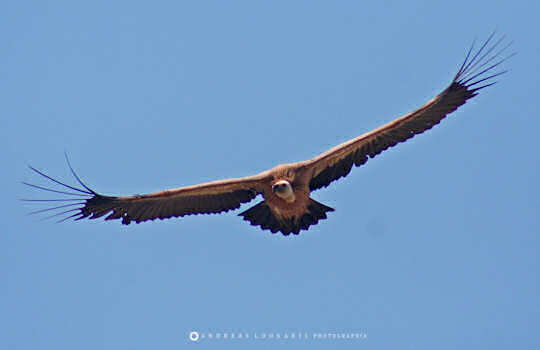 Griffon Vultures can be seen in these mountains - thanks to Andreas Loukakis for this magnificent photograph
---
Hiking Trails

Below is a video of hiking from Tzermiado - Exo Potami to Selena's Peak to Onisimos Plateau by the Agios Nikolaos Mountaineering Club, thanks to Andreas Loukakis.

Below is a video of hiking from Tzermiado to Mt Karfi with the Hellenic Mountaineering Association of Lasithi, thanks to Andreas Loukakis.
This is an 8.7 km medium difficulty hike in a loop track, with an average walk time of 3 hours. Open all year round.

---
Exploring Eastern Crete
The region in the east of Crete is called Lasithi or Λασίθι and holds some of the best-kept secrets of Crete, with so many peaks and pockets to explore. There are rocky mountains and gorges, forests to walk in and beautiful beaches to lie on, as well as the towns of Agios Nikolaos, Ierapetra and Sitia.
Some other highlights of the region include:
---
Getting Here
The easiest way to get here is to take a hire car and drive from the town of Heraklion on the island of Crete.

Information for car rental in Crete here.

To get here more independently, fly from Athens to Heraklion, hire a car and drive for about 1 hour on country roads for 50 km to Tzermiado.
Taking a more scenic route, drive via Knossos Palace, Archanes Village, Peza village and country roads with wineries, up to the plateau, a journey of about 75 km.

More information on flights and ferries to Crete below.


Car hire in Crete is a really good idea as it is a large island 60 km by 260 km. There is so much to explore.
When you book with our car rental partners - Rental Centre Crete - you are supporting a local company with excellent service and an easy online booking procedure. We are sure you will be well looked after by the team. Choose from hybrid or non-hybrid vehicles.
---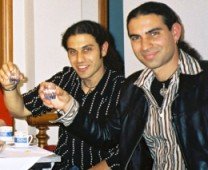 "We trust you have enjoyed these tips from the team at We Love Crete. Evíva!"
Contact us with further questions or feedback. We love to hear about your travels in Kríti and Greece. Let us know of any updates or additions, errors or omissions. Help us make this website the best it can be. Kaló Taxidí!

---