Vai Crete Beach & Palm Forest
On the Eastern Tip of the Island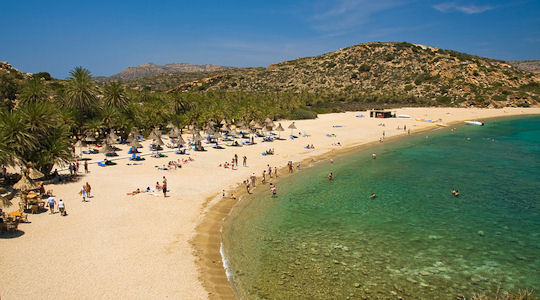 Vai Crete Beach is a beautiful unpopulated beach of fine sand and pebbles at the far eastern tip of Crete. It has a unique and luscious palm forest of a species found only on Crete.
Even without these wonderful tall, leafy palms, it is a spectacular beach with clear, clean water, excellent snorkelling and plenty of room for everyone.
This beach does not have a village or accommodation, in summer season the carpark is full of temporary services such as food, beach gear, cameras and drinks. There are beach chairs and umbrellas to rent, and the nearby monastery runs a restaurant right on the beach which serves delicious traditional Greek food.
The beach itself is worth the drive of 25 km from Sitia and the palm forest, now protected by the EU, is well worth the visit. Nestled into a valley behind a fresh water pond and creek, the palm forest is home to local birds and animals such as the shy Cretan Marten, a small native mammal like a stoat, which we saw darting out of the bushes, as we walked near the forest.
This palm forest is the largest in Europe, the palms are Phoenix Theophrasti and are unique to Crete.
Windsurfing and jet-skiing are popular here, topless bathing is common and nudist bathing is popular at the south end of the beach. This is not a beach for the faint-hearted, it gets really, really crowded in summer.
I visited in October and there were hardly any people, yet beach chairs still available and the restaurant open.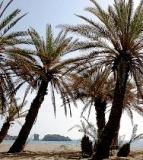 We visited again in January, the beach was closed and there was not a soul in sight. The bus service is virtually non-existent in the off season. We hitched a ride back to town on a little open-topped work truck. Ahh the joys of travelling, free as birds!
Wildflowers line the roadside, and traditional farming surrounds the palm forest reserve. The locals are very proud of the bananas grown in hot houses here, in fact all over Crete they refer to the bananas grown here with pride.
The village of Palékastro , on the way to Vaï from Sitia, is 6 km from the beach, there are plenty of cafes serving local food and there is a folklore museum.
---
Accommodation Nearby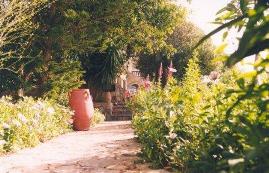 House Margot

•  House Margot - in Palekastro - a good budget option

•  Villa Amalia- at Kouremenos Beach - a good budget option for fully self-catering

The beach of Kouremenos, just 5 km from here, is a pretty beach, drawing visitors for its clear waters, great diving, fresh seafood and wind-surfing. There are plenty of rooms, villas and accommodation at this beach.
Villa Amalia
---
On the Map...
Below you will see the location of this beach on the map of Crete...
---
Vai Crete Beach - Images
Some images of Vaï beach below, showing the beautiful palms.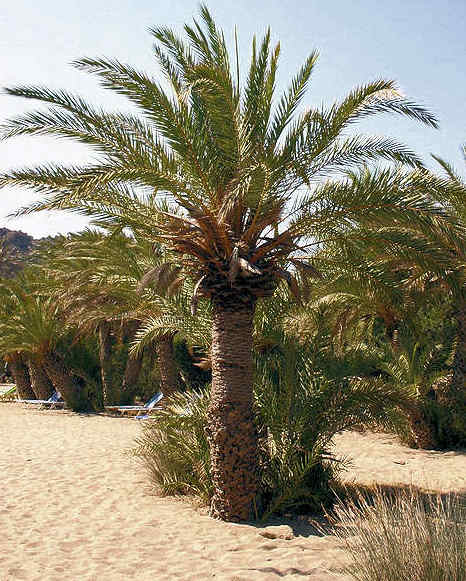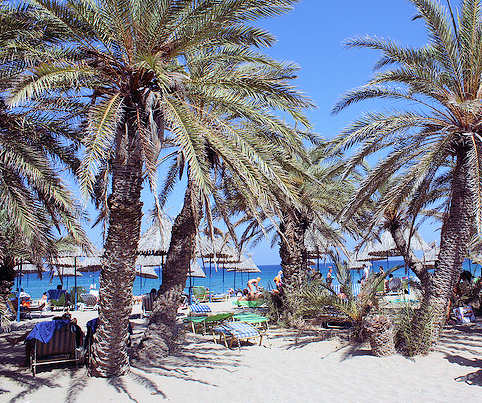 Vai Crete - a beach with extraordinary palms