Vai Crete Beach & Palm Forest
Lush Forest & Sandy Beach
This page may contain affiliate links, see our disclaimer here.

---
Vai Crete Beach - Βάι is a beautiful unpopulated beach of fine sand and pebbles at the far eastern tip of Crete. It has a unique and luscious palm forest of a species found only on Crete.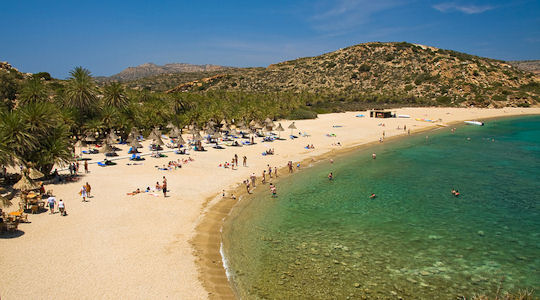 Even without these wonderful tall, leafy palms, it is a spectacular beach with clear, clean water, excellent snorkelling and plenty of room for everyone.
This beach does not have a village or accommodation, in summer season the car park is full of temporary services such as food, beach gear, cameras and drinks. There are beach chairs and umbrellas to rent, and the nearby monastery runs a restaurant right on the beach which serves delicious Greek food.
The beach itself is worth the drive of 24 km from Sitia and the palm forest, now protected by the ICUN, is well worth the visit. Nestled into a valley behind a fresh water pond and creek, the palm forest is home to local birds and animals such as the shy Cretan Marten, a small native mammal like a stoat, which we saw darting out of the bushes, as we walked near the forest.
This palm forest is the largest in Europe, the palms are Phoenix Theophrasti and are unique to Crete.
Windsurfing and jet-skiing are popular here, topless bathing is common and nudist bathing is popular at the beautiful small beach of Psili Ammos, reached by a track over the headland from the south of Vai Beach.
This is not a beach for the faint-hearted, it gets really, really crowded in summer. Get there early, very early, to enjoy it best. Head to the north end of the beach to get away from the umbrellas and lounges and relax on the sand.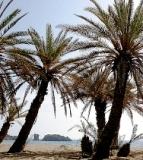 See our tips for Vai on our video below...
I visited in October and there were hardly any  other people, yet beach chairs were still available and the restaurant was open.
We visited again in January, the beach was closed and there was not a soul in sight. Blissful peace. The bus service is virtually non-existent in the off season. We hitched a ride back to town on a little open-topped work truck. Ahh the joys of travelling, free as birds!
Wildflowers line the roadside, and traditional farming surrounds the palm forest reserve. The locals are very proud of the bananas grown in hot houses here, in fact all over Crete they refer to the bananas grown here with pride.
---
Vai Restaurant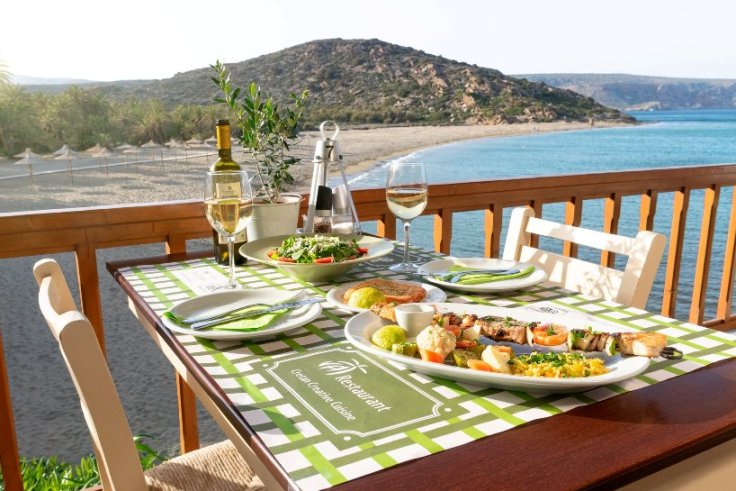 Vai Crete Beach - there is one building only on Vai beach, and that is the restaurant. Because this is a protected conservation area, there remains a beautiful, natural, open area here.
The restaurant is run by the local Monastery - the Toplou Monastery - and has modernised to include Creative Cretan Cuisine. What a view and what a treat to eat local food here in paradise. And try the local wines made at the monastery.
The Vai Palm Beach Creative Restaurant and Seaside Cafe are open from April to October.

---
Accommodation Nearby
Vai Crete - there is no accommodation directly on or near this beach. The nearest village is Palaikastro and the nearest town is Sitia.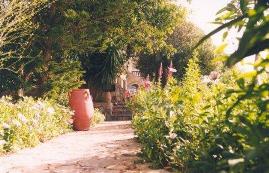 House Margot - in Palaikastro - a good budget option. A family-run small hotel serving delicious breakfasts. 7 km from Vai Beach.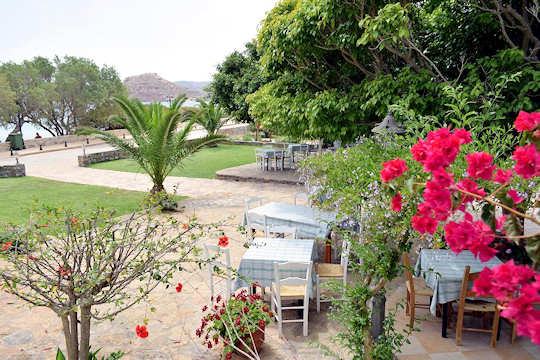 Grandes Apartments are just opposite the beach at Kouremenos. Known for its water sports, there is Chiona Beach nearby and a few holiday homes and tavernas spread out, find the ancient site of Roussolakos behind the beach.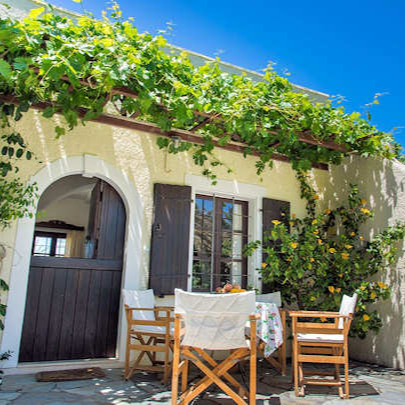 Jasmine House just outside the town of Sitia is perfect for a family, this holiday home is cozy and private. For 4 guests in 2 bedrooms with 1 bathroom. Best to visit with a car, this house is located in Agia Fotia, 7 km from Sitia town and 19 km from Vai Beach.

---
On the Map
Below you will see the location of this beach on the map of Crete - on the very eastern tip of the island.

---
To Do Around Here
Erimoupolis Beach

Looking Around Vai Crete - the town of Sitia, on the way to Vai, is well worth visiting or using as your base from which to visit Vai and the eastern beaches. It has a small domestic airport, a ferry harbour, a beautiful big bay and fishing harbour, its own beaches, a lovely promenade, many fine tavernas and cafes and the historic Kazarma overlooking the town.
The historic Monastery of Toplou is also a Winery with tasting room, just 9 km from this beach.

The village of Palaikastro , on the way to Vaï from Sitia, is 6 km from the beach, there are plenty of cafes serving local food and there is a folklore museum.
Hiking - walk to the south, just over the rocky point and you will come to the idyllic small cove of Psili Ammos. This is again a completely natural beach. Continue walking south along the beach side track for 2.5 hours and you will discover many small coves, along the way to Maridati Beach. Take water and a hat and all your gear, there is no development here. Take everything and your trash back out with you.
The beach of Kouremenos, just 7 km from here, is a pretty beach, drawing visitors for its clear waters, great diving, fresh seafood and wind-surfing. There are plenty of rooms, villas and accommodation at this beach.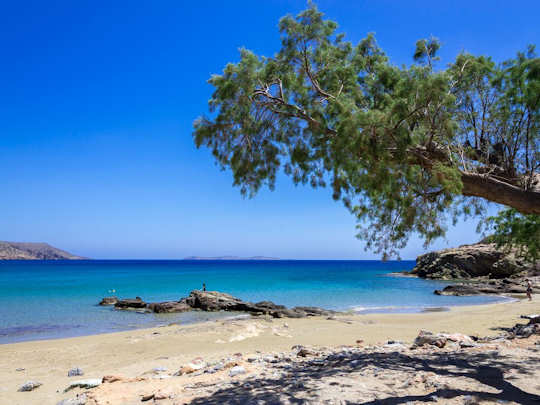 Itanos Beach

History - the archaeological site of Itanos (above and below) is 2.6 km from Vai beach by car, much less along the beachfront. Itanos is another very pleasant beach here. The ancient site is dated from 3000 BC and sits just behind the beach.
Erimoupolis Beach is a natural beach north of Vai and Itanos. It is undeveloped, completely natural and rocky, with a mix of sand and pebble. Azure waters and peace and quiet.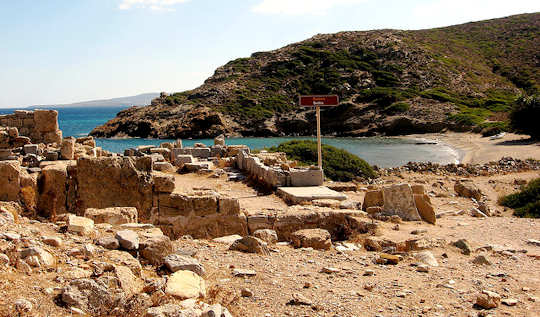 Ancient Itanos and Itanos Beach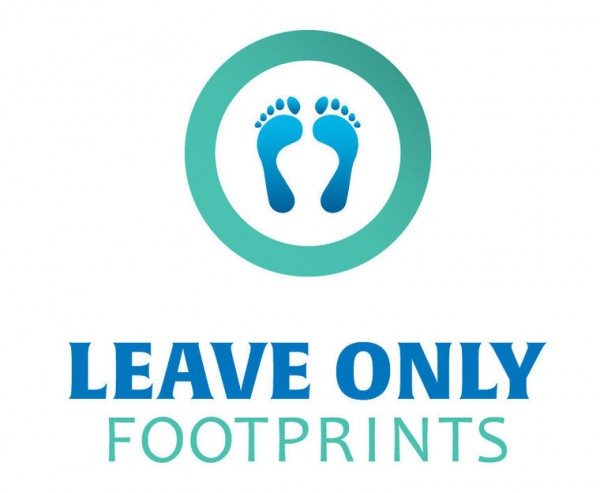 Take all your rubbish with you and leave only footprints because we love Crete. This is an ICUN Protected Area II - National Park.
---
Vai Crete Beach - Images & Video

Some images of Vaï beach below, showing the beautiful palms.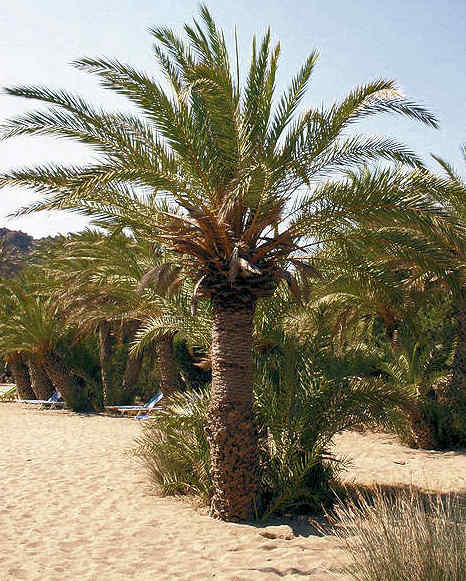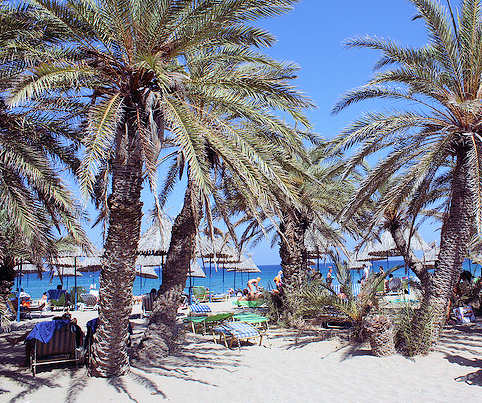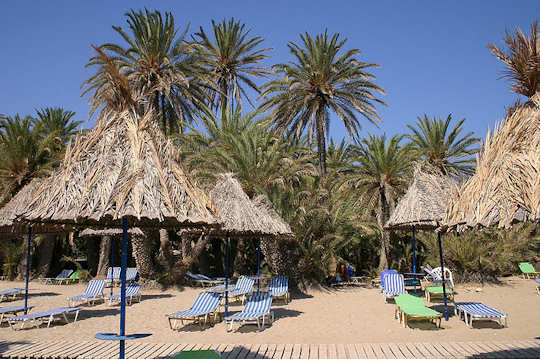 Vai Crete - a beach with extraordinary palms
In this video you will see Vai Crete - its palm forest and beach, at 2.42 you will see the small sandy cove of Psili Ammos to the south of the rocky headland.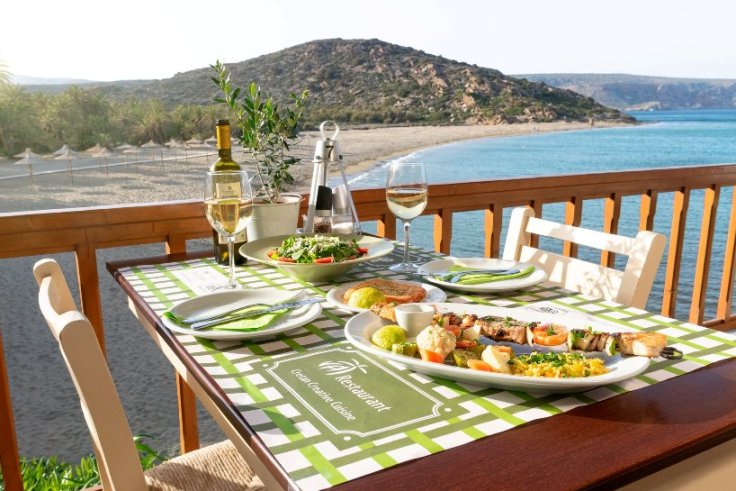 ---
Getting to Vai Crete

Arrive via Heraklion International Airport HER or Sitia Airport JSH.
From Heraklion, drive east via Agios Nikolaos and Sitia for 152 km, allow 3 hours for the drive.

It is best to stay in nearby Palaikastro, Kouremenos or Sitia.
More details of flights and ferries to Crete below.


Car hire in Crete is a really good idea as it is a large island 60 km by 260 km. There is so much to explore.
When you book with our car rental partners - Rental Centre Crete - you are supporting a local company with excellent service and an easy online booking procedure. We are sure you will be well looked after by the team. Choose from hybrid or non-hybrid vehicles.
---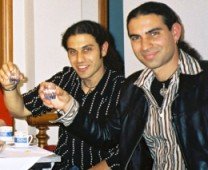 "We trust you have enjoyed these tips from the team at We Love Crete. Evíva!"
Contact us with further questions or feedback. We love to hear about your travels in Kríti and Greece. Let us know of any updates or additions, errors or omissions. Help us make this website the best it can be. Kaló Taxidí!

---