Cretan Music and Dance
This page may contain affiliate links, see our disclaimer here.

---
Cretan music and dance vibrate across the island of Kriti.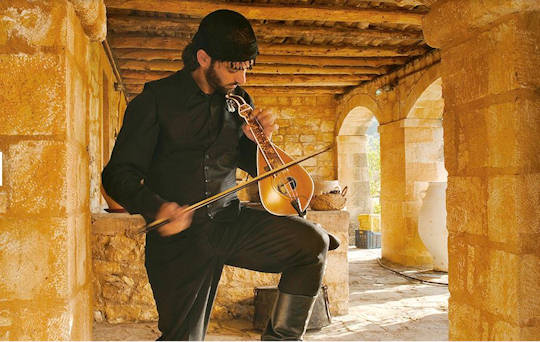 A music unique to these colourful, artistic, and yet rugged people. Cretan music harnesses a sound that we can call ancient Greek in style, utilising what is known as atonal music. There are influences of Byzantine music, both in the lamenting singing or in the haunting use of drone notes in the instrumentation; giving an eerie, mysterious element. Homer has commented on the beauty and depth of Cretan music and acrobatic dance.

At the root of Cretan music lies the Rizitika, or Root songs, which are simple songs, often performed with basic accompaniment, normally a single instrument. These are slow in tempo and introspective, covering themes of love, loss or liberation. They are believed to have come to life as far back as Byzantine times, though definitely existed during Venetian and Ottoman domination of the island. Fundamentally rebel songs, sung by the Cretan Adartes, fighting to liberate Crete from foreign rule. The Rizitika are now only commonly performed in the mountain villages and in Chania region.
---
Cretan Music and Dance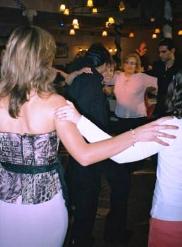 The Rizitika then evolved into the joyful Horeftika, or dance songs. These are faster and far more dynamic songs, covering happier themes; the magic of new love, love of family, or the ever-burning love of the patrida. These are what most will identify with when thinking of Cretan music and dance.
Of these Horeftika there are the Sirto, the Malavisiotiko, Pentozalis, Siganos, Sousta etc, all of which have their own dance with its unique steps, timing and accentuation. Performed by larger groups consisting of one or two Lyra players, one or more Laouto players, and occasionally percussion. Singers tend to be male, but not exclusively.
The key instruments of Cretan music, giving their unique voices and rhythms, are the lyra and laouto

The Cretans are natural poets, from the sheep-herders high in the thyme-scented mountains, to the old men playing tavli or cards in the smoky kafenia. They sing or speak profound and witty mantinades, which are poems of one or two stanzas. These form the soul of Cretan music.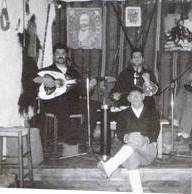 Cretans relish nothing more than a duel of mantinades, where two or more people take turns in composing and reciting improvised poems that often include cheeky remarks about their adversary in verse. The poetic duel will only come to its end when one of the duellists comes to the absolute zenith in their theme, their adversary breaks out in laughter at the wit of their competitors remarks, or the crowd erupts in applause at this last mantinada.
As musicians ourselves, we value the alchemical process of learning the practical and theoretical tools of music. In time you are able to connect with an instrument to the point where it becomes your voice, and where you can create stirring, powerful and touching music.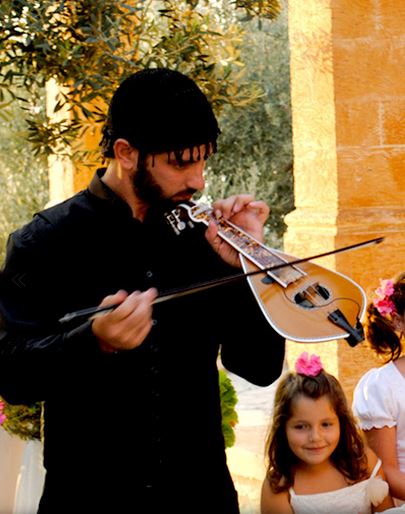 From the legacy that quality musicians such as Moundakis (lyra) and Juan Martin (flamenco guitar), to name a few, who have turned their attention to teaching their respective instruments, we respect and admire this teacher/student relationship.
A great place to see Cretan music and dance to Kritiki Musiki is a traditional taverna in Chania. Dedicated to keeping traditional music alive, the wall is decorated with Cretan instruments, and locals come to share their authentic art with visitors, who go crazy when they learn a few steps of the entrancing dances, and you can't get 'em to sit down!
Over a jug of wine, great conversations and wonderful stirring music, new friendships are made, and old ones celebrated. As much a modern temple to the art of Cretan music, it is a must for music lovers, or just life-lovers. This is a wonderful modern home of Cretan music and dance.
Below is a video of Themis and Giannis Lagoudakis playing traditional Cretan music.
---
Biographies of Cretan Musicians

Below Cretan Music and Dance is proud to present the biographies and discographies of our wonderful artists.
Andreas Rodinos Ανδρέας Ροδινός a gifted lyraris, lived between 1912 and 1934 and inspired future generations of Cretan musicians.
---
Thanasis Skordalos Θανάσης Σκορδαλός …called by many the teacher ο δάσκαλος. Born in Spili, Rethymnon, Crete in 1920, Skordalos went on to become one of the many great forces in Cretan music.
---
Kostas Moundakis Kώστας Mουντάκης …born in 1926, in the mountain village of Alfa in Milopótamos. Although Moundakis was a virtuoso and an amazing lyra soloist, his playing was never over-indulgent. He attained great joy in playing with and hearing other musician's voices on their instruments. While he may be best known for his lyra playing, we must not forget that he was a soulful lyricist.
---
Nikos Xilouris Νίκος Ξυλούρης, one of the most beloved modern Cretan musicians and performers, was born in 1936 in the heartland of Cretan rebels and freedom fighters, Anógia. His soulful music, true to traditions of folk music yet modern, touched all Greeks and he released records across the country and performed in Athens. He died too young, in 1980, from cancer. He is still missed. See the video below showing his proud love of Crete, in the mountains performing the song Anagiriso to Steno.

---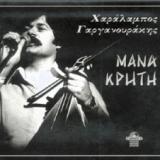 Haralambos Garganourakis Xαράλαμπος Γαργανουράκης, was born in the beautiful village of Agios Thomas, which has as many as 40 churches, and a proud history of insurrection against the Turks. For the last forty years, to this day, Garganourakis has been one of the most respected exponents of the Kritika Paradosiaka, Cretan Music and Dance.
Garganourakis plays his Lyra with a great depth and feeling, whilst never over-playing. Garganourakis sings with a deep and resonant voice, which so proudly delivers to us his soulful mantinades. He is primarily known for his traditional Cretan music, and has also sung lighter and more contemporary Greek songs, including those of Giannis Markopoulos.
---
Michalis Tzouganakis Μιχάλης Τζουγανάκης is an artist of rare and magical passion and emotion, even in the realms of Cretan traditional music, so renowned for exuding feeling like tears from a mourner's eyes.
---
Getting Here
Take a 1 hour flight from Athens to Heraklion with Aegean Airlines or Olympic Air, with many flights available per day.
Or take a 9.5 hour overnight ferry from Pireaus port of Athens to Heraklion port.
More on flights and ferries below.
Car hire in Crete is a really good idea as it is a large island 60 km by 260 km. There is so much to explore.
When you book with our car rental partners - Rental Centre Crete - you are supporting a local company with excellent service and an easy online booking procedure. We are sure you will be well looked after by the team. Choose from hybrid or non-hybrid vehicles.
---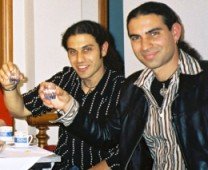 "We trust you have enjoyed these tips from the team at We Love Crete. Evíva!"
Contact us with further questions or feedback. We love to hear about your travels in Kríti and Greece. Let us know of any updates or additions, errors or omissions. Help us make this website the best it can be. Kaló Taxidí!

---