Cretan Musicians
This page may contain affiliate links, see our disclaimer here.

---
This page in a dedication to Cretan Musicians past and present, those true artisans who have and continue to touch us musically. Those whose words and sounds inspire us, who bring us to both laughter and tears. We explore their histories and we list their discographies.
Below you will find biographies for our beloved musicians.


---
Cretan Musicians - Andreas Rodinós - Ανδρέας Ροδινός
1912 - 1934
Andreas Rodinos was born in Rethymnon in 1912. When only 10 years of age, he bought himself his first lyra for 5 drachmes. At this age, he was found holding a stringless lyra, adamant that he would some day learn to play. He was quoted to have said at this time:
"I will learn to play the lyra. Of this I hold no fear, and at midnight I will go to the lighthouse where I shall play…and even when the devils come and try to budge me with their horns, I shall speak no word, but play."
Here was a spirit far greater than the mortal body that was to contain it. The flame of passion for the instrument was ignited.
Rodinos began formal lessons on the lyra at the age of 13 from a relation on his mother's side. His teachers were some of the lyra's oldest exponents, such as Nikistratos, who sadly passed away only shortly after having commenced teaching Andrea, then Piskopis, both who were among the most revered Cretan musicians of the time. Rodinos was an avid student, always hungry to learn and master the instrument.
By 16 he was renowned as an immensely gifted lyraris, and formed his own group with Stavros Psillaki on louto, playing traditional Cretan music. Later he played with the great louto player blessed with a tremendous voice, Gianni Bernidaki. Rodinos was unique in that he would never accept payment for his performances.
A group consisting of Rodinos on lyra, and two friends, Lefteris Gaganis and Giannis Bervidakis (Baxevanis), wrote and recorded 2 albums. These albums contain songs that to this day are standards in Cretan repertoires. Songs like Rethymniotikos Sirtos, Kissamniotikos Sirtos and Rethymniotikos Pentozali.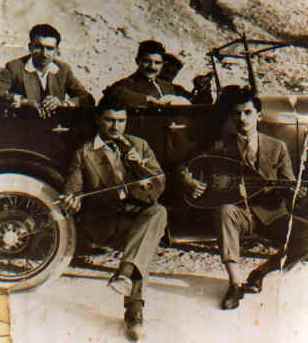 By the early 30's Andreas Rodinos' reputation reached as far as America, where Cretans abroad marvelled at the news they heard of this master lyra player. Still, despite sizable offers, he would not accept payment for his performances. The few times that he did accept payment, he gave the money to the church. For Rodinos, expressing his soul through this magical medium was reward enough.
For long hours he would lock himself in his basement and play hour upon hour. He would deepen his voice on the lyra and compose. Playing so much that with the passing of the years, he delved so deeply, expressed so much of himself through this simple and mysterious instrument, that progressively his health began to decline.
In 1933, when he was 21 years old, he was drafted into military service. During this period, he was hospitalised and regarded as psychologically unwell. Once again we find an artist suffering the loss of freedom and expression.
The following year, 1934, on the 9th of February, Rodinos passed, holding tight his case holding his two lyres. Only days before his passing, in the plateia Platanos in Rethymnon, Rodinos was heard to sing the following mantinada whilst playing his lyra.
"O plane tree, tomorrow I leave, so shed your leaves, For the lyra of Rodinos, you shall not hear again"
"αύριο φεύγω πλάτανε και μάδησε τα φύλλα για δε θα ξανακούσεις μπλιο του Ροδινού τη λύρα... "
So revered was Rodinos by his fellow Rethymniotes, that on the day of his burial, the town of Rethymnon closed its doors from trade and all walked in succession to his grave in memory of this inspiring artist.
Rodinos was the epitome of true Cretan passion.
---
Cretan Musicians
Thanasis Skordalos - Θανάσης Σκορδαλός 
1920-1998
Called by many the teacher ο δάσκαλος, Thanasis Skordalos was born in Spili, Rethymnon, Crete in December 1920, where he discovered his love for the lyra at the age of nine, buying himself his first lyra for 18 drahmes. He was to go on to become one of our most beloved Cretan musicians.
Over the following years he taught himself to play the lyra. At twelve years of age he performed at his first glendi in the village of Hamalevri. He developed a traditional style uniquely his own. With a thin and soulful voice, a style where the lyra was not overplayed, yet infused with a deep pathos.
Over the many decades of his long career, Skordalos was to have played with some of Crete's greatest laouto players, such as Nikoos Manias, Yiannis Bernidakis (Baxevanis) & Yiannis Markoyiannakis, respected Cretan musicians.
There are few traditional Cretan artists who created such a legacy as Skordalos. He has left us with a body of work that includes over 150 recordings, with precious live recordings, and albums entitled And If I left I Exist and For Ever, touching the hearts of generations with his timeless music.
Sadly Thanasis left this world behind in April 23, 1998 aged 78.
Cretan Musicians - Discography - Thanasis Skordalos:
1920 – 1955: The Masters, Thanasis Skordalos (10 CD set)
1920 – 1998: Thanasis Skordalos (6 CD set - Aerakis)
1946 – 1977: Thanasis Skordalos (6 CD set)
1970-1971 & 1976: Zondanes Ihografiseis – Live recordings
1965: Cretan Songs & Dances - Κρητικά τραγούδια και χοροί
1968: How Crete Sings - Έτσι τραγουδάει η Κρήτη
1973: Thanasis Skordalos - Αθανάσιος Σκορδαλός
1974: Dances of Crete - Χοροί και σκοποί της Κρήτης
1977: My story - Η ιστορία μου
1979: The Golden recording of Thanasis - Ο χρυσός δίσκος του Σκορδαλού
1985: The songs and dances of Crete - Μουσική και χοροί της Κρήτης
1988: The great assembly - Η μεγάλη συνάντηση
1995: Musical Spring - Μουσική άνοιξη
1996: As the mountain of Madara - Σαν της Μαδάρας το βουνό
1995–1997: Ki an efiga iparho
1998: The golden lyra - Η χρυσή λύρα
Yia panda – For Ever
---
Cretan Musicians - Kostas Moundakis - Kώστας Mουντάκης
1926 - 1991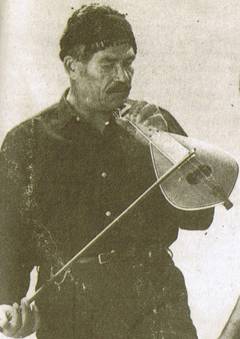 The biography of Kostas Moundakis is that of a Cretan hero.
Born on 10th February 1926, in the mountain village of Alfa in Milopótamos, an area which to this day emanates true Cretan charm, not spoilt by the pace of the modern world and tourism. He would go on to become one of the most influential Cretan musicians.
His parents Nikos and Kalliopi, originated from the village of Kallikratis in Sfakiá, which was a base for freedom fighters during the Second World War. Sadly, in 1943, the village was burnt to the ground and 29 people were executed by the invading forces.
His father was an impressive dancer and a remarkable singer, so much so that his nick-name was "sweet singer" κελαϊδής meaning literally "voice of a bird".
Unfortunately for his family, Nikos was to pass away only three months after Kostas birth.
Moundakis' great-grandfather, was an adarti, a freedom fighter, during the 2nd world war, and was ranked first adarti under the leadership of Hatzimihali Daliani.
Moundakis was the youngest of 5 children, and was baptized at Arkádi Monastery, renowned for it's involvement in Crete's liberation from the Turks.
While Moundakis finished his primary schooling, he was not to finish his secondary schooling due to the tight economic position the family was in.
By the age of 12, Moundakis was drawn to the lyra. This could be seen as a natural attraction considering the exposure he had to the instrument. His elder brother Nikístratos played the lyra, as did his Godfather Stouboúris.
The lyra was very much the instrument of choice within his village, it was seen as the king of all instruments. He was to eventually get lessons from Mitsos Kafátos.
Moundakis would play for hours and hours on his own. He quickly mastered the art and intricacies of the lyra. By the age of 15, he was playing in his local kafenio café. It was only after he played a wedding on his own, that he considered himself a true lyrari. It was not until he had played at a number of weddings that he could afford to buy himself a quality lyra, which he did in 1943, paying an entire lamb and 5 heads of cheese.
During this time in Crete, there was a wealth of talent springing from Rethymnon, with artists such as Andréas Rodinós, Yiannis Bernidakis Baxevánis.
In 1949, Moundakis went on his first tour of sorts through Crete, where he met Yiorgos and Stelios Koutsoureli in Chania. Moundakis was to perform with them for the first time on radio; his highly expressive playing and his entrancing, husky voice now heard in the far reaches of beautiful Kriti.
In 1949, Moundakis went to Athens, where he played on Athenian radio with Viziryiannis.
In Athens, he was to commence playing in the basement Taverna of Basía. Here Moundakis was to play regularly over the next 18 years. Over these varied years, he would play with a number of musicians that would become dear friends, artists such as Papadakis Naftis Sailor, Andreas Mariános, Nikos Manías, Yiannis Xiloúris and Markoyiannis, all who played laouto.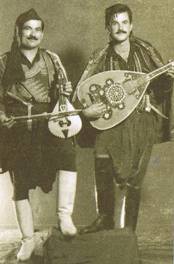 Moundakis now had the opportunity to become a 'professional' musician. Apart from his radio broadcasts, he began what would be a long history of recording. On Columbia records, he was to play on Stelios Koutsoureli's album Arpaxa kai Baíldisa in 1952. This would be the first of numerous recordings.
In 1960, Moundakis was to leave the glittering shores of Greece for the first time. He travelled to the far reaches of the diaspora over his many years of touring. He traveled to the USA, Australia, Canada, South Africa, Germany and India. In fact it was during his travels in India in 1975, that he found a new inspiration that would change his future and his island home substantially. In India, this country of contrasts, he experienced the passion and the hunger in which students would absorb their teachers' techniques and methods. Moundakis saw the great sharing from teacher to student, and how the gift of music contributed to the lives of these young students. This greatly inspired Moundakis to open his own school of lyra in his homeland.
When he returned, he would commence teaching at Eleni Karaidou's school of traditional music. Although by 1979 he finally opened Crete's first school of lyra in Heraklion, followed by schools in Rethymnon in 1980, Chania in 1981, Agios Nikolaos in 1983 and finally Athens in 1985. He was to go on to teach many Cretan musicians.
Every tale we hear of this man, we hear of his warm heart and generous nature…how he saw only the good in people and how this brought out the best in those around him. Artists lucky enough to play with him for any length of time recount how well they musically resonated with Moundakis; how he brought out their best playing.
Although Moundakis was a virtuoso and an amazing soloist, his playing was never over-indulgent. He attained great joy in playing with and hearing other musician's voices on their instruments. While he may be best known for his lyra playing, we must not forget that he was a soulful lyricist. Whenever he would have a spare moment, such as when travelling, he would always be writing mantinades . One of the most touching aspects of his music was how he would match his music with the mantinada, deepening the effect of both.
In January 1991, when Kostas Moundakis was to leave this world, he could leave content with the joy of having lived and shared his passions and his dreams. He shared so much with his fellow Cretans, and he not only inspired many future generations of musicians, but left behind a legacy.
Let's all drink a sfinaki of tsikoudia  in remembrance of this inspiring man.
Eviva
This video is a short excerpt taken from the documentary 'Οι ρίζες μου' or 'My Roots'. Exploring the experiences and influences that shaped this incredibly influential musician to be the man and musician he became.

Capturing an impromptu performance at a Lutherie workshop, onlookers take in the traditional Cretan music.

Kostas Mountakis set the standard with his emotive Lyra playing. Intricate and fast, yet his melodies always stayed grounded and solid, like the roots of Psiloritis.

His deep and resonant voice is often overlooked, yet his singing embodies the character of the Cretan; strong, resilient, yet poetic and often innocent and frail, able to be carried away with the wind.

---
Cretan Musicians - Nikos Xilouris - Νίκος Ξυλούρης
1936-1980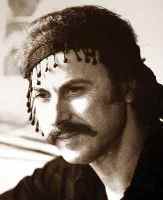 Nikos Xilouris was a true Cretan artist. His smooth and passionate voice and stirring lyra playing touched possibly more Cretan and Greek hearts than any Cretan musicians before or after his time.
Nikos was born on the 7th July 1936 in the legendary mountain village Anogia, a place greatly renowned for having brought Crete some of the islands most revered rebels and musicians. Sadly due to this fact, the village was sacked and burnt by German forces in WWII.
Xilouris left Anogia with his family at the age of 5, moving to the mountains of Mylopotamos, and did not return until Anogia was liberated. He had two brothers, Yiannis, born in 1943, and Antonis, born in 1942, better known as Psarantonis. Both would join the ranks of Crete's most regarded Cretan musicians.
At the age of 12 his father bought Niko his first Lyra, and it was not long before he was one of the most requested Cretan musicians to play at local weddings, baptisms and festivals.
At the age of 17 he began playing at the venue Kastro in Iraklion. This is the point in his life where he struggled most musically, yet in turn had influenced Cretan modern culture like possibly no other Cretan folk musician ever has.
During this period of the late 50's, Crete and the whole of Greece was dancing and listening mainly to foreign music. In the cities and larger towns of Greece, if a musician could not play a tango, rumba, salsa or waltz, he was out of work.
Xilouri persevered with showing the Irakliotes the traditional Cretan songs, a music nearly wholly forgotten outside of the small villages, and within a few years he had generated a new and passionate interest in this enigmatic music.
In 1958 he married Ourania Melampianaki, an Irakliotisa. By 1960 they had their first son, Giorgos, and in 1966 their daughter Rinio was born. During their early years of marriage they endured great economic difficulties.
In 1966 Xilouris took part in the music festival in San Remo in Italy, and won great acclaim playing Cretan music. A year later in Iraklio, Xilouri opened the first Cretan traditional music hall. He named it Erotokrito, after the legendary and much loved Cretan poetic masterpiece written by Vitsentzos Kornaros in the 17th Century. For up and coming Cretan musians this club would become a place of inspiration and an outlet for expression, and a paradise for Cretan music fans.
Xikouris achieved great success at Erotokrito. So much so, that there was now an interest for his playing in Athens. In April he played at the Konaki club in Athens, and by September he moved there permanently. Over the next decade he would play at many venues through Athens, The Lydra club in Plaka, the Arhontissa, the Aposperida, the Kittaro and the Themelio.
Over this period Xilouris continued writing and singing traditional Cretan songs, but also developed a lighter style much like the Greek laiko song. Regardless of the style, his songs were instilled with freedom, with hope, with the Greek psyche of not submitting to an overruling force. Thus he was instrumental in the movement that brought down the Greek military junta in 1967.
He achieved great success and was much loved throughout Greece through these years, yet sadly he was to leave us too soon on February the 8th 1980, due to cancer. A loss of one of our finest Cretan musicians.
The video below is Xilouris singing Mana Polla Maloneis Me
---
Cretan Musicians - Haralambos Garganourakis - Xαράλαμπος Γαργανουράκης
Haralambos Garganourakis was born in June of 1946 in the beautiful village of Agios Thomas, 30km south of Iraklion.
From early boyhood Garganourakis developed a great appreciation for Cretan folk music Kritiki Musiki, and passionately wanted to express the depths of his soul on a Cretan lyra.
His older brother who himself was a guitarist, took young Haralambos to their uncle Giorgis Melambianos who was a revered lyra player among Cretan musicians.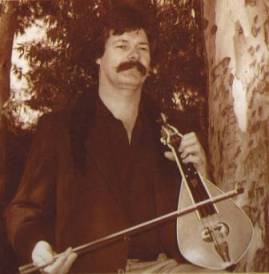 Although Haralambos was only twelve years old, Giorgis admired the young boy's hunger to play, so with his own hands he made young Babi a lyra. He quickly became an impressive player. He played Cretan music with a group of young boys his own age from his village, most of whom became accomplished lyra and laouto players, continuing to bring the soul of this most passionate music alive in their village.
My grandfather lived in a neighbouring village. He tells me that Garganourakis was such a beautiful Lyra player from this early age. There were times, when in the peak of kefi, in their local kafenion a few levendes would ride our Papou's trikiklo, up to Agios Thomas and get little Haralambo to play his Lyra for hours. Babi only asked for a few caramels for payment.
By 17, Garganourakis had played numerous villages throughout Iraklio. His reputation reached across all of Kriti. By this stage not only had he discovered how to make his Lyra sing like the soulful howling winds of Psiloriti, but his own voice matured and became ever more resonant. With time this voice of his became sweeter and deeper than any Cretan wine.
At the age of 18, Garganourakis was lucky enough to be recognized by a record label which recorded and released his first single Eharisa sou ti kardia I Lent You my Heart, establishing him a place among Cretan musicians. He was then recruited into the National Service. Upon his return home from service, he embarked on what was to be a life-long professional career, still continuing today.

The first venue that Garganourakis played in professionally was the legendary Erotokritos club in Iraklion, established by Nikos Xilouris, where he not only got the opportunity to play with many of the island's leading Cretan musicians, but an opportunity to refine his art.
Over the next forty years Garganourakis would travel all of Greece, Europe and the Diaspora more than seventy times. He would release numerous albums containing classics by some of the islands most loved Cretan musicians and his own stirring compositions.
He would also work with Giannis Markopoulos, lending his voice to some of his brilliant works such as Thitia lifetime service-1974, Thessalikos Kiklos Thessalian Cycle-1974, Oropedia Mountain Plain-1975 etc.
Garganourakis has played tavernas, theatres, concert halls and appeared on television. He has performed with some of Greece's most revered artists, and has touched the hearts of thousands of people world wide. To this day he plays his lyra and sings from the depths of his great being.
He has proven that, still in these modern times, exist musicians that play with integrity and are not afraid to show their love, their passion and their emotion. Garganourakis is a true Cretan artist, one of the Cretan musicians to make our island proud.
Cretan Musicians - Discography - Haralambos Garganourakis:
Taxidi st'oniro - Dream Journeys
Kriti mou - My Crete
Prinorizes - Oak Roots
O na haro haro to - May I Celebrate You
H Korifei 1955-1995 - The Zenyth
Esperinoi
Paizo to laouto mou - I play my Laouto
Kritika Klasica 1 - Cretan Classics 1
Kritika Klasika 2 - Cretan Classics 2
Kritiki Horoi - Cretan Dances
1970 Ta Prota Klasika - 1970 The First Classics
Mana Kriti - Mother Crete
Psiles korfes - High Mountains
30 Xronia - 30 Years
Garganourakis, one of our proud Cretan musicians.


---
This performance captures Haralambos Garganourakis performing Άστρα μη με μαλώνετ' or 'Stars, Do Not Punish Me', by far his most far reaching and well-recognized song, long before the grey dare enter his legendary moustache.

This piece then melds into the frenetic pentozalis, lifting both the spirits and the heartbeat of the dancers.

---
Cretan Musicians - Mihalis Tzouganakis  Μιχάλης Τζουγανάκης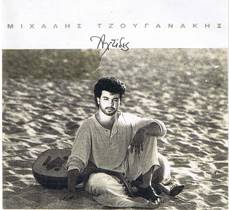 Cretan Musicians - Michalis Tzouganakis - is an artist of rare and magical passion and emotion, even in the realms of Cretan traditional music, so renowned for exuding feeling like tears from a mourner's eyes.
Michalis Tzouganakis was born to Sfakian parents away from Crete, the island they loved so much. Mihalis was born in the city of Bergen in Belgium, where he lived among many immigrant families with his seven bothers and sisters. He grew up in a very traditional Cretan family environment, where he was immersed in the music, cuisine and culture of Crete. His childhood was spent among the immigrants of Greek, Moroccan, Egyptian, Italian & Polish descent, further enriching his exotic heart.
At the young age of two years old, he was mesmerized by the laouto that hung on his older brother's wall. He was adamant to learn to play the laouto, and with the help of his brother, who would hold the laouto, young Mihalis would pluck the strings, falling in love with the sweet and melancholy voice of the laouto.
By the age of four he was able to captivate listeners with the music he would sing and play on the laouto.
At the age of nine the family return to their beloved Kriti, where Tsouganakis began playing with local Cretan musicians and performing at festivals and celebrations. Audiences were awed by this young boy's intensity when he played and sang, and around the age of eleven, he was approached by Giannis Sergakis and Vangelis Zaharioudakis who invited him to play with them professionally.
It was at this age that he had the opportunity to enter the recording studio for the first time with Vangelis Zaharioudakis, one of our beloved Cretan musicians.
Only a few years later, some of Crete's greatest masters of the lyra wished to perform with Tsouganakis, at the age of thirteen. With the great Leonidas Klados, Tsouganakis had the blessing of writing the lyrics and playing Leonidas' compositions alongside him. For five years they were to play and tour together throughout Crete and Athens. They are respected and admired Cretan musicians.
Shortly after he began performing with the gifted Kostas Moundakis, a beloved Cretan musician; a lyraris who has created some of Crete's most touching songs; blessing the island with his passionate voice and lyra. Tsouganakis and Moundakis travelled as far as Canada with their tours together. Over the years they played together frequently, Tsouganakis even recording with Moundakis in 1990 on what would be Moundakis' last recording.
Tsouganakis' passion for music led him to play the laouto, lyra, mandolin, outi, sazi, boulgari and cumbus. He took formal singing lessons at the Conservatorium of Athens for two years.
With his band Tsouganakis has recorded his own albums and played all over the world. He has performed Greece, Germany, America, Belgium and Canada. During his travels he also played with different bands abroad.
Over the course of his career Tsouganakis has played with many respected musicians, and has had the opportunity to create some truly magical music. Such as his collaboration with Nikos Mamagkakis where they create Ta Tragoudia Tis Palia Polis The Songs Of The Old City, A beautiful synergy of Cretan musicians, singing the beautiful words of Rethymnian poet Giorgos Kalomenopoulos.
Tsouganakis has made a priceless contribution to the world of Cretan music with his touching compositions. Not only does his virtuosic playing cut to the soul, but his sweet and deeply passionate singing brings you to feel his sad and beautiful mantinades.
Tsouganakis combined the modern approach in letting a song dictate its own voice, unbound to the confines of traditional music, yet his music is infused with the depth, pace and emotion of the Rizitika.
Michalis Tzouganakis is a true artist, a blessing to the soul of Cretan music.
Cretan musicians - Discography Michalis Tzouganakis:
1985 - Ζηλεύω - Jealous …with Leonidas Klados
1988 - Longing
1993 - Αχτίδες – Beams
2002 – Live recording at Spili, Rethymnon, Crete
2003 - Τα τραγούδια της παλιάς πόλης - The Songs of the Old City
2004 - Στη σκια των βραχων - In The Shade of the Stone
…live recording at Melina Merkouri Theatro Vrahon, Athens
---
Below is a video one of our finest modern Cretan musicians - Tzouganakis - performing live 'Pali Pali' with laouto and voice.


Are you interested in Cretan musicians?
Contact Us and tell us what you would like to see.
---
Getting Here
Take a 1 hour flight from Athens to Heraklion with Aegean Airlines or Olympic Air, with many flights available per day.
Or take a 9.5 hour overnight ferry from Pireaus port of Athens to Heraklion port.
More on flights and ferries below.
Car hire in Crete is a really good idea as it is a large island 60 km by 260 km. There is so much to explore.
When you book with our car rental partners - Rental Centre Crete - you are supporting a local company with excellent service and an easy online booking procedure. We are sure you will be well looked after by the team. Choose from hybrid or non-hybrid vehicles.
---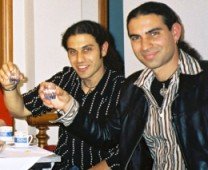 "We trust you have enjoyed these tips from the team at We Love Crete. Evíva!"
Contact us with further questions or feedback. We love to hear about your travels in Kríti and Greece. Let us know of any updates or additions, errors or omissions. Help us make this website the best it can be. Kaló Taxidí!

---