Zakros Gorge
Walking in Eastern Crete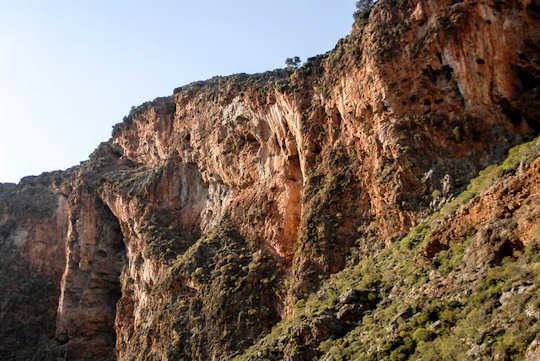 Zakros Gorge Φαράγγι Ζάκρου is in the east of the island of Crete in Greece. The gorge is 8 km long and starts at the village of Ano Zakros 45 km from Sitia.
The town can be reached by driving east from Sitia through Palekastro and then the villages of Chochlakies, Asokeramos, Kelaria and Adravasti.
The gorge walk takes about two hours to complete, depending on your pace and your fitness levels, and ends at the beautiful beach town of Kato Zakros.
Ζάκρος is a farming town, reaping the harvest from the olive groves here, vegetables and fruit also grow locally. This village is known for its spring giving fresh water, and traditional water mills. There is a water mill museum and a beautiful church - Αφένη Χρστού Lord Christ. On the 6th of August each year is the local parade and celebration of Lord Christ. Don't forget to get your dopio olive oil from the rural cooperative of Ζάκρος.
---
Gorge of the Dead
Also known as the Gorge of the Dead - Faragi ton Nekron - Φαράγγι των Νεκρών. The gorge is one of the most impressive in Crete with its steep sides and harsh rock formations.
There are caves within which have been found to be Minoan burial tombs, hence the name.
---
Nature of Zakros Gorge
Here in eastern Crete are orchids such as bee orchids, the Sitia Orchid (pictured).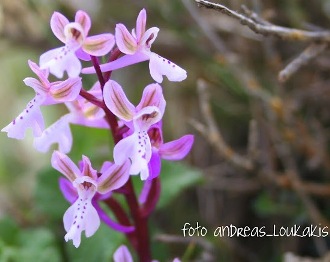 Sitia orchid - Orchis sitiaca
Nature lovers search for the unusual tube-shaped flowers of the Cretan Birthwort Aristolochia cretica (below).
There are the ebony trees, pines and myrtles as well as the Cretan arum, with its stunning yellow tube flower, lots of bird life, including the European Honey Buzzard (pictured).
More about the flora and fauna of Crete here...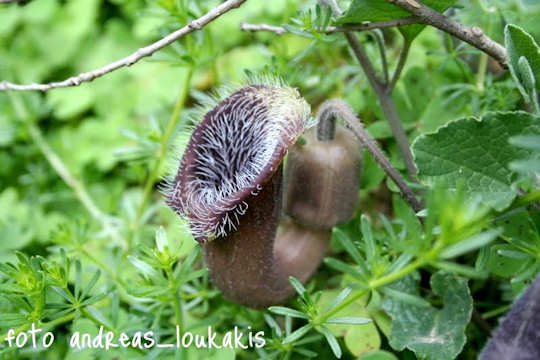 Cretan Birthwort - Aristolochia cretica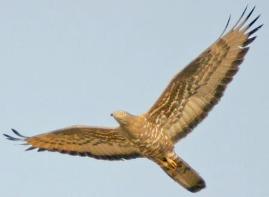 Honey Buzzard - Pernis apivorus
Kato Zakros is tiny; its growth has been restricted due to the proximity of the valuable Minoan site of ancient Zakros. Hence it is one of the smallest remote seaside villages in Lasithi.

After walking the Φαράγγι Ζάκρου, Akrogiali Taverna right on the beach serves fresh seafood and great wine. What a spot! Nikos Perakis will make you feel at home with generous hospitality.
The Cave of Pelekita is one hour's walk to the east of Kato Zakros. It is a large cave with stalactites and stalagmites, one of the deepest in Crete. Ask the locals, you could get the boat to the cave.

The E4 European walking path ends here at Kato Zakros after 320 km through Zakros Gorge and some of the most stunning scenery and great walking for nature lovers in Crete. What more beautiful and remote village could be the reward than this simple coastal enclave.
---
Images of the Gorge