Zakros Gorge
Walking in Eastern Crete
This page may contain affiliate links, see our disclaimer here.

---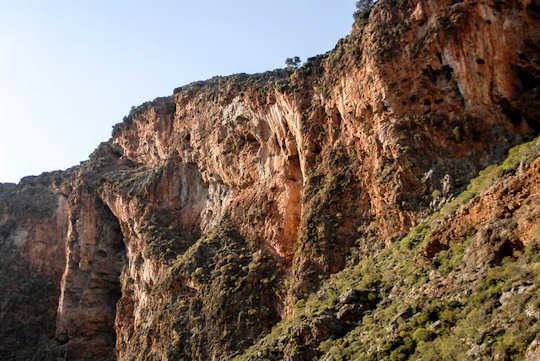 Zakros Gorge Φαράγγι Ζάκρου is in the east of the island of Crete in Greece. The gorge is 8 km long and starts at the village of Ano Zakros, which is located 45 km from Sitia in eastern Crete. 
The town can be reached by driving east from Sitia through Palaikastro and then the villages of Chochlakies, Asokeramos, Kelaria and Adravasti.
In warmer seasons there is a local bus which stops at Zakros and in summer it goes all the way to Kato Zakros. Ano means upper and kato means lower, and refers to the location of each village named Zakros.

Ζάκρος is a farming town, reaping the harvest from the olive groves here, vegetables and fruit also grow locally. This village is known for its spring giving fresh water, and traditional water mills. There is a water mill museum and a beautiful Byzantine church - Αφέντης Χριστός Lord Christ. On the 6th of August each year is the local parade and celebration of Lord Christ. Don't forget to get your dopio olive oil from the rural cooperative of Ζάκρος.
See wonderful views of the gorge and surrounding farming land in this video made by the local olive growers.
---
Gorge of the Dead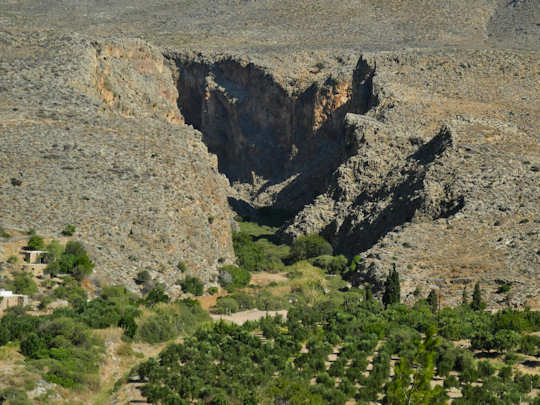 Also known as the Gorge of the Dead - Faragi ton Nekron - Φαράγγι των Νεκρών. The gorge is one of the most impressive in Crete, with its steep sides and harsh rock formations.
The caves within which have been found to be Minoan burial tombs, hence the name.
The gorge walk takes about two hours to complete, depending on your pace and your fitness levels, and ends at the beautiful beach town of Kato Zakros.
This video shows the walk from upper Zakros to Lower Zakros. You can also start the walk from the seaside and walk up the gorge (and back again).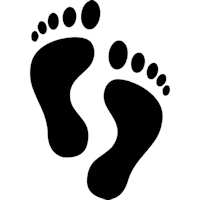 There are four different main ways to walk Zakros Gorge:
from Ano Zakros Village Square 8 km

from the parking spot at the top of the gorge 6 km

from Kato Zakros entrance to Zakros 8 km
from Kato Zakros take a local taxi to the top and walk back down 6 km

There are other circular routes you can choose if you want a longer hike.
Be careful in winter and spring, as weather conditions may change quickly and the creek will be running with water. At some points you will need to get across the stream, and not just boulder-hopping. Always check with locals before walking. 
---
Nature of Zakros Gorge
Here in eastern Crete are orchids such as bee orchids, the Sitia Orchid (pictured).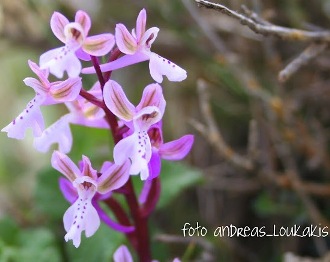 Sitia orchid - Orchis sitiaca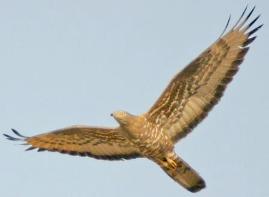 Honey Buzzard - Pernis apivorus

Nature lovers search for the unusual tube-shaped flowers of the Cretan Birthwort Aristolochia cretica (below).
There are the ebony trees, pines and myrtles as well as the Cretan arum, with its stunning yellow tube flower, lots of bird life, including the European Honey Buzzard (pictured).
More about the flora and fauna of Crete here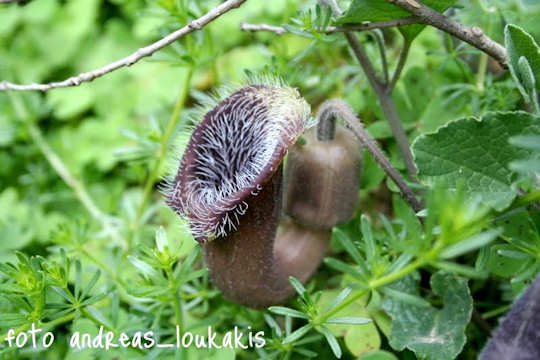 Cretan Birthwort - Aristolochia cretica
---
Kato Zakros and Zakros Palace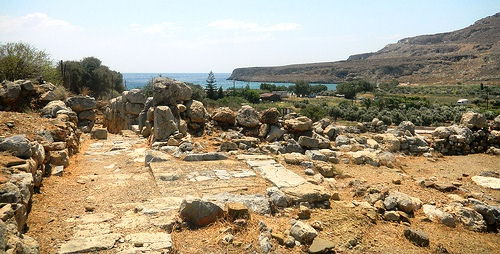 Kato Zakros is tiny; its growth has been restricted due to the proximity of the valuable Minoan site of ancient Zakros. Hence it is one of the smallest remote seaside villages in Lasithi.

Zakros Palace sits 350 m back from the village of Kato Zakros, there is a small entrance fee of less than 10 Euro. This is an extensive site, not just of the ruined palace but the ruined town that surrounded it. Being so close to the eastern trading partners has led archaeologists to believe it was a major trading point, and rich artifacts have been discovered here. 

---
E4 European Walking Path


The E4 European walking path ends here at Kato Zakros after 320 km through Zakros Gorge and some of the most stunning scenery and great walking for nature lovers in Crete. What more beautiful and remote village could be the reward than this simple coastal enclave. Some people do commence their walk from the east, and so Kato Zakros is their starting point.
Use the 'Cretan Way' guidebook which covers this area, and if you would like a topographic map use Anavasi Map 'Zakros-Vai-Sitia Topographic Map [11.16]' which is 1:25,000 scale. 

---
Tavernas by the Beach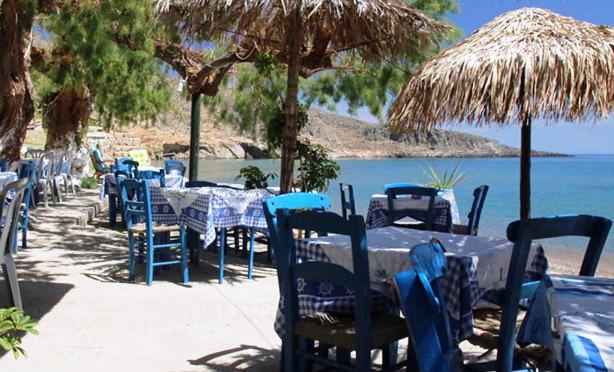 After walking the Zakros Gorge Φαράγγι Ζάκρου, Akrogiali Taverna right on the beach serves fresh seafood and great wine. What a spot! Nikos Perakis will make you feel at home with generous hospitality.
There are at least 3 other tavernas and a café bar. This is the time to order fresh seafood and eat lazily, with the soft sound of the waves lapping on the beach.
A little ouzaki doesn't go astray, either. Stin iyiamas!
---
Pelekita Cave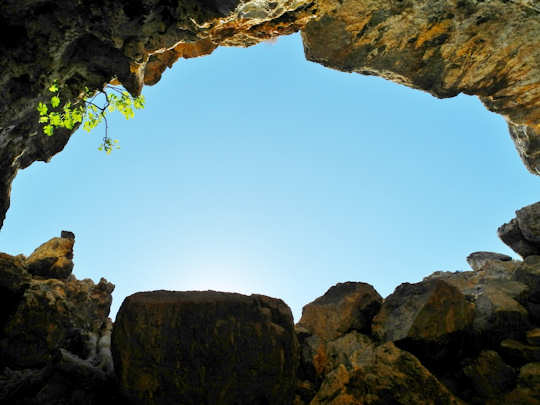 After Zakros Gorge, if you are looking for other walks in the area, you could visit the Cave of Pelekita. This is one hour's walk to the east of Kato Zakros. It is a large cave with stalactites and stalagmites, one of the deepest in Crete. This is an un-marked track over rocky barren hills, take water and a hat if you go in summer. If you ask the locals, you could get the boat to the cave. 

---
Accommodation
To walk Zakros Gorge and stay locally, in both upper and lower villages you will find lovely places to stay, you could also stay in Sitia, which is 45 km north, or Kouremenos Beach, 13 km north-east.

Terra Minoika Villas were lovingly created by Stella and Ilias to reflect the land and character of this place. Enjoy breathtaking views across the expansive bay surrounded by stone and wood. Just a short stroll to Zakros Palace or the sea.
Jasmine House is a holiday home in nearby Sitia with character and charm in handfuls. Just 45 km from Zakros Palace Archaeological site in a good central location in eastern Crete. A great base for a family to enjoy this side of the island. 2 bedrooms, 1 bathroom, sleeps 4 guests in privacy with full self-catering facilities.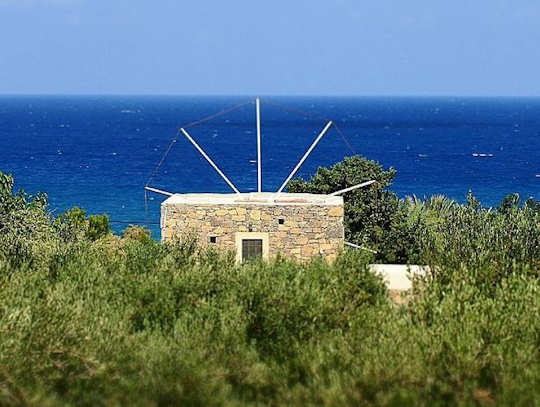 The private accommodation of the Sitia Windmill is an unusual yet very comfortable experience. With a cozy restoration and spacious outdoor areas, this is a wonderful home-away-from-home. Perfect for exploring eastern Crete with a vehicle.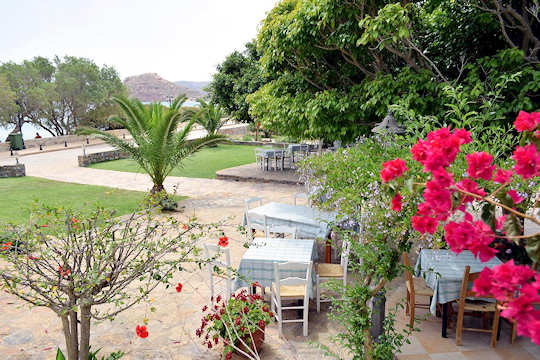 Grandes Apartments in Kouremenos are 13 km from here, right on the beach and good value for those on a budget. A peaceful place just by the sea. You will need a car to get here.

---
Images of the Gorge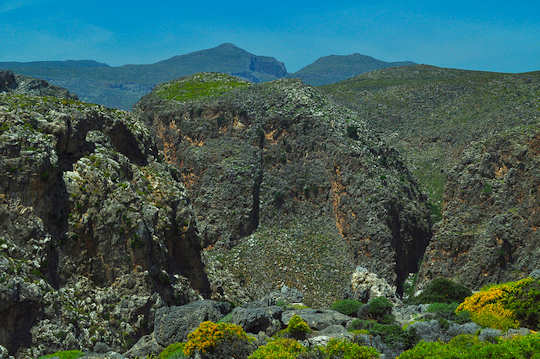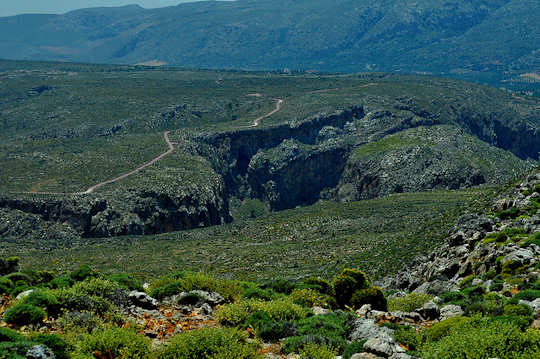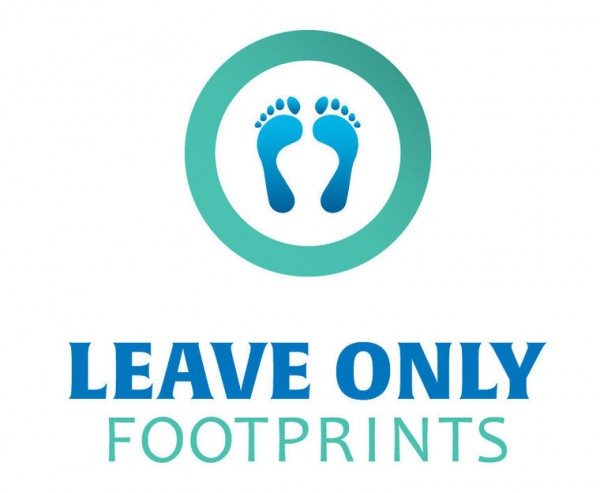 Take all your rubbish with you and don't make any of those silly piles of rocks. Leave only footprints because We Love Crete.

---
Getting Here
Most visitors arrive to Zakros Gorge by car. If you are coming from Athens you would land at Heraklion Airport. The drive from Heraklion to Agios Nikolaos, Sitia and Zakros is 165 km and it would be best to stay in Agios Nikolaos or Sitia on the way.
Take a 1 hour flight from Athens to Heraklion with Aegean Airlines or Olympic Air, with many flights available per day.
Or take a 9.5 hour overnight ferry from Pireaus port of Athens to Heraklion port.
More on flights and ferries below.
Car hire in Crete is a really good idea as it is a large island 60 km by 260 km. There is so much to explore.
When you book with our car rental partners - Rental Centre Crete - you are supporting a local company with excellent service and an easy online booking procedure. We are sure you will be well looked after by the team. Choose from hybrid or non-hybrid vehicles.
---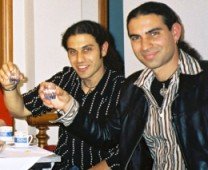 "We trust you have enjoyed these tips from the team at We Love Crete. Evíva!"
Contact us with further questions or feedback. We love to hear about your travels in Kríti and Greece. Let us know of any updates or additions, errors or omissions. Help us make this website the best it can be. Kaló Taxidí!

---