---
Zakros Gorge...
A cave in 'The Gorge of the Dead'
The nearby Zákros Gorge is also named The Gorge of the Dead, due to findings of burial chambers in its caves. This is a most unusual gorge to walk and can be approached by starting at the inland point and walking down back towards the sea, or simply walking up and back through the gorge.
Close to the site is the lovely small beach side village of Κάτω Ζάκρος - 'kato' means 'lower'  - where can be found accommodation and tavernas, and a beautiful cove and beach. Try some fresh local seafood washed down with dopio or local krassi wine.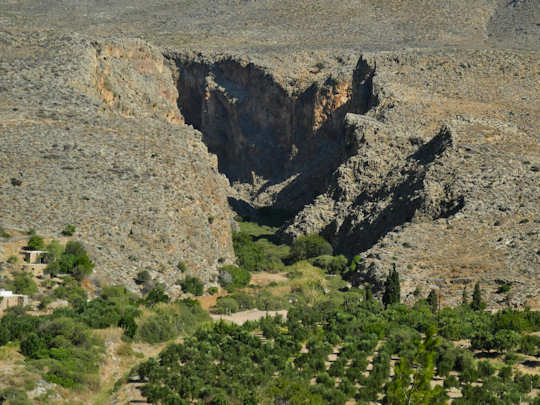 Zakros Gorge also known as the Gorge of the Dead
---
On the Map...

See the location of Zakros Palace on this map which shows the Minoan Palaces of Crete:
---
Kato Zakros
Archaeology by the Bay...
Enjoy a dip at the beautiful Kato Zakros beach after your exploration into Minoan history at Zakros Palace...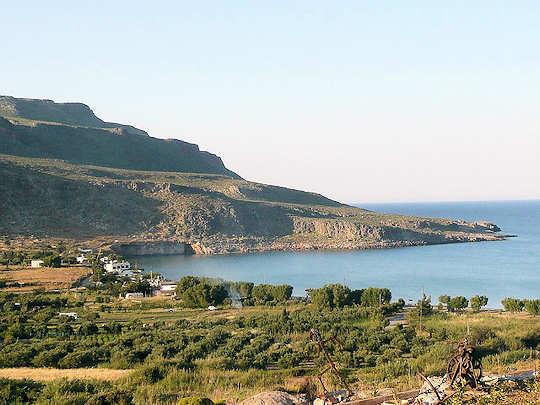 Κάτω Ζάκρος Bay, eastern Crete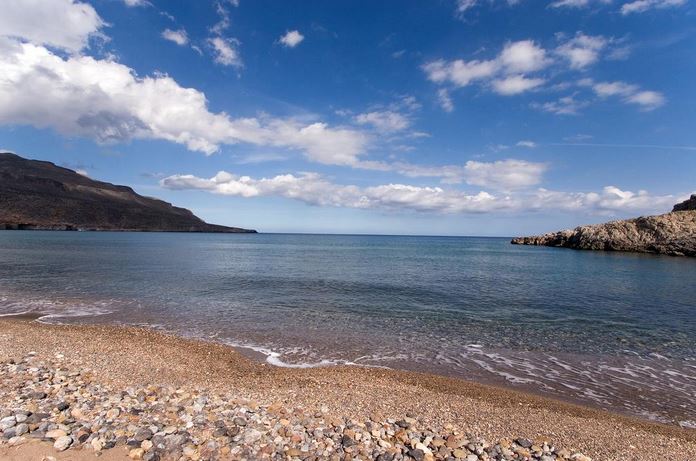 Κάτω Ζάκρος Beach
---
Olive Oil
The most important agricultural activity around this village and the village of Zakros, just 7 km inland from the Minoan Palace site, is the growing of olive trees and production of olive oil.
The conditions in this unpolluted part of the island are perfect for growing olives with low acidity levels, and the collective local knowledge and experience with olives is extensive.
In this video below from Terra Zakros Olive Oil, you will see some of the beautiful farmland and the Zakros Gorge, as well as the delights of the olive groves becoming that exquisite tasting oil for your Greek Salad, and all your beautiful Cretan food.
You can find this olive oil in the Terra Zakros Shop on Zakros Square in Zakros Village.
---
Accommodation
Terra Minoika Villas were lovingly created by Stella and Ilias to reflect the land and character of this place. Enjoy breathtaking views across the expansive bay surrounded by stone and wood. Just a short stroll to Zakros Palace or the sea.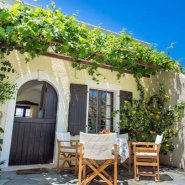 Jasmine House is a holiday home in nearby Sitia with character and charm in handfuls. Just 45 km from Zakros Palace Archaeological site in a good central location in eastern Crete. A great base for a family to enjoy this side of the island. 2 bedrooms, 1 bathroom, sleeps 4 guests in privacy with full self-catering facilities.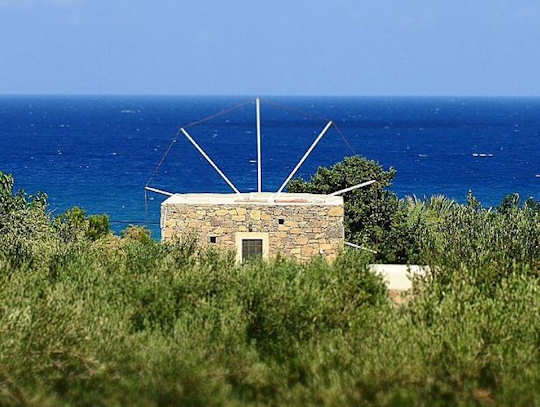 The private accommodation of the Sitia Windmill is an unusual yet very comfortable experience. With a cozy restoration and spacious outdoor areas, this is a wonderful home-away-from-home. Perfect for exploring eastern Crete with a vehicle.
---
Getting Here

Getting to Zakros Palace Archaeological site it is best to take a rental car. There are local bus services, but only in summer. In winter the services are very few and the bus stops at the higher village of Zakros.
Driving from Heraklion, take the national road to Agios Nikolaos and then Sitia. This part of the journey is 130 km. You could make an overnight stop in Sitia, or indeed stop in both towns to view the collections of the archaeological museums.

From Sitia drive south through the villages of Agia Fotia, Palekastro, Azokeramos, Kellaria, Adravasti and Ano Zakros. This part of the journey is 45 km.
Once you are in Kato Zakros, the ruins are just 350 metres back from the beach.


When you book with our car rental partners - Rental Centre Crete - you are supporting a local company with excellent service and an easy online booking procedure. We are sure you will be well looked after by Harry and his team.
---


"We trust you have enjoyed these tips from the team at
We Love Crete. Evíva!"
Contact us with further questions or feedback. We love to hear about your travels in Kríti and Greece. Let us know of any updates or additions, errors or omissions. Help us make this website the best it can be. Kaló Taxidí!

---