Palaikastro Village
This page may contain affiliate links, see our disclaimer here.

---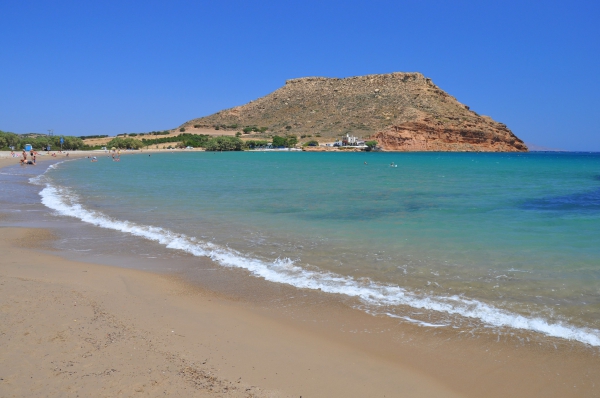 Palaikastro Παλαίκαστρο village, also called Palekastro, is 20 km from the town of Sitia in the region of Lasithi, in the east of Crete.
---
About Palaikastro
Palaikastro sits surrounded by olive groves, grapevines and gardens in a hilly rugged part of the island. Above the town and between its two beaches is a curious flat-topped hill called Kastri. It gives a special character to the village and the beautiful bays.
There are plenty of cafés serving good food, and a local kafenion that is very authentic. There are lots of rooms, domatia and pensions dotted in and about the town, and good local bus services.
The people of Palaikastro village are proud of their Cretan heritage and local traditions, there is a unique restored Cretan house fully refurbished and decorated as a folkloric museum. It contains 20th Century artifacts and shows the traditional way of life of Kríti, and is open from April to October.
Palaikastro Folklore Museum - Evropis 52 Palaikastro

Locals still work at agriculture with olives, grapes and fishing. So locally they produce great olive oil, wine and the meals to go with them, and offering hospitality in their hotels and tavernas.
Beaches to visit include Erimoupolis, Itanos, Vai, Maridati, Kouremenos, Chiona, Kato Zakros and Xerokambos.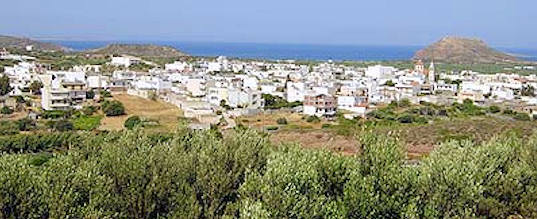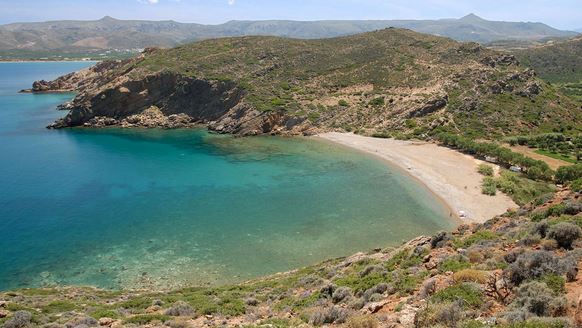 Maridati Beach is 5 km from Palaikastro
---
Ancient History

Between the village and the bay is the ancient Minoan site of the township Roussolakkos. This township has been dated back to 2000 BC and was the second largest Minoan township after Knossos. This is a significant historical site. So many beautiful pieces have been retrieved from the site, that show the activities and lifestyle of these ancient Cretans.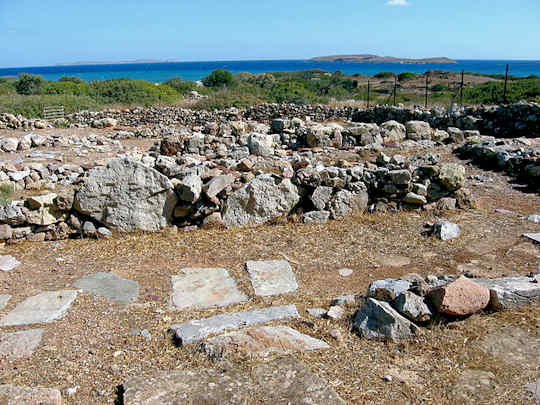 The islands of Elasa (on the left) and Grandes (on the right), from Roussolakkos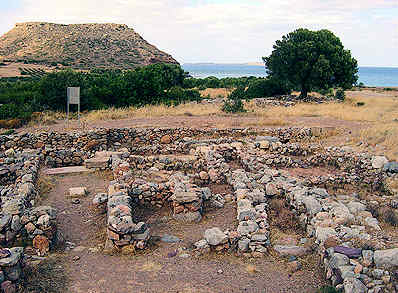 Minoan Ruins of Palaikastro
One of the most significant finds of modern archaeology was uncovered here in 1986. A small statuette, nicknamed the 'Palaikastro Kouros', meaning the Palekastro Boy, is a beautifully carved small figurine made from hippopotamus ivory and gold.
The recovered statuette shows marks of desecration and burning. The figure came from the Roussolakos Minoan site and has been dated from 1425-1480 BC. This remarkable figure is on display at the Archaeological Museum of Sitia.
---
Palaikastro Village

Accommodation
There are many accommodation options in the area including small pensions, family-run guesthouses and villas.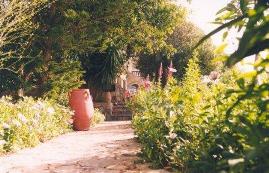 House Margot located on the outskirts of the village, this small pension has lovely leafy gardens, plenty of friendly local hospitality and is small, with only 8 rooms.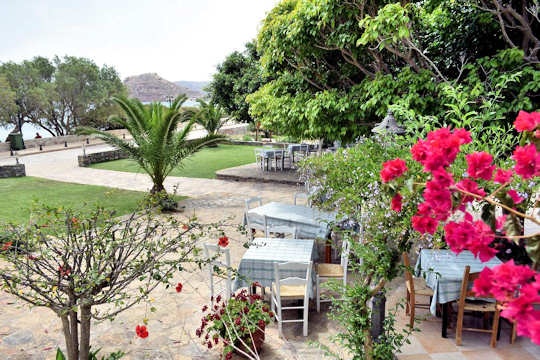 Grandes Apartments are lovely homey maisonettes run by a local family, located on 70 metres from the beach at Kouremenos. With a kitchen for self-catering, you can also enjoy the bar and taverna here. A lazy Greek summer place to really relax and live the simple life.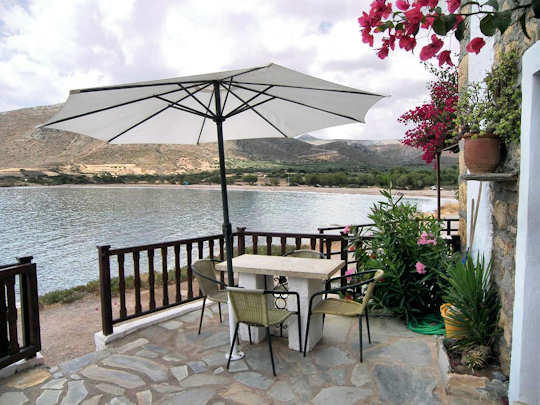 Hiona Cottage - this 3 bedroom stone house is right on the water at Chiona Beach, just 2.3 km from Palaikastro village. Welcoming 5 guests in comfort. Enjoy peace and quiet with your own corner of the beach, especially in the mornings on the terrace. The taverna next door is open from noon with excellent local cuisine. Heaven.
---
Exploring the Region

6 km from Palaikastro village is Vai Beach and palm forest, (left) unique to Europe.
The beaches of Chionia and Kouremenos, just 2 km from the town, are pretty sandy beaches, drawing visitors for their clear waters, great diving, fresh seafood and wind-surfing. There is a wind-surfing school and club based here.
3 km east from the centre of the village, directly behind the beach of Chiona is the ancient Minoan site of Roussolakos (see below).

There is a pretty yet intermittent lagoon wetland behind the beach of Chiona which is used by migratory birds, try spotting swallows, warblers and goldfinches.
The ancient city of Itanos dated from 1500 BC is 3 km north of Vai, and there are three beautiful sandy beaches to explore, with trees for shade. 

Karydi is a high mountain village 15 km from Palaikastro, well worth a visit as it keeps itself intact over many years, with beautiful white houses and mountain scenery. Close by is the cave of Peristeras is one of the noteworthy caves of the area, the large cavern is 80m by 35m adorned with stalactites and stalagmites.
About 10 km from the village is the 15th century Monastery of Toplou which is famous for its fort-like architecture and its role in the underground resistance against the Turks and later the Germans. The monks hid resistance fighters and were killed for their involvement.
The Gorge of Chochlakies about 6 km from the village is a pleasure for nature lovers and takes a couple of hours to walk, ending in a pristine beach, it doesn't get more natural than this.This is part of the E4 Walking Path of Crete.

20 km from the village is Zakros Gorge and upper and lower Zakros villages. This is one of the most dramatic gorges in Crete, ending at the beautiful beach of Kato Zakros and close to the Minoan ruins of Zakros Palace.
From Paleokastro village it is 75 km to Ierapetra, one of the major towns in eastern Crete, and the port for departures to Chrissi Island.


---
On the Map
Below you will see the location of the village on the map in the far east of Crete.
---
Images
Below you will see more beautiful images of the village and the area.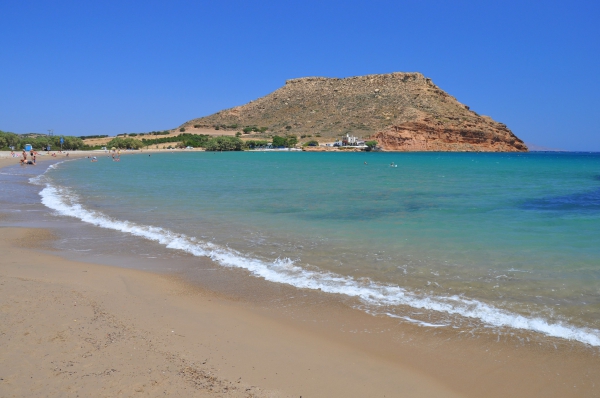 Chiona Beach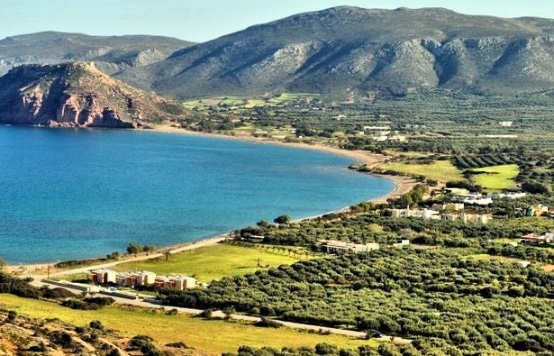 Kouremenos Beach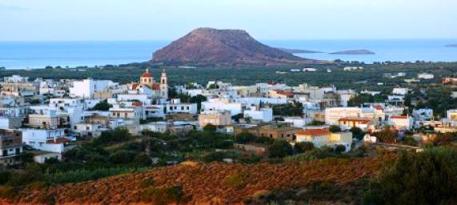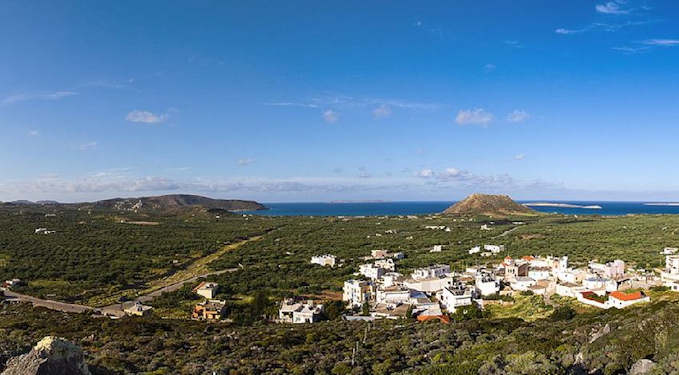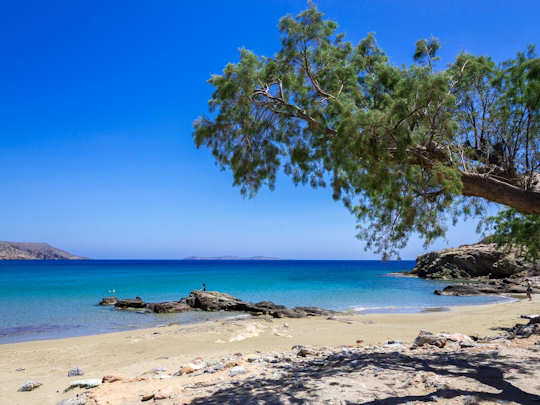 Itanos Beach
Vai Beach - relax under the palms
---
Videos
Enjoy the beaches and country around Palaikastro on this video made by Vasilis and Nikos.
Looking around the region - a lyrical video which captures the feeling of this part of Kriti.

A short video of photographs of the beauties of Palaikastro made by Kostas Voutirakis
---
Getting Here
Get to Heraklion International Airport with a 1 hour flight from Athens with Olympic Air or Aegean Airlines.
Take a hire car, taxi or bus to the Palaikastro. It is 150 km from Heraklion. Drive east on the national road via Agios Nikolaos and Sitia.

More details about flights and ferries to Crete below.
Car hire in Crete is a really good idea as it is a large island 60 km by 260 km. There is so much to explore.
When you book with our car rental partners - Rental Centre Crete - you are supporting a local company with excellent service and an easy online booking procedure. We are sure you will be well looked after by the team. Choose from hybrid or non-hybrid vehicles.
---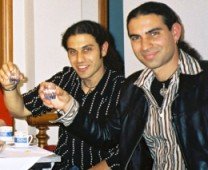 "We trust you have enjoyed these tips from the team at We Love Crete. Evíva!"
Contact us with further questions or feedback. We love to hear about your travels in Kríti and Greece. Let us know of any updates or additions, errors or omissions. Help us make this website the best it can be. Kaló Taxidí!

---