Zakros Palace
The Fascinating History of Crete
The Palace at Zakros was built in the years of the Minoan settlement of Crete around 1900 BC. This site is located 50 km from Sitia in eastern Crete. Sitia is 140 km from Heraklion.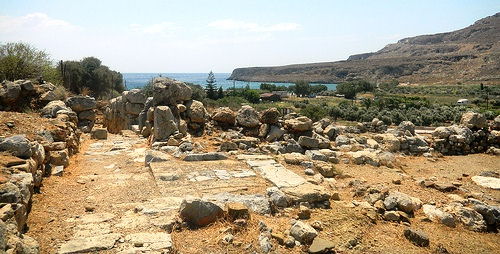 The extensive ruins are located just behind Káto Zákros, Κάτω Ζάκρος, just 7 km from the modern village of the same name. This was the site of one of the four known Minoan palaces on Crete, with complex rooms, ceremonial chambers and sophisticated constructions.
One of the most beautiful artefacts to be found on Crete, the rock crystal vase (pictured) was discovered on this site and is displayed at the museum in Heraklion.

It is considered that this was a rich trading village and palace, as it is located facing east and in a protected cove, finds include many exotic riches such as elephants tusks.

Clay tablets were found here with Linear A script, much like the ones found at other Minoan sites such as Phaistos. Artefacts from this site are displayed at the museums in Sitia, Agios Nikolaos and Heraklion.



| | |
| --- | --- |
| This is the fourth largest of the Minoan palaces on the island, however it tends to be much less touristed and allow the visitor plenty of space, peace and time to explore the site and imagine life in this special place. Check with your hotel as to opening hours as these vary with the season, there is a small entrance fee. The town was a flourishing urban centre, and the ruins stretch over a large area, well worth the exploration. | |
---
Zakros Gorge...
The nearby Zákros Gorge is also named The Gorge of the Dead, due to findings of burial chambers in its caves. This is a most unusual gorge to walk and can be approached by starting at the inland point and walking down back towards the sea, or simply walking up and back through the gorge.
Close to the site is the lovely small beach side village of Κάτω Ζάκρος - 'kato' means 'lower'  -where can be found accommodation and tavernas, and a beautiful cove and beach. Try some fresh local seafood washed down with dopio or local krassi wine
See the location of the Minoan Palaces of Crete here:
---
Archaeology by the Bay...
Enjoy a dip at the beautiful Kato Zakros beach after your exploration into Minoan history...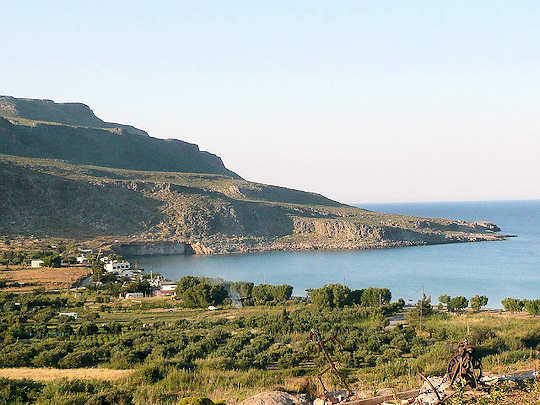 Κάτω Ζάκρος Bay, eastern Crete