Spinalonga Island
Eastern Crete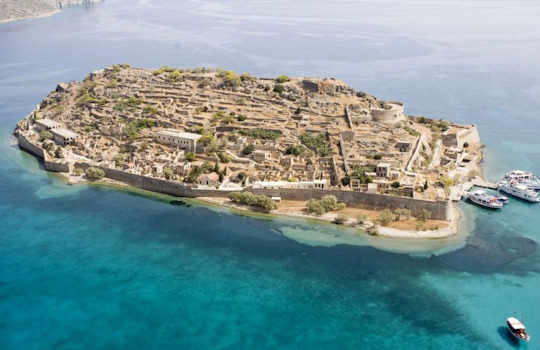 Spinalonga Σπιναλόγκα is a little island of the north-east coast of Crete in Greece. It has come to international fame due to its colourful history.
The island is a destination for day trips from Plaka, Elounda and Agios Nikolaos in Lasithi, Crete. No one lives on the island now.
The island sits off the northern tip of Kolokitha peninsula, which forms the safe harbour of Elounda, in the wide Mirabello Bay, protected from the north by Cape Agios Ioannis.
Since ancient times this bay was the home of peoples, long ago there sat the town of Olous, which is now submerged under water.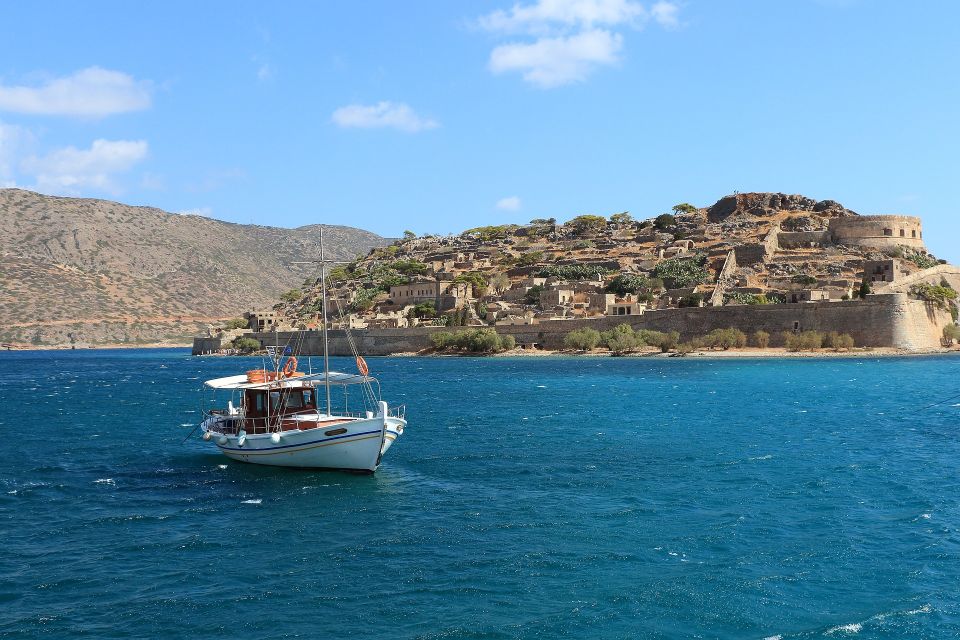 The physical beauty around Elounda Crete, the bay and the island are the reason that many fall in love there. 
The island was fought over by succeeding powers in the Mediterranean and played an important strategic role in history. Its location at the entrance to a secure harbour made it ideal for a defensive fortress. When the sea lords of Venice claimed Crete as theirs they built a fort here. It remains in ruins today.
The island was the home of a leper colony from 1903 to 1957.
The word 'spina-longa' is Italian for 'long spine'. The island is popular with visitors for Crete tours to enjoy its unusual history and its aqua marine bays.
---
The Village of Plaka



The small village of Plaka lies opposite the island, and its fate has been intertwined with it for many years. It has experienced some recent development, yet still remains a tiny seaside village.




Fish tavernas like this one serve the freshest of fish and other seafood, whilst the local ferries and small boats take visitors over to the island.



---
Accommodation Nearby...







Plaka Seaside Cottages - how close do you want to be to the water? Is this close enough?

These three studio cottages are small and sweet, modern and sit on their own private beach just a few hundred metres from Plaka village.






As you can see pictured below, they actually look out over the bay to the island of Spinalonga. These are small studios designed for couples, with a sofa bed they sleep 3. We know where we will be staying next time we visit 'the island'!
More info and bookings at Plaka Seaside Cottages...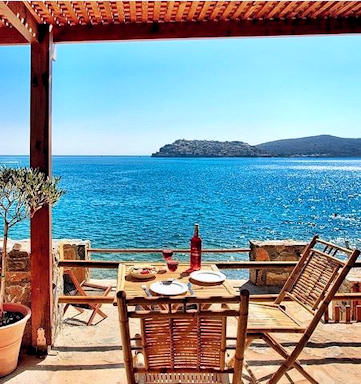 We have some more suggestions for both luxurious and budget-priced accommodation nearby...

Other places to stay near Spinalonga...

---
Daytrips to the island...

---
Books about the island...

The island, Plaka and Elounda have been the subject of many books, histories and fiction stories, such as Spinalónga – The Isle of the Damned by Victor Zorbas, Spinalónga by Beryl Darby and The Island by Victoria Hislop. See our suggestions below...
The novel 'The Island' by Victoria Hislop has been made into a television mini drama by Mega TV, Directed by Theodoris Papadoulakis and filmed on location in Crete. The production is now available on DVD in Greek language with English subtitles.
---
Images of Spinalonga...

Some images of the island here: