Lasithi Greece

This page may contain affiliate links, see our disclaimer here.

---
Seven East Crete Beaches
to Visit in Seven Days

by Andrew Tomasson

Lasithi Greece has long held a fascination for me. This summer I decided to spend a week in Lasithi, the easternmost area of Crete. Although Lasithi beaches are not so popular as beaches of west and south Crete, I found them really stunning; the unique Vai beach with its luscious palm forest, Istro with its picturesque surroundings, the beach of Elounda overlooking Spinalonga Island and the exotic Chrissi or Golden Beach.
Below, I present seven beaches in Lasithi, which I visited during my one-week stay in Lasithi. The most organised beaches are located on the northern coast, while the south side is still more isolated.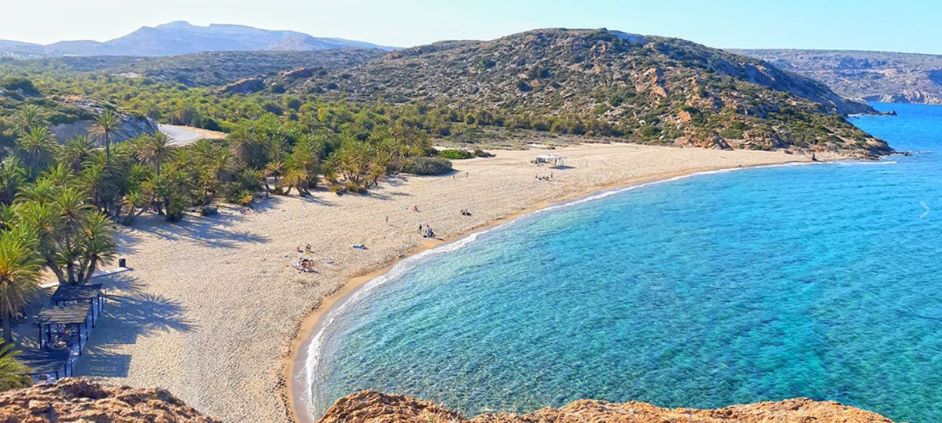 Day 1: The Exotic Beach of Vai

On the first day of my vacation, I decided to visit the most unique beach of Lasithi. The beautiful beach of Vai (pictured above), known as Palm Forest is located 25 km east of Sitia and 94 km east of Agios Nikolaos. As the locals informed me, Vai features the largest palm forest in Europe, in an area of 250 square kilometers, consisting of 5,000 palm trees. The first references to this forest are dated from the Classical period. It exists due to Phoenician traders, throwing in the area the pips from the dates they ate.
In front of this unique forest, there is a clean, soft golden sand and a blue sea. The magic and tropical scenery of the beach attracts thousands of visitors, especially during the high season. Camping on the beach is prohibited, while the main entrance is open from sunrise to sunset, to avoid fires. I also found some nice snack bars and cafes on the beach.  Get there early to avoid the rush.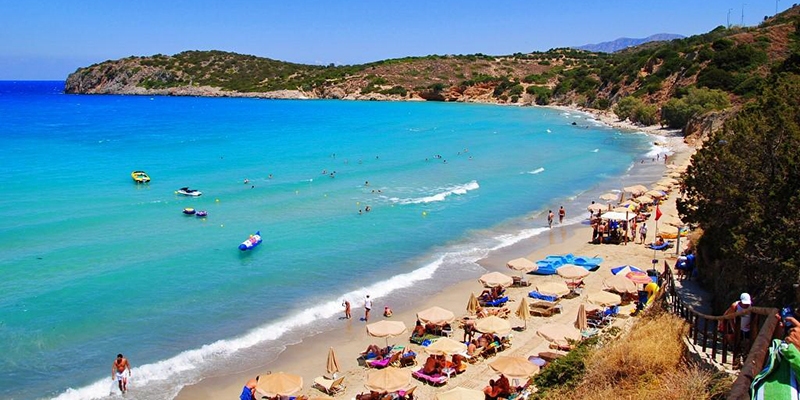 Day 2: The Picturesque Cove of Istro
The next day, I decided to drive on the coastal road, south of Agios Nikolaos, towards Mohlos village. On the way, I found five to six beaches with crystal clear waters. One of those was Istro Beach. Its crystal clear waters and white sand are two of the main features that make this beach so popular. It is surrounded by green hills, covered with high vegetation, which create a magical landscape and a lovely color contrast to the canvas of nature. The beach is organised with various facilities such as sun beds and umbrellas, as well as a canteen to eat and drink.
After I enjoyed my swim, I had a delicious, fresh seafood in one of the taverns of the beach. I would recommend Istro to anyone who is looking for quietude and relaxing moments.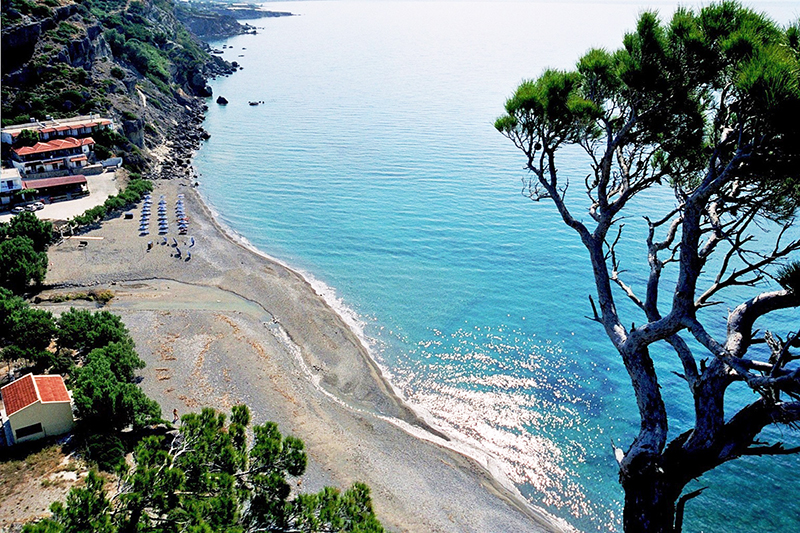 Day 3: The Beautiful Village and Beach of Agia Fotia, Lasithi Greece

Continuing the exploration of Lasithi beaches and area, I visited the beautiful village of Agia Fotia (pictured above). The village is located 8 km east of Ierapetra and 47 km southeast of Agios Nikolaos and is surrounded by tall pine trees. Although Agia Fotia has been developed into a beautiful tourist resort in recent years, it preserves its quiet atmosphere and authentic character. The beach is covered with fine sand and is an excellent choice for swimming.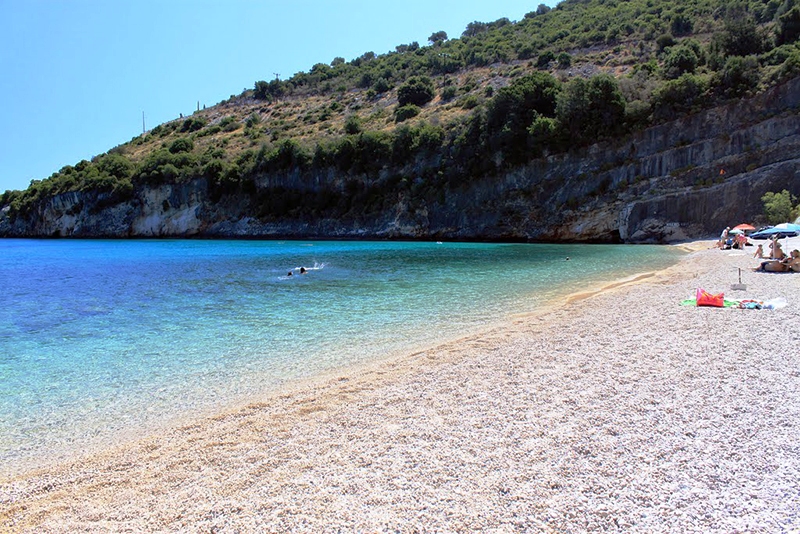 Day 4: The Beach in the Fishing Village of Makrygialos, Lasithi Greece
The seaside village of Makrygialos is located 24 km east of Ierapetra and 60 km south-east of the town of Agios Nikolaos, in the center of 'Kala Nera' Bay. The village has a long sandy beach and crystal blue waters and has been into one of the most important tourist resorts in the area.
My one-day trip to Makrygialos Beach ended with a visit to the ruins of a Minoan manor house located in the region.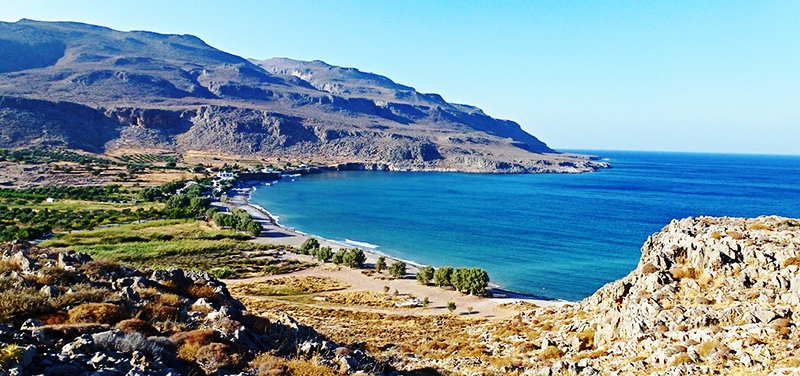 Day 5: The Long Beach of Kato Zakros
On the fifth day of my holidays in Lasithi, I headed 106 km east of Agios Nikolaos, to enjoy the beach of Kato Zakros, one of the longest Lasithi beaches. It is a beautiful bay surrounded by short vegetation. The beach is relatively close to Zakros, about 8 km from the village, which is one of the most picturesque villages in the region. The beach, although it is organised with sun beds and umbrellas, is great for relaxation.
Of course, I did not miss to visit the nearby archaeological site of the Palace of Zakros, one of the most important Minoan Palaces in Crete, Lasithi Greece.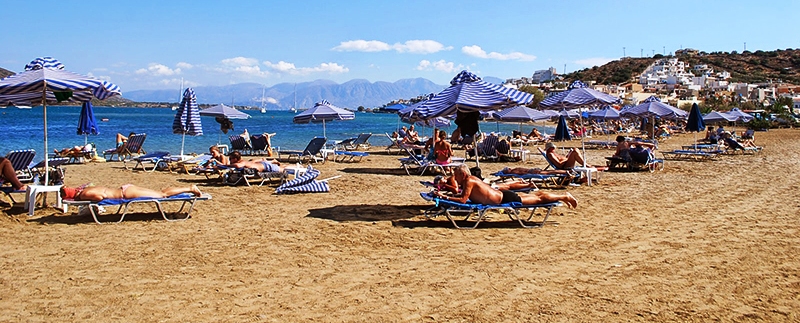 Day 6: The Popular Beach of Elounda Opposite Spinalonga Island

My holidays were almost over and I could not miss a visit to Elounda Beach. Elounda features one of the most popular and beautiful beaches of Crete, located 70 kilometers east of Heraklion airport and 11 km north of the town of Agios Nikolaos, the capital of Lasithi Greece.
The beach is well organised with sun beds, umbrellas and water sports. The water is crystal clear and the coast is sandy.
What impressed me was the fact that, despite the cosmopolitan atmosphere of the village, this part of the coast looks totally virgin. I saw many naturists there, looking for privacy. After swimming, I would strongly recommend a mini trip to Spinalonga Island (pictured below), right opposite Elounda, which hosted the lepers of the island many years ago.


Day 7: The Golden Beach of Chrissi island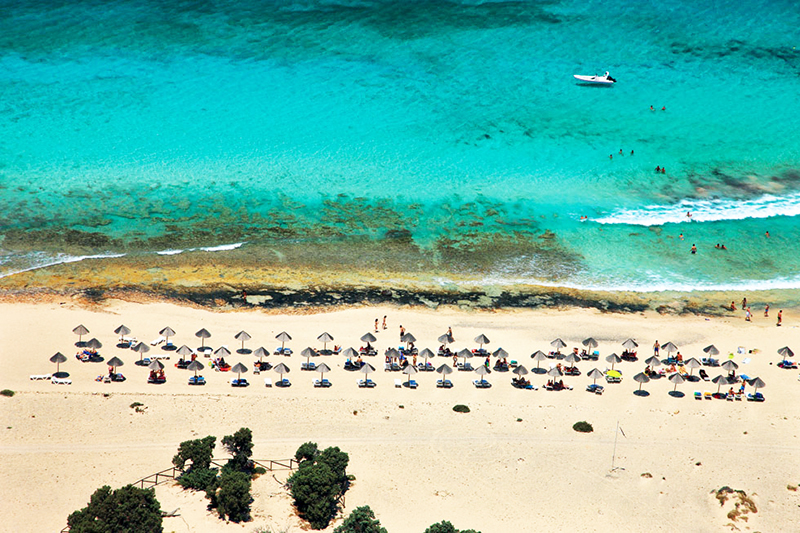 Unfortunately, the last day of my holidays in Lasithi Greece is here, however, I saved the best for the end; the exotic Chrissi Island, otherwise known as Gaidouronisi. The island is 8 nautical miles south of Ierapetra, in the Aegean Sea. It is uninhabited, with lovely beaches and a long history. Chrissi is almost flat, the highest point is about 31 meters. Of course, I spent most of my time in swimming, as the island has sandy beaches with crystal blue waters.
What impressed me on Chrissi Island, was the large cedar forest, with more than 5,000 old trees and Pelegrina Beach in the northern part of the island.  This beach is full of fossil shells, dating back thousands of years. I would also recommend anyone to visit the small chapel of St. Nicholas from the 13th century, to collect salt from the old salt marshes, to see the Roman carved graves, the ancient breakwater and the old lighthouse.

Lasithi Greece Top Beaches

These are my top seven of beaches in Lasithi Greece. Of course, the region has many more beaches and hidden coves to be discovered by travellers who want to explore this specific side of Crete.

My name is Andrew Tomasson and I have been travelling all around Greece for many years now, either with friends or on my own. I have to admit that Crete is one of my favorite places. It is an island with contrasts, combined so harmoniously that any traveller falls in love with that place from the first visit.
In my travel blog, you will find experiences, recommendations and useful information from my trips all over Greece and of course, Crete. I hope you enjoy it.


---
Getting Here
Take a 1 hour flight from Athens to Heraklion with Aegean Airlines or Olympic Air, with many flights available per day.
Or take a 9.5 hour overnight ferry from Pireaus port of Athens to Heraklion port.
More on flights and ferries below.
Car hire in Crete is a really good idea as it is a large island 60 km by 260 km. There is so much to explore.
When you book with our car rental partners - Rental Centre Crete - you are supporting a local company with excellent service and an easy online booking procedure. We are sure you will be well looked after by the team. Choose from hybrid or non-hybrid vehicles.
---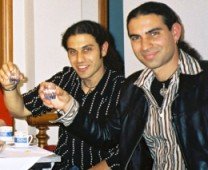 "We trust you have enjoyed these tips from the team at We Love Crete. Evíva!"
Contact us with further questions or feedback. We love to hear about your travels in Kríti and Greece. Let us know of any updates or additions, errors or omissions. Help us make this website the best it can be. Kaló Taxidí!

---