Plaka Crete Greece

This page may contain affiliate links, see our disclaimer here.

---
Plaka Crete Greece - a seaside village on Elounda Bay in eastern Crete which sits opposite Spinalonga Island.

Plaka in the East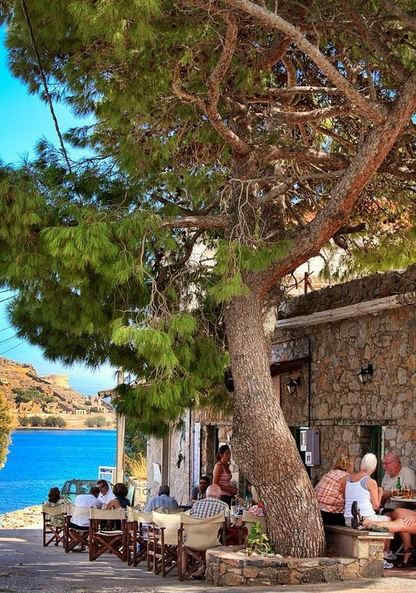 Plaka Πλάκα is a seaside fishing village on Elounda Bay in the east of Crete. It sits just 5 km north of Elounda Village and opposite the Island of Spinalonga.
This tiny fishing village has come to great fame since a novel was set here. In the novel 'The Island' and the TV series of the same name, the history of Crete is interwoven with drama and romance all around the sad stories of Spinalonga.
This village is not to be confused with another village in Crete called Plaka in Chania. This is an inland village in the region of Apokoronas near Chania town in the west of the island.


---
Plaka Beaches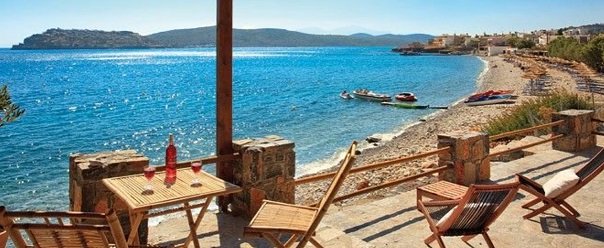 Plaka Crete Greece - to either side of the village lie long pebbly beaches with sweeping curves and clear waters. On the southern side, the beach is home to the beautiful and extensive Blue Palace Resort, however visitors can access the beach by a path near the Church of Agia Marina and visit Plaka Water Sports on the northern end .
In the very centre of the village is a tiny rocky cove with steep steps down to it, and Giorgos Fish taverna sits right up above it.

To the northern side of the village is the longest and most accessible beach, with gorgeous views to the island, and space for everyone.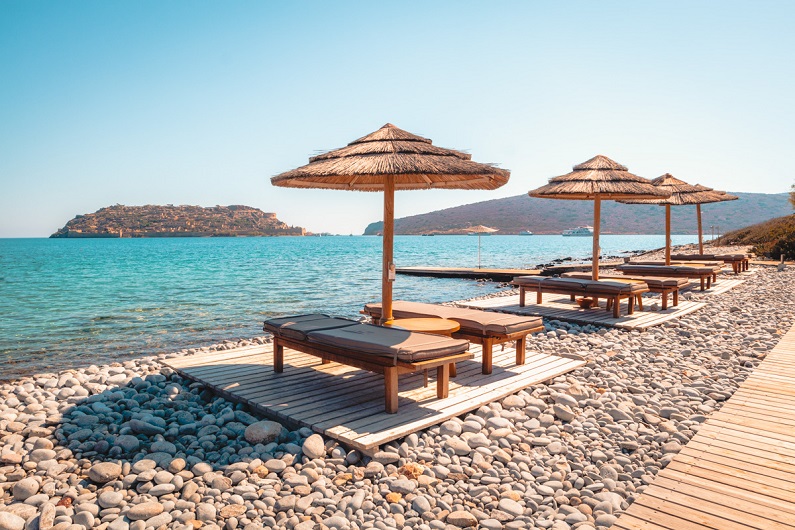 ---
Spinalonga Island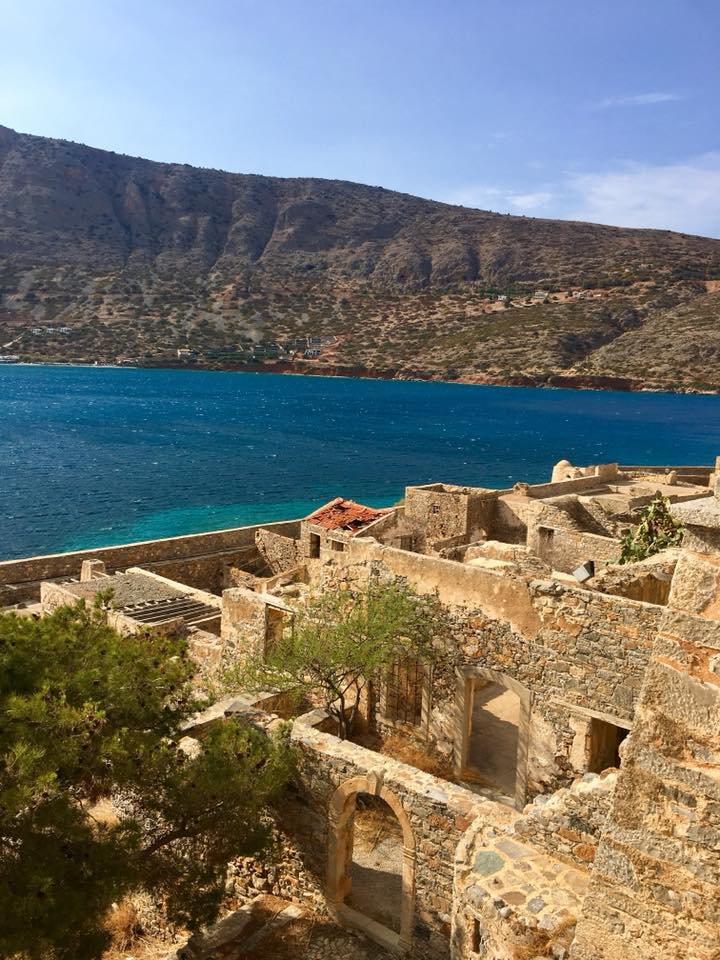 The island of Spinalonga draws you in. It has such a rich and intriguing history. Like it almost encapsulates the history of Crete. Stories of Pirates, Venetians, fortresses, battles and stories about when it was home for many years for those with leprosy. The last patient left here in 1957.
The word 'spina-longa' is Italian for 'long spine'. The island is popular with visitors for boat tours to enjoy its unusual history and its aqua marine bays.
---
Experiences
Plaka Crete Greece - come to Plaka to experience an authentic and historic old village, see the sweeping views across the harbour, and to take a trip to Spinalonga.
You can find plenty of boats down by the sea shore to take you out to the island during the spring, summer and autumn months. Just stroll down to the harbour and ask.
To book an organised experience in advance, see below.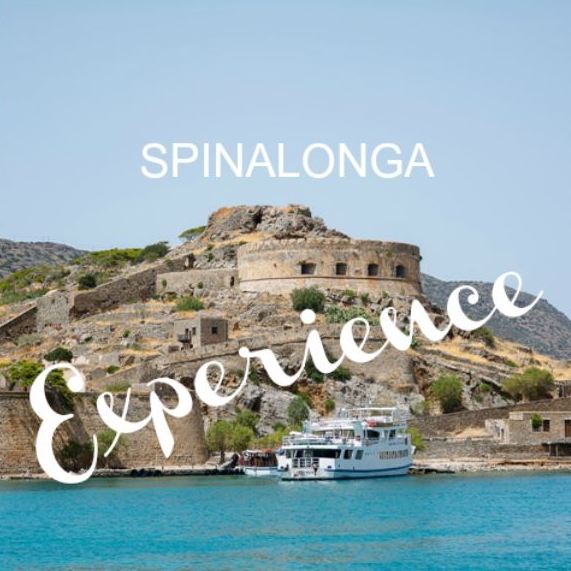 Visit the Island of Spinalonga by boat from Agios Nikolaos, with departures also from Elounda. Enjoy a swim and a BBQ as well as an interpretative visit to this island full of stories. This is a 12 hour full day experience.
---
Plaka Crete Greece
Accommodation
Plaka Crete Greece - in and around Plaka you will find many different types of accommodation, from small traditional apartments to modern villas and luxury resorts. In nearby Elounda Village and the town of Agios Nikolaos you also have plenty of accommodation options.

Plaka Beach Cottages - set directly on the sea with private beach. Enjoy your terrace overlooking Spinalonga Island. Just so simple and beautiful. These three cottages welcome 2 adults each. An easy walk from the hamlet of Plaka.

The view from The Island Sea View Apartment is why you choose this lovely place. Convenient to the cafes and tavernas of this seaside village, and of course in walking distance to its two lovely beaches. Accommodation for 3 adults and  child.

The Blue Palace Resort and Spa is a luxury resort in one of the most beautiful locations in Crete. Stay here directly on Plaka beach. Choose from a variety of restaurants, cafes and bars. Enjoy swimming at the beach or at the pool. Luxuriate at the spa.

---
Tavernas
Plaka Crete Greece - stunning fresh seafood by the sea. Nothing beats it. Sit looking over the bay with sweeping views and dine on the tastiest seafood - this is a true Greek experience...
Marias Old Taverna - traditional Cretan cuisine
Giorgos Fish Taverna (above the little beach)
Captain Nicolas Taverna (on the waterfront)
Taverna Gorgona (which means Mermaid - right on the marina)
Thalassa Seafood Taverna (which means sea)
---
Agios Nikolaos
Plaka Crete Greece - enjoy the town of Agios Nikolaos on your day trips from Plaka - we recommend strolling around the lake and harbourside to soak up the atmosphere.

While you are in Agios Nikolaos explore:
Lake Voulismeni

boutiques and studios
Folk Art Museum

Boat Harbour
artesanal workshops
art galleries
museums
Kitroplateia Beach, the Horn of Amalthea and the Marina

Archaeological Museum of Agios Nikolaos

Sea and lakeside restaurants, cafes and tavernas galore
Sailing, water sports and boating on Mirabello Bay
---
Elounda Village & Beaches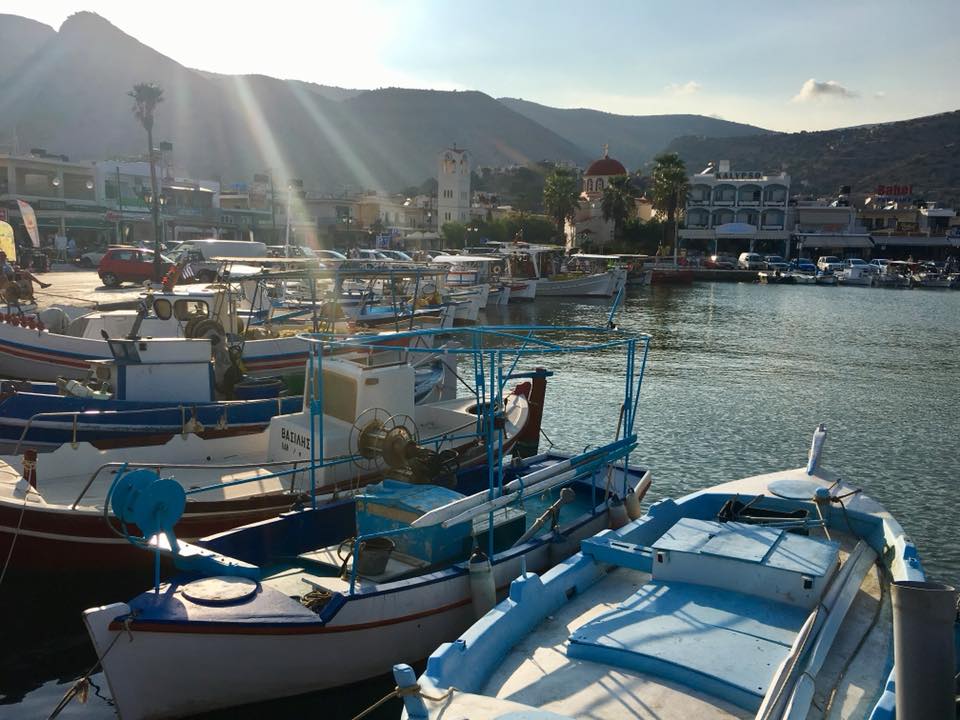 Plaka Crete Greece - Elounda Village sits around its fishing port on the tranquil Bay of Elounda protected by Kolokitha Island. There are lovely sandy beaches, and a thriving, stylish village which has been welcoming luxury guests for many years.
Stroll towards the isthmus with Kolokitha Island to find the ancient sunken town of Olous, or to eat fresh seafood by the bay.
Exploring the Region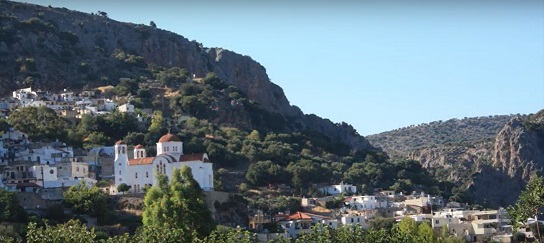 Plaka Crete Greece - around this region you will find many places to visit in the east of Crete. Take day trips to discover this mountainous terrain with superb beaches.
Vrouchas Village
Vrouchas windmills
Kolokitha Island
Kolokitha Beach
Kritsa Gorge
Ancient Lato
Pachia Ammos Beach and Ha Gorge
Mochlos Beach and Richtis Gorge
---
Plaka Crete Greece Map
Plaka Crete Greece - see the location of this beach in the east of Crete, north of Agios Nikolaos and Elounda.

---
Plaka Crete Greece
Getting Here

Plaka Crete Greece - to get to Plaka - arrive by flight or ferry into Heraklion, then hire a car. The drive east is around 76 km, drive via Agios Nikolaos and allow at least 1 and a half hours for the journey.
Local buses are frequent on this route, you will need to change in Agios Nikolaos to take a bus to Elounda and Plaka.
Take a 1 hour flight from Athens to Heraklion with Aegean Airlines or Olympic Air, with many flights available per day.
Or take a 9.5 hour overnight ferry from Pireaus port of Athens to Heraklion port.
More on flights and ferries below.
Car hire in Crete is a really good idea as it is a large island 60 km by 260 km. There is so much to explore.
When you book with our car rental partners - Rental Centre Crete - you are supporting a local company with excellent service and an easy online booking procedure. We are sure you will be well looked after by the team. Choose from hybrid or non-hybrid vehicles.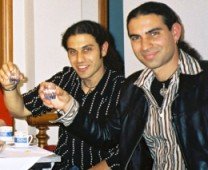 "We trust you have enjoyed these tips from the team at We Love Crete. Evíva!"
Contact us with further questions or feedback. We love to hear about your travels in Kríti and Greece. Let us know of any updates or additions, errors or omissions. Help us make this website the best it can be. Kaló Taxidí!

---
Plaka Lasithi Eastern Crete