Agios Nikolaos Crete Greece Hotels

This page may contain affiliate links, see our disclaimer here.

---

Agios Nikolaos Crete Greece Hotels - here are our tips - here we suggest some good hotels in the centre of town for every budget.
Agios Nikolaos Άγιος Νικόλαος offers some of the best accommodation in Crete; in the centre of town, along its many beaches and in the luxury resorts of nearby Elounda. In such a cosmopolitan location, we have chosen small practical hotels by the beach and in the town centre.
Enjoy the highlights of Agios Nikolaos here in our video.


---
Agios Nikolaos Crete Greece
Hotels On Kitroplateia Town Beach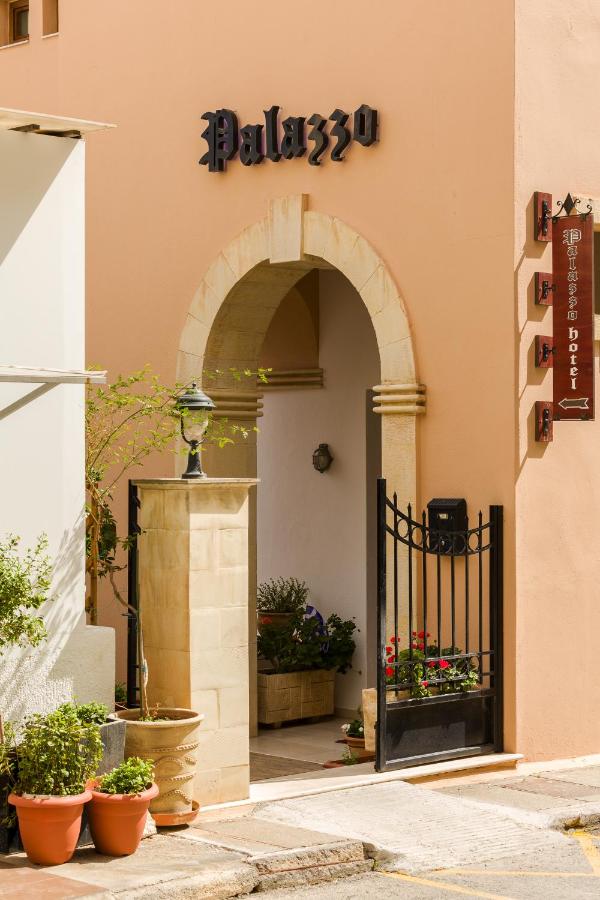 Palazzo Archontiko Apartments are a stone's throw from the waters of the Mediterranean, whilst still very central in the picturesque town of Agios Nikolaos. Perched above the blue flag beach of Kitroplateia these renovated luxury apartments are decorated in classical Greek style.
With views across Mirabello Bay to the Sitia mountains, this is a very convenient and uplifting location. With full self-catering facilities and family service, this is a good choice for exploring beautiful eastern Crete.


Also on Kitroplateia Beach, is the small family run Sgouros Hotel. So central to town, yet on a beautiful beach overlooking the stunning blue of Mirabello Bay, this is a terrific location. There are tavernas at the doorstep serving fresh seafood, and world class shopping within strolling distance. 

---
Agios Nikolaos Crete Greece
Hotels on the Lake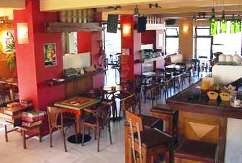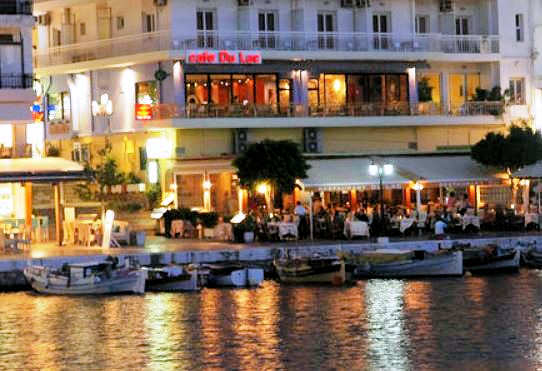 Hotel du Lac - this is a modest hotel with a terrific bar café and internet lounge right on the main shopping street, and so close to from all city attractions; the lake and its outdoor café precinct, the harbour with its tavernas and bars, and the port with both day cruisers and large inter-island ferries.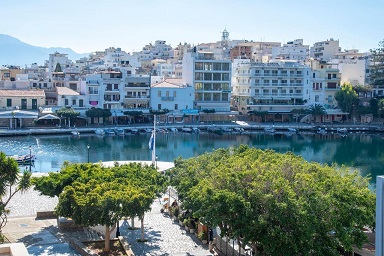 The Dreamhouse By The Lake is another great spot to choose as your central location in Agios Nikolaos.
This modern, stylish two bedroom apartment looks over the lake with fine views from its elevated balcony.
Accommodating six guests in comfort, this is a great place to gather the family in eastern Crete. Step out your door to the shores of Lake Volismeni and the many cafes in the sunshine.
---
Agios Nikolaos Crete Greece
Hotels by the Harbour


Overlooking the harbour on Sarolidou street is the blue and white Pergola Hotel run by several generations of the one family. This is not a luxurious accommodation, yet the location and the service make it a real treat for budget conscious travellers. The pick up from the bus station is a great help too. Remember to ask for a room with a sea view. This hotel is very handy to the port if you are taking an inter-island ferry, and very convenient accommodation in Crete.

The Porto Maltese Boutique Estate is also handy to the harbour.
This stunning home is now a boutique hotel with only 18 rooms. Emerging from the great inspiration of the famous architect George Theodosopoulos, a shining example of Italian urban architecture, one of the oldest mansions in Agios Nikolaos. Previously the home of one of the most important contemporary Greek filmmakers, Nickos Koundouros.
Views across the bay, to the little bridge and to Lake Voulismeni are only the beginning of the charm of this home away from home.

---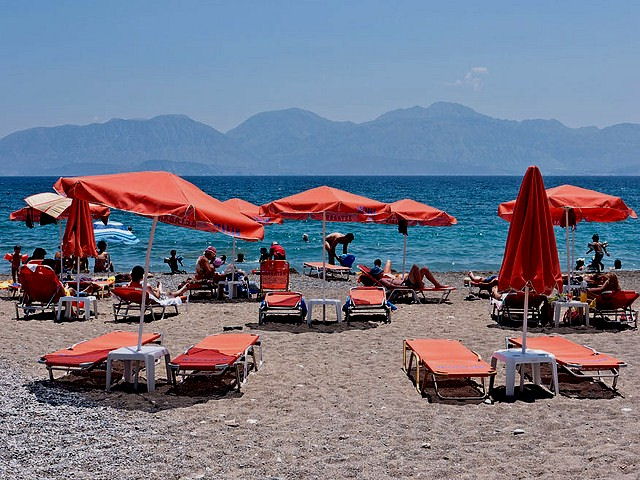 Town Beach - Kitroplateia Beach overlooking Mirabello Bay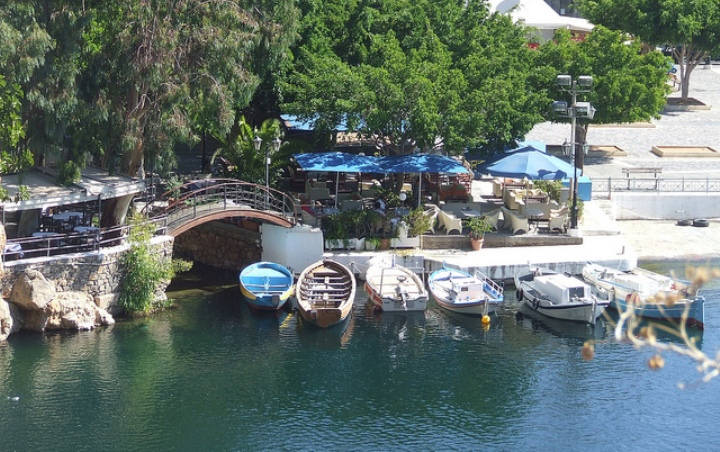 Lake Voulismeni in Agios Nikolaos, Crete
---
Agios Nikolaos
Hotels at Nearby Beaches
Agios Nikolaos is surrounded by beaches to the north and south-east, including Ammoudi Beach, Havianas Beach, Elounda Beaches, Plaka Beaches to the north and Almyros, Voulisma, Istron and Pachia Ammos Beaches to the south-east. Here are great beaches to stay at within a short distance to the capital by bus or car.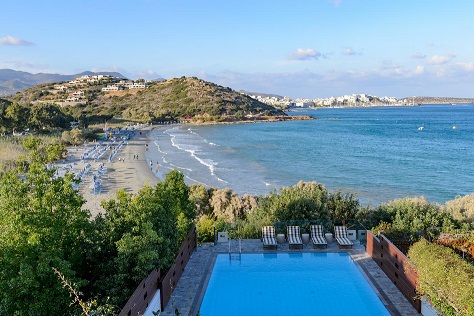 Enjoy complete beachfront and views from this comfortable home which welcomes 7 guests in comfort. Only 3.1 km from Agios Nikolaos, just step from your pool down through your garden to Almyros Beach.
The Agios Nikolaos Beach Villa you will be hosted by the Karasanakis family who will look after you. Enjoy one of the prettiest beaches near the capital and the natural stream which trickles across the sand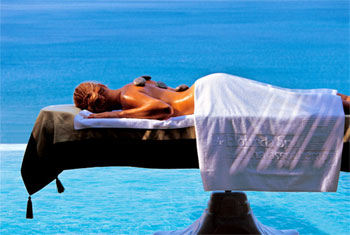 The Blue Palace Resort and Spa allows you to experience the very best that Crete has to offer just 15 km north of Agios Nikolaos.
Five stylish restaurants and two bars ensure that guests are nurtured and treated to the very best Greek and Cretan cuisine, based on the island's fresh, healthy produce.
---
See Agios Nikolaos
Agios Nikolaos Crete Greece Hotels - while you are in Agios Nikolaos explore:
Lake Voulismeni

boutiques and studios
Folk Art Museum

Boat Harbour
artesanal workshops
art galleries
museums
Kitroplateia Beach, the Horn of Amalthea and the Marina

Archaeological Museum of Agios Nikolaos

Sea and lakeside restaurants, cafes and tavernas galore
Sailing, water sports and boating on Mirabello Bay
---
Exploring Eastern Crete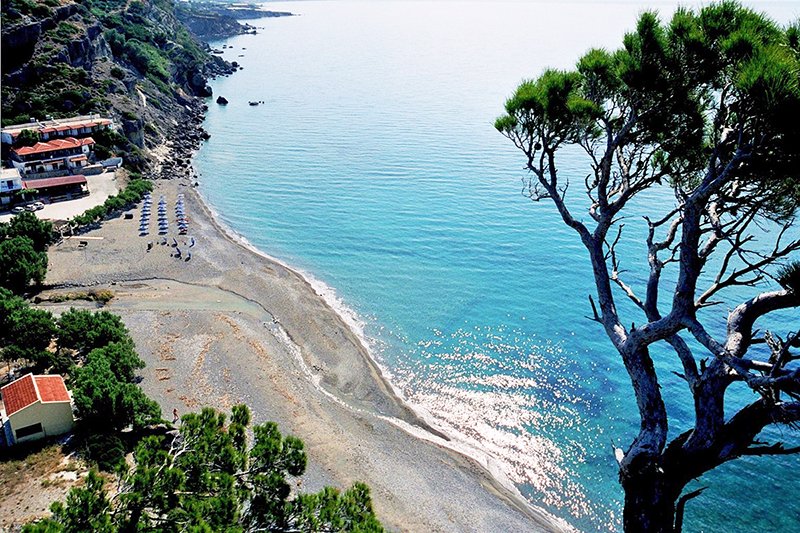 Agios Nikolaos Crete Greece Hotels - around this region you will find many places to visit in the east of Crete. Take day trips to discover this mountainous terrain with superb beaches. This part of Crete tends to be quieter than the west and not yet discovered by so many travellers. More time to soak up the atmosphere and wide open spaces.

Kolokitha Island
Kolokitha Beach
Kritsa Gorge
Ancient Lato
Pachia Ammos Beach and Ha Gorge
Mochlos Beach and Richtis Gorge
---
Agios Nikolaos Crete Greece Hotels
On the Map
---
Getting Here
To get to Agios Nikolaos, take a flight or ferry from Athens to Heraklion Aiport (HER) and take a hire car or local bus 64 km east to Lasithi and this beautiful town.
Flights from Athens are frequent and the trip duration is 1 hour. Ferries from Pireaus Harbour in Athens leave daily for Heraklion and the crossing take around 7-9 hours.
For local bus information see our dedicated page here.

Our mini trip books for this region of Crete - both trips starting in Heraklion:

See flight, ferry and hire car information below.
---
Car hire in Crete is a really good idea as it is a large island 60 km by 260 km. There is so much to explore.
When you book with our car rental partners - Rental Centre Crete - you are supporting a local company with excellent service and an easy online booking procedure. We are sure you will be well looked after by the team. Choose from hybrid or non-hybrid vehicles.
---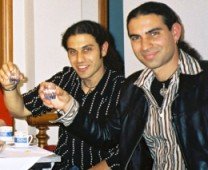 "We trust you have enjoyed these tips from the team at We Love Crete. Evíva!"
Contact us with further questions or feedback. We love to hear about your travels in Kríti and Greece. Let us know of any updates or additions, errors or omissions. Help us make this website the best it can be. Kaló Taxidí!

---
Agios Nikolaos Crete Greece Hotels