Kitroplateia Beach
This page may contain affiliate links, see our disclaimer here.

---
Agios Nikolaos Town Beach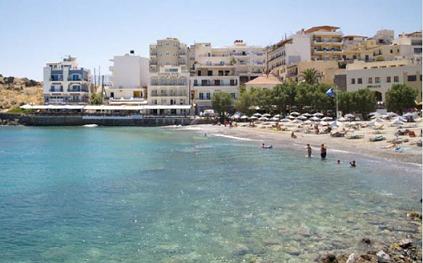 One of the town beaches of Agios Nikolaos, this is lovely Kitroplateia Beach.
We love this beach for its view, and because it is really close to town. This beach is around from the main harbour and before the marina. Just keep walking to the east from the harbour and you can't miss it.
After wandering around Agios Nikolaos and taking in a morning's sightseeing, gazing over Lake Voulismeni, it is lovely to come to this clean, sandy beach and relax.
Swimming is good and there are chairs and showers. This beach has Blue Flag status, as do all of Agios Nikolaos's municipal beaches, which means it is clean, environmentally responsible and has good facilities.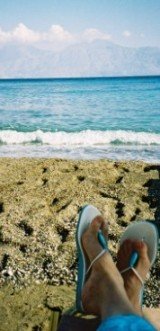 We love lying on this beach gazing across the Mirabello Bay to the Sitia mountains, which take on different colours at different times of the day, and snoozing the afternoon away. What more could a hard working travelling beachgoer want?
'Ofou To Lo' and 'Maistrali' are traditional tavernas serving mezedes nearby.
Mezedes to enjoy here are tiri saganaki which is fried cheese, or roasted peppers, courgette crisps, calamari, tsatsiki, dolmades which are stuffed vine leaves or fried whitebait.
Ask for the fresh seafood of the day to enjoy by the waterside.

The local marina, run by the municipality, a modern full-service marina with 255 berths, is just around the corner.
See you in the water!
---
Explore Agios Nikolaos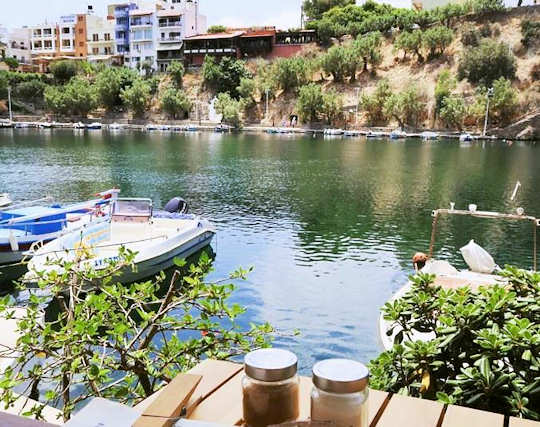 The charming town of Agios Nikolaos Άγιος Νικόλαος is 70 km east of Heraklion on the north coast, and is the capital of Lasithi region in Crete, Greece.
Here you can

Enjoy the large harbour and bay

Stroll around Lake Voulismeni (above)
Enjoy the shopping streets and atmosphere

Relax at waterside cafes and restaurants

Visit a Cretan Olive Oil Farm
Stroll from town to Kitroplateia Beach with views across the bay and the statues of Europa and the Horn of Amalthea
Enjoy many more day tours to villages, wineries or historic sites in Lasithi

---
Accommodation
Kitroplateia Beach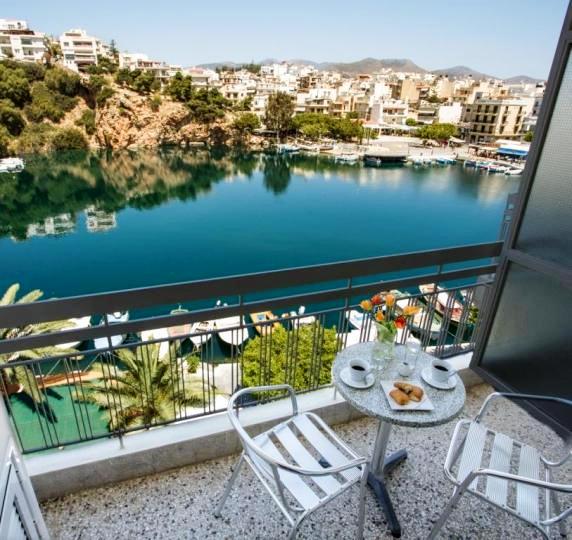 Hotel du Lac - this is a modest hotel with a terrific bar café and lounge right on the main shopping street, and so close to from all city attractions; the lake and its outdoor café precinct, the harbour with its tavernas and bars, and the port with both day cruisers and large inter-island ferries.This hotel is a short walk through town or around the bay to Kitroplateia Beach. A great location, central in the town, from which to explore Lasithi.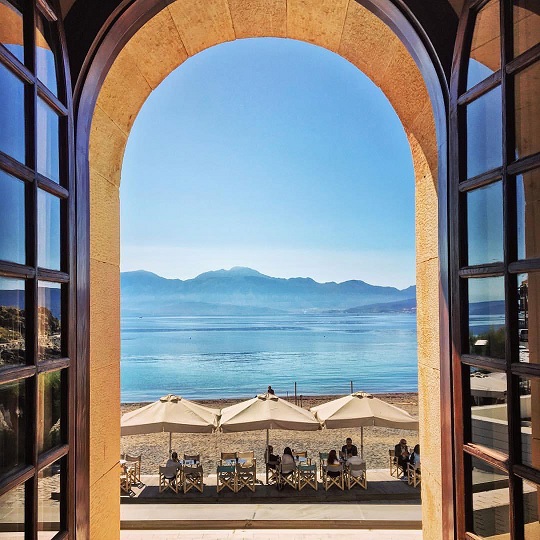 The Palazzo Arhontiko Apartments overlook Kitroplateia Beach and the bay, and there are lots of shops and cafés here too. These modern, beautifully decorated apartments are fully equipped for self-catering and make a good base for exploring eastern Crete. The Palazzo cafe is at your doorstep. Ask for a sea view suite. 
So convenient, have a dip before breakfast then get on your way to explore Agios Nikolaos and Lasithi.

Right on this beach is the small family-run Kitro Beach Hotel which is good value for money for the wonderful seaside location.  With free parking and friendly, personalised service. A really handy location for exploring the town. This hotel is open from May to October and has 28 rooms. Choose from a double room or a suite. Ask for a beach view room, enjoy restaurants, cafes and tavernas at your doorstep. Previously called the Sgouros Hotel.
The Dreamhouse By The Lake is another great spot to choose as your central location in Agios Nikolaos.
This modern, stylish two bedroom apartment looks over the lake with fine views from its elevated balcony.
Accommodating six guests in comfort, this is a great place to gather the family in eastern Crete. Step out your door to the shores of Lake Voulismeni and the many cafes in the sunshine. This accommodation is a short stroll to Kitroplateia Beach.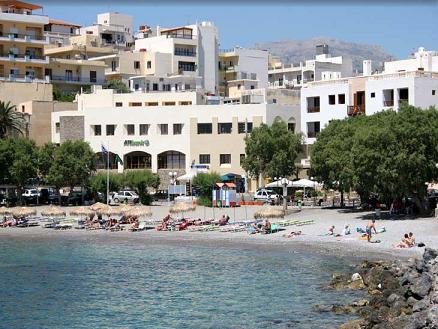 ---
Around the Region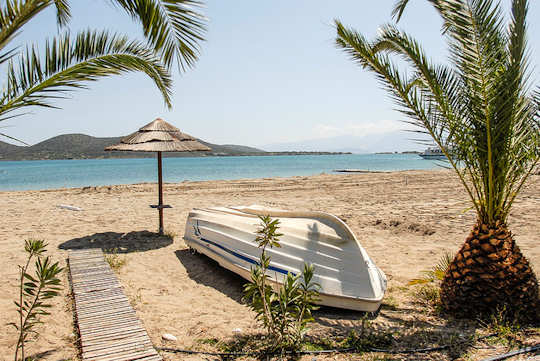 In this region, explore the mountains and beaches including
the Dikti Mountains with caves
Kritsa village has a revolutionary history
The island of Spinalonga  is famous or infamous for its unique history as a leper colony, as well as its beautiful Venetian fortress
Snorkel nearby to see the ancient town of Olous
Enjoy a day sailing on Mirabello Bay
Visit the dramatic Ha Gorge

Further east in the region of Lasithi

---
Spinalonga & BBQ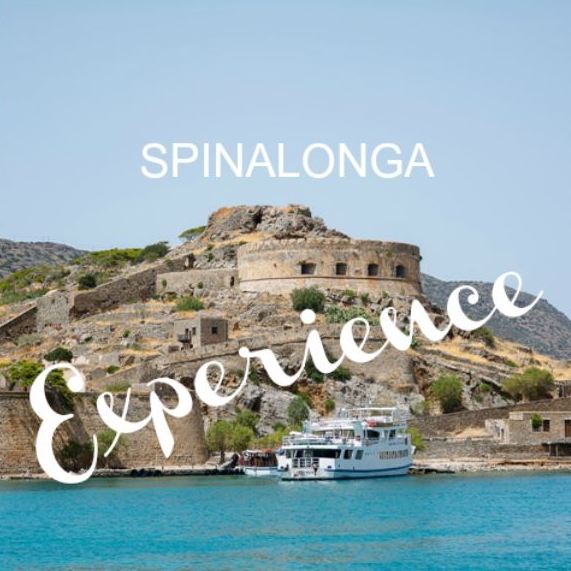 Visit the Island of Spinalonga by boat from Agios Nikolaos, with departures also from Elounda. Enjoy a swim and a BBQ as well as an interpretative visit to this island full of stories. This is a 12 hour full day experience.
---
On the Map
See the location of this beach in Crete on the map below.
---
Getting Here

Take a 1 hour flight from Athens to Heraklion with Aegean Airlines or Olympic Air, with many flights available per day.
Or take a 9.5 hour overnight ferry from Pireaus port of Athens to Heraklion port.
More on flights and ferries below.
This beach is 70 km from Heraklion, the capital of Crete, also the home of Heraklion Airport.
This beach is 142 km from Rethymnon town, along the northern national road.
Chania town is 200 km from this beach, also home to Chania airport. 
Car hire in Crete is a really good idea as it is a large island 60 km by 260 km. There is so much to explore.
When you book with our car rental partners - Rental Centre Crete - you are supporting a local company with excellent service and an easy online booking procedure. We are sure you will be well looked after by the team. Choose from hybrid or non-hybrid vehicles.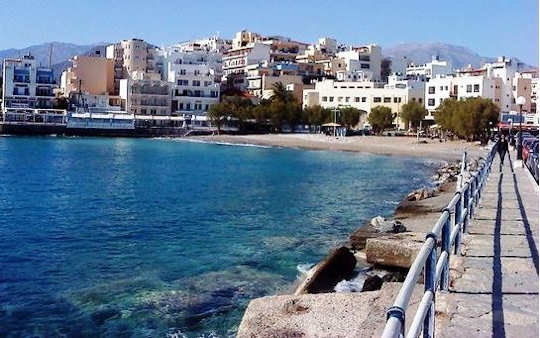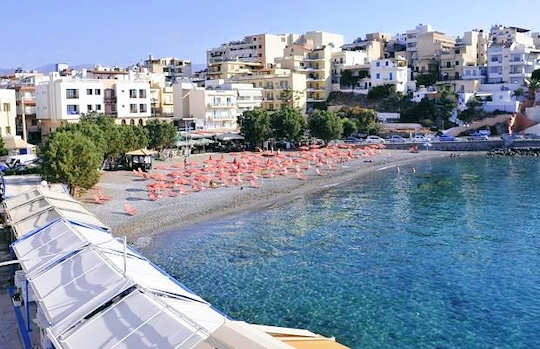 Kitroplateia Beach, Agios Nikolaos, Crete