KTEL
This page may contain affiliate links, see our disclaimer here.

---
Crete Transport – Local Bus
KTEL - Crete Travel

Many of our readers are interested in independent travel and ask us about the buses and timetables.

The local and regional bus services in Crete are run by regional collectives known as Kino Tamio Eispraxeon Leoforon or KTEL.
What this boils down to is that many of the coaches you climb on board as you explore the large island of Crete are owned by the driver and his family.
We have always found that this creates a real pride of ownership and excellent service from Cretan coaches. Of course match family pride with Cretan pride and you get superior results!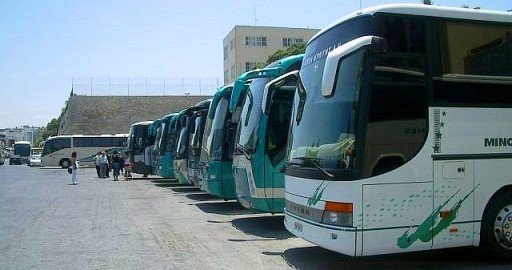 Regional buses at 'Chanioporta' - Bus Station B in Heraklion
Seriously, the bus services are great. Reliable and more or less on time. Safe. They make getting around in Crete so easy. It is almost one hundred percent predictable that you will get to listen to Cretan music Kritiki musiki, on the loudspeakers for the duration of your trip. This makes everyone happy and certainly adds to the memorable trip!
Timetables vary between quiet and busy season, so check your route and timetable at the Cretan Bus service, see the link to bus timetables below. There are luggage compartments underneath the buses, the driver will put your luggage on and off for you. There are luggage storage options at each city bus station.
The KTEL buses pictured above are the comfortable air-conditioned coaches, used for regional bus lines in Crete.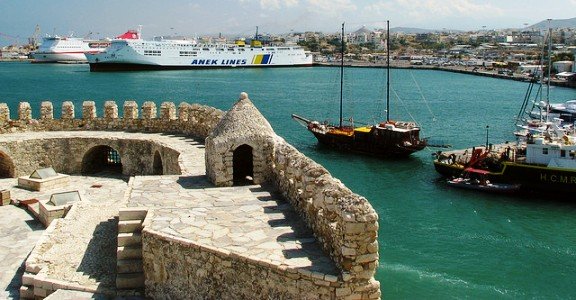 Heraklion Bus Station A is close to the Port and the Old Port (with fortress in foreground)
---
Heraklion Bus Stations...
The regional bus stations for Ktel in Heraklion serve different parts of the island:
Bus Station A is near the port (above) and serves destinations along the north coast of Crete including west to Rethymnon and Chania, and east to Agios Nikolaos in Lassithi.
Bus Station B is near Chanioporta in town, buses leave from here for destinations to the south in Heraklion prefecture such as Zaros, Mires and Matala and towns in between. From here buses leave for Anogia, Gortys and Festos.
To get from one bus station to another is quite a walk, through the centre of Heraklion. If you have plenty of time it would be OK and give you a good look at the town...however if you are in a hurry or have luggage or a bus to catch, we suggest you take a taxi which should be about 2-3 Euros.
See the location of Bus Station A and B in Heraklion on this map:

Bus Station A - Heraklion - is near the port
---
KTEL Timetables
K.T.E.L. stands for Κοινά Ταμεία Εισπράξεων Λεωφορείων or 'Bus Common Income Funds' as these are all regional collectives. Make sure to check the timetables because schedules are seasonal. If in doubt, email the bus company or phone them, they all speak English and have good customer service.
---
Heraklion City Bus
| | |
| --- | --- |
| | Heraklion City Buses - The local buses are cheap and good too, they can take you around the city and to Knossos archaeological site, which is only 5 km from the centre of the city. |
To get these buses you must buy a ticket first, get this from one of the small kiosks. Bus Line 2 goes to Knossos, we suggest you take it from the stop on Plateia Eleftherias near the Astoria Hotel.

The bus you see pictured to the left is a Heraklion city bus. You can take a city bus from the Airport into the town, just buy a ticket at a kiosk first. The prices are between €1.10 and €1.50
astiko-irakleiou.gr
---
Chania City Bus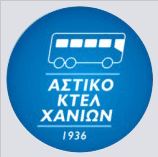 Chania City Buses - These services run all around the city of Chania and along the coast to the west of the city to Platanias, Agia Marina and Maleme. Take the bus from 1866 Square in the centre of Chania town. This is an urban bus service only. Tickets from € 1.10 - €2.00, you can pay on the bus.
chaniabus.gr
---
West of Crete by Bus
West of Crete by Bus with these handy tips making it easier to enjoy your independence and keep your budget low.
See Knossos, Heraklion, Rethymnon and the historic Arkadi Monastery. Visit the long wide beach of Georgioupolis and the narrow laneways of Chania Old Town, then decide with our guidance how you want to visit the south coast of Chania and see the remote beaches, including Elafonisi Beach and protected natural zone.
Links to bus information, tips on buses in Crete, all you need to get on your way tomorrow for your unforgettable holidays on Crete...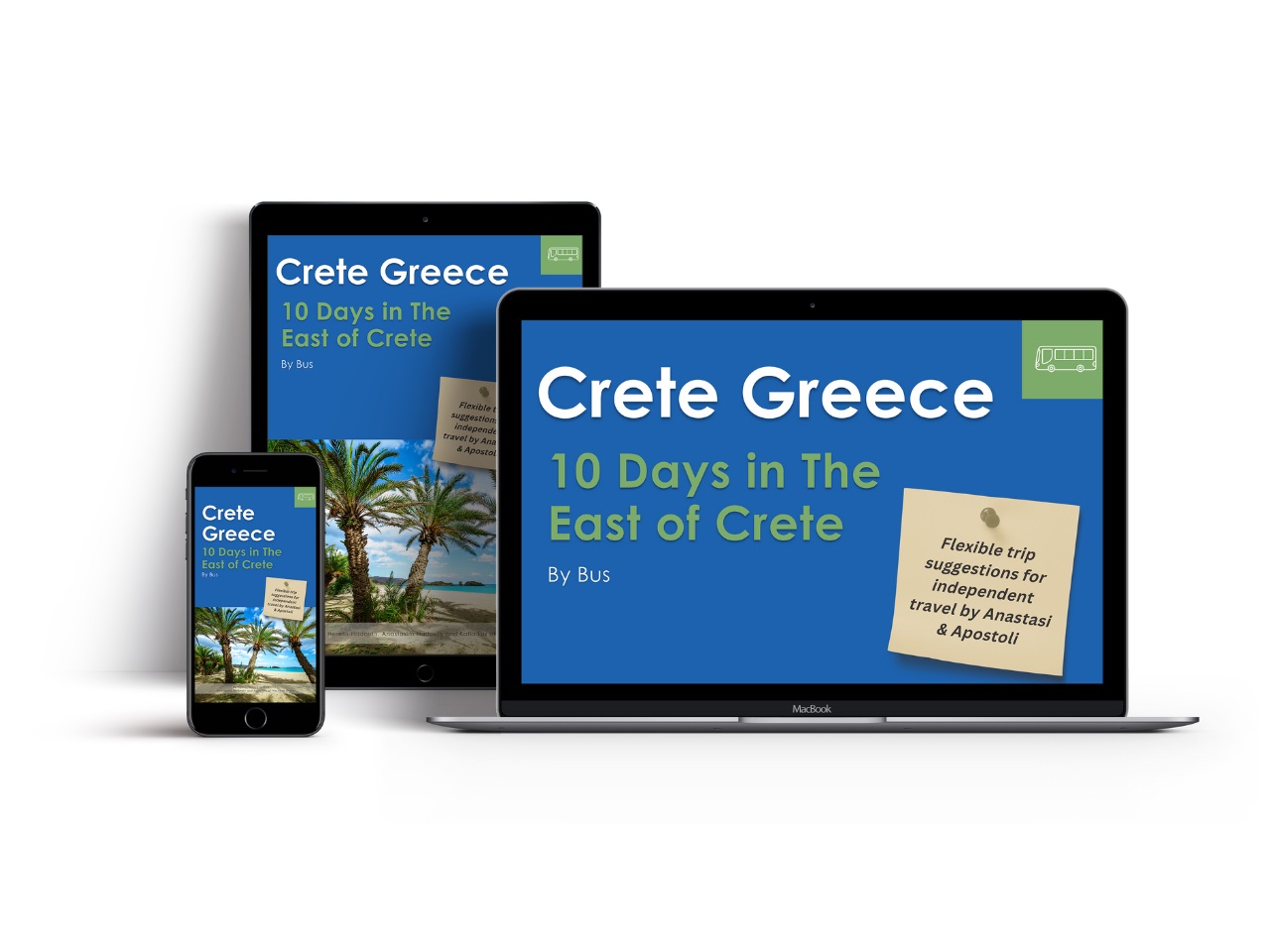 East Crete by Bus

This wonderful guide to the east of the island visits the following destinations:

•    Knossos
•    Agios Nikolaos
•    Elounda
•    Spinalonga Island
•    Sitia
•    Vai Beach and Palm Forest
•    Palekastro
•    Zakros Gorge
•    Kato Zakros
•    Makrigialos
•    Ierapetra
•    Chrissi Island
---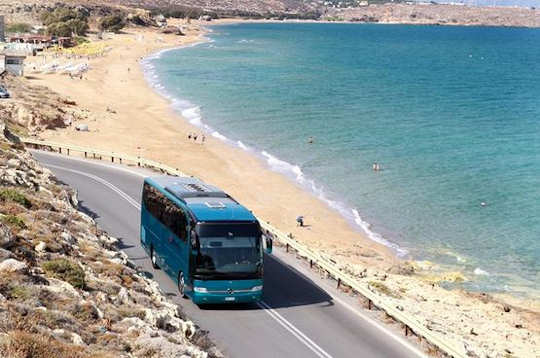 Ktel buses on Crete are very modern and comfortable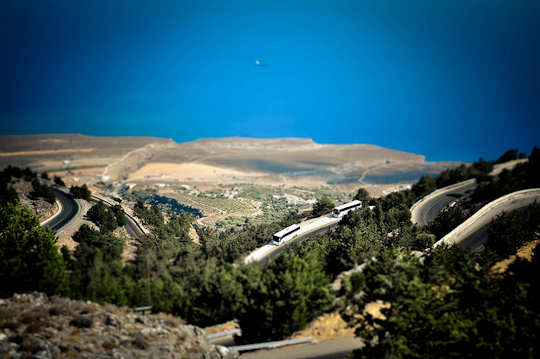 Buses connect Chania to Chora Sfakion on the south coast of Crete
Kalo Taxidi!
---