Hotels in Elounda
Style in Crete

This page may contain affiliate links, see our disclaimer here.

---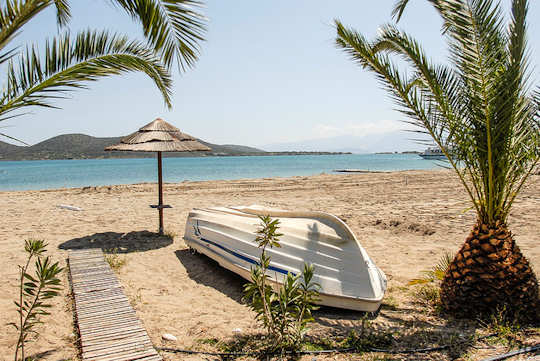 Hotels in Elounda - in the north-east of Crete, Greece sits a beautiful bay surrounded by rocky peninsulas. The azure waters and hundreds of sunny days make this a perfect destination for a beach holiday.

Due to the sheer physical beauty of the location, many luxury resorts have sprung up, and the little sleepy village of Elounda has become one of the most cosmopolitan in Crete.

Just 70 km from the major Crete airport at Heraklion, this location can be reached in one and a half hours.
Located 11 km to the south is the region's capital, Agios Nikoloas, which is a vibrant and exciting town with galleries, great shopping and plenty of beauty of its own. Sitting overlooking the wide expanse of Mirabello Bay, its harbour and lakeside lend themselves to romantic tavernas and cafes, dotted by the shores.
To the north of Elounda is a small fishing village named Plaka, which is the departure point for many of the day trips to visit the island of Spinalonga. Now deserted, the island has an unusual history as a Venetian fortress and an isolation community for sufferers of leprosy, which continued as late as 1957. Nowadays the island welcomes day visitors interested in this unusual settlement and its story.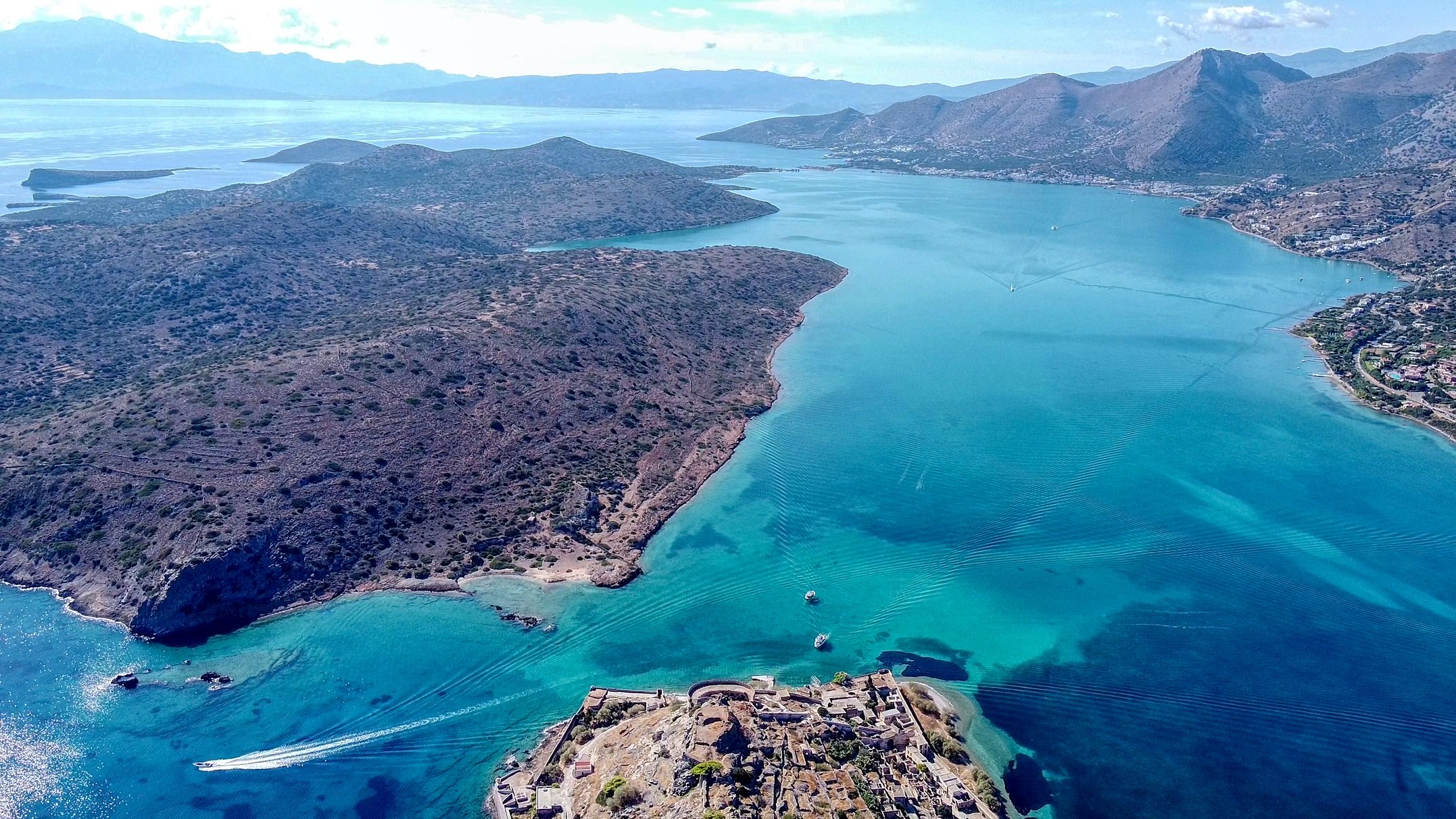 Elounda Bay with Spinalonga Island
---
Luxury Accommodation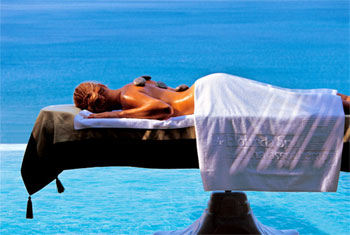 With numerous dining options and a spa offering the very latest in beauty and relaxation indulgences, this is a place to relax and then relax again.
Thalassa meaning 'sea' in Greek, combined with 'therapia' for therapy, is a traditional therapy that became an alternative therapy, which is now becoming a welcome accepted therapy for stress reduction and wellbeing.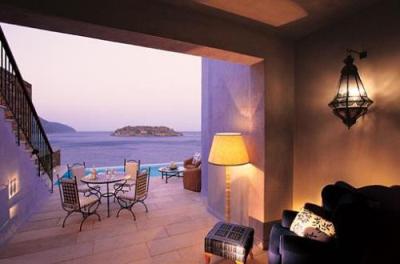 Sea Therapy includes salt water and the natural elements such as seaweed, thermal clay and plankton. Soothing mud wraps, stone therapies and a wide variety of face and body masks are offered, for complete rejuvenation of body mind and spirit. This spa ensures this is one of the best hotels in Elounda.


---
Relaxing Accommodation

The Elounda Palm Hotel & Suites is a small hotel offering standard rooms, family rooms, suites and villas. The lush tropical gardens with large palms and salt-water swimming pool create a relaxing atmosphere.
Set a little back from the beach, with easy access to both Elounda Beach and surrounding beaches, the location offers lovely views over Elounda Bay to the mountains and peninsulas.
The elegant, simple architectural and decorative features of the hotel create a minimalist, stylish atmosphere. Elounda Palm is truly a distinctly unique hospitality experience, in one of the finest cosmopolitan villages of Crete.
In-room massage services are available, with soft and soothing pampering your visit will be complete.
Local highlights include daily guided tours to the Island of Spinalonga to see the Venetian ruins and hear the eerie stories of the island some say is haunted, and historic guided tours to the under water ruins of Ancient Olous, dated from 3000 BC.
---
Hotels in Elounda
Villa Venus

Villa Venus - perched above the bay with magnificent views to the island of Spinalonga, this modern villa welcomes 4 guests in 2 bedrooms. Enjoy free parking and your own pool. Just 17 km from Agios Nikolaos and 6 km from Elounda.
Relax in tavernas and cafes just 600 metres from this villa in the charming hamlet of Plaka, which became famous in the novel 'The Island'.
---
Bayside Hotels In Elounda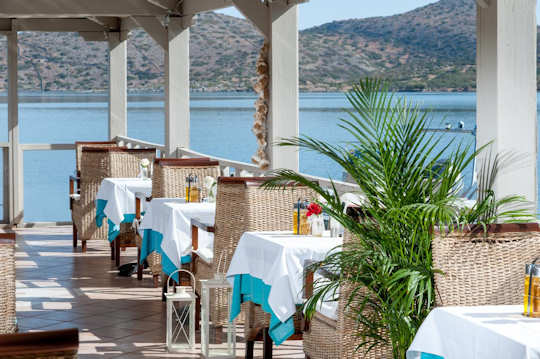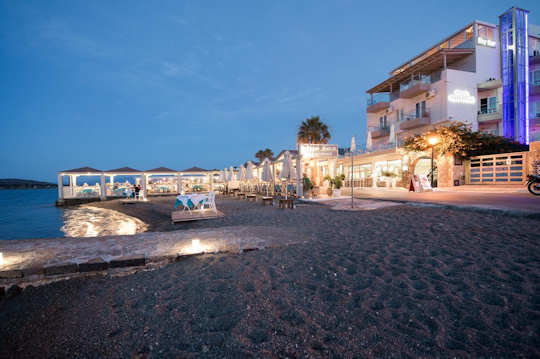 Elounda Akti Olous - is wonderfully close to the water of beautiful Elounda Bay. It is an affordable choice with a great location, being just 300 metres from Elounda Village. This hotel has a relaxed Mediterranean family atmosphere.
With its central location, private beach, rooftop pool and garden, this hotel is a wonderful choice to enjoy the beauty of Elounda with a reasonable price.
Named from the sunken ancient town of Olous which is nearby and provides great snorkelling in the protected bay, the Blue Sea a la carte restaurant, floating on the bay, provides fresh local seafood.
---
Hotels In Elounda
Elounda Sunrise Apartments are an affordable option in a great location. Right on the water's edge a few steps from sandy beaches, the apartments have a lovely pool and views over the bay.
Only a short stroll from the centre of Elounda village, the local restaurants and bars can be visited on foot. This accommodation is also only a short stroll from the isthmus joining the mainland and the Kolikithia Peninsula, very close to clear swimming bays and snorkelling spots, such as the sunken ancient Olous.
---
Find a Great Location in Elounda
We have partnered with Booking.com and our visitors love it! Find details, location and reviews for hotels in Elounda below on the easy search. We suggest keeping close to the water near Elounda, and not too close to Agios Nikolaos. Stay on Elounda Bay north of the isthmus which leads across to Kalydon Island. Try not too far inland, as it gets steep very quickly, as you leave the seaside. Book ahead for Elounda as it gets reserved quite early in the season.
Kalo Taxidi! Bon Voyage!

---
Getting Here
Take a 1 hour flight from Athens to Heraklion with Aegean Airlines or Olympic Air, with many flights available per day.
Or take a 9.5 hour overnight ferry from Pireaus port of Athens to Heraklion port.
More on flights and ferries below.
Car hire in Crete is a really good idea as it is a large island 60 km by 260 km. There is so much to explore.
When you book with our car rental partners - Rental Centre Crete - you are supporting a local company with excellent service and an easy online booking procedure. We are sure you will be well looked after by the team. Choose from hybrid or non-hybrid vehicles.
---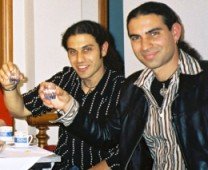 "We trust you have enjoyed these tips from the team at We Love Crete. Evíva!"
Contact us with further questions or feedback. We love to hear about your travels in Kríti and Greece. Let us know of any updates or additions, errors or omissions. Help us make this website the best it can be. Kaló Taxidí!

---