Flora of Crete
This page may contain affiliate links, see our disclaimer here.

---
Trees, Shrubs, Herbs and Wild Flowers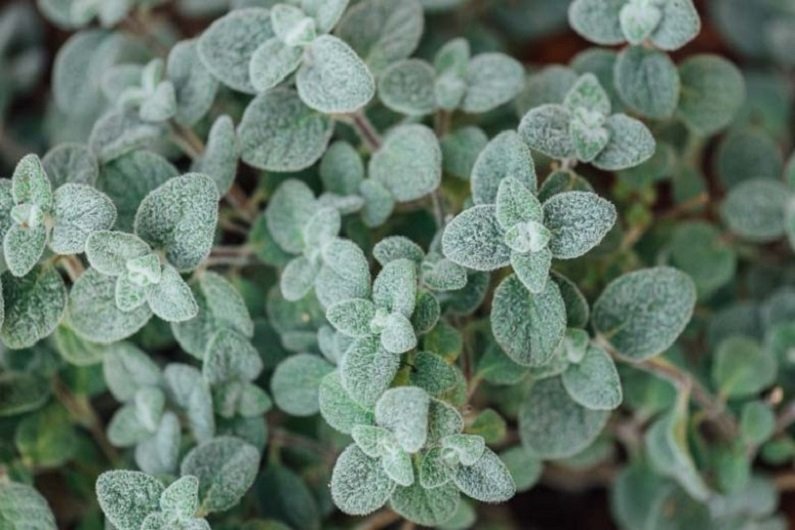 The flora of Crete is identified by botanists as Mediterranean forest, woodlands and scrub.
The low elevations have sclerophyllous evergreen and semi-deciduous oak forests. With species such as kermes oak, carob, juniper and tree-spurge.
The mid elevations have mesophyllous pine forests with Brutia Pines pinus brutia. Holly Oak quercus coccifera woodlands are widely spread.
The highest elevations such as the Lefka Ori and Psiloritis mountain ranges support cypress woodlands, where the local evergreen Maple acer sempervirens grows, and thorny cushion shrublands.
Four new species of plant were discovered on Crete between 2000-2004.
There are 55 unique ecotopes identified by the Natura 2000 program in Kriti. Of over 1600 species found on the island, around 160 are found nowhere else. The endemic plants are to be found high in the mountains and include a rare and endangered small tree named Cretan Zelkova.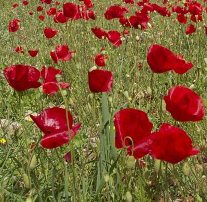 When we speak to our mother of her childhood memories of Crete, flowers in springtime are one of her fondest reminiscences. With snow on the mountains and very cold temperatures in winter, spring is truly a magical time of renewal and bursting energy in the nature of Kriti.
One of the most striking images is that of the glowing red poppies contrasting against the bursting green grasses, and the white limestone rocks of the hillsides.

Spring time brings visitors from all over the world to enjoy the flora of Crete.
The profusion of wild herbs of Crete have been gathered over centuries and used for teas, wellbeing and healing. The herb Dittany dictamo or in Cretan erondas is used for pain relief, especially of stomach aches and arthritis.

This herb has been known for centuries and was used by the Minoans and ancient Greeks. Hippocrates taught its therapeutic benefits and in modern times it is available in powder form and as an essential oil.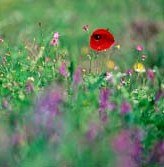 The hillsides of Kriti are fresh with lavender, rigani, thyme, sage and chamomile. Cretan mountain tea, an ironwort Sideritis syriaca is a very common drink in the village and may be proudly offered to visitors as tsai tou vounou.
Below we give just a taste of the abundant plants of Crete, with their photographs and species names to help the amateur botanists and lovers of nature to enjoy the discovery of the unique plants of Crete.


---
Trees and Scrub of Crete
Vai Palm  Phoenix Theofrasti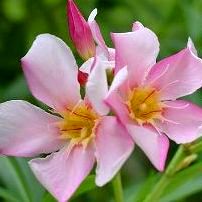 Oleander  Nerium oleander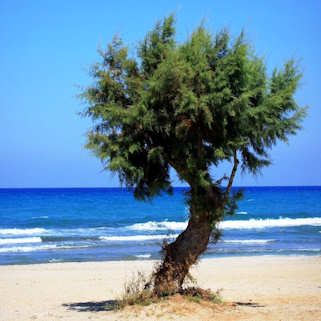 Tamarisk  Tamarix cretica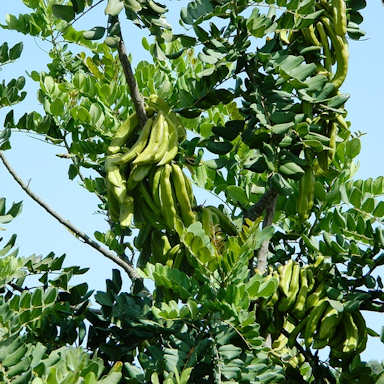 Carob Tree  Ceratonia siliqua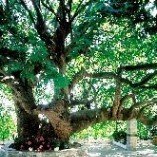 Plane Tree  Platanus orientalis

Maple Tree  Acer sempervirens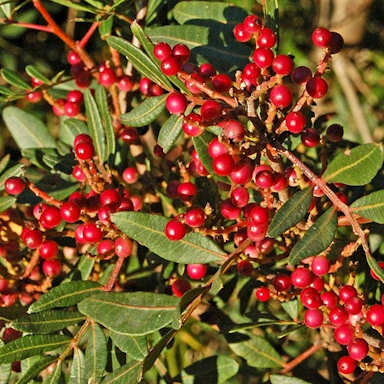 Mastica Bush  Pistacia lentiscus
---
Herbs of Crete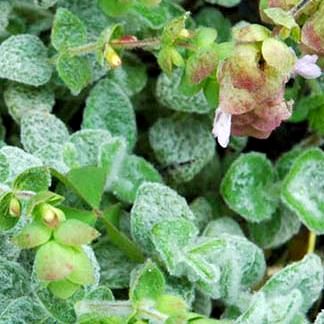 In Greek 'Dictamo'
in Cretan dialect 'Erondas'
in English 'Dittany of Crete'
Origanum dictamnus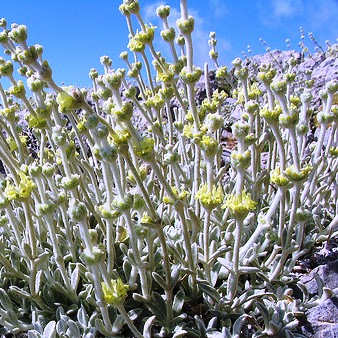 Cretan Mountain Tea
 Sideritis syriaca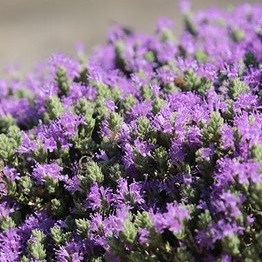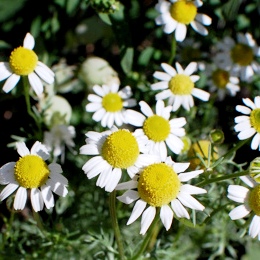 Chamomile  
Chamomilla recutita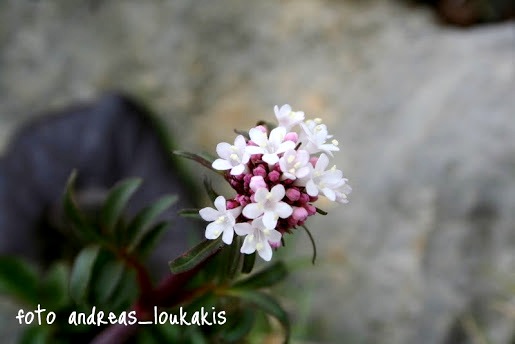 Valerian  Valerian officinalis
---
Flowering Flora of Crete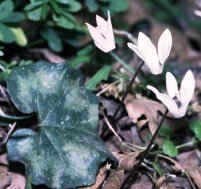 Cretan Cyclamen  
Cyclamen creticum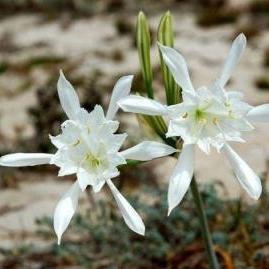 Lily of the Sea  
Pancratium maritimum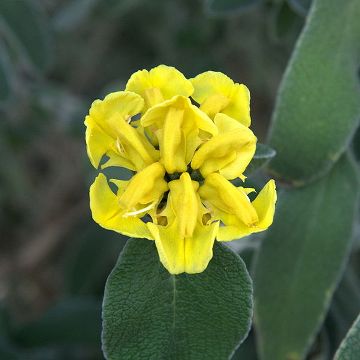 Jerusalem Sage  
Phlomis cretica

Here on this page and throughout our website we share some beautiful flora images from talented local photographer - Andreas Loukakis.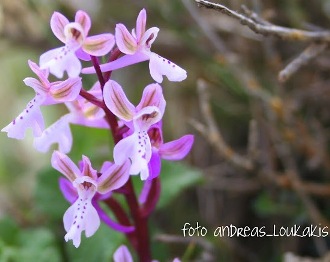 Sitia Orchid  'Ορχις της Σητείας  Orchis sitiaca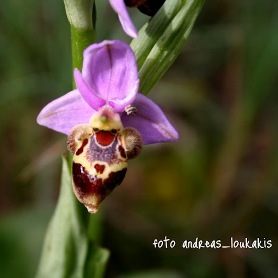 Cretan Bee Orchid Orchis heldreichii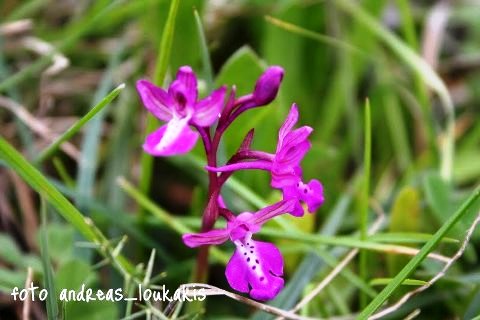 Anatolian Orchis  Όρχις o ανατολικός  Orchis anatolica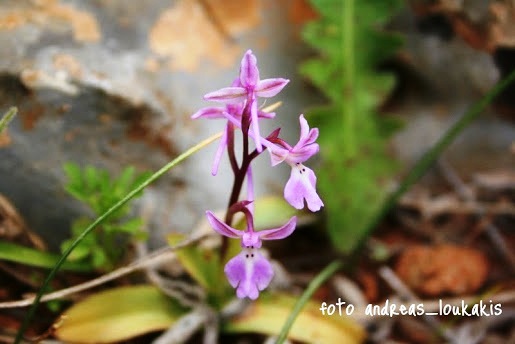 Four-spotted Orchis  Ορχιδέα η τετράστικτη  Orchis quadripunctata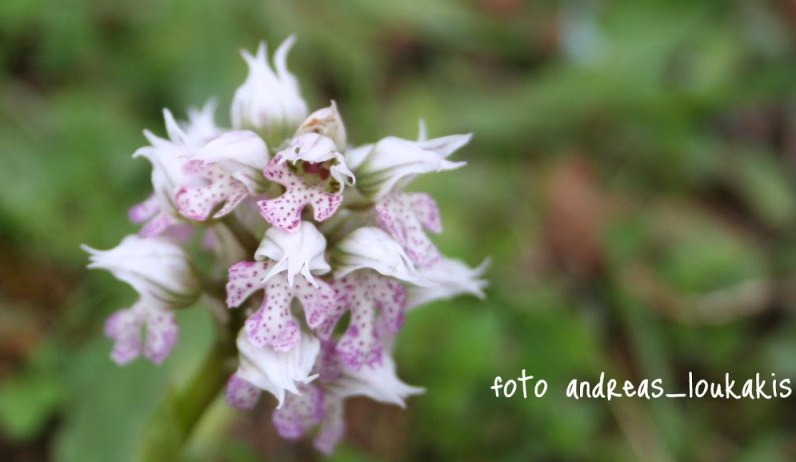 Three-toothed Orchis  Ορχιδέα η Τρίδοντη   Orchis tridentata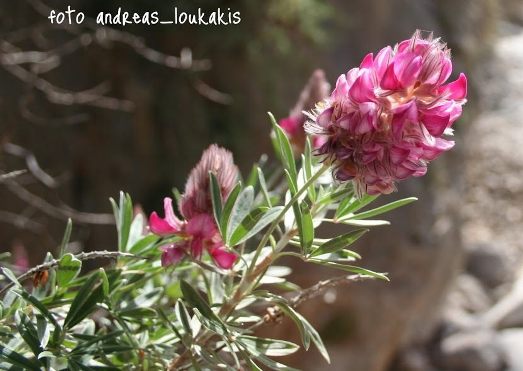 Cretan Ebony (Cretan Silver Bush, Shrubby Sainfoil)
Έβενος ο κρητικός  Edenus cretica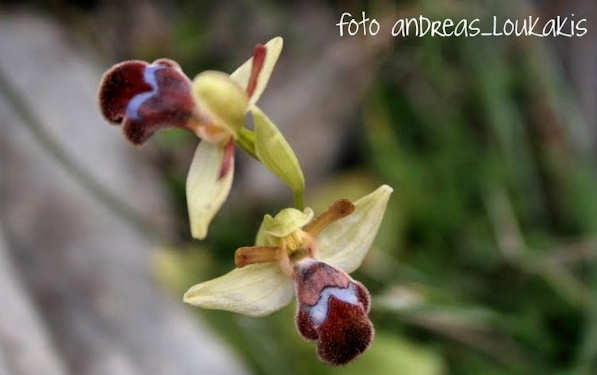 Omega Bee Orchid or Fleischman's Ophrys Ophrys omegaifera subsp. fleischmannii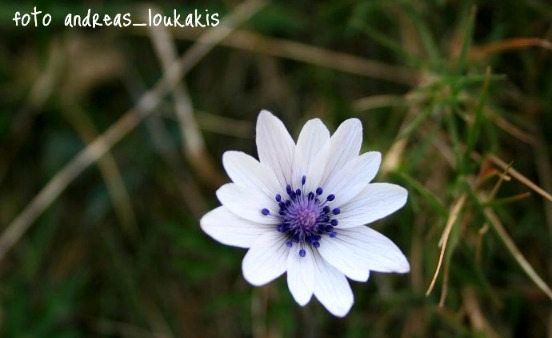 Broad Leaved Anemone  Ανεμώνη ή κηπαία   Anemone hortensis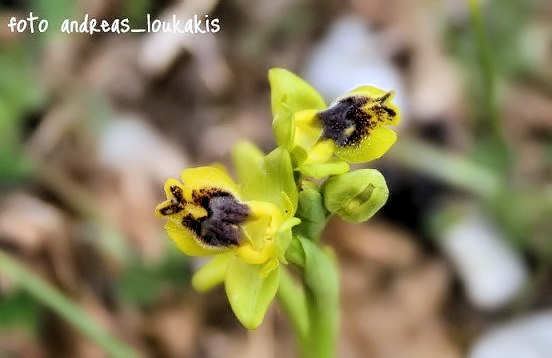 Phrygana Ophrys  Οφρύς των φρυγάνων  Ophrys phryganae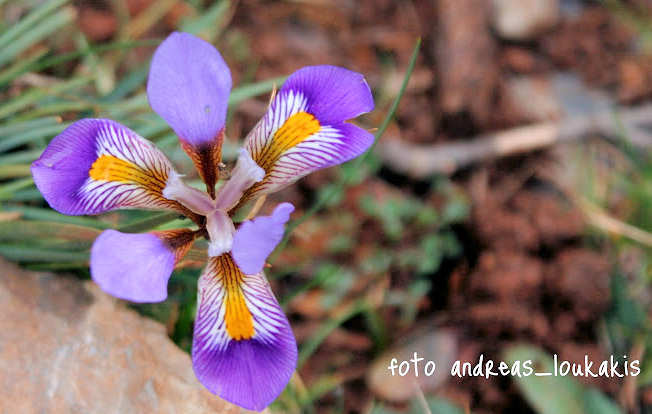 Cretan Iris  Κρητική Ίριδα  Iris cretensis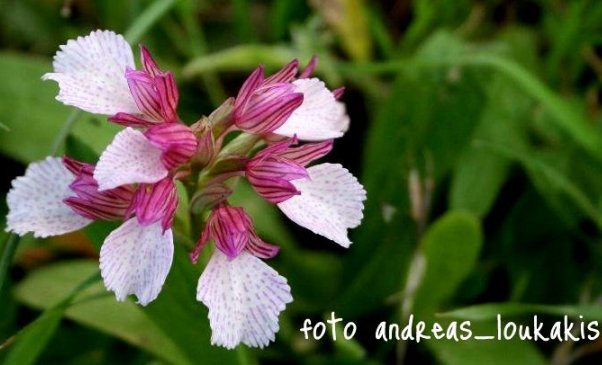 Pink Butterfly Orchid  Ορχιδέα η πεταλουδόμορφη  Orchis papilionacea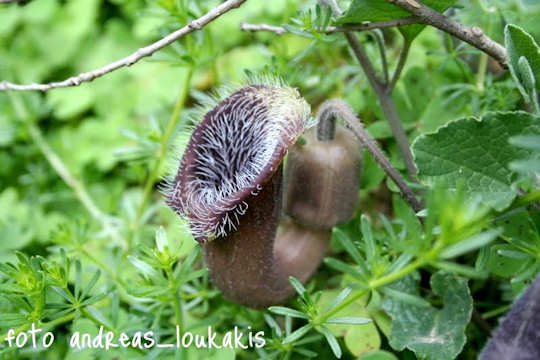 Cretan Birthwort  Aristolochia cretica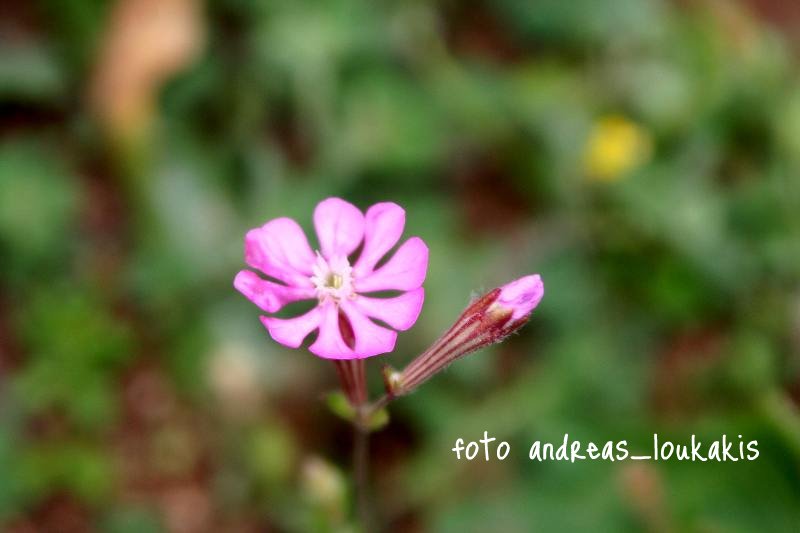 Flora of Crete - Cretan Catchfly - Silene cretica
Cretan Catchfly  Σιληνή ή κρητική  Silene cretica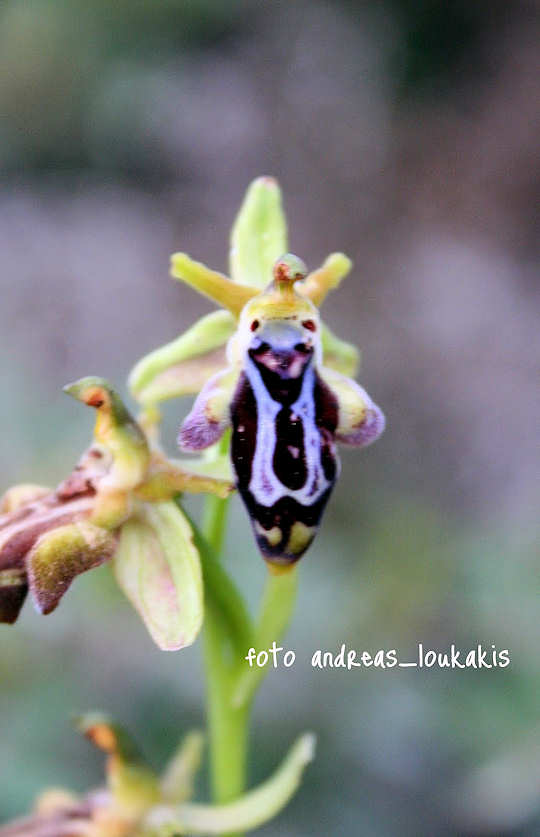 Orphrys cretica - Cretan Orphrys
Cretan Orphrys   Οφρύς η κρητική   Orphrys cretica



---
Accommodation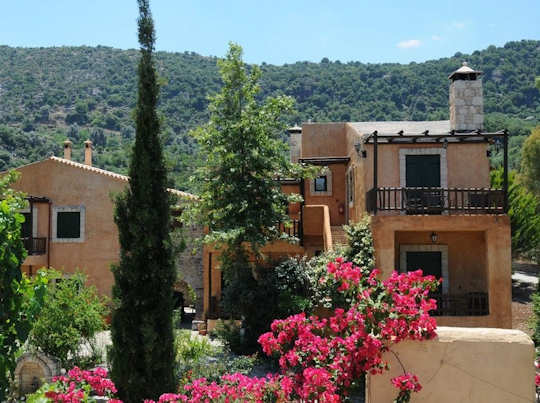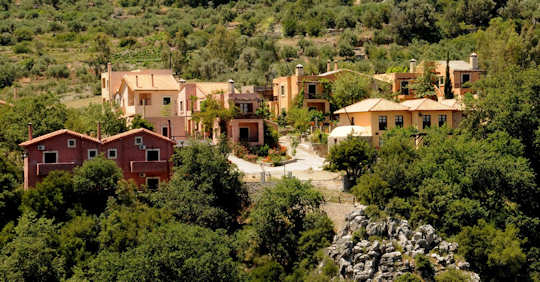 Enagron Eco Tourism Village - the Psilioritis range dominates the centre of the island and is the source for inspiration, strength and hardiness of the Cretan character. The mountains are the backbone of Crete and a visit will open your heart to the real Crete.
Giannis and Fani have created Enagron in the village of Axós, in Rethymnon prefecture near Mt Ida, also known as Psiloritis. The essence of nature surrounds them, in the silence of the mountains.
Located 48 km from Rethymnon town, the village has played a part in the history of the island and there are many walks in nature in the local area, to discover the flora of Crete.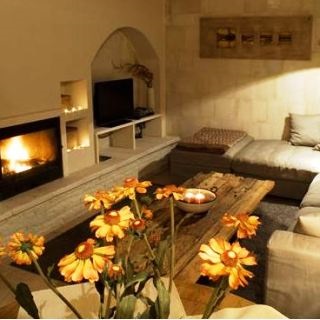 Sitting in the Dikti Mountains in the Selakano Forest, this quiet mountain retreat is perfect for getting close to nature in comfort.
The Pezoulia Mountain Cottages are built of traditional materials - it is as though they are hewn out of the mountain side itself. Rough stones and thick wood, thick walls and solid foundations. These impressive mountain dwellings are complete with the character of Crete.
These mountains and forest tracks are great for trekking, walking, climbing, bird watching and hikes to see the flora of Crete. The vegetation is a mix of  oaks, maples and plane trees, with the principal tree being pine pinus brutia. Set in the village of Selekano just 30 km from Ierapetra, Lasithi.
---
Getting Here

Flora of Crete - getting to see these flowers and plants in their native locations.

Flights leave Athens many times a day for Chania Airport and Heraklion Airport. The flight time is 1 hour.
How to choose your airport in Crete.
Ferries depart from Athens Pireaus port for Chania and Heraklion very day, the sailing duration is around 8-9 hours.
More details on flights and ferries are below.
It is a good idea to hire a car in Crete to see the local flora. Many of the back roads in the mountains are still unpaved and you will find many adventures on your quest for botanical wonders. The island is 60km x 260 km, so it is very much worth while hiring a car or a 4WD. Car hire details are below.

When you book with our car rental partners - Rental Centre Crete - you are supporting a local company with excellent service and an easy online booking procedure. We are sure you will be well looked after by Harry and his team. Choose from hybrid or non-hybrid vehicles.
---
Contact us with further questions or feedback. We love to hear about your travels in Kríti and Greece. Let us know of any updates or additions, errors or omissions. Help us make this website the best it can be. Kaló Taxidí!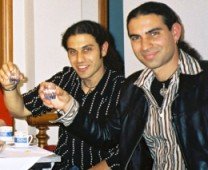 "We trust you have enjoyed these tips from the team at We Love Crete. Evíva!"
---
---