Lefka Ori - White Mountains
This page may contain affiliate links, see our disclaimer here.

---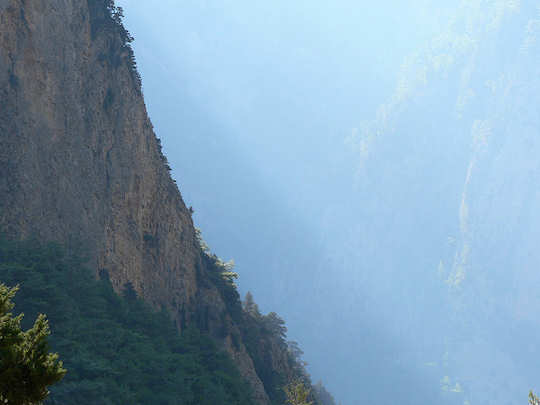 The Lefka Ori or White Mountains are in the Chania region in the west of the island of Crete in Greece.
The mountains form the beautiful backdrop from viewpoints and wherever you travel in the west of Crete.This is the backbone of western Crete and her character.

The longest gorge in Europe, Samaria Gorge is located here in a dedicated National Park. Other beautiful gorges include Agia Irini Gorge and Imbros Gorge.
The Omalos Plateau and village of Omalos form part of the mountain range. The highest peak is Pachnes which is 2,453m.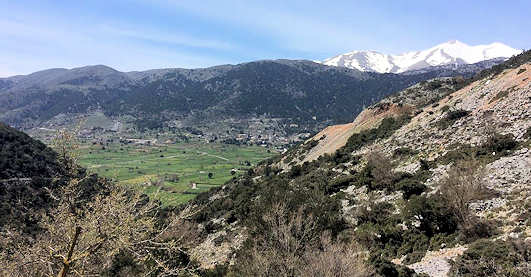 Another plateau to explore is the Askifou Plateau and the village of Askifou.There are plenty of hikes to take from here.
The mountains are snow-covered until spring, and their white limestone rocks give them a white appearance in summer, hence their name.
The E4 European walking path runs through the mountains. One very famous region of this area is called Sfakia. This region is known for its rugged terrain and its wild mountain men.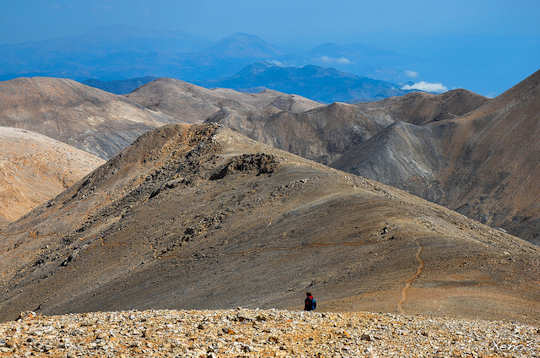 The terrain is rough, steep and rocky and it can seem like very little grows here. In fact it is known as a high desert, and is quite a rare environment.
There are some easy walks within the range. The walk to Pachnes is not difficult, and rewarded with wonderful views to the ocean and across the whole range.
Spring time is a different picture, the Cretan flowers come out to bloom and appear in the rock crevices. The mountains have many endemic species, some of which occur only here in the Lefka Ori.


WARNING: Please seek local advice and assistance. Winter time is serious in these mountains, experienced hikers and rock climbers only. Also beware in summer as there is no cover.

There are plenty of organised hikes and walks with botanists to enjoy learning about the beautiful flora.
There are four mountain huts for walkers dotted about the mountains.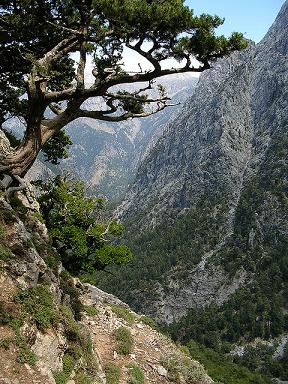 The unique flora and fauna of Crete is well represented in these inaccessible mountains.
This is reflected in the creation in 1962 of the National Park at Samaria and ongoing conservation efforts.
Birds including the Bearded Vulture, Griffon Vulture, Peregrine Falcon and Bonelli's Eagle are rare species that can be found in these mountains. Also known are the Chukar Partridge, Ruppell's Warbler and the Cough.
There is so much to explore about the beautiful White Mountains.
More about these mountains and gorges here on our pages: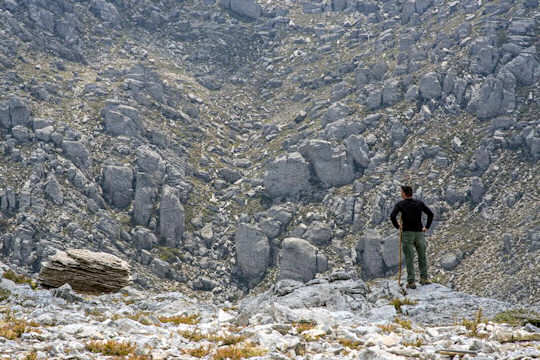 Dromolatis Mountain Guide
---
The E4 Walking Track in Crete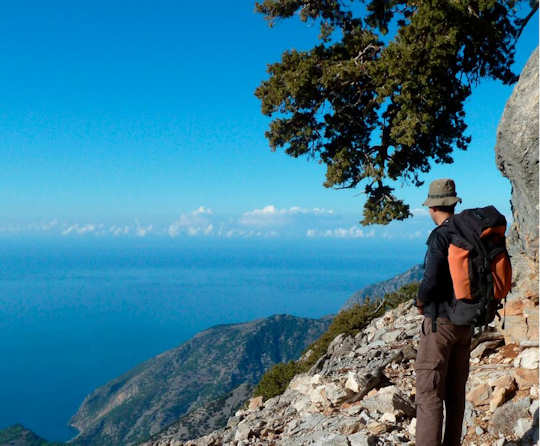 'The Cretan Way' guidebook by Luca Gianotti

The E4 Long Distance Path of Crete passes through these mountains. This hiking trail starts at Kastelli-Kissamos in the west of Chania and makes its way to the south-west of the island, passing along the southern coast at the foothills of the White Mountains, until it splits at Sougia and hikers can choose between an alpine route through the White Mountains and a coastal route via Agia Roumeli, Loutro and Chora Sfakion .
This walking path is known as The Cretan Way or Η στράτα της Κρήτης
and Luca Gianotti has created a wonderful guide with excellent maps here.
---
Accommodation
The following accommodation will allow you to explore the White Mountains - wake up in the peace and quiet of the high country.
Gianni's House is a cozy stone-built holiday home situated on Omalos Plateau, virtually in the middle of nowhere, surrounded by mountains. Just enjoy peace and quiet and hiking from here. 1 bedroom and 1 bathroom, traditional style with modern comforts. Ideal for nature lovers. It would be best to visit with a car as this house is 40 km from Chania town and 7 km from the entrance to Samaria.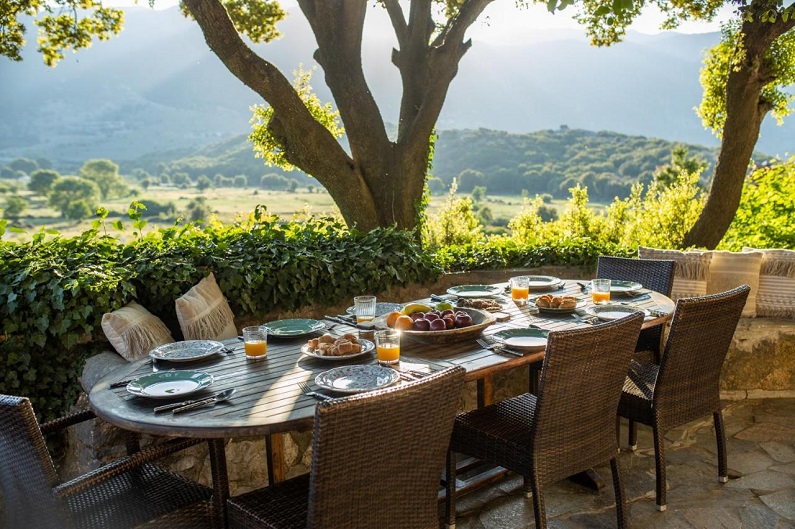 Villa Askifou is located in Goni village on the Askifou Plateau and offers magical views across the valley. This traditional Cretan home will give you a real experience of the culture and history of the island whilst offering all modern comforts. This is a 6 bedroom villa sleeping 14 adults and 4 children.  Enjoy the private pool. Yianni will look after you.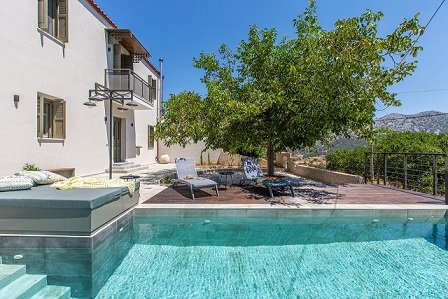 Villa Skyphos in Petres village on the Askifou Plateau is modern and stylish with a pool and outdoor areas, again taking in the wide mountain and plateau views. The villa sleeps 6 adults and 2 children in 3 rooms. Angeliki speaks Greek, English and German and will show you wonderful hospitality.
---
Videos of The White Mountains
---
Hiking Guides for the Lefka Ori

Amazing Views - hiking in the Lefka Ori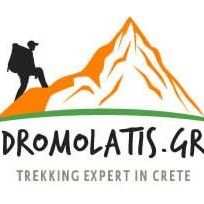 Dromolatis will take you on personal hiking and mountaineering routes through the White Mountains Crete , starting in Paleochora. Take a 7 day small group tour with Manolis or arrange your own custom tour with him. He knows these mountains well and is a passionate local, sharing his place and his culture with heart.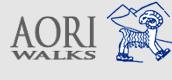 Anne Deckel leads walks in both summer and winter and provides safe guided walks with plenty of local knowledge. Aori Walks takes in the best of the stunning White Mountains; sea and summits.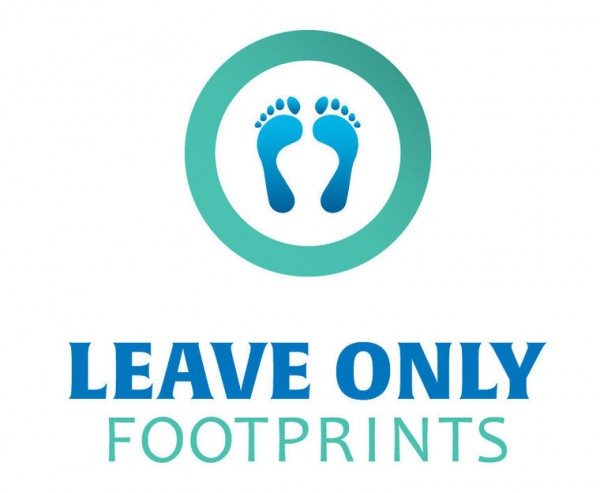 Take all your rubbish with and don't build any of those silly piles of rocks. Leave it as you found it and leave only footprints because We Love Crete!
---
Getting to Crete
Take a 1 hour flight from Athens to Chania with Aegean Airlines or Olympic Air, with many flights available per day.
Or take a 9.5 hour overnight ferry from Pireaus port of Athens to Heraklion port.
More on flights and ferries below.
Car hire in Crete is a really good idea as it is a large island 60 km by 260 km. There is so much to explore.
When you book with our car rental partners - Rental Centre Crete - you are supporting a local company with excellent service and an easy online booking procedure. We are sure you will be well looked after by the team. Choose from hybrid or non-hybrid vehicles.
---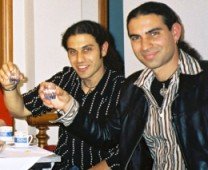 "We trust you have enjoyed these tips from the team at We Love Crete. Evíva!"
Contact us with further questions or feedback. We love to hear about your travels in Kríti and Greece. Let us know of any updates or additions, errors or omissions. Help us make this website the best it can be. Kaló Taxidí!

---