Omalos Plateau
In the Mountains of Crete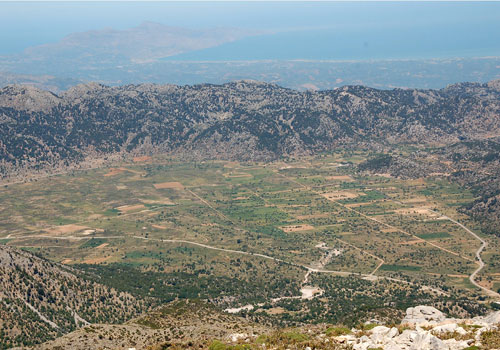 Omalos Plateau - Οροπέδιο Ομαλου is in the centre of the Cretan mountains named Lefka Ori, a large mountain range in the west of the island. The highest mountain in the range is Pachnes at an altitute of 2452m.
The village of Ομαλός is 39 kms from the town of Chania. It is a very small village but the hotel Νέος Ομαλός is open all year round.
The mountains are wild and rocky, steep and difficult for hiking. Walking here is for experienced hikers only, tough Cretan shepherds and goats. In the highest parts of the White Mountains it is known as 'high desert' due to the lack of vegetation. This means there is no cover, no shade and no water. Hikers must be well prepared for long walks.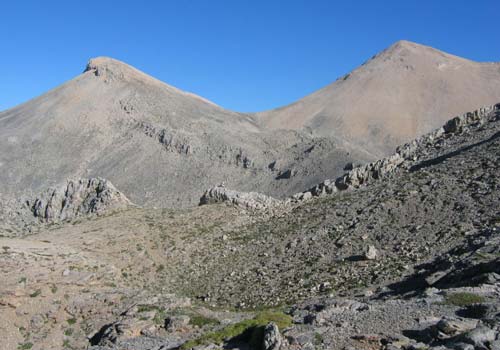 It is best to take a walk with an experienced guide and a small group - Anne Deckel of Aori Walks provides experience and local knowledge of the White Mountains.
One green oasis amongst this harsh terrain is the small Omalós Plateau, a flat piece of land ringed by high peaks at an altitude of 1200 m. A walk around the Omalós Plateau is 5-6 kms which is an easy flat walk that takes around two hours.
Flora in the gorges and lower mountains is abundant and includes the native herb known as dittany of Crete, wild oregano and thyme. Cretan mountain tea, an ironwort Sideritis syriaca is a very common drink in the village and may be proudly offered to visitors as tsai tou vounou. In spring the plateau bursts into life with thousands of flowers including asphodels and native tulips.
The village is 10 km from the entrance to Samaria Gorge, at the edge of the plateau, at a point known as Xyloskalo or wooden stair. This is where the buses drop walkers for the Gorge of Samaria, and from where the gorge walk starts, which is 16 kms south through the gorge to the seaside village of Agia Roumeli.
See our page about Crete Tours for organised trip to Samaria Gorge.
Road to Omalos...
Take a virtual bus ride on the curvy mountain roads to Omalos, on the way to Samaria Gorge. Enjoy the views on this beautiful sunny days and the Cretan music on the bus sound system (all over the island you will hear this music on the buses!).
---
Valley & Mountain Images...
Here are more beautiful images of the valley with local farmers' goats and sheep...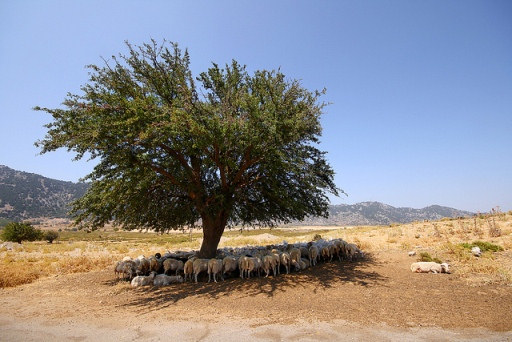 Here are some breathtaking images of the White Mountains, taken by Aori Walks: