Agia Irini Gorge

Western Crete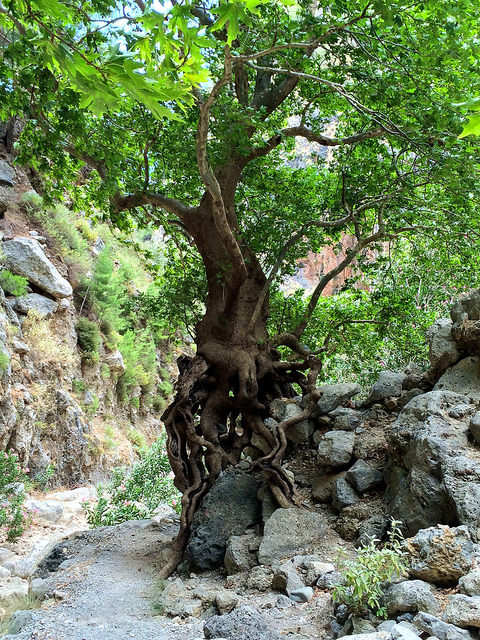 Agia Irini Gorge Φαράγγι Αγίας Ειρήνης in the south west of Crete is less crowded than the famous Samaria Gorge, and very beautiful.
The gorge is located 43 km from Chania town and can be easily reached by local bus.
The gorge starts at the village of Agia Irini in Selinou and is 7 km long. The extended walk of 12 km ends at Sougia, a blissful small coastal village on the southern side of Crete. This walk is worth it, just to arrive at Sougia, one of the cutest  villages in Crete.
Rocks and boulders all around and the steep sides of the mountains dwarfed us walking along the rocky river bed. The plane trees, cyprus pines and maple trees contrasted with the pink flowers of the oleanders.
If it has rained the day or so before, be careful as you may need to walk through water to get through Agia Irini Gorge. There is good signage and there are rest stops along the way.
Depending on which time of year you walk here, it is a very peaceful walk, as there are no crowds. Be sure to take plenty of water. There is a café at the start of the walk. Allow a good three hours for the walk, which would allow for stops and delight in the scenery and photographing of nature. Experienced trekkers could do the walk in two hours, and return in four.
---
Agia Irini Gorge - Flora & Fauna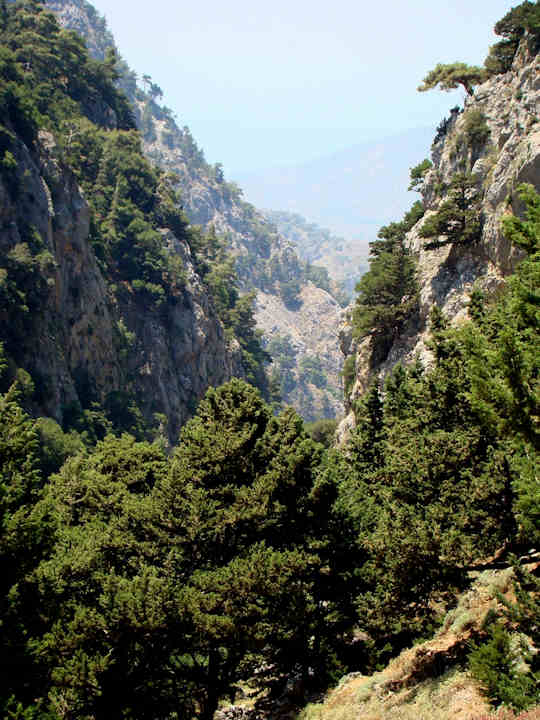 The rich fauna of the area to keep an eye out for include the threatened Bearded Vulture, the European Kestrel, the Partridge, the Golden Eagle, Bonelli's Eagle, Griffin Vulture, doves and martins. Mammals include shrews, hedgehogs, weasels, martens and badgers, mice and bats.
The colourful flora of Crete can be seen in the gorge including trachea pine, Mediterranean cyprus and plane trees. Keep an eye out for Kermes Oaks.
The wonderful day can expand in the afternoon when you arrive in Sougia. The Libyan sea stretches out in front, you can sit on the beach in the little cove and relax, maybe eat at a seaside taverna. Stay a while and stay peaceful at Sougia. 

| | |
| --- | --- |
| From Sougia it is a shorter walk to the ancient site of Lissos (below). This is the location of a temple of Asclepius, who was a healer of the ancient Greek world. | |
Healers built the famous healing sanctuary of Asclepius in Kos and the sanctuary at Epidaurus. Some stories say he was a God. He taught Hippocrates, who is now known as the father of medicine, hence the Hippocratic oath. Lissos has been excavated and many artefacts retreived, showing the trading power of the Cretans during the 3rd century BC.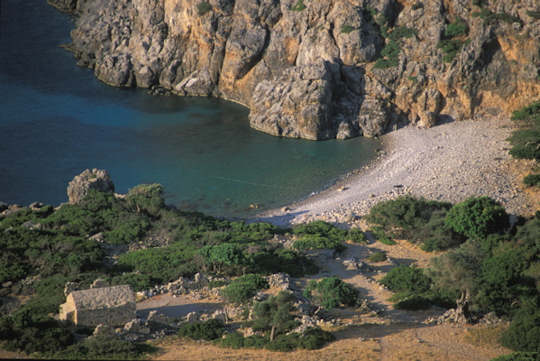 It is possible to take the boat from Sougia to Paleohora in the afternoon, however it is very nice to stay in Sougia and enjoy the pretty pebble beach and crisp clear waters.
Other small coastal villages can be reached by ferry, which runs along the south coast; Agia Roumeli, Loutro and Chora Sfakion.
---
Video of Ag. Irini Gorge
See below videos of Ag. Irini Gorge in Crete