Sougia

Beach in South Crete

Sougia Beach in Crete (image by Atli Hardarson)
The village of Σούγια is located on the south west coast of Crete in Greece, 70 km from Chania town and 12 km from Paleochora.This small seaside village, with only one rough access road leading across the steep mountains, is relatively quiet and undeveloped.
With a beautiful sand and pebble beach on a protected bay, visitors come looking to get away from it all, for a classic Greek beach holiday with plenty of sun, space and fresh local food.
Visited daily by ferries from Paleohora that link to Agia Roumeli, Chora Sfakion, and Loutro these remote south coast villages have a timeless feeling, with endless sunsets facing over the Libyan sea.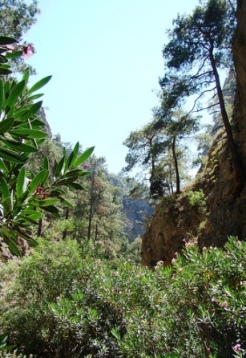 Those wanting to walk through Agia Irini Gorge (left) from north to south will complete their trek in this village, which makes for a beautiful reward after a day of hiking. This village also serves as a good base from which to walk the Samaria Gorge, or visit the beautiful Elafonisi Beach.
There are quite a few small family-run rooms for rent in the village. In peak summer things can get a bit full and no beds available, so it is advisable to book ahead.
The Lotos Hotel is right by the water and is very relaxed, perfect for a summer holiday by the seaside, basic and clean, with good hospitality...
---
Seaside Tavernas
Look at this for beachside dining! How close to the sea do you need to be? The quality of food at the beachside tavernas is excellent, although with this location, who is watching the food? The soft waves roll onto the beach leaving a quiet hiss on the pebbles in a rhythmic sunset harmony…
Seriously, there are ten taverna cafés in the village so the healthy competition creates wonderful service and quality for visitors who always comment on the great cooking.
See our page about getting around on ferries in the south of Crete.
---
Near Sougia - Lissos
A 90 minute hike from Sougia is the ancient site of Lissos Λισσός, part of a society that thrived in the south of Crete in the Hellenistic period (between 320BC-140BC), through the Roman 1406BC-330AD and early Byzantine periods.
Lissos (above) served as the harbour for the ancient town of Elyros. The remains of a healing temple named after the God of healing Asklipios Ἀσκληπιός can be found here. Also found here are ruins of baths, a theatre, an aqueduct and a cemetery.
Lissos had its own coins with images of the Goddess Artemis and dolphins, showing the trading and commercial prosperity of the times.