Elafonisi Beach
In the far west of Crete, Greece
This page may contain affiliate links, see our disclaimer here.

---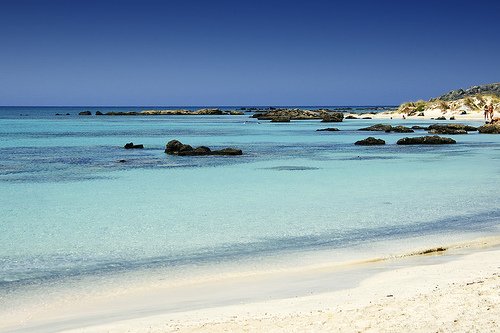 The crystal clear waters of Elafonisi Beach, also known as Ελαφόνησος , drew me from one side of the globe to the other. Whilst working in my home office, I kept a picture of this beautiful inlet on my computer screen. I would visualise myself there. To me, it represented one of the most beautiful aspects of Crete.
Then, one fine day, I was there! Magic!
This beach is located 72 km south-west of Chania town in western Crete.
This perfect beach and islets are at the far west coast of Crete. The clear, turquoise waters have beckoned travellers for centuries, but thankfully this area of Elafonisi Beach has a restricted development order in place.
This natural, near pristine beach, with its pure white sandbars and natural islets, remain virtually untouched.
In some light, the sand takes on a pink glow, said to be from corals. Elafonisi is protected by an EU environmental program.

I travelled west of Crete to the region of Chania, to a lovely town named Kastelli-Kissamos.
I took a local bus to Elafonisi. This means a beautiful, breathtaking journey through the Gorge of Topolia and the mountain towns of Topolia, Koutsomatados, Myli, Elos, Kefali, and Vathi.
Over the mountain of Agios Dikaios, is an observation point for the endangered species, the Bearded Vulture Gypaetus barbatus, a bird of prey. One of only two pairs of this rare bird lives here. These birds are protected under the Life program of the European Union. See our nature pages.
Elafonisi beach looks out over the Libyan sea; there are a number of beaches to explore, to lie on, to swim and to laze in comfortable chairs with umbrellas.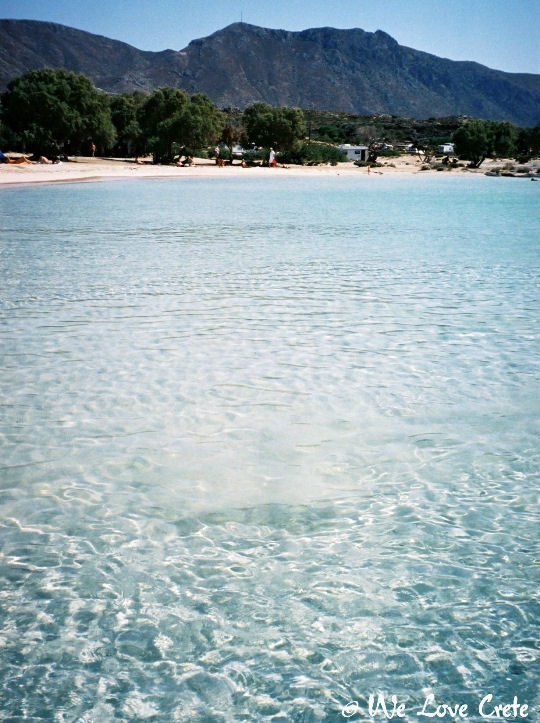 ...the clear waters will soothe your soul...
Make sure you walk along the sandbar to visit the islet and explore the many tracks, coves and solitary beaches. This area is important to bird watchers, as one of the last stops for birds migrating to Africa.
Two gorgeous little birds came to keep me company by the water side, they were Pied Oystercatchers.
Naturists do enjoy Elafonisi, and topless bathing is as common as on other Greek beaches.
Back on dry land, there is a small shop for food, beach supplies and gifts. The area is popular with day-trippers and most of the visitors leave at 4pm on the return bus.
The E4 European Walking Path passes near here. This long path makes its way from Spain, across many countries, and finally to Crete. It takes in some of the most beautiful scenery on the island over 320 km, and is a hard trek up in the mountains. See more about this trail in our dedicated page and in the mountains pages.
I made Elafonisi my very first Cretan destination, to swim like a mermaid in its clear, clear waters was exactly the sense of freedom I was searching for. Elafonisi did not disappoint.

---
Accommodation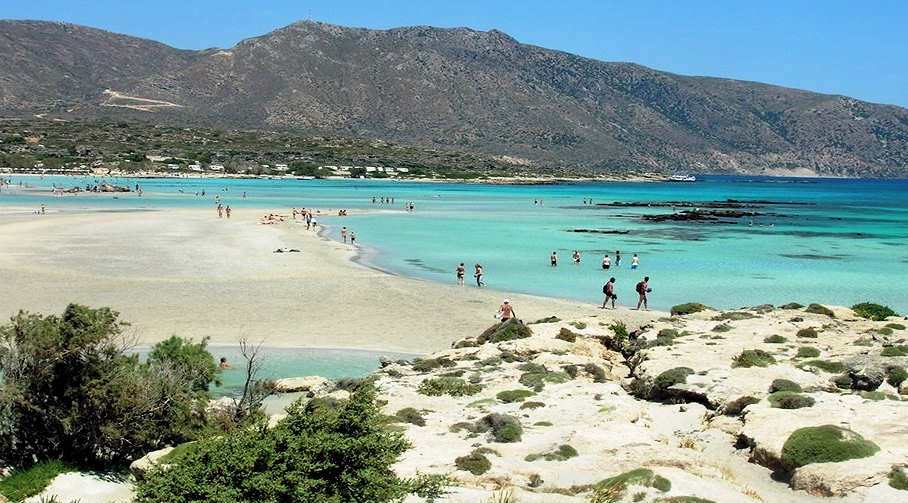 There are villas, domatia, rooms and accommodation within a comfortable day's drive of Elafonisi. There is a small cluster of pensions on a bluff overlooking the beach. Another option is to stay in the village of Palaiochora which has many delightful accommodation choices, and numerous beaches, and take the daily water taxi service to Elafonisi.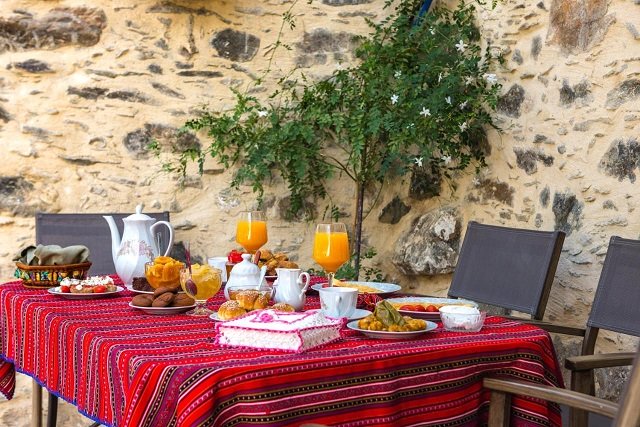 Fairytale Villa Perivolia - this charming cosy B&B near Elafonisi in Chania is set for welcoming fairies and guests in comfort. Nestled in the mountains in the small village of Perivolia, visitors will experience the natural life of Crete with authentic abundance.

"Great room, very quiet small traditional village, exceptional hospitality and amazing welcome drink and breakfast. Booked it because I wanted to visit Elafonisi (30 min drive), but the B&B was in a small non touristic village so it was very quiet and tranquil in the evening."
Christo's Place overlooks the sea inland from Palaiochora near the village of Anidri. Choose a 1 bedroom cottage for 2 guests or a 2 bedroom cottage welcoming 4 guests easily, with spacious terraces and panoramic views.
"Beautiful view, wonderful environment, well-kept. The owner Mr Christos is a friendly, kind and generous person. We loved the wonderful fruit basket and the raki offered as a welcome greeting. In the restaurant of Christos and family you eat very well, the traditional Cretan food is served with great care and the quality is excellent."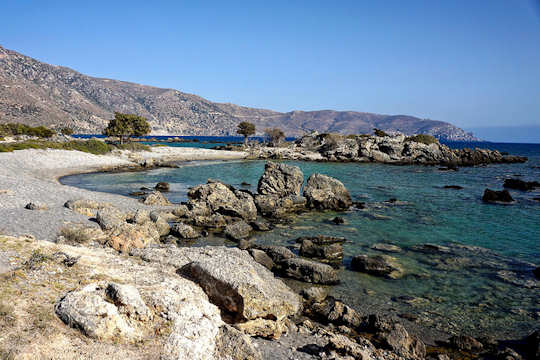 There are many delightful rocky coves on the walk from Elafonisi to Palaiochora
---
Experiences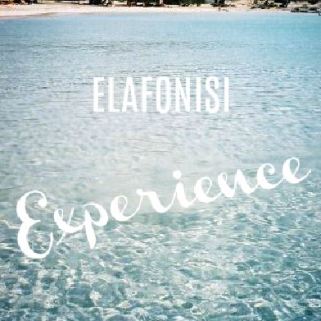 Elafonisi from Chania - take a load off and sit on the air-conditioned bus, visit Topolia Gorge for breakfast then a local nunnery and finally, witness the utterly gorgeous, gobsmacking beauty of Elafonisi - this is a 12 hour day tour with pickups and drop-offs at your hotel - from Chania.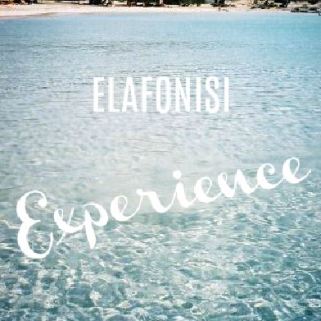 Elafonisi from Rethymnon - see this pure paradise beach - stop for breakfast in the village of Elos, known for its chestnut trees, stay at the beach for swimming - this is a 10 hour day tour with pickups and drop-offs at your hotel - from Rethymnon.

---
On the Map

Here you can see the location of Elafonisi Beach on the map of Crete, on the far western tip:

---
Route Guide e-Book
The We Love Crete team has been asked by many of our web visitors for ideas on seeing Crete in 5 days. We do emphasise that you need more time than this to explore this diverse, stunning and large island. So we put together our tips for independent travellers for the West of the island, into this little e-book.
Of course you can amend these trip ideas and extend your time any length you wish, this itinerary includes Elafonisi.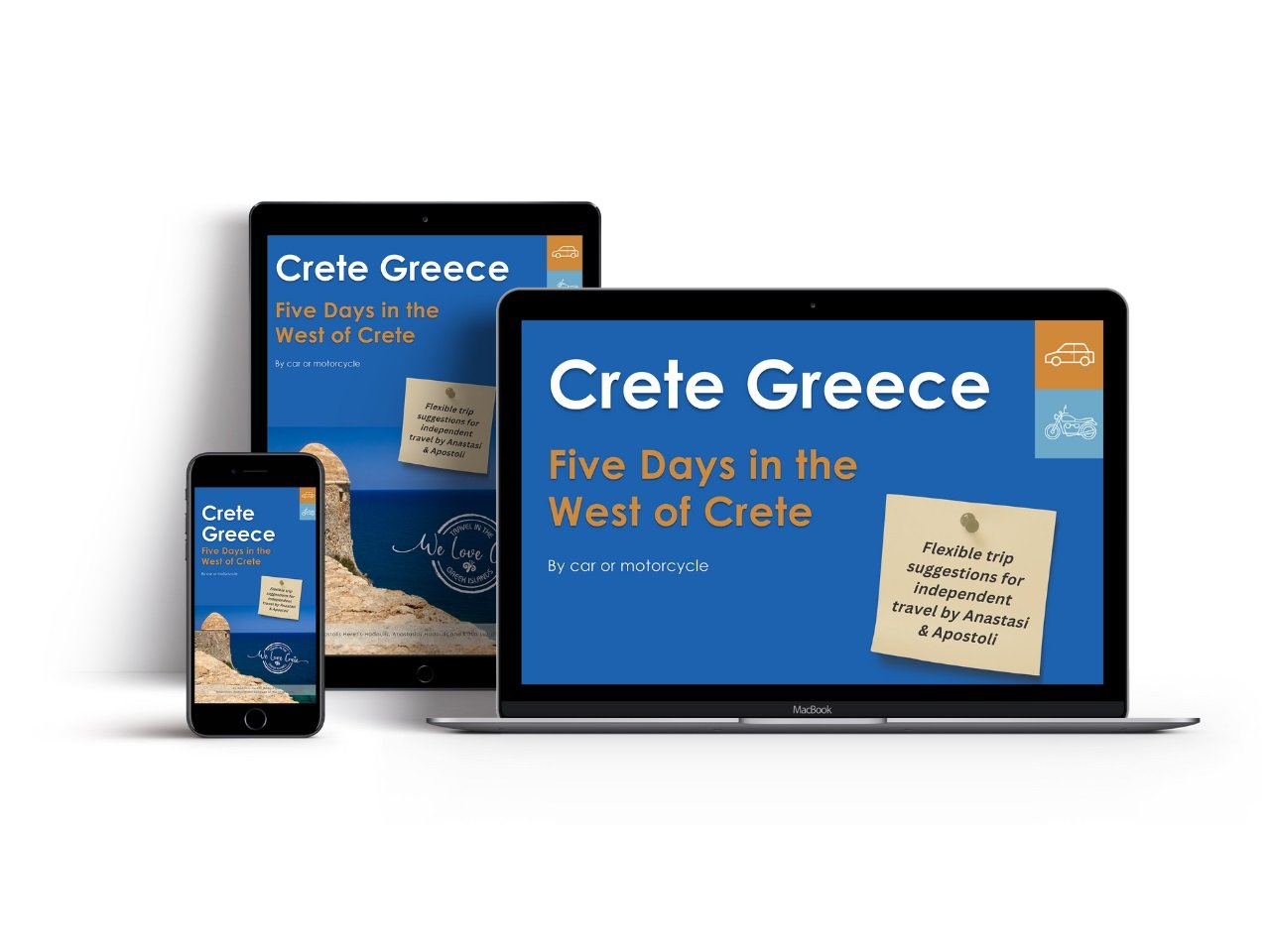 West of Crete by Car or Motorcycle gives you a route guide on how to enjoy the back roads of Crete, including a visit to Elafonisi.
Anastasi, Apostoli and Katia of We Love Crete have put together their favourite places in the west of the island to give you a varied and interesting itinerary to follow.

Or adapt for yourself.
---
Getting Here
Elafonisi Beach can be reached by flying into Chania Airport code CHQ, directly from Europe or via Athens. Flights from Athens are frequent and the duration is 1 hour.

Ferries leave Pireaus the port of Athens daily for Chania port in Crete, the crossing duration is 9 hours.

Take a hire car, local bus or escorted tour to Elafonisi, see the details below. The distance from Chania to Elafonisi Beach is 72 km, take the road to Kissamos then drive through the scenic Topolia Gorge.
From Palaiochora, take the daily water taxi service in the summer months. How to get here from Palaiochora by boat trip.

Car hire in Crete is a really good idea as it is a large island 60 km by 260 km. There is so much to explore.
When you book with our car rental partners - Rental Centre Crete - you are supporting a local company with excellent service and an easy online booking procedure. We are sure you will be well looked after by the team. Choose from hybrid or non-hybrid vehicles.
---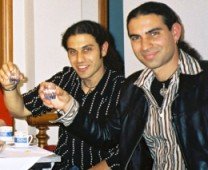 "We trust you have enjoyed these tips from the team at We Love Crete. Evíva!"
Contact us with further questions or feedback. We love to hear about your travels in Kríti and Greece. Let us know of any updates or additions, errors or omissions. Help us make this website the best it can be. Kaló Taxidí!

---