Elafonisi Beach
In the far west of Crete, Greece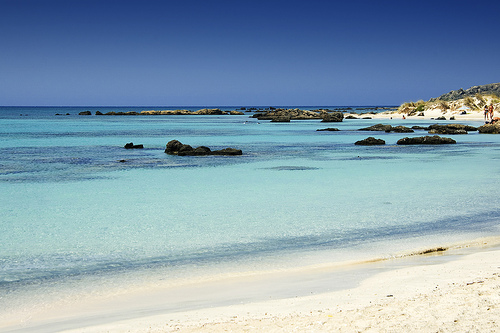 The crystal clear waters of Elafonisi Beach, also known as Ελαφόνησος , drew me from one side of the globe to the other. Whilst working in my home office, I kept a picture of this beautiful inlet on my computer screen. I would visualise myself there. To me, it represented one of the most beautiful aspects of Crete.
Then, one fine day, I was there! Magic!
This perfect beach and islet are at the far west coast of Crete. The clear, turquoise waters have beckoned travellers for centuries, but thankfully this area of Elafonisi Beach has a restricted development order in place.
This natural, near pristine beach, with its pure white sandbars and natural islet, remains virtually untouched.
In some light, the sand takes on a pink glow, said to be from corals. Elafonisi is protected by an EU environmental program.


I travelled west of Crete to the nomos prefecture of Chania, to a lovely town named Kastelli-Kissamos.
I took a local bus to Elafonisi. This means a beautiful, breathtaking journey through the Gorge of Topolia and the mountain towns of Topolia, Koutsomatados, Myli, Elos, Kefali, and Vathi.
Over the mountain of Agios Dikaios, is an observation point for the endangered species, the Bearded Vulture Gypaetus barbatus, a bird of prey. One of only two pairs of this rare bird lives here. These birds are protected under the Life program of the European Union. See our nature pages.
There are villas, domatia, rooms and accommodation within a comfortable day's drive of Elafonisi. There is a small cluster of pensions on a bluff overlooking the beach.

Elafonisi beach looks out over the Libyan sea; there are a number of beaches to explore, to lie on, to swim and to laze in comfortable chairs with umbrellas.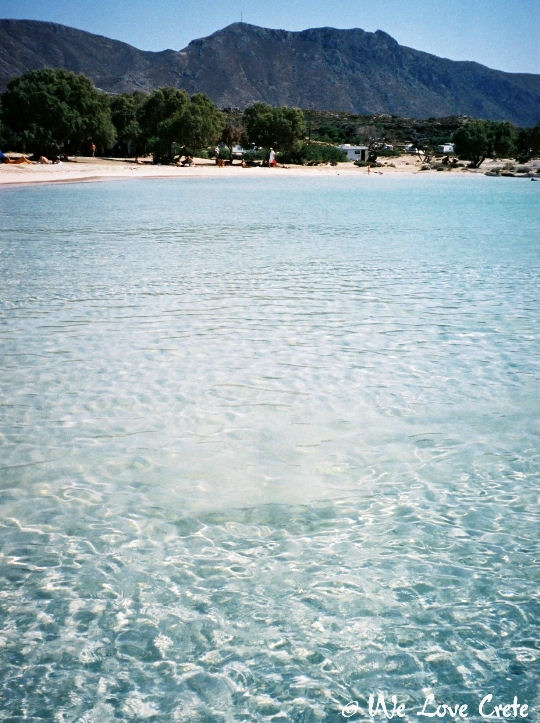 ...the clear waters will soothe your soul...
Make sure you walk along the sandbar to visit the islet and explore the many tracks, coves and solitary beaches. This area is important to bird watchers, as one of the last stops for birds migrating to Africa.
Two gorgeous little birds came to keep me company by the water side, they were Pied Oystercatchers.
Naturists do enjoy Elafonisi, and topless bathing is as common as on other Greek beaches.
Back on dry land, there is a small shop for food, beach supplies and gifts. The area is popular with day-trippers and most of the visitors leave at 4pm on the return bus.
The E4 European Walking Path passes near here. This long path makes its way from Spain, across many countries, and finally to Crete. It takes in some of the most beautiful scenery on the island over 320 km, and is a hard trek up in the mountains. See more about this trail in our dedicated page and in the mountains pages.
I made Elafonisi my very first Cretan destination, to swim like a mermaid in its clear, clear waters was exactly the sense of freedom I was searching for. Elafonisi did not disappoint. 

See our suggestions for beach accommodation in Chania