Palaiochora to Elafonisi Boat Trip
This page may contain affiliate links, see our disclaimer here.

---

Palaiochora to Elafonisi Boat Trip
By Rosemary
Scotland

We're planning a visit in September this year. We'd like to use the ferry boat from Palaiochora to Elafonisi. I know that it only operates during the summer. When does it stop running?
---
Palaiochora Boat Trip to Elafonisi


Palaiochora to Elafonisi Boat Trip

Yiasas Rosemary,

The boat from Palaiochora to Elafonisi operates between middle May and very late October, every day except Sunday. So you will be OK for September. The boat leaves at 9am and returns at 5pm.
The tickets and the information you can find at Selino Travel, next to the jetty or phone 30 282 304 2272.
There is also a water taxi with Captain Manolis:  www.boattrip.gr or phone 30 697 736 4534.
This is a good option because you can stop at some of the other, more private and lesser-known beaches on the way.

Remember that the sea has the last word on any ferry or taxi boat travel. If weather and water conditions are dangerous, the captain will not take you out.
Instead of the ferry, you can take a bus from Palaiochora to Elafonisi in the summer months. This is the local company run by KTEL. More information and timetables here.

There is a road between the two places but it is rough and steep and best for 4WD vehicles only.

Hiking Back - if you decide to hike, the E4 Walking Path with good markers, make sure to have plenty of water and food with you. This is a 10 km walk for experienced hikers. You need to allow 3.5 hours hike on the path and another 2.5 on asphalt road from Cape Krios to Palaiochora (or you could arrange a taxi from there). The small rocky coves and seemingly 'undiscovered' beaches are worth it. It makes you feel that you are the only one there. See the complete guide to the E4 below.

---
Palaiochora to Elafonisi Boat Trip
Images
Palaiochora to Elafonisi Boat Trip

This is Palaiochora also spelt Paleochora - Παλαιόχωρα :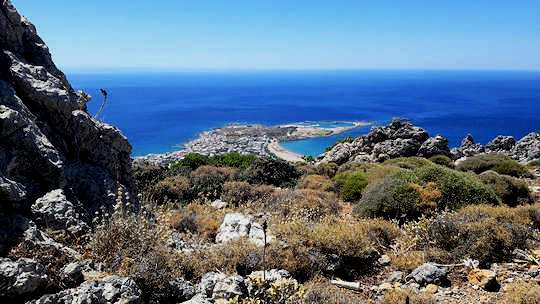 This is part of the beautiful coastline between Elafonisi and Palaiochora: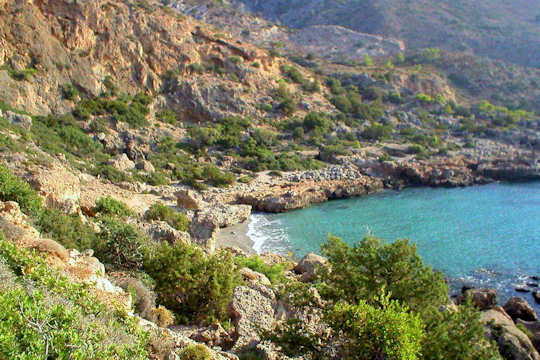 This is Elafonisi Beach showing its pink sand: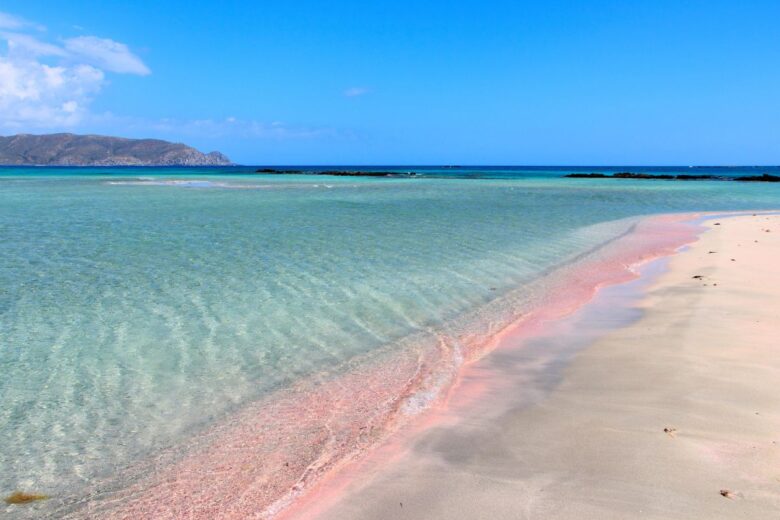 Remember that the pink sand in Elafonisi is not permanent, it is only sometimes there. It ebbs and flows with the cycles of nature and it is not always to be seen. The clear azure waters and fine white sand, with islets and coves to explore, well, they are always there!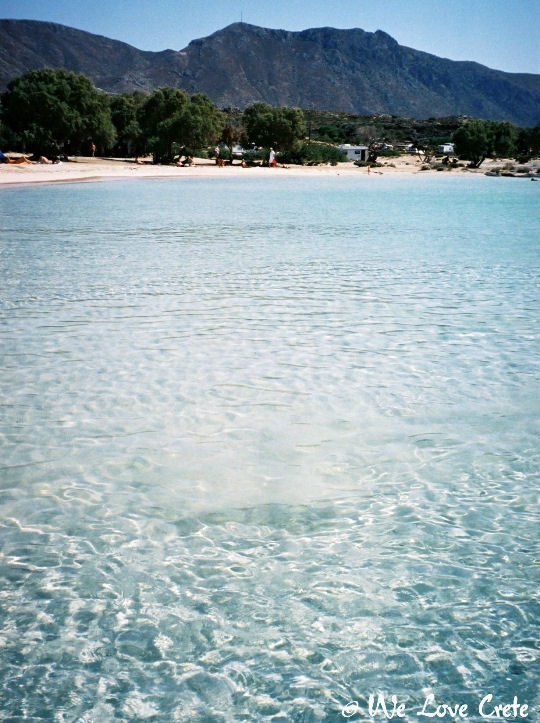 ---
Getting to Palaiochora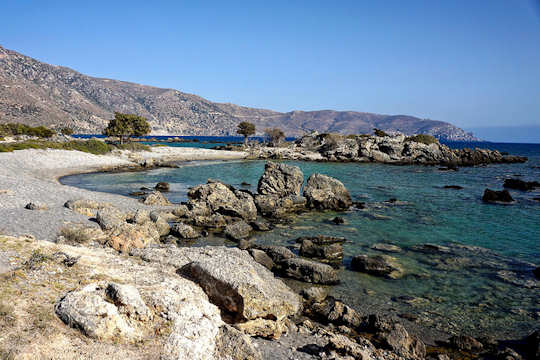 Getting to Palaiochora to Elafonisi Boat Trip
If you want to use a taxi to drive there call Palaiochora Taxi where the Psarakis family will look after you: 30 697 407 5830. Also see our page on taxis in Crete here.

See below for different ways to get to Palaiochora.
Palaiochora is 75 km from Chania town. To drive there on the national road and southern road is a stunning, scenic drive which takes about 1 and a half hours, or 2-3 if you leave time for stops and wonder along the way.
To drive from Chania Airport, join the national road A90 following signs to Katelli-Kissamos. Do not go into Chania town. After about 25 km you will need to turn south, following signs to Palaiochora/Tavronitis.
Drive another 60 km or so. It is beautiful to make a stop in Palia Roumata Παλαιά Ρούματα for food, is a very traditional village. The drive to get to Palaiochora really is amazing. When you reach Mesavlia village with the gorge the view is wonderful. In Mesavlia they make very good cheese. After that perhaps stop in Kandanos Κάνδανος, a village with a huge history. It destroyed by the Germans in WWII and it was the first time in the new world history that in a war the enemy killed innocent people. Take some time on this route and you will be in the heart of Chania; this is a very scenic part of Kriti.
See the map of this route below.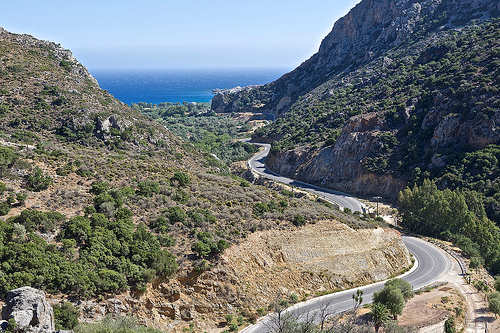 ---
To Do in Palaiochora
There is so much to do that you must first relax! Get into the local vibe.
Here are some ways to relax:
visit the many cafes, tavernas, restaurants and kafenions
visit Sandy Beach and Pebble Beach in the village

relax by the waterside
stroll along the esplanade
Then if you must get active, here are some of the unique things to do around Palaiochora:
visit the historic site of the Castello on the point
walk to Gialaskari Beach
visit Gavdos Island

walk the Agia Irini Gorge
take the ferry along to Sougia
see the ancient site of Lissos
go windsurfing
go snorkelling or scuba diving
hike in the White Mountains with a local guide

---
Getting to Crete
Palaiochora to Elafonisi Boat Trip
Many visitors fly from airports in Europe into Chania International Airport or Heraklion International Airport.
If you are trying to decide which airport to use - see our page here.
Many visitors coming from overseas destinations fly into Athens International Aiport and change planes for the short local flight to Chania or Heraklion. The flights are 1 hour and departures are regular daily. See Olympic or Aegean Airlines.
Ferries depart from Pireaus port of Athens to both Chania and Heraklion also daily. The ferry crossing takes 9 hours and generally the ferries leave in the evening, so you can relax on an overnight journey.
When you are island hopping through the Greek islands, you can visit Crete before or after Santorini. There are ferries between Santorini (Thira) and Heraklion with a journey time of less than 2 hours.

Car hire in Crete is a really good idea as it is a large island 60 km by 260 km. There is so much to explore.
When you book with our car rental partners - Rental Centre Crete - you are supporting a local company with excellent service and an easy online booking procedure. We are sure you will be well looked after by the team. Choose from hybrid or non-hybrid vehicles.
---
West Crete by Bus
Palaiochora to Elafonisi Boat Trip - for those on a budget you can also enjoy your journey, with travel on local buses all over the island of Kriti explained in our handy little e-book.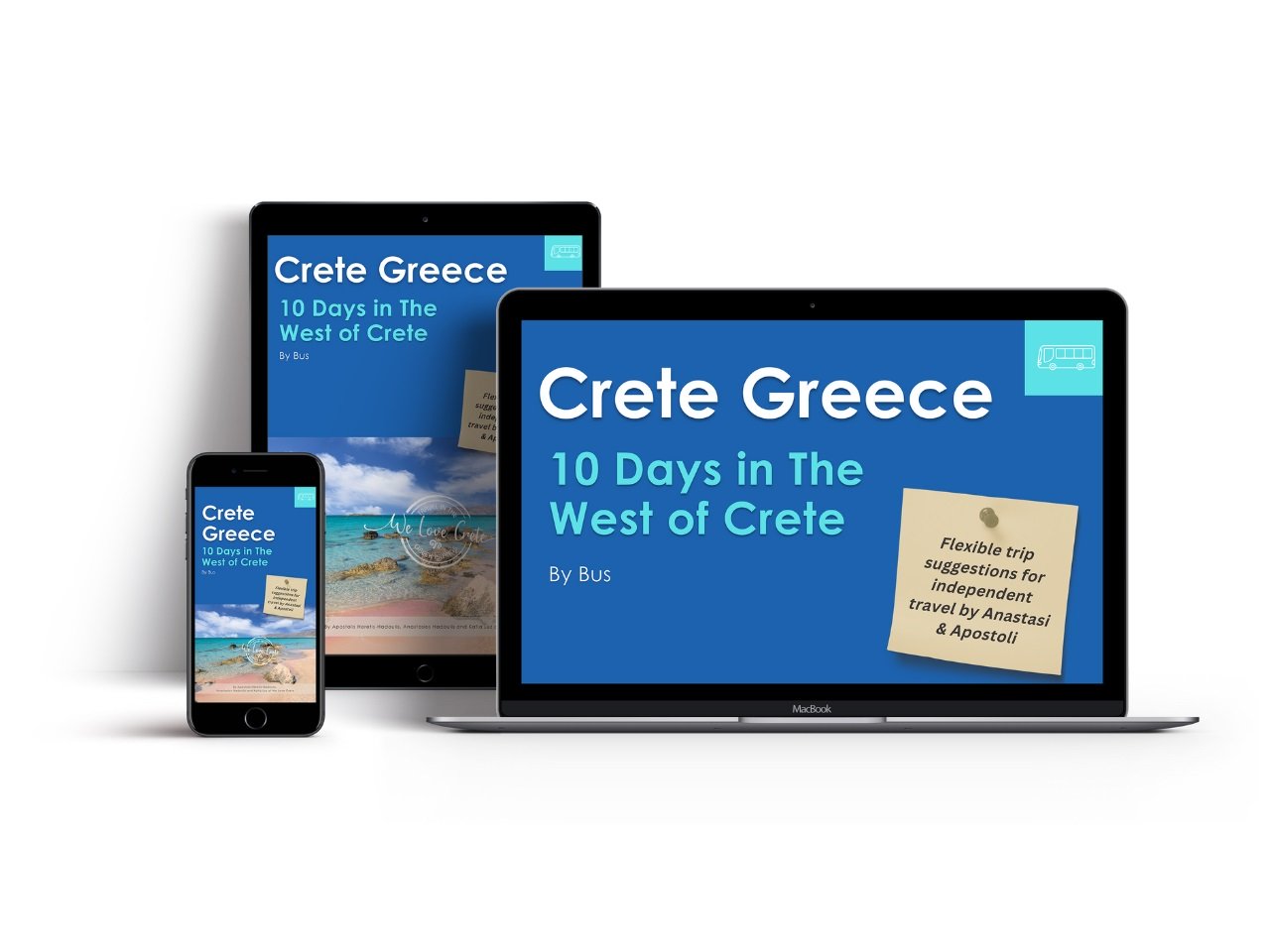 This wonderful guide to the west of the island visits the following destinations:

•    Knossos
•    Rethymnon Old Town
•    Arkadi
•    Georgioupolis
•    Chania Old Town
•    Samaria Gorge
•    Agia Roumeli
•    Sougia
•    Agia Irini Gorge
•    Palaiochora
•    Elafonisi Beach
•    Balos Lagoon

Travel for 5 or 7 or 10 Days in the West of Crete by Bus with these handy tips making it easier to enjoy your independence and keep your budget low, written by the team at We Love Crete.

---
E4 Guidebook - The Cretan Way
Palaiochora to Elafonisi Boat Trip - with a walk there or back along the E4 route this will be a memorable journey. Getting a good guidebook with maps will make it much easier.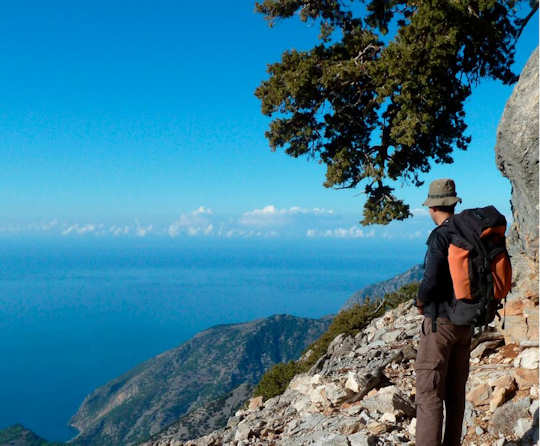 This guide includes detailed descriptions, maps, travelogue, GPS paths, accommodation information and hiking tips for trekking, written in east to west by Luca Gianotti, a world walking expert hiker with a passion for paths.
The Cretan Way is essential for those planning a serious walk along the Cretan section of the E4.


---
Palaiochora to Elafonisi Boat