Crete to Gavdos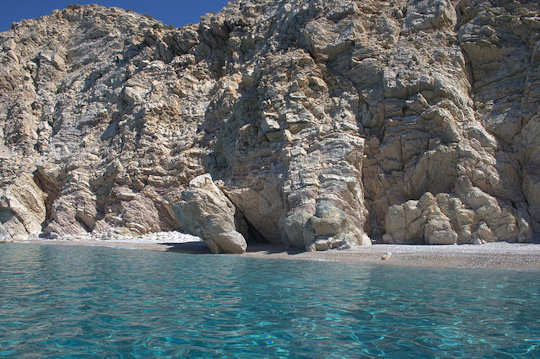 This page may contain affiliate links, see our disclaimer here.

---
Crete to Gavdos - Γαύδος this is the most southern point of Greece & Europe, a small well-guarded settlement and a few isolated beaches, which travellers like to seek out in summer.
The island has no power and is very dry. All power comes from generators. If you are going to camp, take all supplies and plenty of water.
The waters can get dangerous depending on the weather. Always check the forecast and check with the boat operators prior to your trip.
The sea has the last word on all departures.
The island has very few permanent residents and is only small, being 9 km by 4.5 km.
Populated since neolithic times, this island has a rich history and has been uninhabited on occasion. Most visitors come to see the extraordinary beauty of the beaches and get away from it all.
Don't forget to try the local fresh seafood.

---
Beaches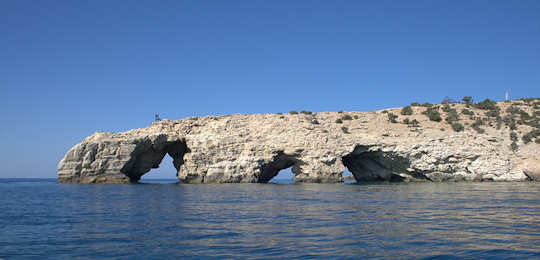 Crete to Gavdos - many visitors come for just a few hours on the ferry, in this time it is possible to visit the beaches nearby the port of Karave:
Walk to Sarakiniko Beach is 30 minutes
Walk to Korfos Beach is 60 minutes
Walk to Kastri Beach is 45 - 60 minutes
At each beach you will find incredibly clear turquoise waters.

The most popular location on the island is the southern-most tip at Tripiti, where there are stunning rock arches and a large, oversized chair marking the southernmost point of Greece.
The dunes, pine trees and cypress trees are beautiful and fascinating all year around.
Birdlife is prolific here and with its sister island, Gavdopoula, nature is protected. Take a look on the many cliff sites for migratory birds. Cave lovers will find plenty to explore near Agios Ioannis beach.
Other wildlife includes naturists, don't be surprised as naturism is very popular here on Gavdos, as is yoga and meditation and just 'chilling out' in connection with nature...
Specialist yoga and meditation retreats are held on the island in spring and summer.

Wildflowers are stunning on Gavdos in spring.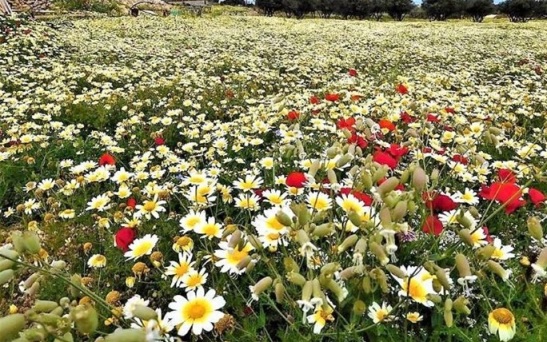 ---
Ferries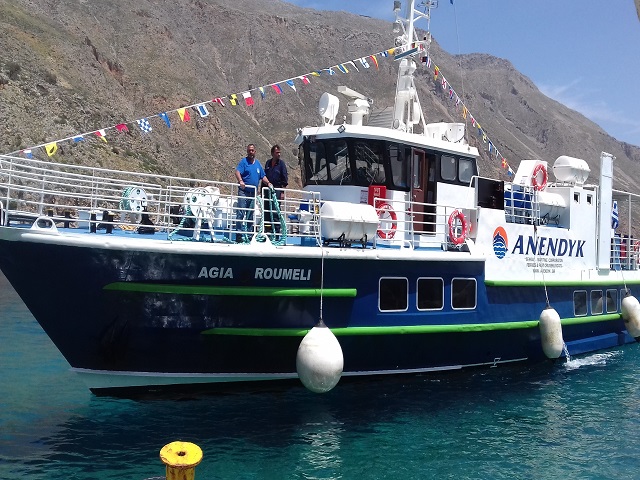 Crete to Gavdos - local ferry company Anendyk runs these ferries.
Always check their timetable as services are not frequent in the off-season.
You can also get private charters from Crete island to Gavdos.
Four choices for the ferry with one way trip times:
Palaiochora to Gavdos - 4 hours
Chora Sfakion to Gavdos - 3 hours 45 minutes
Agia Galini to Gavdos - 2 hours
Plakias to Gavdos - 1 hour 30 minutes
The town of Palaiochora is one embarkation point for Gavdos Island cruises and ferry trips. The ferry from Palaiochora takes 4 hours to reach Gavdos.
Ferries also depart for Gavdos from Chora Sfakion, this journey takes 3 hours and 45 minutes.
From Agia Galini in Heraklion your trip will take 2 hours.

From Plakias in Rethymnon take the ferry to Gavdos with a trip duration of 1 hour and 30 minutes.


---
Day Trips
If the local ferry company timetable does not allow for a day trip, you can take one with Gavdos Cruises from Chora Sfakion.
On all cruises and ferry trips keep an eye out for dolphins, whales and other sea life. On Gavdos you will find beautiful clear waters for swimming, snorkelling and diving.


---
Crete to Gavdos
Palaiochora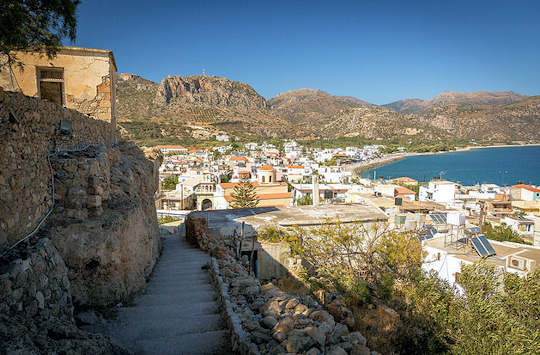 Crete to Gavdos - we suggest staying in Palaiochora for this trip. There is so much to enjoy in Palaiochora village and surrounding areas:
cafes and tavernas
ferry connection
village beaches close to comfort
isolated beaches with more privacy
windsurfing
ancient ruins and churches
snorkelling
dolphin and whale watching cruises
wild flower walks
photography and painting trips
visit Anidri village and gorge
scuba and fishing

bird watching
---
Accommodation Gavdos

Crete to Gavdos - many people choose to camp on Gavdos and get away from it all. There are many isolated beaches and lovely trails. Below we suggest a few different options for where to stay on and near Gavdos.

| | |
| --- | --- |
| | On the island of Gavdos you can choose from a few different rooms and holiday homes. It is a very small island, so if you plan to stay overnight, book ahead in summer, unless you are fitted out for camping. |
| | In Palaiochora choose the Aris Hotel which is close to the ferry port and beautifully located close to the cafes and restaurants of the village. A small, quiet guesthouse run by a local family. |
| | In Chora Sfakion choose the Livikon as it is close to the port and close to tavernas.  It is run by the local Dourountakis family; they will look after you. Views over the harbour, simple, friendly, clean and good value. |
| | In Plakias stay at Artemis Studios - these affordable studios are located just 300 m from the sea at the eastern end of the bay, on Paligremnos Beach. This means a walk of 1 km to Plakias Village. |
---
Chania Town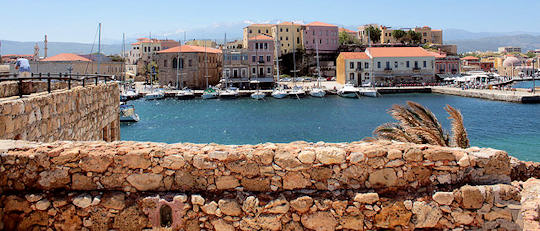 Enjoy the Old Town of Chania on your way to Gavdos - we recommend staying within the walls of the historic town to soak up the atmosphere.
While you are in Chania explore:
narrow laneways
boutiques and studios
Old Venetian Harbour
Venetian Lighthouse

artesanal workshops
art galleries
Venetian Town Walls

museums
ancient sites such as Ancient Kydonia

the old harbour
Fort Firca and the Maritime Museum
Trimartiri Orthodox Cathedral

Chania Municipal Market
Museum of Archaeology
Restaurants, cafes and tavernas galore

---
Chania Region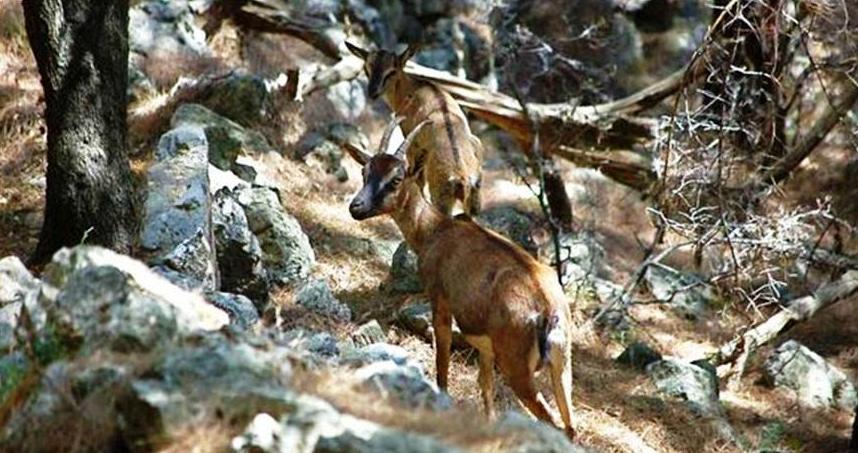 Chania or Xania in the west of Crete is a rich and varied land of agricultural valleys, high mountains and deep gorges.
Explore the highlights:
local wildlife such as the Kri Kri goat and Griffon Vulture

hundreds of beaches
local villages
Samaria Gorge National Park
The White Mountains
Kissamos Town
Lake Kournas
The southern inaccessible beaches such as Loutro, Agia Roumeli and Sougia
Agia Irini Gorge
Elafonisi Beach
The E4 European Walking Path

---
Map
Crete to Gavdos - see the island of Gavdos marked on this map to the south-west of Crete - (Gavdos really is part of Crete)

Getting Here

Arrive into Chania Airport and take the local bus or drive 75 km to Palaiochora then take the ferry
Or arrive into Chania Airport and drive about 75 km to Chora Sfakion, then take the ferry.
More information below on how to get to Crete.
Car hire in Crete is a really good idea as it is a large island 60 km by 260 km. There is so much to explore.
When you book with our car rental partners - Rental Centre Crete - you are supporting a local company with excellent service and an easy online booking procedure. We are sure you will be well looked after by the team. Choose from hybrid or non-hybrid vehicles.
---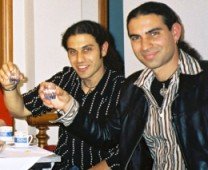 "We trust you have enjoyed these tips from the team at We Love Crete. Evíva!"
Contact us with further questions or feedback. We love to hear about your travels in Kríti and Greece. Let us know of any updates or additions, errors or omissions. Help us make this website the best it can be. Kaló Taxidí!