Plakias Crete

In the Relaxed South of Rethymnon

This page may contain affiliate links, see our disclaimer here.

---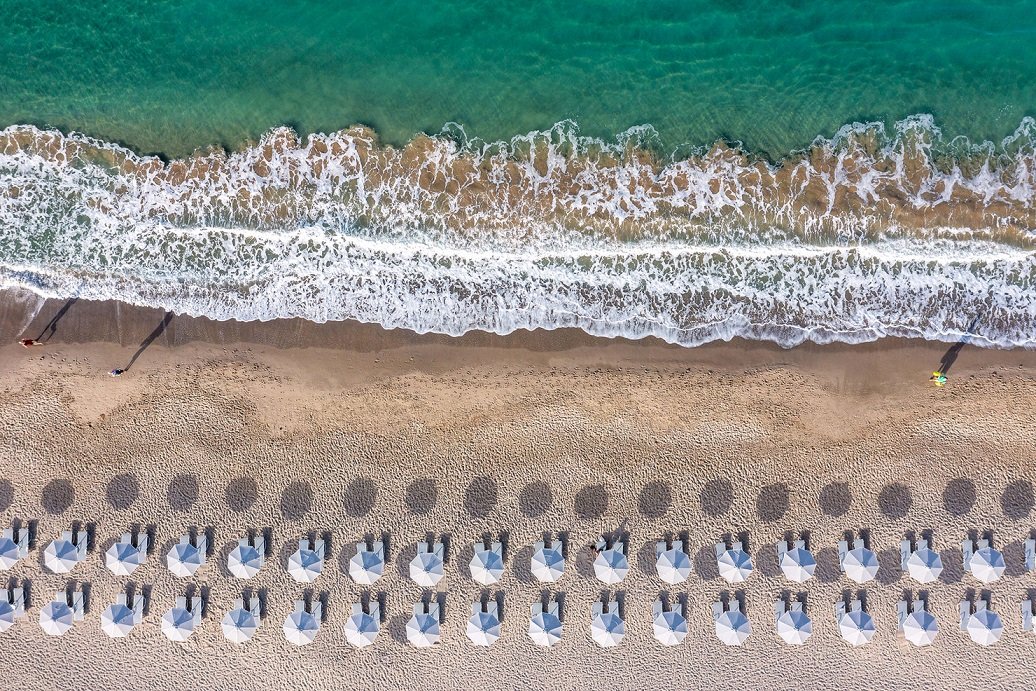 Plakias Crete -  Πλακιάς is a beautiful wide bay with sandy beaches in the south of Rethymnon in Crete. It is 35 km from Rethymnon town. Drive south via Armeni, Koxare and Axomatos.
You can drive back via Kotsifou Gorge and Koumi. Both drives are spectacular. Leave plenty of time for stopping and gasping at the scenery. Here is a route map showing both ways:
The long beach of Plakias is wide and mixed with pebble and sand. There are tiny, more protected beaches to the east. The small seaside village is clustered at the western end, with a string of bayside tavernas.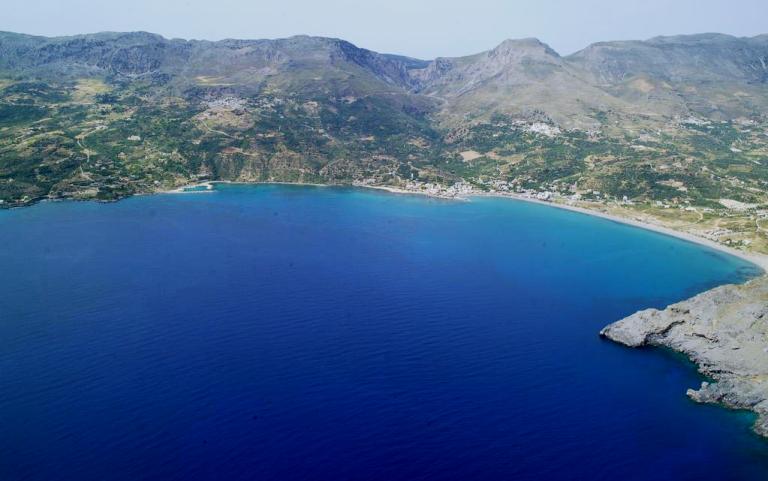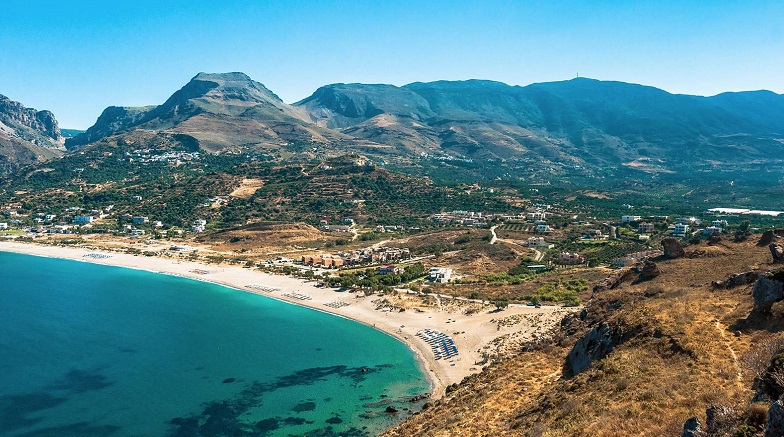 The eastern end of the beach is called Paligremnos Beach (pictured below), set against dramatic cliffs and rocks of Mouri Headland.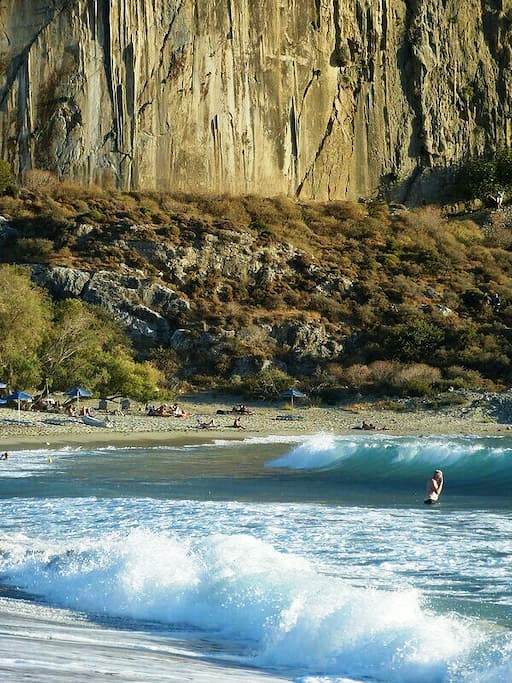 Paligremnos Beach with its dramatic cliffs - rock climbing is popular here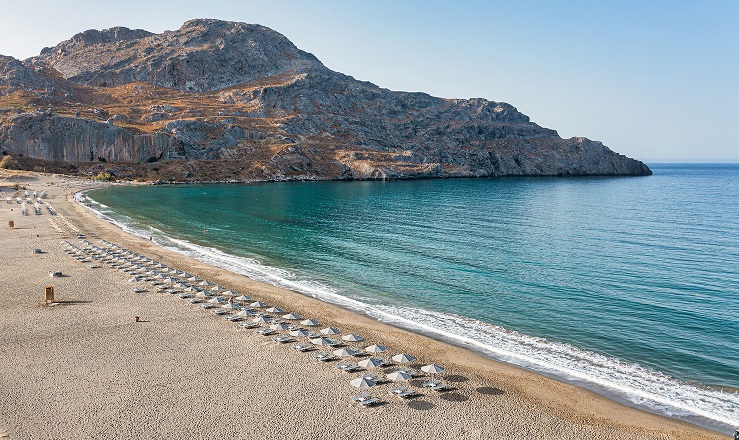 Paligremnos Beach
---
Looking Around

Relaxing by the beaches can be interrupted with many, many excursions around the region. The villages of Mariou, Sellia and Mirthios sit on the hills around the bay 2 to 3 km inland from Plakias.
Visit the Gorges of Kourtaliotiko (east) and Sellia, or trek Kotsifos Gorge, Φαράγγι Κοτσιφού.
Visit the famous Monastery at Preveli and discover its hidden beach and palm forest, and look out for ghosts and stories at nearby Frangokastello Beach.
Day trips to Rethymnon Old Town allow for exploration of the myriad of historic influences on the tapestry of the town. Explore the narrow laneways for art and jewellery studios, have a seafood lunch by the old harbour and lighthouse.

Plakias Bay - panorama showing the walking tracks
---
Activities in Plakias Crete

Walking - enjoy walking trails to the village of Sellia, Finikas and Lefkogia. Take the path up to Preveli Monastery by Kourtaliotiko Gorge. Walk around the coastal paths to the east to Damnoni Beach, Ammoudi Beach and Schinaria Beach. Or walk west to Souda Beach.
Trekking - trekkers can join the E4 Walking Trail in this area, walking the section from Agouseliana to Koxare to Spili, total length 14.3 km, a moderate walk.
Diving - the clear waters here mean great snorkelling and diving. Dive Together takes all levels of divers and snorkellers for fun and training out of Plakias.

Water Sports - wind-surfing, canoeing, jet skiing, renting pedaloes and beach loungers, snorkelling and swimming. Did we mention floating and relaxing?
Boat Trips - daily boat trips are available in summer to from Plakias Crete to Preveli Beach and Palm Forest.
Mountain Biking - hire bikes in the village and go where the wind takes you.
Rock Climbing - the cliffs at the eastern end of the beach make for good climbing. There are some really hard routes to climb on this 80 m rock face. Close to the beach for that rewarding swim!

Horseriding - Plakias Horse Riding Centre caters for all levels and has a children's program which includes pony and donkey rides and a mini zoo.
Horse Riding - Plakias Crete
---
Plakias Crete
Accommodation by the Beach


Artemis Studios - these affordable studios are located just 300 m from the sea at the eastern end of the bay, on Paligremnos Beach. This means a walk of 1 km to Plakias Village.


Castello Apartments and Studios - this budget property sits a little back from the beach in the village of Plakias, convenient to everything yet surrounded by a shady garden. This is a good choice if you are travelling by bus.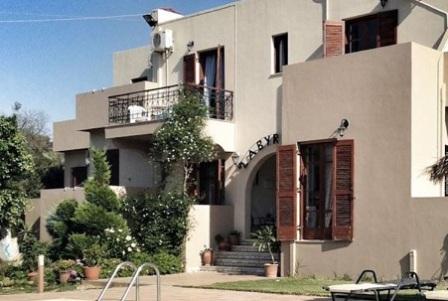 Labyrinth Studios - located behind the beaches of Plakias and Damnoni, this is another affordable option in Plakias Crete.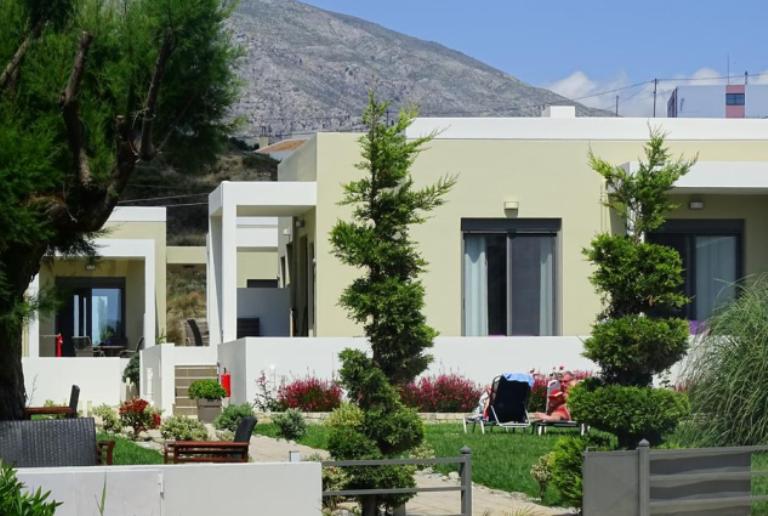 The stylish Plakias Suites are like a modern apartment, comfortable and luxurious, yet just across the road from the beach. Relax here and enjoy the garden.

---
Villas in Crete
Nearby This Beach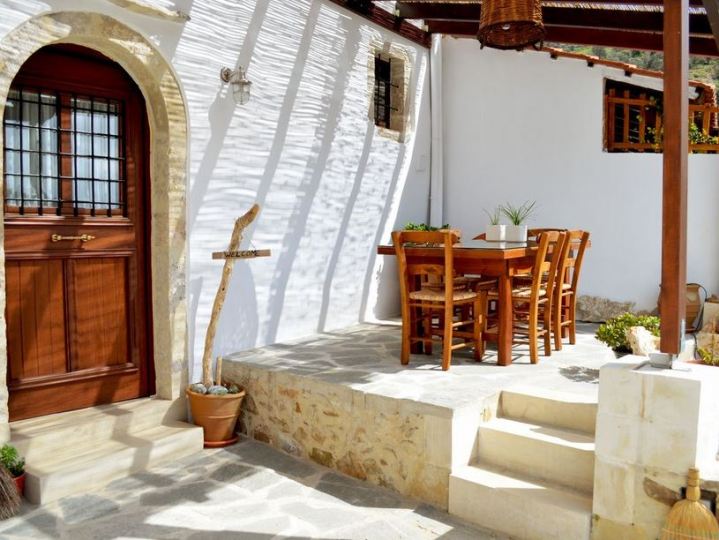 Cosmakis House (pictured above) is a beautiful traditional 19th Century house located in the hills near Plakias Crete. This home sleeps 6 guests in four bedrooms and two bathrooms. The house sits in the centre of the inland village of Rodakino, 13 km to the west of Plakias village. A true experience of Crete.
Villa Dafni (pictured above) is a modern villa with lovely views to Plakias Bay, a pool and sweeping vies over the valley. Just 1.5 km from the beach, here you will find privacy and luxury with wonderful service from Mr Gasparakis. This villa accommodates 5 guests with 2 bedrooms and 1 bathroom. Consider renting the sister villa for a family reunion or multi-family holiday.
Villa Thymari (pictured above) is able to receive 7 guests in 3 bedrooms with 2 bathrooms, featuring a pool and lovely gardens, this is a perfect holiday home for families. This Crete villa is surrounded by olive groves, this villa is less than 5 km from Plakias Crete and closer to other small coves.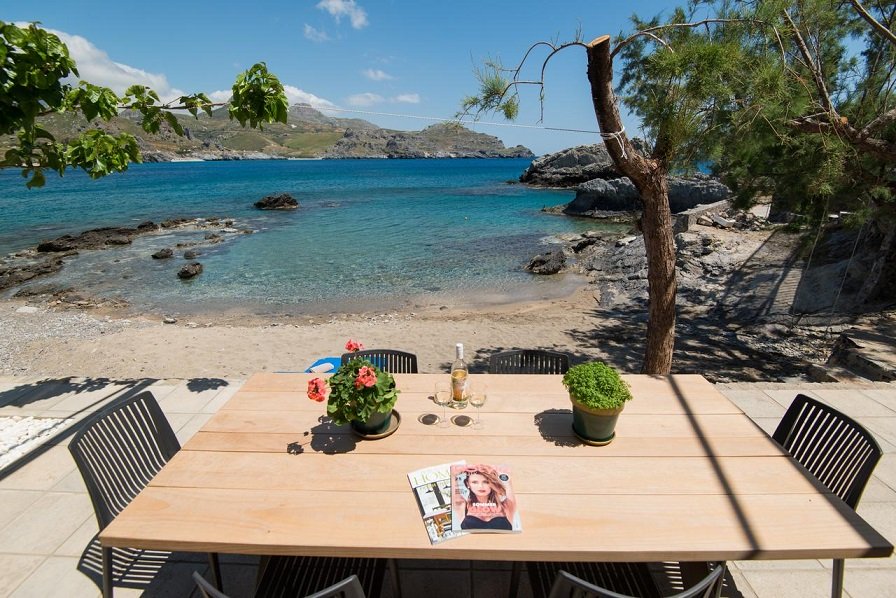 Sit here to write your next novel

Palio Damnoni Seafront House (pictured above) - this traditional country house sits right on Damnoni Beach, only 3 km from Plakias. This is a wonderful, atmospheric, simple home that allows the visitor to understand the real local life of Crete. This renovated fisherman's shack will become your home. 6 people can stay in 3 bedrooms and 2 bathrooms.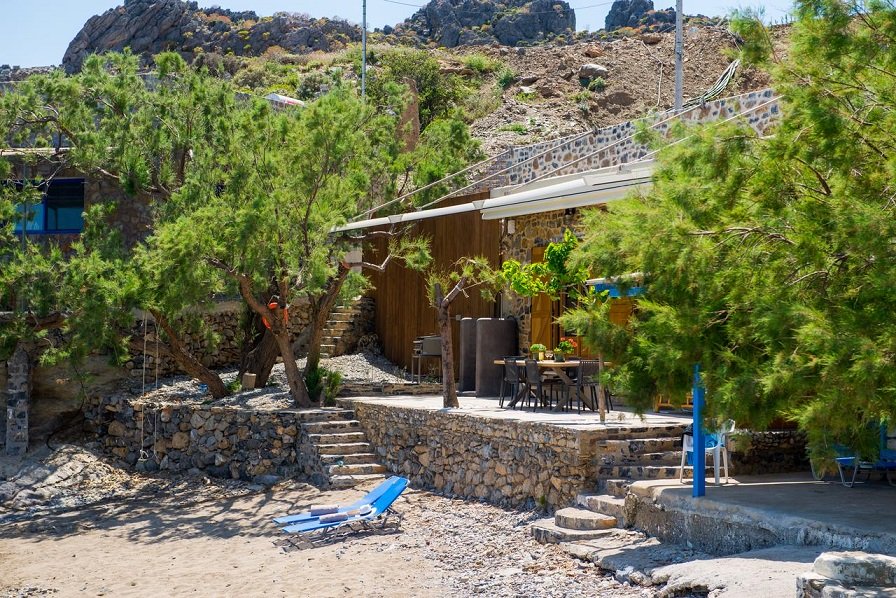 ---
A Travel Memoir Set in Plakias

Plakias Crete was the unsuspecting star location of a tragi-comedy written about in the travel memoir of international chef Byron Ayanoglu 'Crete on the Half Shell' also titled 'The Taste of Honey'. Well known for his culinary expertise, the Montreal-based chef sought to reconnect with his Greekness on the island of Crete. Despite warnings, he entered into a restaurant project fraught with dangers. Read about the hilarious consequences, and be reassured that all the tavernas in Plakias now serve healthy food! A must read for those considering moving to Crete, and a great holiday read for those lazing on the beach.
Byron really had a way with words and an extraordinary way of communicating the unique specialties of Cretan local food. Read his account of a gastronomic journey around Crete here. Beware that this story will have your mouth watering and lips licking in anticipation of the tasty organic fresh mountain food of Crete. Travel through the hills of Chania, sit by the seaside slurping sea urchin, sipping wine and wiping olive oil from your chin, visit the famous Minoan Palace at Knossos and the picturesque fishing village of Elounda. Meet the characters of the mountains of Crete, hard as the rocks of the knobbly gorges in which they run their sheep and goats.
We are so grateful to Byron for sharing his stories with We Love Crete.

---
Map of Crete Beaches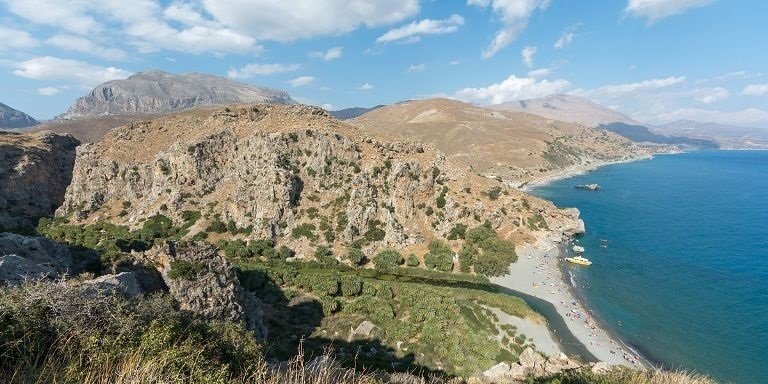 Preveli Beach is near to Plakias
Here on the map below you will see the location of this beach and many other beaches in Crete. From this Rethymnon beach it is possible to travel west by car to Frangokastello and Chora Sfakion, then park the car and take the ferry further west to Loutro, Agia Roumeli and Sougia. This gives access to Samaria Gorge and more of the E4 Walking Path, and Agia Irini Gorge. These journeys are difficult by bus.
To the east of Plakias are the beautiful beaches of Preveli and Agia Fotini.
---
Getting Here
Take a 1 hour flight from Athens to Heraklion with Aegean Airlines or Olympic Air, with many flights available per day.
Or take a 9.5 hour overnight ferry from Pireaus port of Athens to Heraklion port.
More on flights and ferries below.
Car hire in Crete is a really good idea as it is a large island 60 km by 260 km. There is so much to explore.
When you book with our car rental partners - Rental Centre Crete - you are supporting a local company with excellent service and an easy online booking procedure. We are sure you will be well looked after by the team. Choose from hybrid or non-hybrid vehicles.
---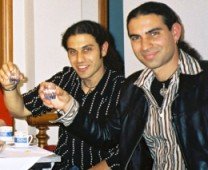 "We trust you have enjoyed these tips from the team at We Love Crete. Evíva!"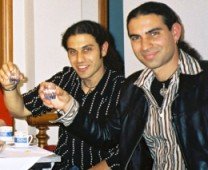 "We trust you have enjoyed these tips from the team at We Love Crete. Evíva!"
---