Frangokastello Crete

This page may contain affiliate links, see our disclaimer here.

---
Sandy Beaches and Local Ghost Stories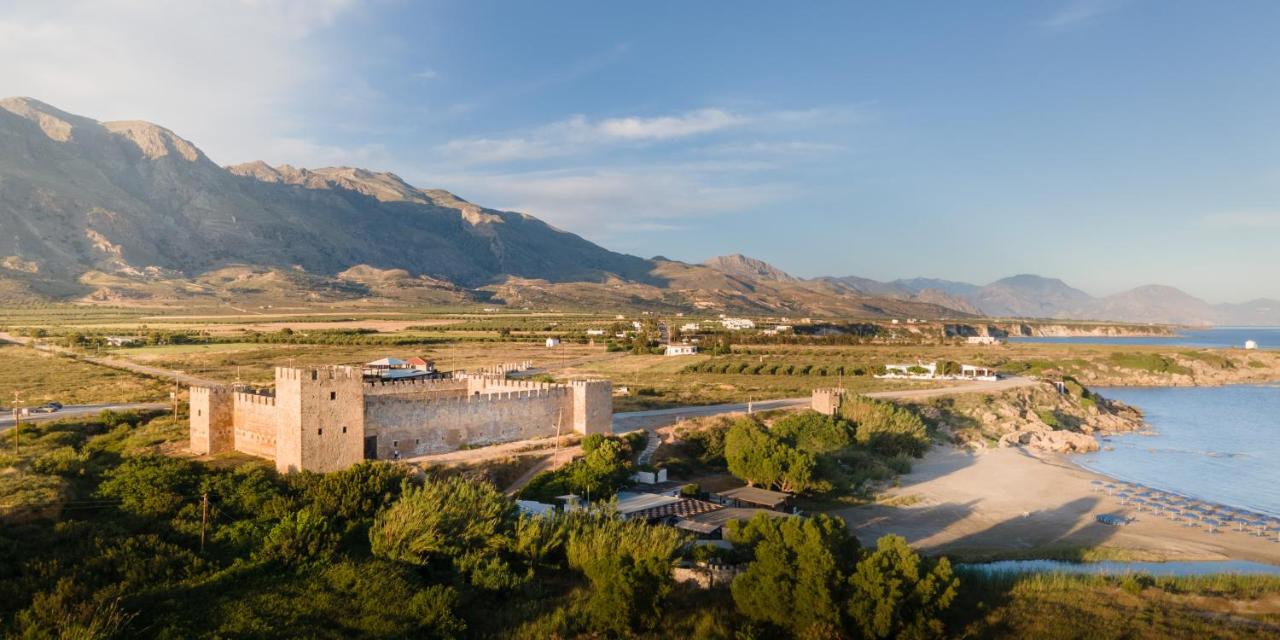 Frangokastello Crete Φραγκοκαστελλο is a tiny village on the south coast of Crete in the Chania region. The intriguing ruins of a Venetian castle lend a mysterious air to the seaside village. Located about 57 km from Rethymnon town, the nearest large village is Chora Sfakion, 15 km away.


With the mountains rising high up behind the coastal plain, there is the feeling that no one knows where you are. There are also the tales of ghosts walking from the castle, so be sure to ask the locals about this.


Frangokastello Φραγκοκαστελλο

The castle lies in the region of Sfakia, a mountainous region of reclusive and defiant peoples who rebelled against any force that tried to subdue them, and still today the region is renowned for its pride and Sfakian bravery.


With the small flat plain, sheltered beaches with little or no surf, and its relative isolation, this little village is good for families looking for a quiet, relaxing and simple beach holiday, and for those with an interest in history.
The main beach is sandy and sheltered, good for young children. To the west is Vatalos Beach with sand and pebbles and to the east is Orthi Ammos with big sand dunes.

The history of the site of this village goes back to the bronze age, and also in the area around here are Minoan sites dating from 1800BC. After Arabs, pirates and Turks came the Venetians who reconstructed a fortress on a site previously occupied. The construction date was 1371.
The fortress was very basic, as this was an outlying post, not a full commercial centre such as those towns on the northern coast. The four towers were linked by battlements forming a rectangular building. Outside can be seen the coat of arms of the Lion of St Mark, representing the Republic of Venice, inside were kitchens, barracks, stables, storerooms, ovens and suchlike which do not remain intact.
---
'Drosoulites' Local Ghosts

The name 'drosoulites' δροσουλίτες roughly translates to English as 'those of the dew'. This name has been given to the ghostly images of hundreds of souls who walk the battlegrounds where fierce fighting and many deaths took place a long, long time ago, near the fortress at Frangokastello.
Early in the morning, when the dew is heavy in late May, sometimes the spectral images appear. Locals say they are the ghosts of over 600 brave Cretans who fought invading the Turkish forces, terribly outnumbered.
All the local fighters were killed and their bodies left on the beach, and so their ghosts still roam. If you see them - please tell us here at We Love Crete.
---
Accommodation

Frangokastello Crete - there are plenty of small guest houses and hotels to choose from, here are our suggestions.


Flisvos Hotel and Taverna is located right on the water at Frangokastello. With a few rooms and a homestyle tavern, this is a low key, genuine family hotel run for many years with the hospitality of Spiros and Stelios Vranakis.
The word 'flisvos' sounds like the gentle murmur of the waves as they break on the beach... Here is a place to relax and let the cares of the world dissolve. The Vranakis brothers also have a few apartments and a couple of renovated houses close by so it is a good idea to see them for your accommodation needs.
"Best location in Crete!!! Right in front of the sea. Quiet place, great sand beach and also rocky beach for snorkelling. Fabulous resting place. Apartment basic but has all you need. Definitely recommended! Food was excellent and staff super friendly."

Mylos Seaside Experience - right on the water in Frangokastello with views to the castle. Enjoy your own little bit of history with the historic windmill and beautifully restored rooms. Budget prices and wide open spaces.
"What a wonderful place ! Quiet, clean & the ocean literally at your feet."
Livikon Hotel - in Chora Sfakion is a small hotel right in the village, just a heartbeat away from the port.  It is run by the local Dourountakis family; they will look after you. Views over the harbour, simple, friendly, clean and good value. There is a good taverna downstairs, which is the place for fresh seafood, try the octopus, and don't forget the local speciality - Sfakian pies with honey (they are like pancakes).
"Location is unreal, waterfront with a lovely little balcony. Such a cute room with lovely facilities and modern bathroom."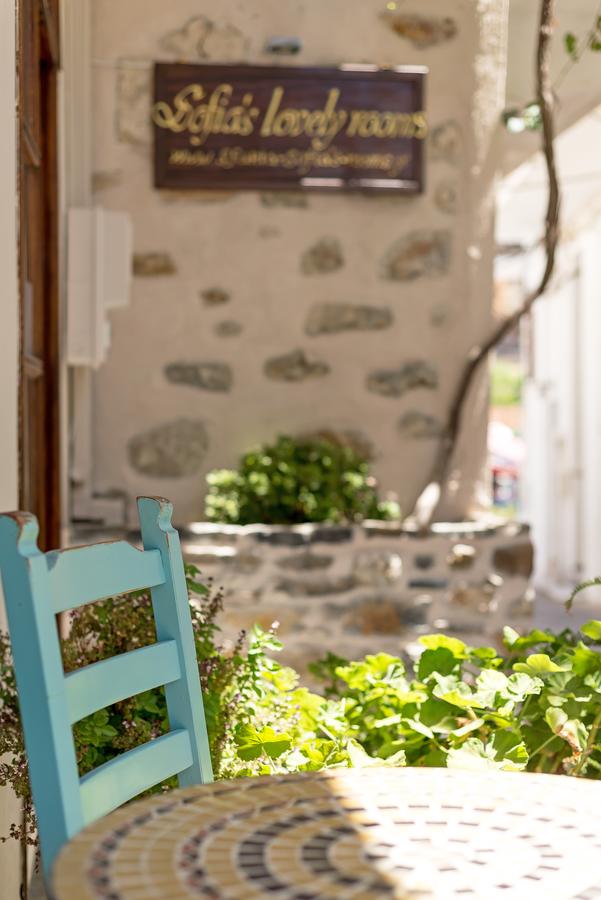 Sofia's Lovely Rooms are close to buses, boats shops and tavernas, cafes and harbourside dining in Chora Sfakion. Find a friendly greeting, sea views and modern rooms.
"We had an amazing stay! The spacious, beautifully decorated room was incredibly comfortable, and the cleanliness was top-notch. The mattresses provided such a good night's sleep that we woke up refreshed every day. This accommodation is perfectly situated in the heart of Sfakia. Absolutely recommended!"
---
Exploring Around
From the remote and calm beaches of Frangokastello, visitors can admire the awesome immensity of the White Mountains. This makes a good place to base yourself for some mountain drives and walks:
And to visit some of the local villages:
Or to visit some of the local beaches: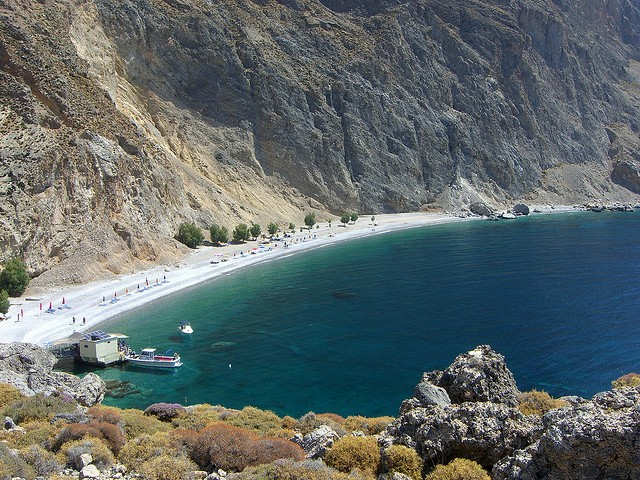 Sweetwater Beach in southern Crete
---
Rethymnon Town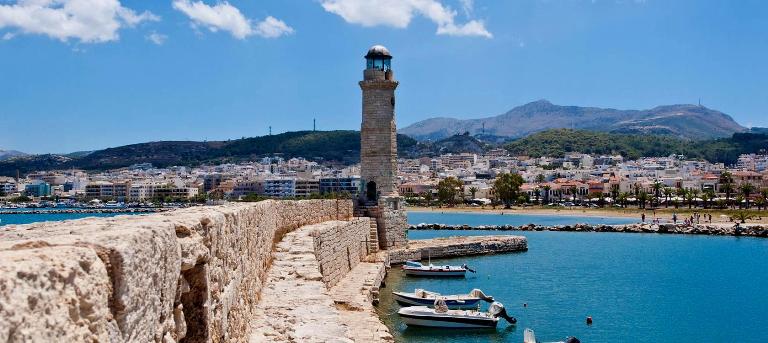 If you do come to visit this beach from the Venetian town of Rethymnon be sure to explore all it has to offer: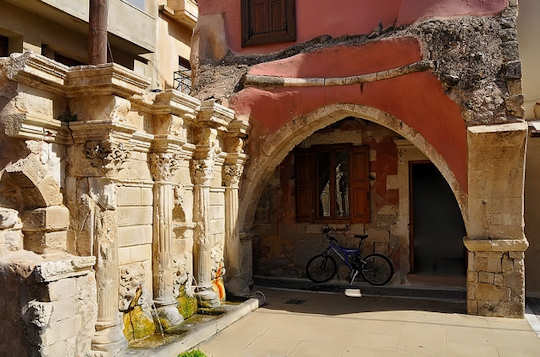 ---
On the Map

See below our map of the island with beaches marked, including Frangokastello Crete:
---
Frangokastello Crete Videos
Enjoy the sounds of summer and the beach in this relaxing beach video of Frangokastello Beach, as you can see ideal for swimming, paddling, snorkelling and lazing.

---
Frangokastello Crete Images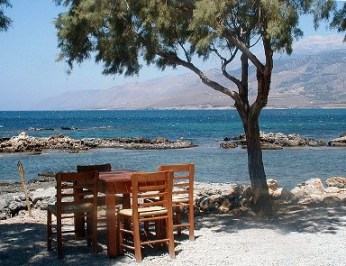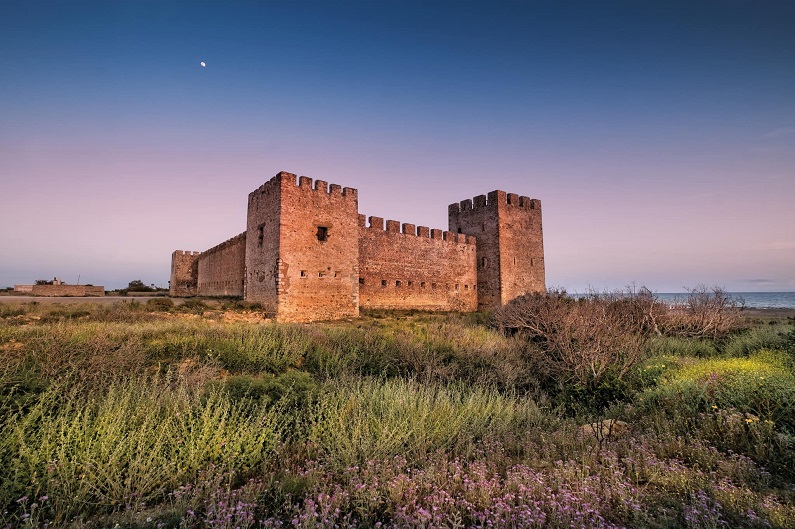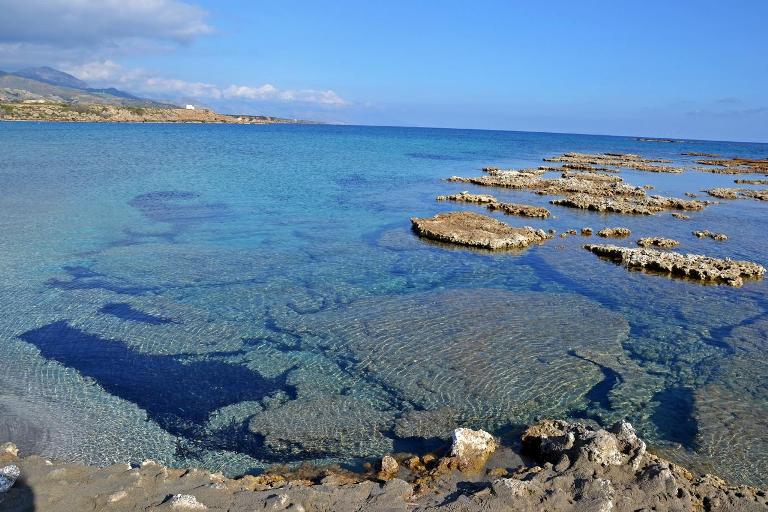 ---
Getting to Frangokastello Crete

Frangokastello Crete - the closest airport is Chania International Airport with code CHQ. From there drive 75 km south-east across the island. Take the national road east from Chania and turn south at Vryses, continue to the Askifou Plateau, across the White Mountains, to Imbros, through the stunning Imbros Gorge to Komitades, Vouvas and Patsianos.
You can also choose to stay at Chora Sfakion and visit Frangokastello Beach and many other beaches from that village. From Chora Sfakion to Frangokastello is 15 km.
To drive from Rethymnon, take the road to Plakias and just before Plakias continue east to Sellia, Rodakino, Skaloti and then to this beach, the total journey is 57 km.

---
Car Hire Crete
Car hire in Crete is a really good idea as it is a large island 60 km by 260 km. There is so much to explore.
When you book with our car rental partners - Rental Centre Crete - you are supporting a local company with excellent service and an easy online booking procedure. We are sure you will be well looked after by the team. Choose from hybrid or non-hybrid vehicles.
---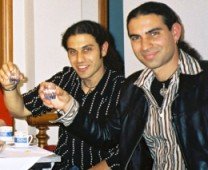 "We trust you have enjoyed these tips from the team at We Love Crete. Evíva!"
Contact us with further questions or feedback. We love to hear about your travels in Kríti and Greece. Let us know of any updates or additions, errors or omissions. Help us make this website the best it can be. Kaló Taxidí!

---