Loutro Village and Beaches
This page may contain affiliate links, see our disclaimer here.

---
Loutro Λουτρό is a tiny remote seaside village in the south of Crete, sparkling white next to a turquoise green and blue bay, with the harsh rocky mountains rising up behind her.
Located 96 km from Chania, and 94 km from Rethymnon, bus connections to Chora Sfakion, then ferries or boats to are the only way to get here, except for hiking in. A little village with that indescribable Mediterranean feeling of freedom, white light and space.
---
Walk to Loutro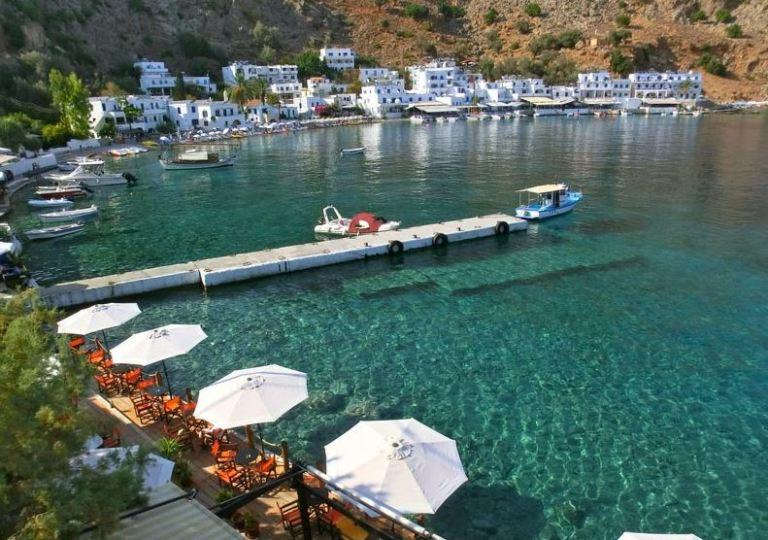 About Loutro

The tight little harbour of the village makes it a safe port even in bad weather conditions, its inaccessibility means there are no large hotels, no crowds and no cars!
Swimming is enjoyable between April and November. Within walking distance are beaches such as Loutro Bay Beach, Ilingas Beach and Timios Stavros Beach. By walking or boat visitors can swim at the incredibly beautiful Glyka Nera Beach, which means sweet water, and Marmara Beach.
There are plenty of little pensions offering domatia, there are cafés and restaurants, a mini market and internet is available. Why not unhook from the world, though, and just relax in the sun?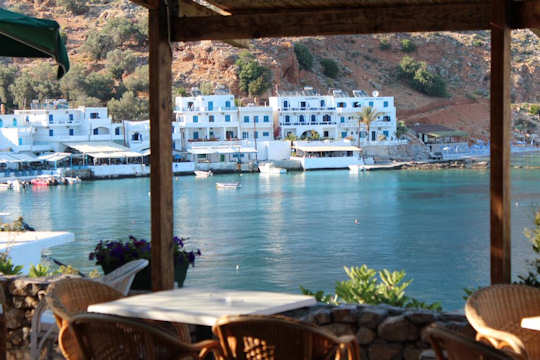 If you have had enough of lazing around in the sun, canoes can be hired, you can snorkel and dive, even take a dive course.
Many hours of relaxation can be enjoyed capturing the perfect photographs of the white and blue buildings against the rocky dry hillside and horseshoe-shaped bay.
Another shot of a lifetime - the ideal painted wooden Greek fishing boat bobbing on a crystalline turquoise bay.
Or you could choose to devote some time to discovering the meaning of the Greek word flisvos which is an onomatopoeic word meaning roughly 'the sound of the waves softly touching the shore'. You'll have to lie for hours on the sand or in the shallows to really do this justice.

Nearby are a few Venetian ruins, dotted around the limani. Also a beautiful white-washed chapel framed perfectly against the blue sea, just placed perfectly for photographers.
Stroll to Finikas Beach which is 1.2 km from here, or visit Pervolaki Beach or Timios Stavros Beach to the east.

Then for the walkers and hikers there are endless explorations in the mountains and gorges of Crete. Hiking gorges nearby are Aradena Gorge, Imbros Gorge, and Samaria Gorge, you can take a boat to Agia Roumeli to begin your walk.
Serious hikers can walk up the steep hill to the ancient village of Anopolis, high in the hills, and be rewarded with stunning views over the Libyan Sea, or take some of the paths of the E4 European Walking Path which runs through here. 
Or if you are wanting some pure relaxation, visit nearby Sweetwater Beach or Ilingas Beach by water taxi.

From the village you can visit Gavdos Island by ferry, via Sfakia.
Sitting down to your evening of happy dining and meeting people, you look out over the pristine bay and the sunset. Try the local fresh cuisine such as fresh greens, salad, tsatsiki, fried courgettes, octopus, squid, red mullet, swordfish, and lamb or fish souvlaki. Don't forget your tsikoudia and have a great night! Stin iyia sas!
Visitors can arrive in to the village by ferry from Palaiochora and Sougia, and by ferry, private charter or taxi boat from Sfakia in the south of Chania prefecture of Crete. See here for more details of ferry transport within Kriti.
---
Where to Stay in Loutro
As this is such a small village the accommodation books out early - be sure to book ahead if you have your heart set on staying by the bay in the summer months of July and August. Best to visit in shoulder seasons - spring in May and June and autumn in September or October.

There are many good pensions, rooms and guesthouses right by the water in Loutro.
A good friendly place with lovely views Villa Niki is set back a little from the limani or harbour, with private balconies and family rooms available. Here you will find lovely wood panelling, amazing views and cool rooms with air conditioning provided.
Hotel Porto Loutro on the Hill - sweeping views over the bay, true Cretan service, kind and helpful staff, great breakfasts, location location location!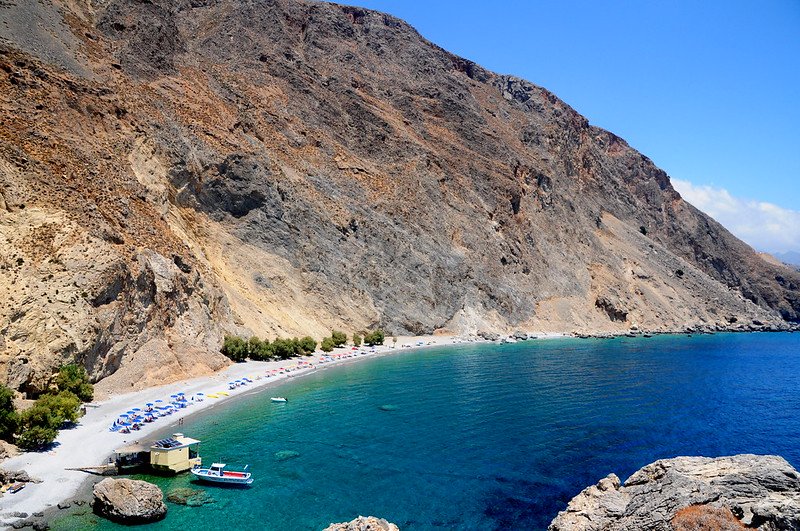 Sweetwater Beach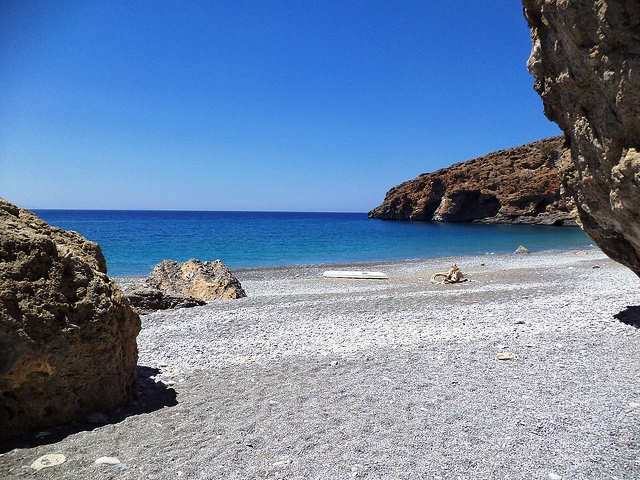 Ilingas Beach
---
Video of 
Loutró
Here is a short video of the beautiful village, you can see the small blue and white village hotels and tavernas, the massive of the mountains coming down into the sea and the clear waters, see the ruins on the point and the ferry docking on a bright sunny perfect day with calm waters.

The family holiday video below shows the wonderful swimming and kayaking spots, clear water for diving and how fun it is to have a summer time in south Crete.

---
Images of Loutró
Here below are some beautiful images of the bay.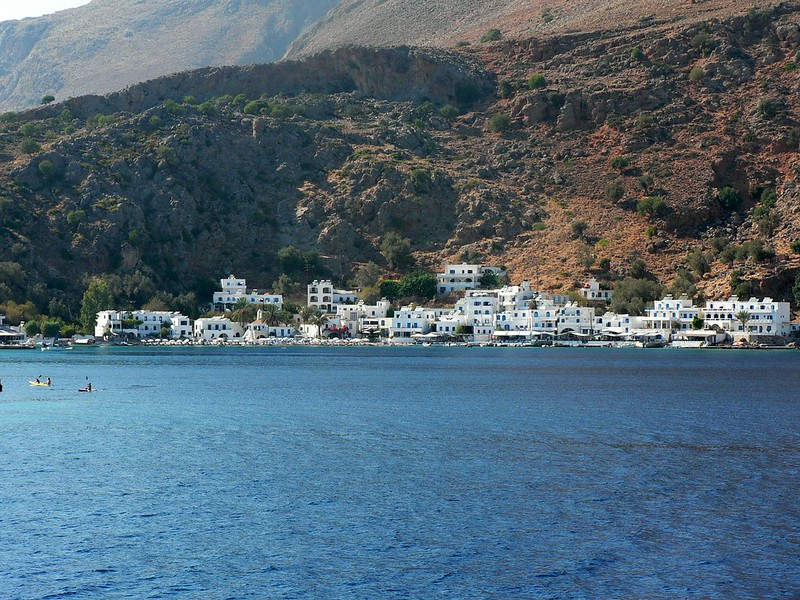 View from across the bay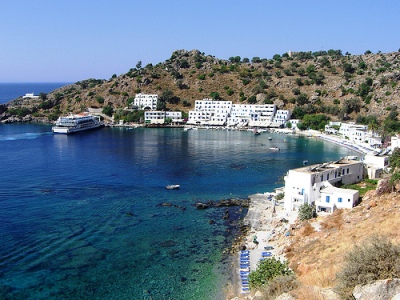 The small harbour with ferry docking

From the high mountains behind the bay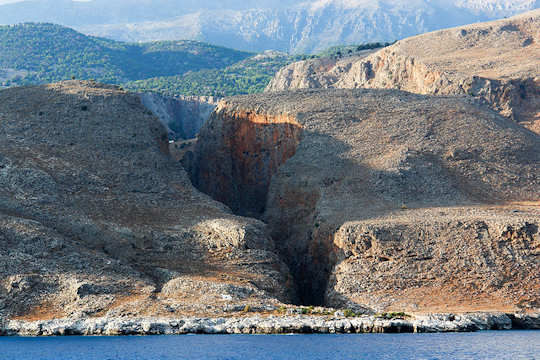 Aradaina Gorge is close to Loutro - Marmara Beach is at the entrance

---
On the Map
See the location of Loutro on the map of Crete below.

---
Getting Here
Take a 1 hour flight from Athens to Heraklion with Aegean Airlines or Olympic Air, with many flights available per day.
Or take a 9.5 hour overnight ferry from Pireaus port of Athens to Heraklion port.
More on flights and ferries below.
Car hire in Crete is a really good idea as it is a large island 60 km by 260 km. There is so much to explore.
When you book with our car rental partners - Rental Centre Crete - you are supporting a local company with excellent service and an easy online booking procedure. We are sure you will be well looked after by the team. Choose from hybrid or non-hybrid vehicles.
---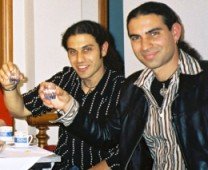 "We trust you have enjoyed these tips from the team at We Love Crete. Evíva!"
Contact us with further questions or feedback. We love to hear about your travels in Kríti and Greece. Let us know of any updates or additions, errors or omissions. Help us make this website the best it can be. Kaló Taxidí!

---