Preveli Beach
River Lagoon & Palm Forest
This page may contain affiliate links, see our disclaimer here.

---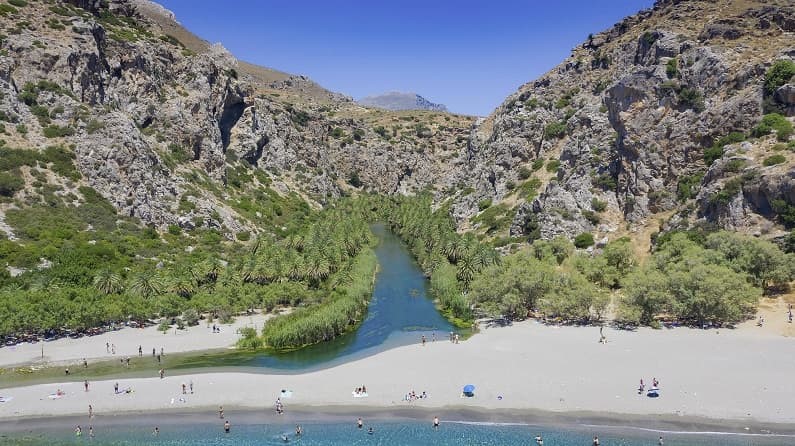 Preveli is one of the most famous beaches in Crete, isolated, beautiful and romantic.
This beach is located on the central south coast of the island, just a few km from the monastery of the same name, 43 km from Rethymnon town.
See more about Preveli here.

See the location on the map below.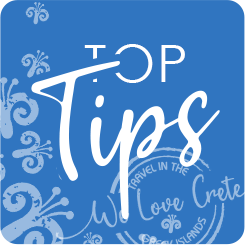 Enjoy our video tips for Preveli Beach here.
---
Getting to Preveli
You can journey to the beach by car and foot, walking over the mountain ridge from the dirt road, or you can take a boat from Plakias or Agia Galini.

The walk is steep and not for the faint-hearted, be careful in hot weather. There are also buses to the monastery and day trips from Rethymnon town. More local bus information here.
Get to Plakias via Rethymnon, get to Agia Galini via Heraklion or from Rethymnon via the Amari valley.
Visit the well known Monastery of Preveli (left and below), the history of which is woven with the threads of time and central to Crete's character.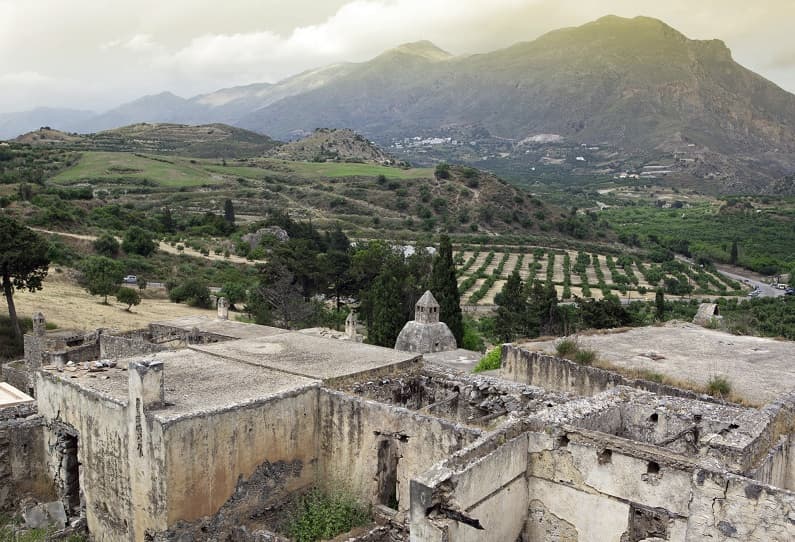 ---
Palm Forest
The tall, steep Kourtaliotiko Gorge meets the Libyan Sea and form a cool lagoon and sandy beach. Palms and oleanders create shade; a tropical paradise forest amidst the dry rocky Mediterranean terrain. The palms are Phoenix theophrastii and are unique to Crete. The forest was previously devastated by fires but has recovered well.
The walk starts at the village of Koxare and is 3 km in length. Tall cliffs and rocky gorges, creeks and streams, are home to wildlife such as Bonelli's Eagle and the Golden Eagle. Cretan wildlife and nature information here.
Don't be fooled into thinking you will get any peace and quiet in summer, because the beach is busy. There are sun lounges for hire and paddle boats. Ferries and private boats bring more visitors every time you wake up from your snooze.
The best seasons to visit are spring and autumn; May/June, then September/October respectively, when the beach is quieter.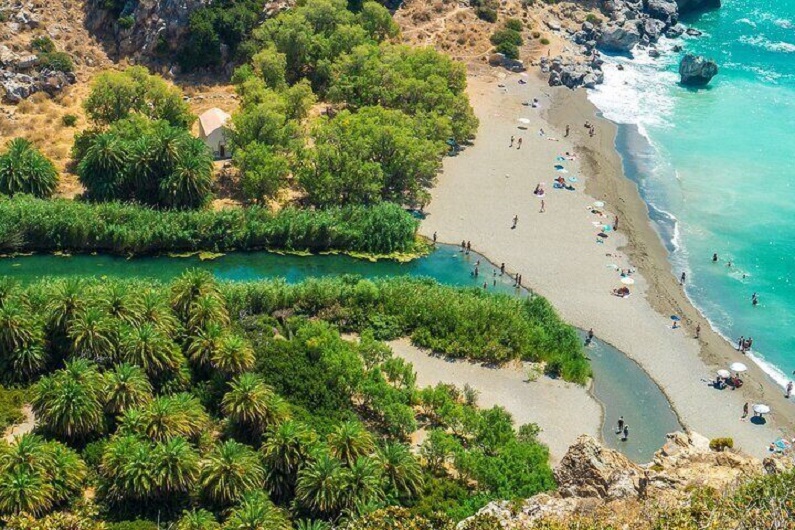 ---
Beaches Nearby
A short rocky walk over the headland to the west takes you to Drimiskos Beach where Dionyssos Taverna is set back in the shade. You can gaze over the beautiful Bay of Drimiskos and enjoy tasty seafood and traditional Cretan dishes. There are a few rooms; be sure to pre-book in summer.
Another beautiful remote beach nearby is Damnoni Beach. The southern coast of Crete is wonderful to explore and provides the independent traveller with the colours, vast open spaces and textures for adventures.
Also nearby is Plakias Beach on a big, wide open bay with stunning views to the mountains all around.



Plakias Bay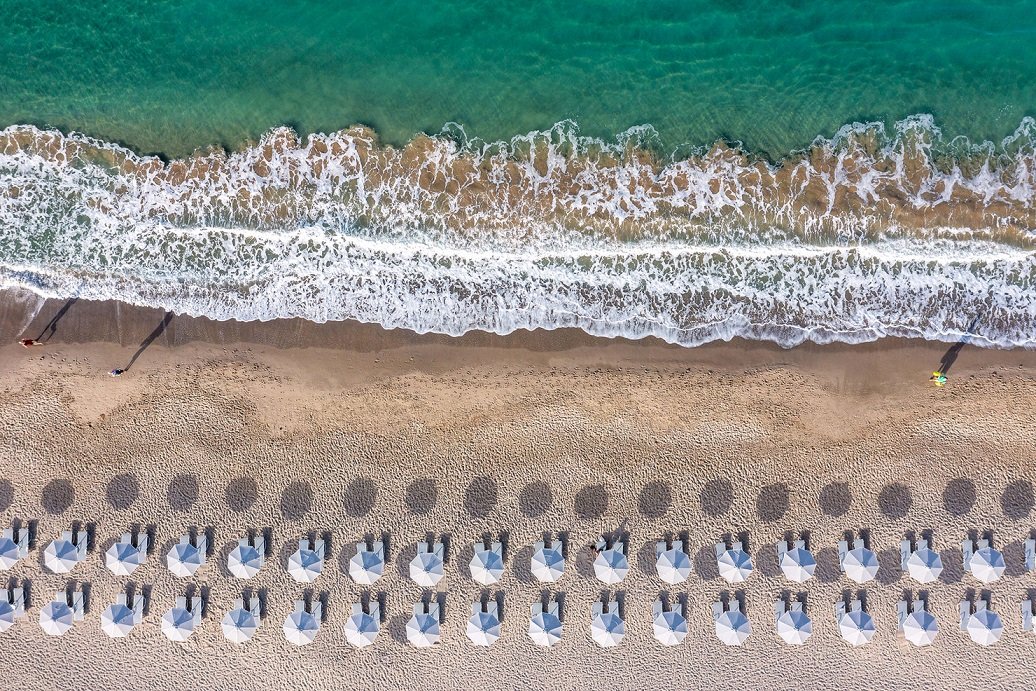 Plakias Beach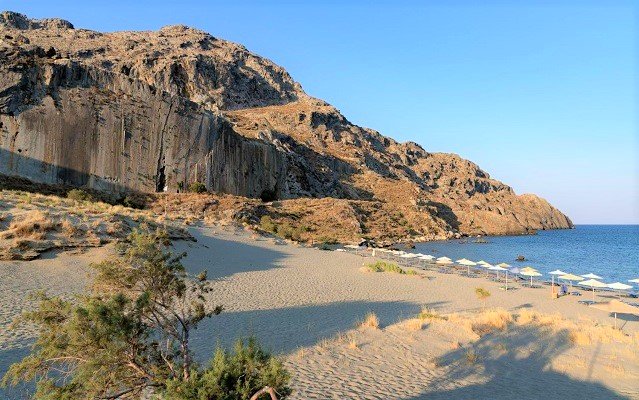 Paligremnos Beach on Plakias Bay

---
Experience Preveli
---
Images
Here are some beautiful images of the beach below:
The beach and forest as seen from above.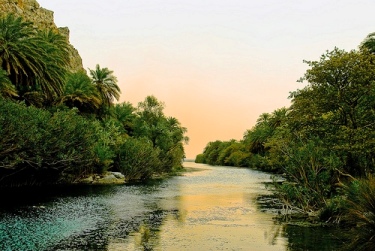 Lookout out from the forest towards the sea...
Wide open skies and beaches surrounded by mountains left and right looking over the Libyan Sea.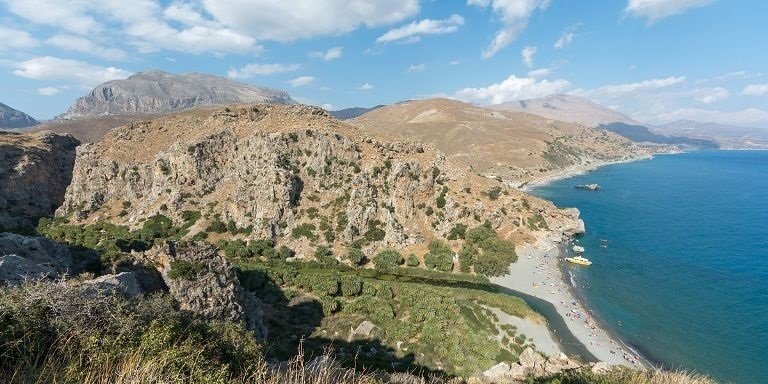 Kourtaliotiko Gorge and lush palm forest create a unique pocket of tranquility on the southern shores of Crete.
---
On the Map
---
Accommodation Nearby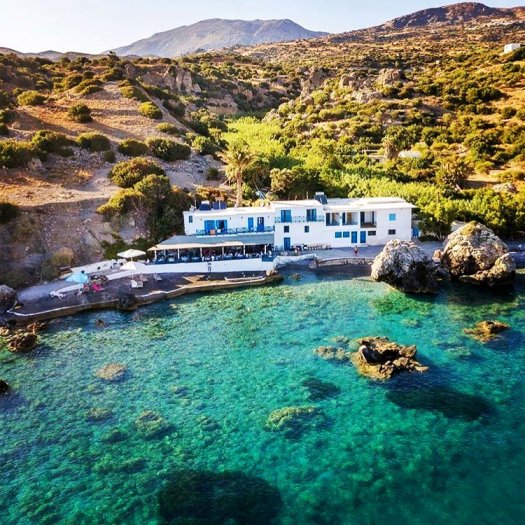 Agia Fotia Taverna & Rooms, literally a seaside taverna with some rooms above. So authentic. Fresh seafood and great cooking on your doorstep.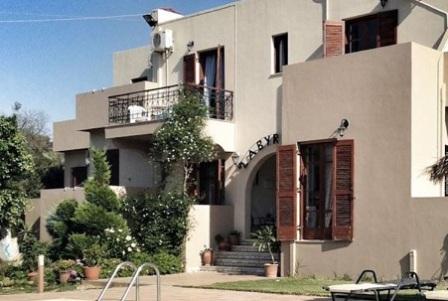 Located in Plakias, the next beach west from Preveli, this accommodation is a boat ride away from the beauty of the gorge and palm forest.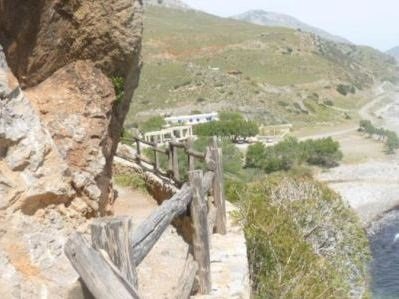 These rooms are a good budget option located directly on the beach. Here is a tavern, mini market and playground. A short 5 minute walk from the palm forest, river mouth, this small guesthouse provides peaceful surrounds with complete sea views.
"We had a fabulous time here with a wonderful balcony view of the Libyan area and delicious food in the taverna below. the family running the place are long established and very entertaining."
---
Getting Here
Preveli - take a 1 hour flight from Athens to Chania with Aegean Airlines or Olympic Airlines, with many flights available per day.
Or take a 9.5 hour overnight ferry from Pireaus port of Athens to Souda port of Chania.

If you arrive into the airport or port of Chania, it is a journey of around 100 km to Preveli Beach.

If you pick up your hire car from Chania Airport, it is a very interesting drive to Rethymnon and then follow the road marked 'Agia Galini'. Drive 20 km then, just after the small village of Pale Παλέ, turn right following signs to Koxare Κοξαρέ and Preveli. As you drive south you will see spectacular views through the Kourtalikos Gorge.
10 km south of Pale, you will get to a small historic arched bridge over the river, and a taverna. Stop awhile here. This is also the beginning of a walk through the Kourtalikos Gorge to the sea.
Then visit the nearby ruins of Κάτω Μόνη Πρέβελη or Kato Moni Preveli, an old disused monastery, just 2 km south.

To get to Preveli by bus take the Plakias bus from Rethymnon Bus Station at 1866 Square. The journey duration is around half an hour and the cost is under €6.00, see bus info here.

Getting here by flights, ferries and hire car below:
When you book with our car rental partners - Rental Centre Crete - you are supporting a local company with excellent service and an easy online booking procedure. We are sure you will be well looked after by Harry and his team.
---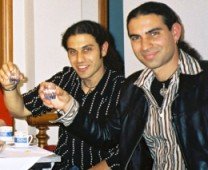 "We trust you have enjoyed these tips from the team at We Love Crete. Evíva!"
Contact us with further questions or feedback. We love to hear about your travels in Kríti and Greece. Let us know of any updates or additions, errors or omissions. Help us make this website the best it can be. Kaló Taxidí!

---